ELMORE LEONARD
Elmore Leonard was born in 1925 and died on August 20, 2013 at the age of 87.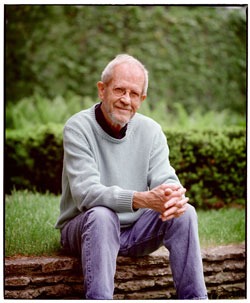 He lived in Pompano Beach and North Palm Beach, and divided his time between the Detroit area and Florida.
His Florida home and the settings of many of his books has us including him among our Florida authors.
He was raised during the 1930's, during the Great Depression era of John Dillinger, Ma Barker and her killer brood, Bonnie and Clyde and other nationally famous gangsters and bank robbers.

During this same era, the Detroit Tigers made it to the World Series.
Leonard was influenced by these events and had a life long interest in guns and sports.
After service in World War Two, Leonard graduated from the University of Detroit. He worked for an ad agency for a few years, writing at night and on weekends.
His first success came in 1951 when Argosy magazine published his short story "Trail of the Apaches".  He published his first novel, "The Bounty Hunters", in 1953.
Leonard is famous for his strong dialogue and realism.
A number of Leonard's novels have been made into movies.
Some of these include "Out of Sight", "Get Shorty" and "Rum Punch" (as the 1997 film Jackie Brown).  The 1967 film "Hombre" starring Paul Newman was an adaptation of Leonard's novel of the same name.
His short story "Three-Ten to Yuma" and book "The Big Bounce"have each been filmed twice.
Other novels filmed include: "Mr. Majestyk" (with Charles Bronson), "Valdez Is Coming" (Burt Lancaster), "52 Pick-Up" (Roy Scheider), "Stick" (Burt Reynolds), "Moonshine War" (Alan Alda), "Last Stand at Saber River" (Tom Selleck), "Gold Coast" (David Caruso), "Glitz" (Jimmy Smits), "Cat Chaser" (Peter Weller), "Touch" (Christopher Walken), "Pronto" (Peter Falk) and "Be Cool" (John Travolta).
All told, Leonard wrote almost 50 novels and hundreds of short stories and essays.  In his essay, "Elmore Leonard's Ten Rules of Writing", he wrote:
"My most important rule is one that sums up the 10: If it sounds like writing, I rewrite it."
His advice to writers also includes the helpful hint, "Try to leave out the part that readers tend to skip."
ABOUT LEONARD'S FLORIDA BOOKS
Leonard wrote so many stories and novels, I'm really not sure how many of them are Florida based or at least have some Florida action. 
Most of his novels are based in Detroit or Florida, so that means we include him among Florida authors on our website.
Chili Palmer is one of Leonard's characters who shows up in "Get Shorty".
He is a Miami loan shark, and based on a real life friend of Leonard's.  Chili is played in the film version by John Travolta.
Here are some of the novels that I think at least have some Florida in them.
(1980) Gold Coast
(1981) Split Images
(1982) Cat Chaser
(1983) Stick
(1983) La Brava
(1985) Glitz
(1990) Get Shorty
(1991) Maximum Bob
(1992) Rum Punch
(1995) Riding The Rap
(1996) Naked Came The Manatee
If you are an Elmore Leonard fan and know of Florida books that I've missed, please let me know.
His books are available at Elmore Leonard at Amazon.com
ELMORE LEONARD'S 10 RULES OF WRITING
1. Never open a book with weather: 
If it's only to create atmosphere, and not a character's reaction to the weather, you don't want to go on too long. The reader is apt to leaf ahead looking for people. 
2. Avoid prologues: 
They can be annoying, especially a prologue following an introduction that comes after a foreword. 
3. Never use a verb other than "said" to carry dialogue: 
The line of dialogue belongs to the character; the verb is the writer sticking his nose in. But said is far less intrusive than grumbled, gasped, cautioned, lied. 
4. Never use an adverb to modify the verb "said": 
… he admonished gravely. To use an adverb this way (or almost any way) is a mortal sin. The writer is now exposing himself in earnest, using a word that distracts and can interrupt the rhythm of the exchange. 
5. Keep your exclamation points under control:
You are allowed no more than two or three per 100,000 words of prose. 
6. Never use the words "suddenly" or "all hell broke loose": 
This rule doesn't require an explanation. I have noticed that writers who use "suddenly" tend to exercise less control in the application of exclamation points. 
7. Use regional dialect, patois, sparingly: 
Once you start spelling words in dialogue phonetically and loading the page with apostrophes, you won't be able to stop. 
8. Avoid detailed descriptions of characters: 
In Ernest Hemingway's "Hills Like White Elephants" what do the "American and the girl with him" look like? "She had taken off her hat and put it on the table." That's the only reference to a physical description in the story, and yet we see the couple and know them by their tones of voice, with not one adverb in sight. 
9. Don't go into great detail describing places and things: 
You don't want descriptions that bring the action, the flow of the story, to a standstill. 
10. Try to leave out the part that readers tend to skip. 
My most important rule is one that sums up the 10: If it sounds like writing, I rewrite it.
---
---
Our Facebook page has more than 88,112 followers who love off the beaten path Florida: towns, tourist attractions, back road maps, lodging, festivals, highway maps, scenic road trips, day trips, history, culture, nostalgia, and more.
Take a look. If you enjoy what you see, please give us a like.
---
Subscribe to our Free Ezine, Florida Heritage Travel