BEST RESTAURANTS IN MOUNT DORA

We know many of you are limiting travel during these uncertain times.  Although we continue to feature trips and places to visit, we are not encouraging you to visit them until it is safe.  We want to support Florida's attractions and businesses during this situation, and hope you will plan to visit them when things get better.  In the meantime, enjoy them virtually from the comfort of your home. 

The Mount Dora restaurants on this page only include those that I've tried and liked and consider to be the best.  If it's not on the list, I either didn't try it, didn't like it or have not yet had time to write it up.
Mount Dora is one of the three towns that make up Central Florida's "Golden Triangle".   Mount Dora restaurants on this page also include those in the other two triangle towns:  Eustis and Tavares.
The list might be a bit Mount Dora centric because that's where I live.
---
BEST RESTAURANTS IN MOUNT DORA ACCORDING TO FLORIDA BACK ROADS TRAVEL
---
1921.  142 East 4th Avenue, Mount Dora, Florida 32757.  Tel:  352-385-1921.  Extensive menu and wonderful bar scene.  Originally established by celebrity chef Norman Van Aken, who is no longer with the restaurant.  Upscale but worth the money. Popular happy hour 430 to 630.
---
Cafe Gianni.  425 North Alexander Street, Mount Dora, FL 32757.  This little restaurant had a nice following in Eustis and moved the entire operation to Mount Dora in 2014.  It has an upscale Italian menu in a two story building in downtown Mount Dora.  Dining upstairs or down;  wine and beer.  Chicken, pork, beef and seafood.  Home made pasta.
---
Chili's Bar & Grill. 17419 Us Hwy 441, Mount Dora, FL 32757. Tel: 352-589-4002. Yep, this is the big national chain and I like it a lot. Good chili, fajitas, hamburgers, wide variety of menu items. Full liquor bar and great margaritas. One of the best of the chain Mount Dora restaurants.
---
Cody's on 4th. 111 East 4th Avenue, Mount Dora, FL 32757. Tel: 352-735-8426. Nice little cafe decorated with old scenes of historic Mount Dora. They have a variety of coffee, homemade pastries, fresh salads, sandwiches, beer and wine.
---
Copacabana Cuban Cafe. 320 Dora Drawdy Way, Mount Dora Florida 32757. Tel: 352-385-9000. This is a great place to eat. Simple yet comfortable decor and interior. Owner Alberto and his staff are very attentive and agreeable. Food is great and served promptly. I recently had picadillo - a lightly spiced ground beef dish - served with plantains and yellow rice. As an appetizer, I had sopa de polla - chicken soup- with lots of noodles, potatoes, carrots, and chicken. It was only $4.95 and could have been a meal unto itself. My picadillo was just right. This is a good place to eat and to discover that Mount Dora restaurants include a good Cuban place.
---
Fiesta Grande Mexican Grill. 421-B Baker Street, Mount Dora Florida 32757. Tel: 352-385-3540. This is a large, bright and cheerful downtown eatery that has a full liquor bar and a wide range of Mexican dishes. Very good food and colorful atmosphere. There are other Mount Dora restaurants that feature Mexican food, but this my favorite.
Goblin Market. 330 Dora Drawdy Way, Mt Dora FL 32757. Tel: 352-735-0059. This fine restaurant is entered from a charming alley between Donnelly and Alexander in the heart of downtown Mount Dora. The atmosphere is charming, reminiscent of a private club with book lined walls and comfortable lighting. The food and service are as good as anyplace in Florida. Try the upstairs bar for great service from a bartender who remembers everybody's name and drink. This is the top of "must visit" Mount Dora restaurants.

Golden Corral Buffet & Restaurant.  15810 Us Highway 441, Eustis, FL 32726. Tel: 352-589-1831. This restaurant features a big buffet that is sure to have something on it you will like. The salad bar is great with plenty of lettuce, carrots, green peppers, black olives, croutons, cole slaw and a host of other goodies like garbanzos and cheeses. The hot meal bar is loaded with a lot of fried delights like fish, chicken, okra and other southern staples like green beans and carrots. They also have a excellent rotisserie chicken. They also have great desserts. Prices reasonable, service great.


Highland Street Cafe. 185 South Highland Street, Mount Dora Florida 32757. Tel: 352-383-1446. This is one of the Mount Dora restaurants favored by locals, especially as a breakfast place, although they also have a regular American lunch menu. It is similar to a diner in menu and layout. Breakfast is available all day long. Service is great and food is good, especially breakfast.


Jeremiah's. 947 East 5th Avenue, Mount Dora Florida 32757. Tel: 352-383-7444. This corner restaurant is a good place for dinner. They have just about everything, and their fajitas are better than any of the chain restaurants on the outskirts of town. Jeremiah's has a full liquor bar, and outside dining is available too.


Kiku Japanese Steakhouse. 15211 US Highway 441, Eustis, FL 32726. 352-483-8288. This large and roomy restaurant is in the Publix shopping center at David Walker Boulevard. It features great hibachi, cooked at your table while you watch in amazement. It is one of two Mount Dora restaurants that feature hibachi cooking. Full liquor bar, reasonable prices.
Lake House Bar & Grill (formerly Side Lines Sports Eatery). 315 North Highland Street, Mount Dora, FL 32757. Tel: 352-735-7433. This is a typical sports bar with a few TV screens and a good menu standard fare like hamburgers, fries and pizzas. They will make your pizza the way you like it. A local hangout for good old boys and their wives and families. Good service, plenty of parking.

---
The Lakeside Inn
Lakeside Inn.  100 Alexander Street, Mount Dora, Florida 32757.  Tel: 352-383-4101.  This inn goes back to 1883 and is Florida's oldest continuously operating hotel.  As if that weren't enough, the inn also has some of the best food and drink in town.  It not only has a large main dining room, but you can also dine and drink in historic Tremain's Lounge.  This cozy room has a fireplace and music almost every night from laid back piano to acoustic to old time jazz.  The wide veranda overlooking beautiful Lake Dora is a favorite spot to watch the sunsets from a comfortable rocking chair.  Read more about Lakeside Inn.
---
Lampu Japanese Steakhouse. US Highway 441 # 2, Mount Dora Florida 32757. Tel: 352-383-6119. This large restaurant is at the north end of Donnelly Street where it meets US Highway 441 on the north side of town. Lampu features great hibachi, cooked at your table in entertaining fashion. It is one of two Mount Dora restaurants that feature hibachi cooking. Full liquor bar, reasonable prices.
---
Maggie's Attic. 237 West 4th Avenue, Mount Dora, FL 32757. Tel: 352-383-5451. I have decided that wine and beer are food for purposes of listing Mount Dora restaurants. I stopped by here recently for one of their "Wine Down Wednesday" events. Probably a hundred jovial people were enjoying beer, wine and music. There was a table set up with snacks, although this is more of a wine, beer and gift shop than a restaurant.

---
Magical Meat Boutique
112 West 3rd Avenue
Mount Dora, Florida 32757
Tel: 352-729-6911
www.magicalmeatboutique.com
Magical Meat Boutique has a funny name but once you've finished snickering you will enjoy its British charm and eclectic menu. MMB, as locals call it, is a British Carvery that specializes in freshly carved beef, pork, turkey, and lamb.

They also make British sausages on the premises every day. The name derives from the Magical Meat Boutique in Camden Town, London, that is part of owner Phil Barnard's family heritage, Barnard Butchers. The family business goes back to the 1500s, and the boutique in London opened in 1967 and closed in 2003 when Phil's dad retired. The gastro-pub serves breakfast, lunch and dinner 7 days a week. This neat little place is only a few hundred feet from the historic Lakeside Inn and is adjacent to the railroad tracks that still take visitors on daily jaunts to Tavares and points beyond.

The first thing you notice when you enter from the front door is a realistic wall mural of the "tube" or subway in Camden. It looks so realistic you feel like you could walk into it and take the subway. The other thing that immediately catches your eye is the bar with its dozens of beer taps. MMB carries almost all of the English, Irish and Scottish beers, lagers and ales. They even have mead and stout. All of their beer is served in Imperial glasses of 20 ounces unless you request something smaller. They also have domestic beer and wine and other beverages from countries not in the British Empire like Denmark and Germany. They also have cider.
The entrees not surprisingly include many popular English standards. Breakfast is served all day and that's good because it's my favorite meal no matter the time. The Full Monty includes pork sausage, eggs, back bacon, black pudding, Heinz Beanz, grilled tomato, mushrroms, spuds, tatty scone and fried Yorkshire bread. There are many other breakast treats lke French toast, pancakes and pastry turnovers. You can dream up your own breakfast and they will make it.
Lunch and dinner treats include The Great British Burger, ribeye sandwich, English Fish n Chips, Ale Braised Lamb Shank, Bangers and Mash. Appetizers will get you started with Tandoori spiced chicken wings, sausage bites, chips, stuffed mushrooms and my personal favorite, Scotch Eggs. A Scotch egg is a hard boiled egg wrapped in sausage, covered with bread crumbs and deep fried.
They have several great salads including a roast duck and spring onion salad with Hoisin sauce and salad with British Stilton blue cheese, pears and candied walnuts. After all this great food they still offer several wonderful desserts including Spotted Dick and Custard. Spotted Dick is a pudding that Brits love that contains dried fruit.
There is a large outside patio with umbrellas and live music. Many days and evenings feature music on the patio. Owners Phil Barnard and Kate Bellamy Barnard are almost always on the job here and will make you feel like a member of their family. Magical Meat Boutique is open Monday-Friday from 700 am to Midnight, and Saturday and Sunday from 800 am to Midnight.

---
Mount Dora Brewing Company. 405 South Highland St. Mount Dora Florida 32757. Quaint little place with great homemade beer and good wine selection. Try their sliders; you will love them. The rambling building is made up of several unique spaces for drinking and dining-- the Tap Room, Beer Garden, and Dining Room. Lunch is served 7 days a week, and a traditional breakfast on Saturdays and Sundays. Open in the evenings Friday through Monday. Live music is featured in the Tap Room every Friday and Saturday night, and there's an open jam session on Sundays around 5pm. 

Nalan-Sultan Mediterranean Grill, 1 N. Eustis St, Eustis, Florida. 32726. Tel:  352-357-4444.  Turkish cuisine prepared and served in a little corner restaurant in downtown Eustis.  Traditional dishes like falafel, kofte, and shish kabobs. 
Night Owl Caribbean Cuisine, 929 South Bay Street, Eustis, Florida 32726.  Tel: 352-589-0256.  Richard Wright had a popular food truck serving Jamaican food, and lovers of Caribbean Cuisine are glad he opened a permanent location in Eustis.  Great jerk chicken and pork, beef patties, and much more.  Tiny dining room and great takeout service.  
Oakwood Smokehouse & Grill. 2911 David Walker Blvd, Eustis, Florida 32726. The inside of this barbecue place reminds you of a gentlemen's hunting club with stuffed deer, boar, bobcats, gator heads and mounted fish. Very good ribs, grilled and barbecued chicken, good slaw and vegetable side dishes. Beer and wine. A pleasant place with reasonably priced good food.


Olive Branch Grille & Bar.  115 West 3rd Ave., Mount Dora, Florida 32757. Tel: 352-729-6734.  This upscale restaurant features Italian and Mediterannean dishes.  It has a full service bar and a menu equally divided between seafood and land based offerings.  Good wine list and full service bar.
---
ONE FLIGHT UP
400 North Donnelly Street
Mount Dora, Florida 32757
Tel:  407-758-9818
Charming One Flight Up has one of the best views of all downtown Mount Dora restaurants. 
It's on the second floor with no elevator, so you have to be in good enough shape to walk up the stairs.
The outside dining balcony has a wonderful view of what's going on downtown.
There are even one or two tables where you can see Lake Dora and at certain times of the year enjoy the sunset.
Owners Judy and Roger and their friendly staff make guests feel very welcome. In fact, if you go there more than once you begin to feel like you're a member of the family.

The coffee, soups, salads, wraps and other light fare are among the best in Central Florida. I recommend their Chef Salad, one of my favorites.  They also have a wonderful variety of cakes and cookies for those with a sweet tooth.
One Flight Up also has several small intimate rooms with comfortable couches and chairs for group gatherings. A local group, Writers One Flight Up, meets in one of the rooms each week.  Other groups also make themselves home on a regular basis.

One Flight Up, Mount Dora
A good selection of wine and beer will complement your meal. Their coffee is great (and costs less than Starbucks) and they also have free wireless connectivity.
It's a good place to spend some time and meet friendly people.

---
PISCES RISING
239 West 4th Avenue
Mount Dora, Florida 32757
Tel:  352-385-2669
Pisces Rising is in Mount Dora, a lovely little town about 40 minutes northwest of Orlando. Its compact downtown area with art galleries, antique shops and restaurants is set against the blue backdrop of Lake Dora and meanders over rolling hills, a rarity in Florida. Many visitors say the town reminds them of someplace in New England.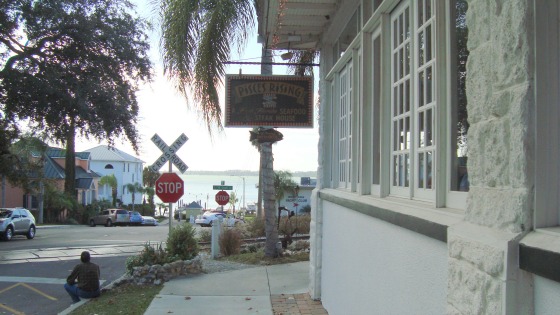 Pisces Rising is in the heart of downtown Mount Dora. It's outside bar and dining deck has an expansive view of Lake Dora, and locals and tourists alike enjoy watching the magnificent sunsets over the lake.
The happy hour drink prices are refreshingly low compared to some of the places in the larger Florida cities, and they also have a nice bar menu with shrimp offerings and other light fare.
The main restaurant building is a beautifully restored 1920's vintage Florida cracker bungalow. The dining rooms are very comfortable and low key. The restaurant features seafood and certified Black Angus beef and lots of fresh vegetables. Sundays feature a sumptuous jazz brunch that is always well attended. Their Bloody Marys are a real treat that fits right in with the jazz theme.
The 239 West Lounge is located inside the restaurant and serves a full complement of wines and liquor. Its 25 foot long mahogany bar evokes the feeling of a private club; you can even order single malt Scotch. The restaurant serves delicious steaks and other beef dishes, and the seafood is always brought in fresh each day. Service is great, the staff is friendly and you get the feeling that they enjoy working in the place.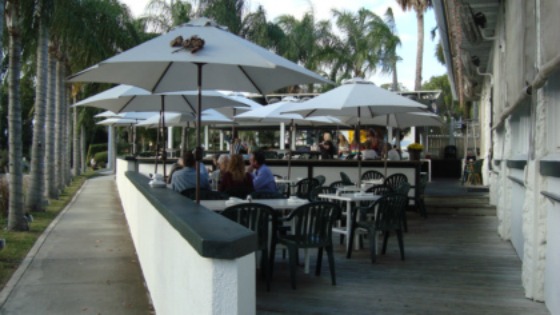 Pisces Rising is a fine dining experience that won't break the pocket book and doesn't require you to wear a tuxedo to enter their dining room. It's an upscale good experience to have dinner either outside on the deck, in the 239 West Lounge or the adjacent dining room.
---
PizzAmore. 722 East 5th Avenue, Mount Dora, FL 32757. Tel: 352-383-0092. This medium size restaurant with the catchy name is one of the most popular Mount Dora restaurants.  In a restored vintage house close to downtown, with great salads, pizzas, wine and beer. Order your pizza the way you like: cheesy or not, thin or not, crispy or not. They will make it your way. Also some outside dining.
---
Sol De Mexico. 125 N. Bay Street, Eustis, Florida. Tel: 352-357-0259. Nice Mexican restaurant in the heart of revitalized downtown Eustis. Great standards like tacos, burritos and fajitas. Pleasant decor, sit down dining, good service. Parking lot on east side of restaurant.


Takis Pizza House II, 1600 S Bay St  Eustis, FL 32726.  Tel: 352-357-0022.  As the name implies, Takis has great pizza.  I value their Greek dishes, including a great gyro plate, wonderful Greek salads, and my all time favorite:  grape leaves stuffed with ground beef and rice.  Good selection of beer and wine.


Thai Jasmine & Sushi House.  1010 E Alfred St., Tavares, Florida 32778,  Tel: 352-742-0956.  Small place in a strip shopping center but big flavor in sushi and Thai favorites.  Friendly staff,  wine and beer while you wait.
---
The Frog and Monkey Restaurant & Pub. 411 North Donnelly St, Mount Dora, FL 32757. Tel: 352-383-1936. This basement bar and eatery is entered either from Donnelly Street or Dora Drawdy Way. It is in the Renaissance Building, the tallest structure in downtown Mt Dora. It is themed as an English Pub. It serves great food, beer and wine. A very good cottage pie, great burgers and soups.
---
The Great Pizza Company. 23 E. Magnolia Ave., Eustis, Florida 32726. Located in the historic downtown area of Eustis, this small place with high ceilings and family ambience has about 40 seats and serves fantastic New York style thin crust pizza and good salads. Owner Sandy Johnson says the pizza is so good because they use dough made with New York water. My pizza crust was nice and thin and crispy, just the way I like it.
---
The Windsor Rose Tea Room & Restaurant. 142 West 4th Ave., Mount Dora, Florida 32757. Tel: 352-735-2551. This comfortable little restaurant is decorated with photos and memorabilia of the British Royal Family. Although they serve high tea in the traditional manner, they also have more conventional lunches like traditional hearty British favorites of pot pies and Cornish pasties, to a selection of tea sandwiches, scones and pastries for Afternoon Tea. Open 7 days a week from 11:00 am to 4:30 pm.
---
Village Coffee Pot. 425 North Donnelly St, Mt Dora FL. Tel: 352-383-3334. This is the spot to go for great coffee, ice cream, gelato, soup and sandwiches. Not only that, owner Akhtar and his strong right hand woman, Carol, know what's going on around town and will share the latest information. This small spot in the heart of downtown has become the "nerve central" of downtown Mount Dora. A good place to swap stories and meet old and new friends.
---
Third Avenue and Baker Street
Wave Asian Bistro & Sushi.  301 N. Baker St, #106, Mount Dora, Florida 32757.  Tel:  352-383-9283. Great Asian food including sushi, hibache, bento, and a large variety of soups.
---
WHALE'S TALE
2720 West Old Highway 441
Mount Dora, Florida 32757
Tel:  352-385-1500
The Whale's Tale is a favorite of year round locals and snowbirds who have been here before. It is in a quiet shopping center that many tourists seem to overlook on their way to someplace else. They are missing a great dining experience.
As the name implies, this restaurant specializes in seafood and they do a great job of it. Bonnie and Pat Duffy, the owners, are originally from Maryland and specialize in a lot of dishes they learned to prepare up in the Chesapeake area.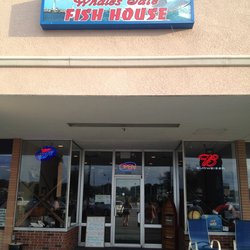 For example, they are famous locally for their Maryland crab soup with great seasonings and veggies.  They also have crab balls made with tasty crab meat rolled and seasoned the Chesapeake way.
Other specialties include tender clam strips with Whale's Tale's famous breading, fried oysters, and plenty of varieties of salads.
Seafood can be prepared any way you like it: lightly breaded in a secret recipe and fried in canola oil, broiled in lemon butter, blackened seasoned, or topped with their special crumb topping.
Seafood entries include belly clams, fish and chips, haddock, shrimp, catfish, oysters and clam strips.
Everything is always fresh. Their "signature dish" is Bonnie's Maryland Lump Crab Cake, seasoned and broiled to perfection and served with two sides.
For people not inclined toward seafood, they also have chicken dishes.
Wednesday and Saturday nights they have an all you can eat fish special, and the big eaters come out to take advantage of the huge portions.  The last time I had the all you can eat special, the fish was swai, similar to catfish only milder.

Service is great. It's family owned and operated, and they quickly learn what you like and how you like it prepared.
They have a nice wine and beer selection along with soft drinks.
It's definitely a family restaurant all dolled up with a nice nautical interior.
---
---
---
Our Facebook page has more than 97,447 followers who love off the beaten path Florida: towns, tourist attractions, maps, lodging, food, festivals, scenic road trips, day trips, history, culture, nostalgia, and more.
Take a look. If you enjoy what you see, please give us a like.
---
Subscribe to our Free Ezine, Florida Heritage Travel
20200101-307-459-GI5.9