BEST RESTAURANTS IN MOUNT DORA

By  Mike Miller Updated November 6, 2023

I live in Mount Dora and my selection of restaurants include any I have tried within a 10 mile radius of my home. I have included not only Mount Dora restaurants, but some in Eustis and Tavares within that radius.
Map of 10 Mile Radius from Mount Dora
I have only included restaurants here that I have tried and enjoyed.  The list might be a bit Mount Dora centric because that's where I live.
---
BEST RESTAURANTS IN MOUNT DORA
ACCORDING TO FLORIDA BACK ROADS TRAVEL
---
1921
142 East 4th Ave, Mount Dora, FL 32757.  352-385-1921.
Extensive menu and wonderful bar scene. 
Originally established by celebrity chef Norman Van Aken, who is no longer with the restaurant.  Upscale but worth the money and the food is fine dining at its best.
The restaurant includes several separate dining rooms and can handle large parties if required.
Popular happy hour 430 to 630 where the locals like to go.
---
Back Porch Pizza Bar
237 W. 4th Ave., Mt Dora, FL 32757, 352-729-2654
Casual place with stone fired pizza, poke bowls, and hand crafted cocktails.  Seating is in an outside shaded courtyard.
---
Cafe Gianni
425 North Alexander St, Mount Dora, FL 32757. 352-735-3327
This little restaurant had a nice following in Eustis and moved the entire operation to Mount Dora in 2014.
It has an upscale Italian menu in a two story building in downtown Mount Dora.  Dining upstairs or down, inside or outside, wine and beer.
Chicken, pork, beef and seafood. Home made pasta.
---
Chili's Bar & Grill
17419 Us Hwy 441, Mount Dora, FL 32757. 352-589-4002.
Yep, this is the big national chain and I like it a lot.
Good chili, fajitas, hamburgers, wide variety of menu items. Full liquor bar and great margaritas. One of the best of the chain Mount Dora restaurants.
---
Cody's on 4th
111 East 4th Ave, Mount Dora, FL 32757. 352-735-8426.
Nice little cafe decorated with old scenes of historic Mount Dora. They have a variety of coffee, homemade pastries, fresh salads, sandwiches, beer and wine.
One of my favorite places to have a light breakfast.
---
Copacabana Cuban Cafe
320 Dora Drawdy Way, Mount Dora FL 32757. 352-385-9000.
This is a great place to eat. Simple yet comfortable decor and interior. 
Owner Alberto and his staff are very attentive and agreeable. Food is great and served promptly. I recently had picadillo - a lightly spiced ground beef dish - served with plantains and yellow rice.
As an appetizer, I had sopa de polla - chicken soup- with lots of noodles, potatoes, carrots, and chicken. It was only $4.95 and could have been a meal unto itself. My picadillo was just right.
This is a good place to eat and to discover that Mount Dora restaurants include a good Cuban place.
---
Fiesta Grande Mexican Grill
421-B Baker Street, Mount Dora FL 32757. 352-385-3540.
This is a large, bright and cheerful downtown eatery that has a full liquor bar and a wide range of Mexican dishes.
Very good food and colorful atmosphere. There are other Mount Dora restaurants that feature Mexican food, but this my favorite.

Fifth Avenue Streatery
846 East 5th Ave., Mount Dora, FL 32757.  352-720-3328. 
All of the dining is outside in this nicely converted old gas station on the corner of Highland and 5th. 
They have some great food from appetizers to entrees.  Their cuisine is a combination of good old Southern food and some surprisingly upscale choices. 
Although the dining is outside, they have infrared heaters for the winter and cooling misters for the summer.  Tim and Deborah are the owners.

Fish Camp
901 Lake Shore Blvd, Tavares, FL 32778, 352-742-4400.
This waterfront restaurant is on Lake Eustis near the intersection of SR-19 and US-441.  It has a wide selection of seafood and offers both inside and outside dining.
Many people like to come here by boat because there are plenty of docks next to the outside dining deck.
Goblin Market
330 Dora Drawdy Way, Mt Dora FL 32757. 352-735-0059.
This fine restaurant is entered from a charming alley between Donnelly and Alexander in the heart of downtown Mount Dora.
The atmosphere is charming, reminiscent of a private club with book lined walls and comfortable lighting. The food and service are as good as anyplace in Florida.
Try the upstairs bar for great service from a bartender who remembers everybody's name and drink. This is the top of "must visit" Mount Dora restaurants.

---
Golden Corral Buffet & Restaurant
15810 Us Highway 441, Eustis, FL 32726. 352-589-1831.
This restaurant features a big buffet that is sure to have something on it you will like.
The salad bar is great with plenty of lettuce, carrots, green peppers, black olives, croutons, cole slaw and a host of other goodies like garbanzos and cheeses.
The hot meal bar is loaded with a lot of fried delights like fish, chicken, okra and other southern staples like green beans and carrots. They also have a excellent rotisserie chicken. They also have great desserts. Prices reasonable, service great.

Highland Street Cafe
185 South Highland St, Mount Dora FL32757. 352-383-1446.
This is one of the Mount Dora restaurants favored by locals, especially as a breakfast place, although they also have a regular American lunch menu.
It is similar to a diner in menu and layout. Breakfast is available all day long. Service is great and food is good, especially breakfast.

Jeremiah's
947 East 5th Ave, Mount Dora FL 32757. 352-383-7444.
This corner restaurant is a good place for dinner and also has a nice bar scene.
They have just about everything, and their fajitas are better than any of the chain restaurants on the outskirts of town. Jeremiah's has a full liquor bar, and outside dining is available too.
JK Thai Garden & Sushi
116 E. Fifth Ave, Mount Dora, FL 32757. 352-385-4700.
Great Thai and sushi in a pleasant setting with both inside and outside dining.
Kiku Japanese Steakhouse
15211 US Highway 441, Eustis, FL 32726. 352-483-8288.
This large and roomy restaurant is in the Publix shopping center at David Walker Boulevard.
It features great hibachi, cooked at your table while you watch in amazement. It is one of two Mount Dora restaurants that feature hibachi cooking. Full liquor bar, reasonable prices.
---
The Lakeside Inn
Lakeside Inn
100 Alexander St, Mount Dora, FL 32757.  352-383-4101. 
This inn goes back to 1883 and is Florida's oldest continuously operating hotel.  As if that weren't enough, the inn also has some of the best food and drink in town.  

It not only has a large main dining room, but you can also dine and drink in historic Tremain's Lounge.  This cozy room has a fireplace and music almost every night from laid back piano to acoustic to old time jazz. 
The wide veranda overlooking beautiful Lake Dora is a favorite spot to watch the sunsets from a comfortable rocking chair. Read more.
---
Lampu Japanese Steakhouse
US Highway 441 # 2, Mount Dora FL 32757. 352-383-6119.
This large restaurant is at the north end of Donnelly Street where it meets US Highway 441 on the north side of town.
Lampu features great hibachi, cooked at your table in entertaining fashion. It is one of two Mount Dora restaurants that feature hibachi cooking. Full liquor bar, reasonable prices.

Las Palmas Cuban Restaurant
351 N. Donnelly St., Mount Dora, FL 32757.  352-720-3336. 
This restaurant came along many years after the well established Copacabana on the same block. 
This one is thriving and so is Copacabana;  both serve Cuban food but with slightly different menus and cooking styles.

Let's Do Lunch
426 N. Donnelly St., Mount Dora, FL 32757. 352-735-3702.
They are open only for lunch and have a short menu packed with nice items. 
You can get sandwiches, soups, salads and their specialty, a lobster roll.  They have a small indoor dining room and a couple of tables on the outside sidewalk.  
---
Maggie's Attic
237 West 4th Ave, Mount Dora, FL 32757. 352-383-5451.
I have decided that wine and beer are food for purposes of listing Mount Dora restaurants.
I stopped by here recently for one of their "Wine Down Wednesday" events. Probably a hundred jovial people were enjoying beer, wine and music.
There was a table set up with snacks, although this is more of a wine, beer, social gathering spot and gift shop than a restaurant.

---
Magical Meat Boutique
322 Alexander St., Mount Dora, FL 32757.  352-729-6911. 
This British themed pub and restaurant  has a funny name but once you've finished snickering you will enjoy its British charm and eclectic menu.
MMB, as locals call it, is a British Carvery that specializes in freshly carved beef, pork, turkey, and lamb.  The gastro-pub serves breakfast, lunch and dinner 7 days a week.
This neat little place is only a few hundred feet from the historic Lakeside Inn. 
---
Mary's Kountry Kitchen
15945 CR-448, Tavares, FL.  352-343-6823
Rustic restaurant with a Tavares address that is really out in the country closer to Deer Island and Lake Gem.
Great place for old fashioned cooking and one of the best breakfasts in the area.
---
Momiji Sushi Bar and Grill of Sorrento
24400 FL-44, Eustis, FL 32736. 352-357-2285
They have a nice little bar where you can sit and have a drink, and another where you can watch your sushi being prepared.
Their food includes soup, salads, and entrees for either the sushi bar or their traditional menu.
I like their hibachi with filet mignon, plenty of vegetables and fried rice.
---
Mount Dora Marketplace
100 E. 4th Ave & 334 N. Donnelly, Mount Dora, FL. 352-267-3560
This large corner building is a multi-vendor location with many artists and small food vendors.  You can dine in or out, and enjoy a wide variety of foods.
Among the many restaurants and vendors are HandleBar, an upstairs lounge;  Wolf Branch Brewing Company; Shadrach's Fiery Furnace Pizza Co.; Waffles & Cream; Fun-Ko's Poke Bowls and Asian Snacks.
Other restaurants that specialize i Lebanese food, arepas, and more.
---
Mount Dora Pizza & Subs
2718 W. Old US 441, Mount Dora, FL. 352-383-5303.
This is arguably the most popular pizza place in the area.  Great pizza and all of the popular Italian dishes.
---
Night Owl Caribbean Cuisine
929 South Bay Street, Eustis, FL 32726.  352-589-0256.
Richard Wright had a popular food truck serving Jamaican food, and lovers of Caribbean Cuisine are glad he opened a permanent location in Eustis. 

Great jerk chicken and pork, beef patties, and much more.  Tiny dining room and great takeout service.  Read more.
Oakwood Smokehouse & Grill
2911 David Walker Blvd, Eustis, Florida 32726. 352-483-0137
The inside of this barbecue place reminds you of a gentlemen's hunting club with stuffed deer, boar, bobcats, gator heads and mounted fish.
Very good ribs, grilled and barbecued chicken, good slaw and vegetable side dishes. Beer and wine. A pleasant place with reasonably priced good food.

Olive Branch Grille & Bar
115 West 3rd Ave., Mount Dora, FL 32757. 352-729-6734.
This upscale restaurant features Italian and Mediterranean dishes. It has a full service bar and a menu equally divided between seafood and land based offerings.  
---
One Flight Up
400 N. Donnelly St., Mount Dora, FL 32757. 407-758-9818.  
Charming One Flight Up has one of the best views of all downtown Mount Dora restaurants. 
It's on the second floor with no elevator, so you have to be in good enough shape to walk up the stairs. The outside dining balcony has a wonderful view of what's going on downtown. 
The coffee, soups, salads, wraps and other light fare are among the best in Mount Dora. 
---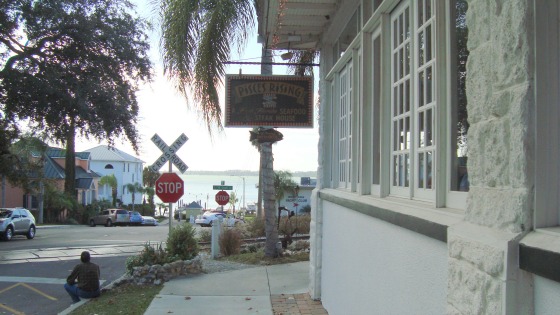 Pisces Rising
239 West 4th Avenue, Mount Dora, FL 32757. 352-385-2669. 
Pisces Rising is in the heart of downtown Mount Dora.
Its outside bar and dining deck have an expansive view of Lake Dora, and locals and tourists alike enjoy watching the magnificent sunsets over the lake.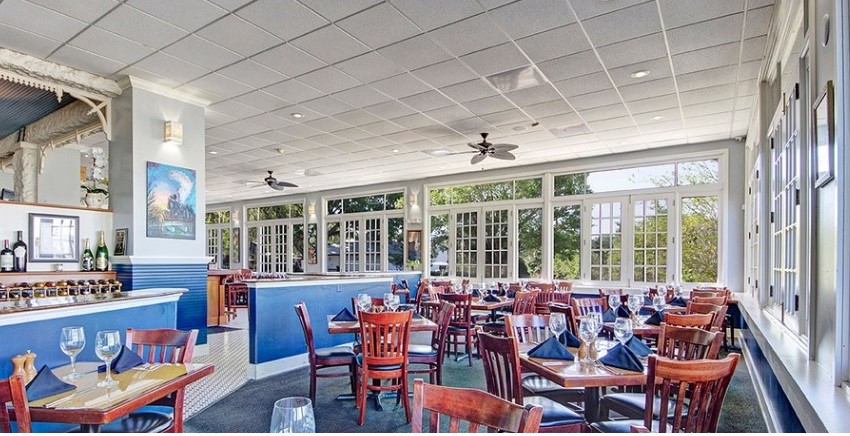 Pisces Rising Dining Room
The happy hour drink prices are refreshingly low compared to some of the places in the larger Florida cities, and they also have a nice bar menu with shrimp offerings and other light fare.
The indoor dining area is famous for its fine dining menu.
---
PizzAmore
722 East 5th Avenue, Mount Dora, FL 32757. 352-383-0092.
This medium size restaurant with the catchy name is one of the most popular Mount Dora restaurants.
In a restored vintage house close to downtown, with great salads, pizzas, wine and beer. Order your pizza the way you like: cheesy or not, thin or not, crispy or not.
They will make it your way. Also some outside dining.
---
Saga Fusion
6551 N. Orange Blossom Trail #221, Mt Dora. 352-729-4007
This restaurant features table service for lunch and dinner.  They specialize in Asian Fusion cuisine along with sushi and hibachi.
The have some unique offerings such as scallion pancakes, Krab Rangoon, and Yakitori Skewers with either chickn or steak.
I had hibachi with filet mignon and it was delicious.  When I last tried it the restaurant was too new for a liquor license.  If that is important to you, check it out first.
---
Sol De Mexico
125 N. Bay Street, Eustis, FL 352-357-0259.
Nice Mexican restaurant in the heart of revitalized downtown Eustis.
Great standards like tacos, burritos and fajitas. Pleasant decor, sit down dining, good service. Parking lot on east side of restaurant.

Takis Pizza House II
1600 S Bay St  Eustis, FL 32726.  Tel: 352-357-0022. 
As the name implies, Takis has great pizza. 
I value their Greek dishes, including a great gyro plate, wonderful Greek salads, and my all time favorite:  grape leaves stuffed with ground beef and rice. 
Good selection of beer and wine. Read more.
---
The Bavarian House
433 Alexander St, Mount Dora, FL 32757. 352-735-8387.
This casual German eatery has inside and outside dining and specializes in tradition German food and beer. 
Their menu has a wide selection of appetizers and entrees.  For the non-German guest, the offerings are always shown on the menu in German and explained in English. 
For example, their Goulaschsuppe is homemade Goulash soup with pork, beef and pepper bells.
---
The Frog and Monkey Restaurant & Pub
411 N. St, Mount Dora, FL 32757. 352-383-1936.
This basement bar and eatery is entered either from Donnelly Street or Dora Drawdy Way.
It is in the Renaissance Building, the tallest structure in downtown Mt Dora. It is one of the friendliest and comfortable bar and restaurants scenes in Mount Dora.
It serves great food, beer and wine. A very good cottage pie, great burgers and soups.  It has what I consider to be the very best hamburger in town.
---
The Great Pizza Company
23 E. Magnolia Ave., Eustis, FL 32726. 352-357-7377
Located in the historic downtown area of Eustis, this small place with high ceilings and family ambience has about 40 seats and serves fantastic New York style thin crust pizza and good salads.
Owner Sandy Johnson says the pizza is so good because they use dough made with New York water. My pizza crust was nice and thin and crispy, just the way I like it. Read more.

The Salted Fry
342 Dora Drawdy Way, Mount Dora, FL 32757. 352-720-3755. 
This tiny place in downtown has some inside and outside dining.  It specializes in hand cut fries, as the name implies, but also has a nice variety of sandwiches and salads. 
They have a nice selection of exotic teas and wine. The Pomme Frites (Belgian-Style fries) come with a large variety of toppings and sauces drizzled on top.  They focus on gluten-free food.
---
Tony's Chowder House
622 N. Donnelly St., Mount Dora, FL 32757. 352-729-2834.
This small 12 table restaurant with some additional outside dining serves its "World Champion Clam Chowder" and other seafood offerings.
Tony's sister restaurant in Cedar Key has won many cook-off contests and its chowder recipe is in the Great Chowder Cook-off Hall of Fame.
---
Village Coffee Pot
425 North Donnelly St, Mt Dora FL. 352-383-3334.
This is the spot to go for great coffee, ice cream, gelato, soup and sandwiches.
Not only that, owner Akhtar and his strong right hand woman, Carol, know what's going on around town and will share the latest information.
This small spot in the heart of downtown has become the "nerve central" of downtown Mount Dora. A good place to swap stories and meet old and new friends.
---
Vincent's Italian Restaurant
5914 N. Orange Blossom Trail, Mt. Dora, FL 352-735-4578.
This popular place has been around for years on the south side of Mount Dora, just beyond the city limits.  Great pizza and a wide variety of Italian dishes.
---
Third Avenue and Baker Street
Wave Asian Bistro & Sushi
301 N. Baker St, #106, Mount Dora, FL 32757.  352-383-9283.
Great Asian food including sushi, hibachi, bento, and a large variety of soups.
Large dining areas and large menu selection.  My favorite here is their poke bowl.
---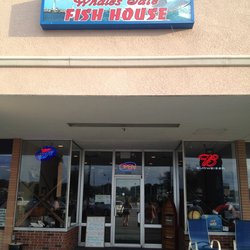 Whale's Tale Fish House
2720 W. Old Highway 441, Mount Dora, FL 352-385-1500.  
The Whale's Tale is a favorite of year round locals and snowbirds who have been here before.
It is in a quiet shopping center that many tourists seem to overlook on their way to someplace else. They are missing a great dining experience.  
As the name implies, this restaurant specializes in seafood and they do a great job of it. Bonnie and Pat Duffy, the owners, are originally from Maryland and specialize in a lot of dishes they learned to prepare up in the Chesapeake area. Read more.
---
---

Our Facebook page has more than 129,275 followers who love off the beaten path Florida: towns, tourist attractions, maps, lodging, food, festivals, scenic road trips, day trips, history, culture, nostalgia, and more.  We post articles every day.  Please check it out and if you like it, we would appreciate a "like" from you.
---
By Mike Miller, Copyright 2009-2023
Florida-Back-Roads-Travel.com
Florida Back Roads Travel is not affiliated with or endorsed by Backroads, a California-based tour operator which arranges and conducts travel programs throughout the world.