Florida History Day Trips
11 Day Trips For Florida History Buffs
Native Americans were in Florida at least 12,000 years ago, but written records only began when Juan Ponce de León arrived in 1513. 
Spain built St. Augustine and Pensacola in 1565 and governed Florida for most of the next 250 years until it became a territory of the United States in 1821.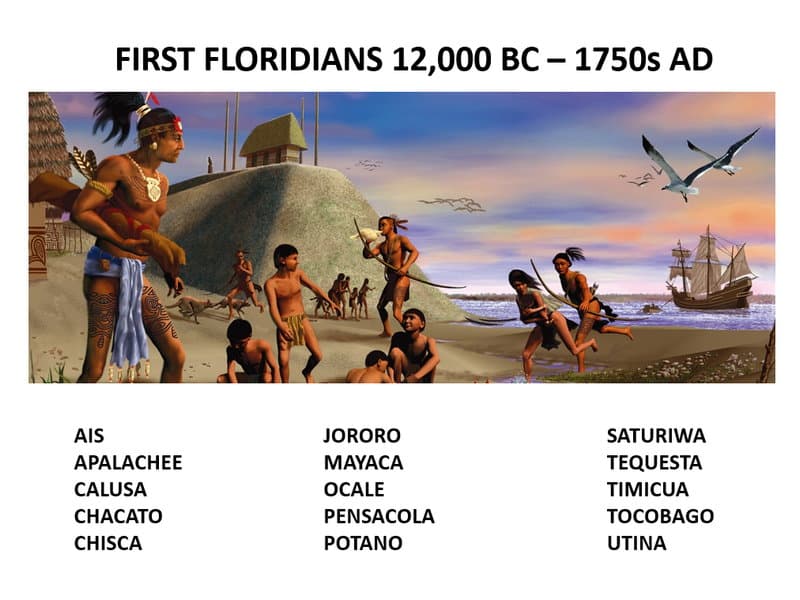 The new territory attracted people from bordering southern states.  Florida became a state in 1845.  Much of Florida heritage is derived from the Old South, especially in north Florida. 

Although part of the Confederacy, it suffered less damage in the Civil War than other southern states. Only one significant battle was fought in Florida.
The Union army occupied most coastal towns and forts, but the state's interior remained in Confederate hands. 
After the Civil War, agriculture grew in importance, especially cattle and citrus.  Florida's economy collapsed in 1926 and was soon followed by the Great Depression. 
World War II spurred major economic development because Florida's year-round mild climate made the state a major training center for our military. 
Tourists began visiting and many stayed.  The population growth continues to this day.
Here are a few places you can go to get a feel for Florida history.
---
FLORIDA HISTORY DAY TRIPS
Barnacle Historic State Park, Miami
Castillo San Marcos, St. Augustine
Cracker Country Rural History Museum, Tampa
Fort Caroline National Memorial, Jacksonville
Fort Christmas Historical Park, Christmas
Fort Clinch State Park, Fernandina Beach
Judah P. Benjamin Confederate Memorial, Ellenton
Kingsley Plantation, Jacksonville
Koreshan State Park, Estero
Olustee Battlefield Historic State Park, Olustee
Stephen Foster Folk Culture Center State Park, White Springs
LEARN MORE BY SCROLLING DOWN THE PAGE
---
---
DAY TRIP 1
Barnacle Historic State Park
3485 Main Highway, Miami, FL 33133.  Tel: 305-442-6866
https://www.floridastateparks.org/parks-and-trails/barnacle-historic-state-park
This park is on Biscayne Bay in the historic Miami neighborhood of Coconut Grove.   The Barnacle was the home of pioneer Ralph Middleton Munroe, who preserved the natural areas on his home site only cutting out a narrow trail through the surrounding hammock. 
He built the home in 1891, and today's park looks like it did when Munroe lived here.  He was a sailor and boat designer, and the park even contains replicas of 2 of his boats. 
The park is for simple relaxation:  picnics, walking on the paths, or rocking in a chair on the front porch with views of the bay.
---
DAY TRIP 2
Castillo San Marcos
1 South Castillo Dr, St. Augustine, FL 32084. Tel: 904-829-6506
https://www.nps.gov/casa/index.htm
The Castillo dominates the waterfront and is the oldest structure in downtown St. Augustine having been completed by Spain in 1695. 
It sits on a 20-acre site and is the oldest seventeenth century fort in North America. The fort has also been occupied by England, the Confederate States of America, and the United States. 
Native Americans, Minorcans, and African Americans also had roles in the fort's history.
Your self-guided tour of the fort includes walking on and around the historic walls, reading the many exhibits, looking at the cannons, visiting the different rooms and learning about their functions, and reading about the history and cultures of the various groups who are part of the fort's history.
There are also guided tours within the fort. 

---
---
DAY TRIP 3
Cracker Country Rural History Museum
4800 Hwy 301 North, Tampa, FL 33610.  Tel: 813-627-4225
http://www.crackercountry.org/

Cracker Country is only open to the general public during the Florida State Fair in February.  It is a living history museum on the Florida State Fairgrounds in Tampa.
The museum holds a collection of 13 original buildings dating from 1870-1912 which were relocated from across the state of Florida.
The buildings range from public buildings like a general store and a train depot, to private buildings like various pioneer homes.
The historically furnished buildings recreate the lifestyles of the past, Costumed interpreters portray daily living as Florida pioneers known as Florida Crackers. 
Cracker Country focuses on providing educational opportunities for the public to learn about old Florida.  Group tours can be arranged during the months when the fair is not operating.

---
---
DAY TRIP 4
Fort Caroline National Memorial
12713 Fort Caroline Road
Jacksonville, FL 32225.  Tel: 904-641-7155
https://www.nps.gov/timu/learn/historyculture/foca.htm

This site is on a bluff on the south bank of the St. Johns River in Jacksonville.  Fort Caroline memorializes the short-lived French presence in sixteenth century Florida. France and Spain struggled for control of Florida in the sixteenth century.  
This fort was France's foothold in the New World.  The exhibits show you this history, including stories of religious disputes, territorial battles, and the first contact between Native Americans and Europeans. 
The settlement at Fort Caroline did not survive beyond its first year.  Spanish troops marched up from St. Augustine and destroyed the settlement and most of its people. 
This site hosts the visitor center for the entire Timucuan Preserve which includes Fort Caroline and Kingsley Plantation.

---
DAY TRIP 5
Fort Christmas Historical Park
1300 Fort Christmas Rd, Christmas, FL 32709.  Tel: 407-254-9310
http://www.orangecountyfl.net/cultureparks/parks.aspx?m=dtlvw&d=15#.W41f9-hKhqM
The original Fort Christmas was built on Christmas day 1837 during the Second Seminole War.  The fort you will visit is a full-scale replica that includes not only Seminole and pioneer artifacts, but weapons, clothing, tools, and other items.  Christmas, Florida is east of Orlando on State Road 50.
The park grounds also include some restored Florida Cracker houses and other buildings furnished with period pieces.  The park has playgrounds, picnic areas, a small museum, and hosts several events during the year. Your visit will also include a video presentation of the history of the Seminole Wars.

---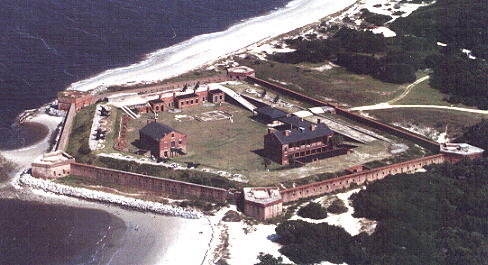 Fort Clinch
DAY TRIP 6

Fort Clinch State Park
2601 Atlantic Avenue
Fernandina Beach, FL 32034.  Tel: 904-277-7274
https://www.floridastateparks.org/fortclinch 

This state park in Fernandina Beach is a unique combination of Florida's natural beauty and a historic fort all in one beautiful setting.  The 1,400-acre park has a 3-mile shoreline on the northern end of Amelia Island.  
The beaches on St. Mary's Inlet and the Atlantic Ocean attract swimmers, shellers, fishermen and campers.  The park includes miles of oak canopied trails perfect for hiking or biking. 
A visit to historic Fort Clinch includes talking to park staffers dressed as uniformed soldiers reenacting life during the Civil War.  You can also explore the fort's many rooms and grounds. 
One weekend a month the fort has a staff of many uniformed soldiers who demonstrate wartime skills like carpentry, masonry, cooking, blacksmithing, and cannon firings.

---
DAY TRIP 7
Judah P. Benjamin Confederate Memorial
Gamble Plantation Historic State Park
3708 Patten Ave, Ellenton, FL 34222.  Tel: 941-723-4536
https://www.floridastateparks.org/parks-and-trails/judah-p-benjamin-confederate-memorial-gamble-plantation-historic-state-park
This pre-Civil War mansion was home to Major Robert Gamble, who owned an extensive sugar plantation.  It is the only surviving plantation house in South Florida.

It is believed that Confederate Secretary of State Judah P. Benjamin took refuge here after the fall of the Confederacy until his escape to England could be arranged. 
The mansion is furnished like a successful mid-19th century plantation. Guided tours of the house are given 6 times a day, Thursday through Monday.

---
---
DAY TRIP 8
Kingsley Plantation
11676 Palmetto Ave, Jacksonville, FL 32226.  Tel:  904-641-7155
https://www.nps.gov/timu/learn/historyculture/kp.htm
Kingsley Plantation is located on Fort George Island on the north side of the St. Johns River in Jacksonville.  It is part of the Timucuan Preserve that also hosts the Fort Caroline National Memorial.  
The plantation was the estate of Zephaniah Kingsley, the owner of several plantations in Florida.  Kingsley had many slaves. 
On display at this park are the owner's house probably built around 1798 and considered to be the oldest surviving plantation house in Florida. 
The house includes an attached kitchen.  The park also includes the remains of 25 slave cabins that were still being used after the U.S. Civil War. 
The grounds of the park are open to the public daily, but tours of the plantation house are only allowed by reservation on a limited basis due to ongoing preservation efforts.

---
---
DAY TRIP 9
Koreshan State Park
3800 Corkscrew Road, Estero, FL 33928.  Tel: 239-992-0311
https://www.floridastateparks.org/parks-and-trails/koreshan-state-park   

Florida has always had a reputation for attracting unusual people, and the Koreshan Unity was certainly unusual.  This cult believed that the entire universe existed inside of a giant, hollow sphere.  
They settled in what is now Koreshan State Park. They prospered for years, but since they all took a vow of chastity the cult died out.  The few elderly survivors donated their 305-acre site to the State. 
The grounds are loaded with natural Florida vegetation and include many gardens and exotic groves from when the Koreshans owned the land. 
The site includes 11 historic buildings with exhibits that explain the cult's unusual beliefs.  There are also several camp sites spread throughout the wooded park.
---
---
DAY TRIP 10
Olustee Battlefield Historic State Park
5815 Battlefield Trail Rd, Olustee, FL 32087.  Tel: 386-758-0400
http://www.floridastateparks.org/parks-and-trails/olustee-battlefield-historic-state-park

Although Florida escaped most of the major devastation caused in the South by the Civil War, it was the site of at least one significant battle.   
More than 10,000 troops fought a 5-hour battle in a pine forest near Olustee. 
U.S. Colored Troops took part in the battle, including the famous 54th Massachusetts. The battle ended with 2,807 casualties and the retreat of Union troops to Jacksonville.
The battlefield became the state's first historic site. You can use the picnic area and take a mile-long walk along an interpretative trail.  The park has a visitor center with exhibits and artifacts from the battle.
A reenactment is held every February.  

---
DAY TRIP 11
Stephen Foster Folk Culture Center State Park
11016 Lillian Saunders Drive (US Highway 41), White Springs, Florida 32096. Tel:  386-397-4331https://www.floridastateparks.org/parks-and-trails/stephen-foster-folk-center-state-park

This park in White Springs honors the American composer Stephen Foster, who wrote what is now Florida's official song: "Old Folks at Home".  
This song made the Suwannee River famous, and the banks of the river are a logical place for this center. 
The museum contains exhibits about the composer's most famous songs, and many of them can be heard from the park's 97 bell carillon during the day. 
You can watch demonstrations of quilting, blacksmithing, stained glass making, and visit the gift shop.  The park also has miles of trails and a campground. 
The Florida Folk Festival is held here every Memorial Day Weekend.

---
---

Our Facebook page has more than 128,577 followers who love off the beaten path Florida: towns, tourist attractions, maps, lodging, food, festivals, scenic road trips, day trips, history, culture, nostalgia, and more.  We post articles every day.  Please check it out and if you like it, we would appreciate a "like" from you.
---
By Mike Miller, Copyright 2009-2023
Florida-Back-Roads-Travel.com
Florida Back Roads Travel is not affiliated with or endorsed by Backroads, a California-based tour operator which arranges and conducts travel programs throughout the world.