ONE FLIGHT UP

400 North Donnelly Street
Mount Dora, Florida 32757
Tel:  407-758-9818
Charming One Flight Up has the best view of all downtown Mount Dora restaurants. 
It's on the second floor with no elevator, so you have to be in good enough shape to walk up the stairs.
The outside dining balcony has a wonderful view of what's going on downtown.
There are even one or two tables where you can see Lake Dora and at certain times of the year enjoy the sunset.
Owners Judy and Roger and their friendly staff make guests feel very welcome. In fact, if you go there more than once you begin to feel like you're a member of the family.

The coffee, soups, salads, wraps and other light fare are among the best in Central Florida. I recommend their Chef Salad, one of my favorites.  They also have a wonderful variety of cakes and cookies for those with a sweet tooth.
One Flight Up also has several small intimate rooms with comfortable couches and chairs for group gatherings. A local group, Writers One Flight Up, meets in one of the rooms each week.  Other groups also make themselves home on a regular basis.

One Flight Up, Mount Dora
A good selection of wine and beer will complement your meal. Their coffee is great (and costs less than Starbucks) and they also have free wireless connectivity.
It's a good place to spend some time and meet friendly people.

There are plenty of things to do and know about Mount Dora at these links: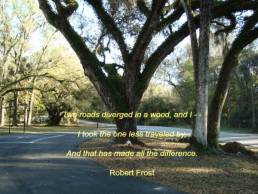 Over 65,000 followers can't be wrong. Learn about off the beaten path Old Florida, historic towns, attractions,  festivals, scenic drives and more.
Like Us On Facebook
Return From One Flight Up To Florida Restaurants
Return to Mount Dora Restaurants
Return To Florida Backroads Travel Home