RICHLOAM GENERAL STORE
The Richloam General Store is open for business.  It is a historic structure dating back to 1922 that was originally used as a general store. 
Over the years it also served as a railroad express station and post office.
The store is about one half mile south of State Road 50 between Clermont and Brooksville.  A sign on the highway tells you where to turn off. 
It is near the existing community of Ridge Manor.  The address is 38219 Richloam Clay Sink Road, Webster, Florida.
After turning off State Road 50, you will drive down a well maintained limerock road through a very peaceful forest that is part of the Richloam Wildlife Management Area. 
A short time later, you will see the unpretentious store off to your left.
The store was a stop on the Orange Belt Railroad which ran many years ago from Sanford to St. Petersburg. 

When the Atlantic Coast Line bought the railroad in 1902, they established a depot at the store.  The railroad was abandoned in the 1960s

The building and grounds have been lovingly restored and operated by descendants of the family that originally operated the store.  
The front porch has several rocking chairs where you can sit and enjoy the peace and quiet of the surrounding forest. 
The interior of the store has beautifully refinished wood floors and many interesting items you can purchase.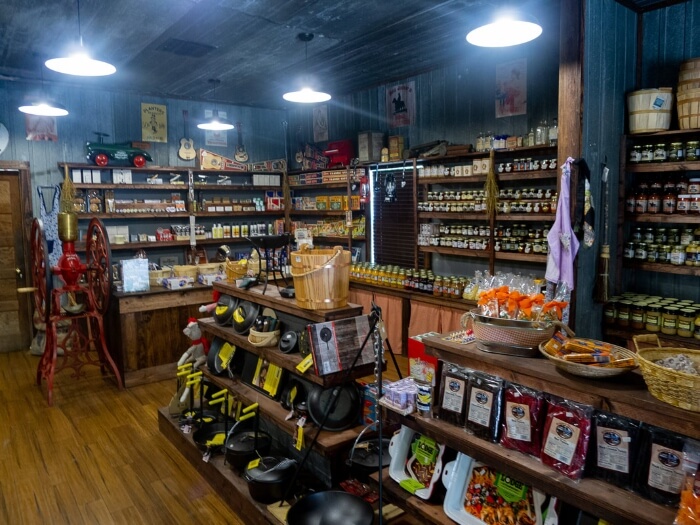 Richloam General Store Interior
Photographic Destinations by Bob Kyle
On my visit, I saw aprons, handmade brooms, barbecue sauce, jam, jelly, Moon Pies, candy, and pickled okra. 

A friendly woman explained the history of the store and made me feel welcome.
To learn more, go to the
Richloam General Store Website
The woman working in the General Store the day of my visit told me about a wonderful local restaurant, Southern Harmony.  I tried it, enjoyed it, and here is my review:

Tripadvisor Review of Southern Harmony
---
INTERACTIVE MAP  RICHLOAM GENERAL STORE
---

Our Facebook page has more than 128,577 followers who love off the beaten path Florida: towns, tourist attractions, maps, lodging, food, festivals, scenic road trips, day trips, history, culture, nostalgia, and more.  We post articles every day.  Please check it out and if you like it, we would appreciate a "like" from you.
---
By Mike Miller, Copyright 2009-2023
Florida-Back-Roads-Travel.com
Florida Back Roads Travel is not affiliated with or endorsed by Backroads, a California-based tour operator which arranges and conducts travel programs throughout the world.