SATELLITE BEACH, FLORIDA
Satellite Beach, Florida things to do, lodging, dining, real estate at end of article.
Satellite Beach, Florida is a relatively new town by Florida standards. It was incorporated in 1957 and is on the barrier island south of Patrick Space Force Base.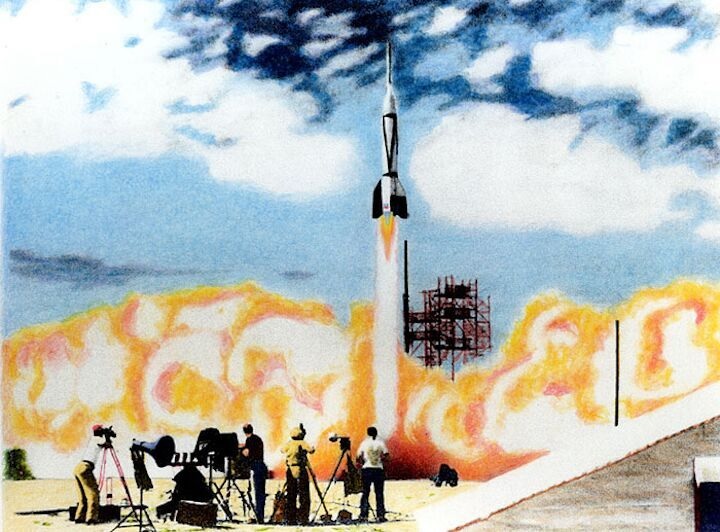 Bumper 2, First Launch From Cape in 1950 . Artist Lloyd Behrendt https://www.facebook.com/SpaceBrat1
It is immediately north of another relatively new town, Indian Harbour Beach.

Satellite Beach has a population of about 11,450, and fronts the Atlantic Ocean along State Road A1A on the east and the Banana River on the west.

HISTORY OF SATELLITE BEACH FLORIDA
Brevard County had a severe housing shortage in the 1950's and 1960's due to the rapid build up of employment at Kennedy Space Center in support of the Apollo program designed to put a man on the moon by the end of the 1960's.

Satellite Beach became one of the residential communities built to handle this extreme demand.
Some of these early residents and their descendants have stayed in the area. Buzz Aldrin, one of the first astronauts to walk on the moon, is still living in Satellite Beach. As of this writing he is 92 years old.
Satellite Beach was founded by Percy L. Hedgecock. 
He and his brother-in-law, Jimmy Caudle and cousin Dumont Smith were originally from North Carolina and came down to develop real estate in the area. They built many of the original houses in the community. 
It was decided that the best way to name the new town was to ask the Satellite Beach residents at the time. A naming contest was held with a first prize of $25, and Satellite Beach became official, so named because of its proximity to Cape Canaveral.
Percy was the mayor of the new town from 1957 to 1973.

Most of the buildings in this little city were built after its founding in 1957, but one old building of interest is Holy Apostles Episcopal Church at 505 Grant Avenue.
This church was originally built in Fort Pierce, Florida in 1902 and was barged up the Indian River Lagoon some 60 miles from its original location and placed in Satellite Beach in 1959.

So even though the town was only two years old at the time, it had a historic church that is an excellent example of Carpenter Gothic architecture.  It was the first church in Satellite Beach.

Satellite Beach is part of the "Space Coast", the name given the area encompassing this coastal section of the state of Florida that includes Kennedy Space Center and Cape Canaveral Space Force Station.
Cape Canaveral was previously named Cape Canaveral Air Force Station, and before that, Cape Kennedy Air Force Station. All United States spaceflights launched by NASA have launched from these two stations.
Cape Canaveral's headquarters is the Patrick Space Force Base, just north of the City of Satellite Beach. The Patrick base was formerly Banana River Naval Air Station, transferred to the Air Force in 1948.
Nearby Port Canaveral is one of the busiest cruise ports in the world, and is also used for transport of goods.

SPACE SHUTTLE CHALLENGER DISASTER
I owned a civil engineering and surveying company located at 1790 Highway A1A in Satellite Beach. 
Our office was on the second floor of the building and we had a balcony that overlooked the Atlantic Ocean.
On January 28, 1986, most of our employees were gathered on the balcony about a half hour before lunch to watch the launch of Space Shuttle Challenger.
We had an unobstructed view of its trajectory as it headed off down range in a southeast direction over the Atlantic Ocean.
I will never forget the sickening feeling when we saw the explosion and realized at once that something had gone horribly wrong.
None of us who saw that tragedy will ever forgot it or feel the same about other rocket launches.
All seven people aboard the Challenger were killed in the explosion.
VIDEO HISTORY OF SATELLITE BEACH, FLORIDA
Check out the video link below.  It is Part 1 of 4 videos that celebrate the history of Satellite Beach.

I had an office in Satellite Beach back in the day and knew about quite a few of the pioneers featured in this video, including the narrator, the late Scotty Culp.

You will learn a lot about Percy Hedgecock and how one man can make so much happen in one lifetime.
He and the other founders fostered an attitude of service and community. Many of the residents volunteered at every turn, donating time and materials and helping to erect buildings and establish services.
They established the fire station, built the civil center and built the Satellite Beach Public Library, including donating books. The Library is still active and kept up to date, with digital accessibility, study rooms and a community meeting room.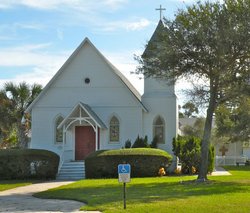 Holy Apostles Church
Volunteers are still active with many services including the Satellite Beach Police Department as well as its Fire Department.

The town also earned the nickname of the "softball capital of the world", and Percy was instrumental in making this happen too.
Today, while there isn't one large metropolitan area, there are dozens of restaurants, coffee shops, small grocery stores and a variety of boutiques up and down the coasts.
One of the biggest highlights of the area is its beautiful scenery, with a surprising number of beaches and parks for a relatively small area, much of which is public. The city has 16 parks and dune crossovers that provide beach access.
There is also an emphasis on protecting the ecosystem in the area. You can enjoy an abundance of birds, plants and marine life, although there are some rules in place.
For example, from March through October, lights must be out from 9pm to 7am in and around all beaches to protect the sea turtle, as this is nesting season. There are plenty of paths, so walking, hiking and biking areas are easy and plentiful.
De Soto Park is recommended for viewing manatees, especially during the winter months, when they arrive in large numbers to enjoy the warmer water.
Naturally, water activities are abundant. In addition to the beaches and swimming, canoeing, kayaking and fishing are popular.
It is particularly known for its surfing, and the entire Space Coast area attracts both expert and novice surfers alike from around the world.
One of the things that makes Florida a fun place to live is that there are many places that didn't even exist just a few years ago. It's easy to learn their history and even be a part of it.
And it makes you appreciate Old Florida and the back roads even more.
---
THINGS TO DO IN SATELLITE BEACH FLORIDA
Hightower Beach Park - 815 Sherry Dr, Satellite Beach, FL 32937, (321) 255-4400 - This beautiful beach park offers public beach access, restrooms, outdoor showers, picnic pavilions, and a playground for children.

Pelican Beach Park - 1525 Florida A1A, Satellite Beach, FL 32937, (321) 255-4400 - This oceanfront park offers a boardwalk, public beach access, restrooms, outdoor showers, picnic pavilions, and a playground for children.
DeSoto Park - 601 Esther St, Satellite Beach, FL 32937, (321) 773-6458 - This park features a public boat ramp, fishing pier, picnic tables, and a playground for children.
Longboard House - 101 5th Ave, Indialantic, FL 32903, (321) 728-8656 - This surf shop offers a wide variety of surfboards, skateboards, and beach accessories, as well as surfing lessons and rentals.
Barrier Island Sanctuary - 8385 S Highway A1A, Melbourne Beach, FL 32951, (321) 723-3556 - This nature preserve offers educational exhibits, guided nature walks, and a beautiful boardwalk that leads to the beach.
---
INFORMATION ABOUT SATELLITE BEACH, FLORIDA
---
---
---

Our Facebook page has more than 128,577 followers who love off the beaten path Florida: towns, tourist attractions, maps, lodging, food, festivals, scenic road trips, day trips, history, culture, nostalgia, and more.  We post articles every day.  Please check it out and if you like it, we would appreciate a "like" from you.
---
By Mike Miller, Copyright 2009-2023
Florida-Back-Roads-Travel.com
Florida Back Roads Travel is not affiliated with or endorsed by Backroads, a California-based tour operator which arranges and conducts travel programs throughout the world.