SIDNEY LANIER
Sidney Lanier was born in Macon, Georgia on February 3, 1842, and died on September 7, 1881, in Lynn, North Carolina.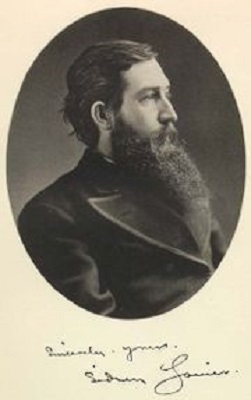 We include him on this page because he wrote "Florida: Its Scenery, Climate and History".

He was a poet and musician, and one of the most famous literary figures in the South, even though he is not usually considered one of our Florida authors.
He was also apparently a self taught musical genius who specialized in the flute.
Lanier graduated first in his class from Ogelthorpe College in Georgia, and enlisted in the Confederate Army in April, 1861, when he was just 19 years old.
He fought in several battles, and in 1863 his detachment served in Virginia and North Carolina.
After this, while piloting a blockade running ship, he was captured and imprisoned for 5 months in Point Lookout, Maryland, where he contracted tuberculosis.
He wrote his only novel in 1867 about these experiences titled "Tiger Lilies".
After the Civil War, he worked as a clerk, a school principal, and from 1868 to 1872 he practiced law with his father in Macon.
During this period he wrote a number of poems in the "cracker" and "negro" dialects of his day about poor white and black farmers in the Reconstruction South of the years after the Civil War.
He traveled extensively through southern and eastern portions of the United States in search of a cure for his tuberculosis.
On one trip to Florida in 1875, he wrote what may be the first and most influential travelogue about the Sunshine State: "Florida: Its Scenery, Climate and History".
This book earns him a place in our list of Florida authors.
While on another trip to Texas, he rediscovered his native talent for the flute and decided to travel to the northeast in hopes of finding employment as a musician in an orchestra.
Unable to find work in New York, Philadelphia, or Boston, he signed on to play flute for the Peabody Orchestra in Baltimore, Maryland, shortly after its organization.
He taught himself musical notation and quickly rose to the position of first flutist.
He was famous in his day for his performances of a personal composition for the flute called "Black Birds", which mimics the song of that species.
He settled in Baltimore and delivered lectures on English literature at Johns Hopkins University. In an effort to support his wife and three children, he began to write poems for magazines.
His most famous poems were "Corn", "The Symphony", "Centennial Meditation", "The Song of the Chattahoochee", "The Marshes of Glynn" and "Sunrise".
The last two poems are considered his finest works.
They are part of an unfinished set of lyrical nature poems known as the "Hymns of the Marshes", which describe the vast, open salt marshes of Glynn County on the coast of Georgia near Brunswick.
Lanier also published essays on other literary and musical topics and a notable series of four redactions of literary works about knightly combat and chivalry in modernized language more appealing to the boys of his day.
In the summer of 1881 he died of tuberculosis while camping in the mountains of North Carolina.
He was only 39 years old when he died.
In his brief life he left an indelible mark on American literature and on the heritage of Florida authors.
There is a historical marker in Brunswick, Georgia, commemorating the writing of "The Marshes of Glynn".
The largest bridge in Georgia, a short distance from the marker, is named The Sidney Lanier Bridge.
Some of Sidney Lanier's books, poems and essays include:
(1867) Tiger Lilies
(1875) Florida:Its Scenery,Climate & History
(1875) Corn
(1875) The Symphony
(1876) Sketches of India
(1876) Centennial Mediation
(1877) The Song of the Chattahoochee
(1878) The Marshes of Glynn
(1878) The Boy's Froissart (1878)
(1881) The Boy's Mabinogion
(1881) Sunrise
(1882) The Boy's King Arthur*
* Published after his death.
Some of his works are available at Sidney Lanier at Amazon.com
---
Our Facebook page has more than 88,112 followers who love off the beaten path Florida: towns, tourist attractions, back road maps, lodging, festivals, highway maps, scenic road trips, day trips, history, culture, nostalgia, and more.
Take a look. If you enjoy what you see, please give us a like.
---
Subscribe to our Free Ezine, Florida Heritage Travel