Vernon Lamme was born in 1893 and died in 1979. He rests peacefully in St. Luke's Church cemetery in North Merritt Island, Florida.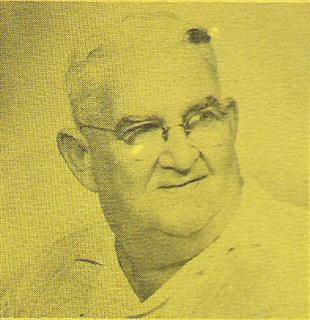 The old cemetery is shaded by ancient oaks draped in Spanish Moss.
It's a perfect setting to meditate and remember some of Vernon's old Florida stories.
Do you remember Zelig? He was the Woody Allen character in the movie of that name who kept appearing in old news reels of momentous events?
He always seemed to be where the action was.
Forest Gump had a lot of the same experiences, showing up at many momentous events.
Vernon's life reminds me of Zelig and Forest Gump. He was in many different places at the right time in history.
He spent much of his life as a newsman, working for many newspapers including the Cocoa Tribune, the Indian River Star, the Eau Gallie Record, the Fort Myers Tropical News, the Winter Haven Herald, the Naples Transcript and the Boynton Beach Star.
He even worked for Barron Collier in the old days when Collier was developing Everglades City and building the Tamiami Trail from Naples to Miami.
Vernon also became a councilman on the first city council of Marineland, Florida when the town was founded in 1940 in conjunction with the marine research center and tourist attraction.
He also found time to work in the infant motion picture industry in California, and he became Florida's first State Archeologist in 1935.  
His books recount a lot of Florida history from the year he moved to the state in 1912.  He is not a historian, but offers a newspaper man's observational skills along with a homespun way of telling stories.
His books are easy to read, and consist of a series of one or two page stories in which Vernon is usually a participant.
ABOUT VERNON'S FLORIDA BOOKS
I am only aware of two books that Vernon wrote about Florida. They are both interesting reads.

(1973) Florida Lore Not Found In The History Books
(1978) More Florida Lore
An interesting article about Vernon's life and career can be found at Merritt Island Pioneer Day.
His books are available at Vernon Lamme at Amazon.com