Florida Regional Histories
FLORIDA REGIONAL HISTORY
Each of Florida's 8 geographic regions has its own interesting history.  These pages tell you about that history and also show you the registered historic and heritage sites in that region.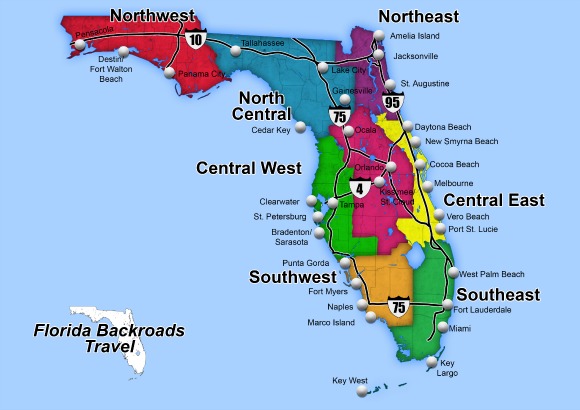 Florida has 1,300 heritage sites spread out over 67 counties.  The state organizes these by theme of the site as well as the county it is located in.  Here are the 23 themes:
Archaeological Sites

Cemeteries and Mausoleums

Civic and Social Clubs

Commercial and Industrial

Educational Facilities and Campuses

Florida Main Streets

Gardens

Heritage Trails

Historic Attractions

Historic Bridges and Spans

Historic Districts

Historic Movie Theaters
Libraries and Archives




Maritime

Markers and Monuments

Municipal Buildings

Museums

National Historic Landmarks

Parks, Preserves, and Sanctuaries

Performing Arts

Sites of Military Significance

Sites of Religious Significance

Transportation
Click on the map below of the region whose history you'd like to know.  You will also see a complete list of that region's heritage sites.

---
NORTHWEST FLORIDA HISTORY
Northwest Florida heritage and history are all around you as you travel through miles of mainly rural country, pine woods, and some of the most beautiful sand beaches in the world.

This region includes 12 counties.  Culturally, it is more like Alabama than it is like the rest of Florida.
Northwest Florida heritage and history is evident in the many small towns that played a key part in early Florida history. 
You will see many monuments and memorials to the Old South in the form of Confederate soldier statues in town squares and in front of courthouses.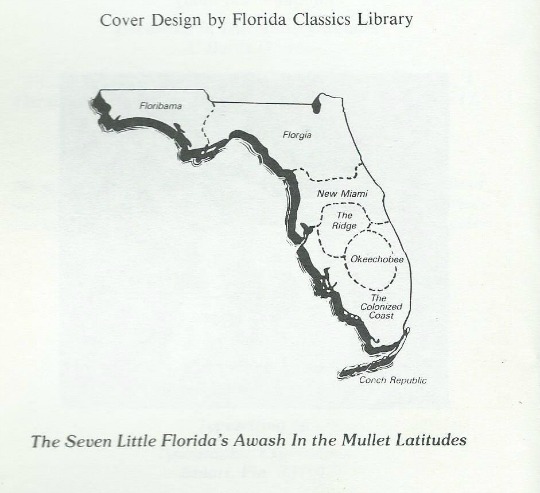 "Becalmed In The Mullet Latitudes" is a wonderful book by the late Al Burt published in 1983. 
Al was a long time Miami Herald columnist who had a deep love for Florida and a melancholy for the "old Florida" that was disappearing. 
He celebrated the Northwest Florida heritage along with other parts of rural Florida.

He identified and chronicled the disappearing old places that he 
called the Mullet Latitudes.  His name for Northwest Florida and the Panhandle was "Florabama". 
If Al were still alive, I think he'd stick with the name even though there has been a fair amount of Yankee migration into the area since he wrote his book.

Pensacola was settled by the Spanish in 1559.  It was the first European settlement in the United States.  It was a rival to St. Augustine on the Atlantic settled in 1565 on the other side of the state.

Pensacola was the first capital of Florida.  When Florida became a U.S. territory in 1821, the capital was moved shortly after to Tallahassee because it was about halfway between Pensacola and St. Augustine.

After the Spanish left and Florida became a U.S. territory, settlers from Alabama and Georgia began homesteading small farms.  In in the years before the Civil War, northern Florida was the most populated region of Florida. 
These early settlers had a lot to do with establishing Northwest Florida heritage as part of the Old South.

This part of Florida remained largely rural and remote until after World War Two.  Many houses and farms did not have electricity until after the war. 
The communities survived on farming and fishing.  Turpentine, naval stores and other timber based chemicals were important businesses in the years immediately before and after World War Two.  The pine woods also attracted lumber and paper mills.
The Congressman Bob Sikes Era Begins

The Florida panhandle had a U.S. Congressman named Bob Sikes from Crestview.  He was an expert at bringing home the bacon.
That's a good old American phrase that means he was good at getting Federal money for his Congressional District.

He had a lot to do with bringing many of the military installations to Florabama. He was in Congress from 1941 to 1979, with some time off during World War Two when he joined the military. 
He helped preserve and continue the military elements of Northwest Florida heritage.

Eglin Air Force Base was built just before World War Two near Fort Walton Beach.  It pulled the remote backwoods panhandle into the modern world.  
Eglin is the largest military installation in the United States.  The base sprawls across three counties, and is about the same size as Rhode Island. 
I took my Navy pilot survival training course in the swamps and jungles of Eglin known as the boondocks.

The base is named for Fritz Eglin, an early Army aviator who died in a plane crash.  I did not know until years later that my father is named Fritz in honor of the downed pilot. 
Eglin was my grandfather's classmate at Wabash College in Indiana.  Read more about Fritz Eglin here.

Panama City is the unofficial capital of Florabama, with Pensacola running a close second.  The Florabama beaches are known by Floridians as the "redneck riviera".  They have traditionally attracted Alabama and Georgia tourists.

Star high school football players in Florabama do not typically go to the University of Florida or Florida State University. They are more likely to sign up with the Alabama Crimson Tide or the Auburn Tigers.
The Florida panhandle has fewer "Go Gator" bumper stickers than anywhere else in the State.
A notable exception is Emmitt Smith, Hall of Fame running back for the NFL Dallas Cowboys.  Mr. Smith graduated from Escambia High School in Pensacola and went on to gridiron glory at the University of Florida.
You non-football fans may remember him from "Dancing With The Stars".
Here are 104 Northwest Florida heritage sites listed by county. County seats are also shown.  Here's a neat trick for you:
Highlight any of the sites below, then right click and it will take you to the site's webpage on the internet if one exists - they usually do.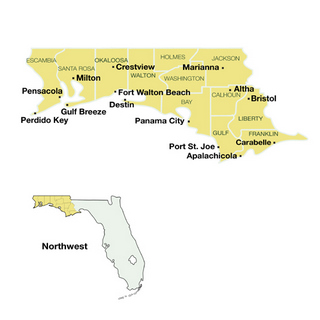 BAY: Panama City
Junior Museum of Bay County
Museum of Man in the Sea
Panama City Main Street
SS Tarpon Underwater Archaeological Preserve
St. Andrews State Park
CALHOUN: Blountstown
Old Calhoun County Courthouse
Panhandle Pioneer Settlement
ESCAMBIA: Pensacola
Alger--Sullivan Lumber Company Residential Historic District
Barkley House
Barrancas National Cemetery
Big Lagoon State Park
British Fort of Pensacola
Charles William Jones House
Crystal Ice Co. Building
Dorr House
Escambia County Courthouse
Fort Barrancas Historical District
Fort George Site
Fort McRee
Fort Pickens
Fort San Carlos de Barrancas
Greater Mount Lily Baptist Church
Gulf Islands National Seashore
Historic Pensacola Village
Julee Cottage Museum
L & N Marine Terminal Building
L & N Passenger Terminal
Lavalle House
National Museum of Naval Aviation
North Hill Preservation District
Old Christ Church
Pensacola Historic District
Pensacola Historical Museum
Pensacola Hospital
Pensacola Lighthouse and Keepers Quarters
Pensacola Naval Air Station Historic District
Pensacola Resource Learning Center and Library
Pensacola Scenic Bluffs Scenic Highway
Perdido Key Historic District
Perdido Key State Park
Plaza Ferdinand VII
Saenger Theatre
St. Joseph's Church Buildings
St. Michael's Creole Benevolent Association Meeting Hall
The Empire Building
Thiesen Building
USS Massachusetts
FRANKLIN: Apalachicola
Apalachicola Historic District
Bald Point State Park
Cape St. George Lighthouse
Crooked River Lighthouse
Fort Gadsden Historic Memorial
John Gorrie Museum State Park
Ormon House
Raney House Museum
St. George Island State Park
Trinity Episcopal Church
GULF: Port St. Joe
Civic Center
Constitution Convention Museum
Port St. Joe Garden Club
St. Joseph Peninsula State Park
HOLMES: Bonifay
Ponce de Leon Springs State Park
JACKSON: Marianna
Florida Caverns State Park
Marianna Historic District
Marianna Main Street
Pender's Store
Three Rivers State Park
LIBERTY: Bristol
Torreya State Park
OKALOOSA: Crestview
Air Force Armament Museum
Blackwater Heritage Trail State Park
Blackwater River State Park
Camp Walton Schoolhouse Museum
Carver Hill Museum
Destin Fishing Museum
Fred Gannon Rocky Bayou State Park
Ft. Walton Beach Main Street
Garnier Post Office Museum
Gulfview Hotel Historic District
Henderson Beach State Park
Heritage Museum of Northwest Florida
Indian Temple Mound Museum
Mainstreet Crestview Association
SANTA ROSA: Milton
Bagdad Village Historic District
First American Road in Florida
Florida State Road No. 1
Main Street Milton
Milton Historic District
Mt. Pilgrim African Baptist Church
Naval Live Oaks Reservation
Navarre Beach State Park
St. Marys Episcopal Church and Rectory
West Florida Railroad Museum
WALTON: DeFuniak Springs
Camp Helen State Park
Chautauqua Hall of Brotherhood
Deer Lake State Park
DeFuniak Springs Historic District
Eden Gardens State Park
Governor Stone-Eden State Park
Grayton Beach State Park
Topsail Hill Preserve State Park
WASHINGTON: Chipley
Falling Waters State Park
Moss Hill Church
South Third St. Historic District
Woman's Club of Chipley
NORTH CENTRAL FLORIDA HISTORY
North Central Florida heritage and history will be your constant companion as you travel from Monticello near the Georgia border, to Tallahassee, Gainesville and Cedar Key.

This is a rural region with small southern towns and statues of Confederate soldiers in the town squares and ancient oak trees draped with Spanish moss.
This region has some of the best college football in the United States with the Florida Gators, Florida State Seminoles and Florida A&M Rattlers.
North Central Florida hugs the Georgia border like a baby hangs onto its mother. In his book "Becalmed In The Mullet Latitudes", Al Burt named this part of the state Florgia.  
The name Florgia still fits after all of these years - half Florida, half Georgia.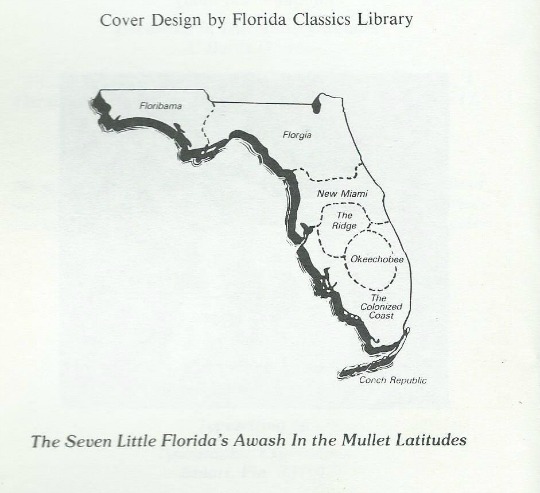 Most of the Florida natives in these counties are descended from early settlers who came down from Georgia and South Carolina after the Civil War. 
They were confederate veterans and sympathizers.  The modern descendants of these early settlers are known for their Southern Hospitality.
It's common when your visit is over for your hostess to say "Y'all come see us again, y'hear?".
This land is still Georgia heritage country. Florgia is the home of the famous Florida Cracker.  When I moved to Florida almost 50 years ago, this region along with Northwest and Northeast Florida, dominated state politics.
A legislator from a lightly populated north Florida county had as much power as one representing millions of people in Miami-Dade, Broward and Palm Beach Counties.
The entire state was controlled by these old-time southern segregationist Democrats.  About 20 of these good ole boys always voted together.  Florida history refers to these folks as "The Pork Chop Gang".  
The gang was good at bringing home the bacon to their small north Florida communities.  North Central Florida heritage and history still honors the names of these old politicians.
By the 1970's enough Yankees had moved to south Florida that the old system crumbled. The Florida legislature passed laws that apportioned seats according to population.  The old days of "one district-one vote" were gone forever. 
The balance of power shifted toward the population centers of south Florida. That's where the power remains today.
Tallahassee is the state capital and the home of the Florida State University Seminoles and the Florida A&M University Rattlers.  
Gainesville is the home of the University of Florida Gators.  An important part of North Central Florida heritage is pride in their nationally ranked football teams.
NORTH CENTRAL FLORIDA HERITAGE SITES
Here is a list of 171 North Central Florida heritage sites in the 16 counties that comprise the region.  The County Seat is also listed. Here's a neat trick for you:  highlight any of the sites below, then right click and it will take you to the site's webpage on the internet.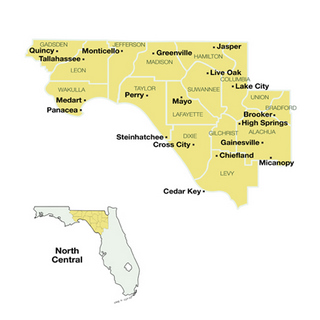 ALACHUA: Gainesville
Acrosstown Repertory Theater
Alachua County Historical Trust: Matheson Museum
Anderson Hall
Archer Historical Society Railroad Museum
Boulware Springs Waterworks
Bryan Hall
Buckman Hall
City of Alachua Downtown Historic District
Devil's Millhopper Geological State Park
Dudley Farm Historic State Park
Evinston Community Store and Post Office
First Methodist Church
Florida Museum of Natural History
Gainesville-Hawthorne Trail State Park
Griffin-Floyd Hall
Hawthorne Historical Museum and Cultural Center
High Springs Historic District
Hippodrome State Theater
Historic Haile Homestead
Isser and Rae Price Library of Judaica
John F. Seagle Building
Keene-Flint Hall
Lake Pithlachocco Canoe Site
Marjorie Kinnan Rawlings Historic State Park
Marjorie Kinnan Rawlings House
Masonic Temple
Matheson Historical Center
Melrose Historic District
Micanopy Historic District
Micanopy Historical Society Museum
Newberry Historic District
Newell Hall
Newnansville Town Site
Norman Hall
Northeast Gainesville Residential District
Old Florida Heritage Scenic Highway
Old Gainesville Depot
O'Leno State Park
Payne's Prairie Preserve State Park
Peabody Hall
Pleasant Street Historic District
River Rise Preserve State Park
Rochelle School
Rolfs Hall
San Felasco Hammock Preserve State Park
Shady Grove Primitive Baptist Church
Smathers Library
Southeast Gainesville Residential District
Thomas Center
Thomas Hall
University of Florida Police Department Building
University of Florida Campus Historic District
Waldo Historic District
Women's Gymnasium
BRADFORD: Starke
Call Street Historic District
Camp Blanding Museum and Memorial Park
Jones Rosenberg Building (Santa Fe Community College)
Woman's Club of Starke
COLUMBIA: Lake City
Columbia County High School Museum
Columbia County Historical Museum
Falling Creek Methodist Church and Cemetery
Florida Sports Hall of Fame
Fort White Public School Historic District
Goodbread--Black Farms Historic District
Horace Duncan House
Hotel Blanche
Ichetucknee Springs State Park
Lake City Historic Commercial District
Lake Isabella Historic Residential District
Peacock Springs State Park
T.G. Henderson House
DIXIE: Cross City
City of Hawkinsville
GADSDEN: Quincy
City of Quincy - Quincy Main Street
Dr. Malcolm Nicholson Farmhouse
E.B. Shelfer House
Gregory House (Krausland)
Old Philadelphia Presbyterian Church
Planter's Exchange, Inc.
Quincy Historic District
Quincy Library
GILCHRIST: Trenton
HAMILTON: Jasper
Big Shoals State Park
First United Methodist Church
Hamilton County Historical Museum
Main Street Hamilton County
Stephen Foster Folk Culture Center State Park
White Springs Historic District
JEFFERSON: Monticello
Jefferson County Main Street
Lloyd Historic District
Lloyd Women's Club
Monticello High School
Monticello Historic District
Monticello Opera House
Wirick-Simmons House
LAFAYETTE: Mayo
One of the nicest buildings in North Central Florida is the 1908 Lafayette County courthouse. It is not on the State list yet.
LEON: Tallahassee
Alfred B. Maclay Gardens State Park
Black Archives of Florida A & M University
Blackwood-Harwood Plantations Cemetery
Bloxham Building
Bradley's Country Store
Brokaw-McDougall House
Calhoun Street Historic District
Cascades Park
Chaires Community Historic District
David S. Walker Library
Exchange Bank Building
First Presbyterian Church
Florida Agricultural and Mechanical College Historic District
Florida Black Heritage Trail
Florida Cuban Heritage Trail
Florida Jewish Heritage Trail
Florida Women's Heritage Trail
Gallie's Hall and Building
Goodwood
Governor John W. Martin House
John G. Riley Center
Knott House
Lake Jackson Mounds
Lake Talqin State Park
Leon Co. Training and Community Center
Leon High School
Los Robles Gate
Magnolia Heights Historic District
Miccosukee Methodist Church
Mission San Luis de Apalachee
Murat House
Museum of Florida History
Myers Park Historic District
Natural Bridge Battlefield Historic State Park
Old Capitol
Park Ave Historic District
Pisgah United Methodist Church
Roberts Farm Historic and Archeological District
Ruge Hall Episcopal Student Center
Smoky Hollow Historic District
St. John's Episcopal Church
Tall Timbers Plantation
Tallahassee - St. Marks Historic Railroad Trail State Park
Tallahassee Museum of History and Natural Science
Temple Israel
The Columns
Union Bank Building
Woman's Club of Tallahassee
LEVY: Bronson
Cedar Key Historical Museum
Cedar Key Museum State Park
Cedar Key Scrub State Preserve
Cedar Keys Lighthouse
Citizen's Bank
Fanning Springs State Park
Island Hotel and Restaurant
Manatee Springs State Park
Nature Coast Trail State Park
Stump Pass Beach State Park
Waccasassa Bay Preserve State Park
MADISON: Madison
First Baptist Church
St. Mary's Episcopal Church
Wardlaw-Smith House
SUWANNEE: Live Oak
Live Oak Police Department
Suwanee County Courthouse
Suwanee County Historical Museum
Suwannee River State Park
TAYLOR: Perry
Econfina River State Park
Forest Capital Museum State Park
Main Street Perry
Old Perry Post Office
Old Taylor County Jail
UNION: Lake Butler
Townsend Building
WAKULLA: Crawfordville
Edward Ball Wakulla Springs State Park and Lodge
Fort San Marcos de Apalache
Ochlocknee River State Park
Old Sopchoppy High School Gymnasium
Old Wakulla County Courthouse
Sopchoppy School
St. Marks Lighthouse
NORTHEAST FLORIDA HISTORY
Northeast Florida heritage and history is unique and will be on your mind as you drive the beautiful beaches and old towns. 

In addition to tourism, the area also has a solid industrial base and a lot of insurance company jobs.
Jacksonville is sometimes known as "The Hartford of The South" because so many insurance companies are headquartered here.
This diverse economy means that tourism is not the only game in town.
Northeast Florida is divided from Georgia by the St. Marys River. There are 7 counties in northeast Florida. The western counties are rural, but the region is crowned by Jacksonville, one of Florida's major cities.
Jacksonville is called by some the "Capital of South Georgia" because so many of its residents come from the pineywoods farms and towns around Waycross, Baxley, Valdosta and other south Georgia communities. 
The resulting Northeast Florida heritage is southern.  Jacksonville, for example, has a Confederate Park and many memorials around town to the "Lost Cause".

Fernandina Beach is on the north end of Amelia Island. This town is the northernmost in Florida. It was booming long before Jacksonville was even on the map. 
Senator David Yulee built a railroad from Fernandina Beach to Cedar Key. This was years before Henry Flagler extended his railroad down the east coast changing St. Augustine history forever.
Fernandina and St. Marys across the river in Georgia each have thriving shrimping industries.  
Like the Floribama beaches, Fernandina Beach is also known as the "redneck riviera" for the multitudes of vacationing south Georgians. Summer is the tourist season in north Florida.
Amelia Island is one of the large barrier islands along the coast known as the Golden Isles. Cumberland Island and Jekyll Island to the north are in Georgia. They are part of this chain of isles noted for their beautiful beaches and forested sand dunes. 
State Road A1A is the main travel route from north to south on Amelia Island. You will get to take the car ferry from Ft. George Island across the St. Johns River to the fishing village of Mayport.
Amelia Island is unique in Florida history.  It is the only place in the United States to have been under 8 different flags: French, Spanish, British, American Patriots, Green Cross of Florida, Mexican, Confederate and United States. 
Northeast Florida heritage includes touches of many of these cultures.

Amelia Island Plantation is a beautiful resort and residential community. It was one of the first modern developments to be designed in harmony with nature. Like many innovative projects, the original developer went broke.
The annual Florida-Georgia football game is played in Jacksonville each year. It was picked because it is about halfway between Athens, Georgia, and Gainesville, Florida.  It is one of the most important pageants in Florida history.
Jacksonville offers some locational neutrality. University of Florida and University of Georgia fans get very emotional about their teams. It's like the Civil War: cousins against cousins. 
The annual gathering of the fans for this event is known as "the world's largest outdoor cocktail party".
Gator and Bulldog fans still use this moniker even though alcohol has been banned from the stadium itself in recent years.  Once you're in the stadium it's hard to tell which Cracker fan is who without the school colors.
Gators wear orange and blue, Dawgs wear red and black.
No trip to Northeast Florida is complete without a visit to St. Augustine. America's oldest continually occupied city, it is an unbelievable mixture of past and present. 
In one sense, it is as Southern as any small north Florida town. It has always been the center of commerce for the little farms in St. Johns, Flagler, and southern Duval Counties.
On the other hand, it is loaded with an eclectic combination of gaudy tourist attractions standing side by side with authentic old Spanish structures nearly 450 years old.  It is a unique place.
I first visited it in 1960 while on weekend liberty from my ship in Jacksonville. I stayed in a small boarding house.  That same boarding house is still there in 2018, but is now a trendy bed and breakfast. 
The thing about Northeast Florida heritage is that although it changes, it stays the same in many respects.
NORTHEAST FLORIDA HERITAGE SITES
Here are the 141 Northeast Florida heritage sites listed in the 7 counties of the region.  The County Seat is also listed.  Here's a neat trick for you:  highlight any of the sites below, then right click and it will take you to the site's webpage on the internet.

BAKER: Macclenny
Emily Taber Public Library
Olustee Battlefield Historic State Park
CLAY: Green Cove Springs
Clay County Historical and Railroad Museum
Green Cove Springs Historic District
Memorial Home Community Historic District
Middleburg Historic District
Middleburg Historical Museum
Middleburg United Methodist Church
Mike Roess Gold Head Branch State Park
Neighborhood Service Center
Orange Park Elementary
River Road Historic District
St. Margaret's Episcopal Church and Cemetery
St. Mary Church
Winterbourne on the St. John's
DUVAL: Jacksonville
Amelia Island State Park
Atlantic National Bank Annex
Avondale Historic District
Beaches Area Historical Society and Pablo Historical Park
Bethel Baptist Institutional Church
Big Talbot Island State Park
Buckman and Ulmer Building
Casa Marina Hotel and Restaurant
Centennial Hall at Edward Waters College
Church of the Immaculate Conception
City Hall - St. James Building
Dyal-Upchurch Building
El Modelo Block
Elks Club Building
Florida Baptist Building
Florida Public Defenders' Office
Florida Theatre
Fort Caroline National Memorial
Fort George Island Cultural State Park
G. Howard Bryan Museum of Southern History
Jacksonville Maritime Museum Society, Inc.
Karpeles Manuscript Library Museum
Kingsley Plantation
Lewis Mausoleum
Little Talbot Island State Park
Maple Leaf
Masonic Temple
Morocco Temple
Mount Zion AME Church
Museum of City Fire of 1901
Museum of Science and History
Nassau Sound Fishing Pier State Park
Plaza Hotel
Ribault Clubhouse
Riverside Baptist Church
Riverside Historic District
S. Atlantic Investment Corporation Building
San Jose Estates Gatehouse
Scenic and Historic A1A Scenic Highway
Sojourner Truth Library Museum
Springfield Historic District
St. Andrew's Episcopal Church
St. John's Lighthouse
The Ritz Theatre and LaVilla Museum
The Walter Jones Store and Museum
Theatre Jacksonville
Thomas V. Porter House
Timucuan Ecological and Historic Preserve
Title & Trust Co. of Fl. Building
Village Store
Woman's Club of Jacksonville
Yellow Bluff Fort
Yellow Bluff Fort Historic State Park
Young Men's Hebrew Association
FLAGLER: Bunnell
A1A Ocean Shore Scenic Highway
A1A River to Sea Trail Scenic Highway
Bulow Plantation Ruins
Bulow Plantation Ruins Historic State Park
Florida Agricultural Museum
Gamble Rogers Memorial State Recreation Area at Flagler Beach
Marine Studios
Princess Place Preserve
Scenic and Historic A1A Scenic Highway
Washington Oaks Gardens State Park
NASSAU: Fernandina Beach
Amelia Island Museum of History
American Beach Historic District
Fernandina Beach Historic District
Fort Clinch
Fort Clinch State Park
Merrick Simmons House
Mount Olive Missionary Baptist Church
Old Town of Fernandina Historic Site
PUTNAM: Palatka
Bostwick Community Center
Bronson Mulholland House
Crescent City Historic District
Interlachen Hall
Melrose Historic District
Melrose Woman's Club
Mount Royal
Palatka Main Street
Palatka North Historic District
Palatka Ravine Gardens Historic District
Palatka South Historic District
Palatka's Historic Union Depot
Putnam Historic Museum
Ravine Gardens State Park
St. Marks Episcopal Church
Welaka Maritime Museum
ST. JOHNS: St. Augustine
Abbott Tract Historic District
Anastasia State Park
Bridge of Lions
Castillo De San Marcos National Monument
Cathedral of St. Augustine
Colonial Spanish Quarter
Faver-Dykes State Park
Fort Matanzas National Monument
Government House
Grace United Methodist Church
Guana River State Park
Lightner Museum
Lincolnville Historic District
Llambias House
Markland House
Model Land Company Historic District
Museum of Weapons and Early American History
Old Jail Museum
Oldest House Museum
Pena-Peck House
Ponce de Leon Hall
Rodriguez-Avero-Sanchez House
Sanchez Powder House Site
Scenic and Historic A1A Scenic Highway
Second Fort Mose Site
Segui/ Kirby Smith House
Shell Bluff Landing
Solla-Carcaba Cigar Factory
Spanish Coquina Quarries
St. Augustine Alligator Farm Historic District
St. Augustine Lighthouse and Museum
St. Augustine Town Plan Historic District
St. Photios Greek Shrine
Villa Zorayda
Walker House
World Golf Hall of Fame
Xavier Lopez House
Ximenez-Fatio House
CENTRAL EAST FLORIDA HISTORY
Central East Florida heritage and history is an intriguing blend of Old Florida and the high tech space age.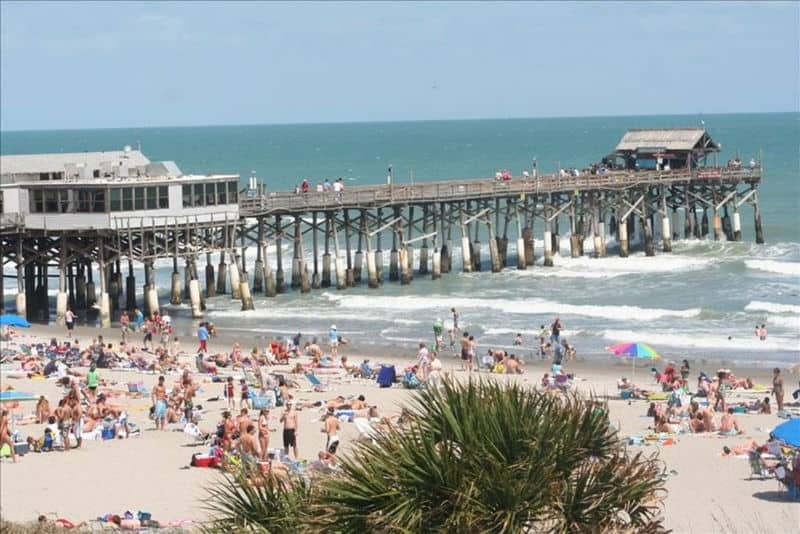 The area began to attract settlers in the years immediately following the end of the Civil War in 1865.   Prior to that, it was pretty much a "no man's land".
The beginning of the space age was at Cape Canaveral in the early 1950's. The heritage is still being made with the space program in Brevard County and the racing legends at Daytona Speedway.
This heritage is shared by all 5 counties in this region. Each county has its fair share of sites that are an important part of Florida heritage and history.

Early settlements were in Ormond, Titusville, Cocoa, EauGallie, Melbourne, Sebastian and Fort Pierce.  In those early days, life revolved around the Indian River Lagoon.
Fishing provided a livelihood, and the communities were tied together by riverboat transportation in the years before the railroad.
Henry Flagler began extending his railroad south from St. Augustine, and one by one most of these little towns were served by the railroad and began to grow.
The area includes a great diversity of towns and attractions. It starts in the north with Daytona Beach and its International Speedway and world famous beaches. 
It's center is anchored by Cape Kennedy. The Space Age exists contentedly among the old Florida towns of Titusville, Cocoa and Melbourne.
CENTRAL EAST FLORIDA HERITAGE SITES
Here is a list of 141 Central East Florida heritage sites listed by county. The County Seat is also listed.  Here's a neat trick for you:  highlight any of the sites below, then right click and it will take you to the site's webpage on the internet.

BREVARD: Titusville
Alma Clyde Field Library of Florida History
American Police Museum and Hall of Fame
Barton Avenue Residential District
Brevard Museum of History and Science
Cape Canaveral Air Force Station
Central Instrumentation Building
Cocoa Main Street
Cocoa Village Playhouse
Community Chapel of Melbourne Beach
Crawlerway
Downtown Melbourne Association
Grant General Store
Headquarters Building
Hotel Mims
Indian River Lagoon Scenic Highway
Kennedy Space Center Visitor Complex
LaGrange Church and Cemetery
Launch Complex 39
Launch Complex 39, Pad A
Launch Complex 39, Pad B
Launch Control Center
Liberty Bell Memorial Museum
McLarty Treasure Museum
Melbourne Beach Pier
Missile Crawler Transporter Facilities
Old Haulover Canal
Operations and Checkout Building
Porcher House
Press Site--Clock and Flag Pole
Rockledge Drive Residential District
Sebastian Fishing Museum
Sebastian Inlet State Park
St. Gabriel's Episcopal Church
St. Joseph's Catholic Church
St. Luke's Episcopal Church and Cemetery
Titusville Commercial District
Valencia Subdivision Residential District
Valiant Air Command Warbird Museum
Vehicle Assembly Building, High Bay and Low Bay
INDIAN RIVER: Vero Beach
City Hall - City of Sebastian Offices
Driftwood Resort
Indian River Citrus Museum Heritage Center
Indian River County Courthouse
Indian River Lagoon Scenic Highway
Laura Riding Jackson Home Preservation Foundation
Maher Building
Main Street Vero Beach
Marion Fell Library
McKee Botanical Garden
Pelican Island National Wildlife Refuge
Pueblo Arcade
Royal Park Arcade
Spanish Fleet Survivors & Salvors Camp Site
Vero Beach Railroad Station
Vero Beach Woman's Club
OKEECHOBEE: Okeechobee
Kissimmee Prairie Preserve State Park
Okeechobee Battlefield
ST. LUCIE: Fort Pierce
Arcade Building
Cresthaven
Fort Pierce Inlet State Park
Fort Pierce Magnet School of the Arts
Fort Pierce Site
Ft. Pierce Main Street, Inc.
Heathcote Botanical Gardens
Moores Creek Bridge
Old Fort Pierce City Hall
St. Lucie County Historical Museum
St. Lucie Village Historic District
UDT Seal Museum
Urca de Lima
VOLUSIA: Deland
African American Museum of the Arts
All Saints Episcopal Church
Amos Kling House
Bethune-Cookman College Historic District
Black Heritage Museum
Blue Spring State Park
Bulow Creek State Park
Canaveral National Seashore
City Island
Connor Library History Museum
Coronado Historic District
Cypress Street Elementary School
Daytona Beach Bandshell
Daytona Beach Partnership
Daytona Beach Surfside Historic District
DeBary Hall Historic Site
DeLand Hall
DeLand Memorial Hospital Museums
DeLand Naval Air Station Museum
DeLeon Springs State Park
Dickinson Memorial Library and Park
Downtown DeLand Historic District
Dunlawton Ave Historic District
El Pino Parque Historic District
Fred Dana Marsh Museum
Gamble Place Historic District
Grace Episcopal Church and Guild Hall
Halifax Drive Historic District
Halifax Historical Museum
Holly Hill Municipal Building
Hontoon Island State Park
Howard Thurman House
Jackie Robinson Ball Park
Lake Helen Historic District
Lippincott Mansion
Main Street DeLand Association
Mary McLeod Bethune Home
Moulton Wells House
Museum of Arts and Sciences and Center for Florida History
New Smyrna Beach Historic District
New Smyrna Museum of History
New Smyrna Sugar Mill Ruins
Nocoroco
Orange City Town Hall
Ormond Beach Community Enrichment Center
Ormond Beach Main Street, Inc.
Ormond Beach Woman's Club
Pioneer Settlement for the Creative Arts
Ponce de Leon Inlet Light Station
Port Orange F.E.C. Railway Freight Station
Rogers House
Ross Hammock Site
S. Cornelia Young Memorial Library
S.H. Kress and Co. Building
Seabreeze Historic District
Seabreeze United Church
Seminole Rest
South Beach Street Historic District
South Peninsula Historic District
Southern Cassadaga Spiritualist Historic District
Southwest Daytona Beach Black Heritage District
Spruce Creek Mound Complex
Stetson University Campus Historic District
Sugarmill Botanical Gardens
Thursby House
Tomoka State Park
Turtle Mound
U.S. Post Office
West DeLand Residential District
White Hall - Bethune-Cookman College
Woman's Club of New Smyrna
Central Florida heritage and history begins with the early native Americans who dwelled in the area 12,000 years ago.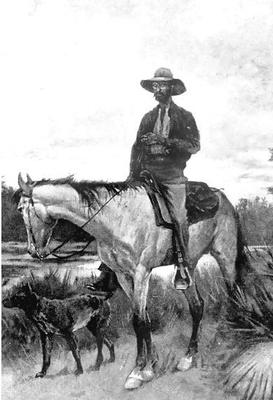 Central Florida felt the impact of three separate wars between the United States and the Seminole Indians.  These wars were:
First Seminole War:        1816-1819
Second Seminole War:   1835-1842
Third Seminole War:      1855-1858
The forts built during the Seminole wars gave their names to many of the settlements in Central Florida.  Fort King is now Ocala, Fort Gatlin is now Orlando, Fort Pierce is still Fort Pierce.
Fort Drum, Fort Christmas, Fort Ogden, Fort Meade and other old forts are now either small villages or just place names in Florida history.  They are still a large part of Central Florida heritage.

Many of the early settlers in Central Florida were pioneers who came down from Georgia and the Carolinas after the Civil War. The next big wave of people came after World War Two. 
The first settlers began arriving in Central Florida in the years just after the final Seminole War in 1858 through the end of the Civil War and Reconstruction in 1877.
These early Florida residents were the ancestors of the Florida Cracker.
Many of the pioneers began to homestead and start ranches in the prairie lands around Kissimmee, St. Cloud, Orlando and Ocala. 
In later years, they and other settlers planted citrus.  Central Florida was the citrus and cattle capital of the world during the "Golden Era" of 1875 to 1895.
The area led the world in citrus production until several freezes and epidemics of citrus canker devastated the groves and pushed the operations further south.  
At one time Kissimmee was connected to the Gulf of Mexico near Fort Myers by a navigable waterway. 
Ships traveled along the Kissimmee River to Lake Okeechobee and west through the Caloosahatchee River.  Kissimmee was a large port with many passenger and freight ships stopping by on a regular basis.
Cattle and citrus were shipped out to ports around the world.
The Central Florida heritage of the cowboy is still very evident today in St. Cloud and Kissimmee.  The annual Silver Spurs rodeo event is still a huge happening in these Central Florida Cracker towns.
The rural nature of Central Florida began to change when Martin Marietta built a huge defense plant in Orlando in the 1950's. The next big change was the development of Canaveral Air Station and Kennedy Space Center in Brevard County. 
These two projects had major impacts on Orlando's population.  These huge endeavors are now part of Central Florida heritage.

The biggest changes of all came when Walt Disney World opened in October 1971.
The population boomed and so did the traffic problems. The success of Disney encouraged other competitors to join in the fun and profit. 
Central Florida is now the location of the largest theme parks in Florida. Florida travel for most tourists includes visits to Walt Disney World, Universal Studios Florida and SeaWorld.
Central Florida heritage and history takes place in 9 counties that sprawl along the high sand ridge that is Florida's spine.  This ridge was the beach in ancient times, and its surface is made of old rolling sand dunes. 
This large region starts between Ocala and Gainesville in the north, and extends south to the citrus country around Lake Placid and Sebring.
Ocala's rolling hills and pastures are known for producing some of the finest thoroughbred horses in the world. A wonderful Central Florida travel experience is to drive among the horse farms that surround Ocala.
The center part of this region, around Orlando and Clermont, was the citrus capital of the state until a big freeze changed things forever.
Devastating freezes in Central Florida in the early 1980's destroyed many thousands of acres of groves. These old grove lands have been replaced in many cases by modern subdivisions.
Florida history has abundant examples of ghost towns that thrived until their underlying resources were gone.  Citrus and cypress boom towns are two examples. 
Walt Disney World, Universal Studios, SeaWorld and the other attractions transformed the area around Orlando into the sun and fun capital of the world.
Although Central Florida thrives on tourism, it is also the agricultural center of Florida. 
Oranges, grapefruit, tangerines, watermelon, peppers, tomatoes, celery and watercress are all grown in this area along the ridge and in the adjacent flatlands and valleys.
Not so far south of Orlando you can still see cowboys at work in the vast pastures that range all the way down to Holopaw, Yeehaw Junction and beyond. 
These cowboys are a living reminder of Central Florida heritage.
Even with the population explosion around Orlando, the rural regions south of Kissimmee and St. Cloud still enjoy some of the quietest places in Florida.
Orlando straddles I-4 and is the central anchor to the fast growing I-4 corridor. It is the major city in Central Florida.  Since it is near the center of the State, many Floridians think it should be the state capital instead of Tallahassee.
US-27 is a major north-south four lane highway that meanders along the ridge part of the region. This is where some of the major citrus groves are located.
The major tourist attractions in Orlando put a tremendous traffic load on I-4 and US-27.  There are plenty of back roads in Orange County and surrounding counties that will help you avoid the traffic. 
Don't be afraid to explore and learn more about Central Florida heritage.
CENTRAL FLORIDA HERITAGE SITES
Here is a list of 182 Central Florida heritage sites listed by county. The County Seat is also listed.  You can use the Google search feature to find out more about each of these sites.  The way the search feature works is you highlight the item on the list, then right click your mouse and it gives you a link to Google for the item.  Try it, you'll like it.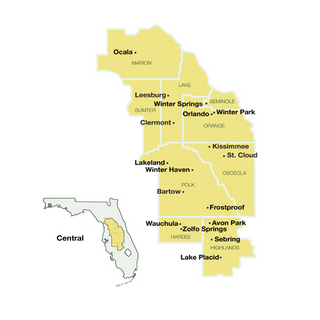 Main Street 

Wauchula

Paynes Creek

Historic State Park
Archbold Biological Station

Avon Park Depot Museum

Avon Park Historic District

Highlands County Courthouse

Highlands Hammock State Park

Kenilworth Lodge

Old Lake Placid ACL Railroad Depot

Old Sebring Seaboard Airline Depot

Sebring Downtown Historic District

Sebring Fire Station

South Florida Community College Museum of Florida Art & Culture
Antique Boat Museum

Bowers Bluff Middens Archaeological District

Clermont Main Street, Inc.

Clermont Women's Club

Clifford House

Eustis Historic Museum

Eustis Main Street, Inc.

Ferran Park and the Alice B. McClelland Bandshell

First United Methodist Church

General James A. Van Fleet Trail State Park

Holy Trinity Episcopal Church

Kimball Island Midden Arcaheological Site

Lake County Courthouse

Lake Griffin State Park

Lake Louisa State Park

Lakeside Inn

Lee Educational Center

Leesburg Downtown Partnership

Mote-Morris House

Mount Dora Chamber of Commerce

Mount Dora Lodge # 238, F&AM

Royellou Museum

Women's Club of Eustis
Belleview City Hall

Citra United Methodist Church

Coca Cola Bottling Plant

Don Garlits Museum of Drag Racing and Museum of Classic Automobiles

Dunnellon Boomtown Historic District

Dunnellon Main Street

Kerr City Historic District

Lake Lillian Neighborhood Historic District

Marion County Museum of History

Marion Hotel

McIntosh Historic District

McPherson Government Complex

Mount Zion AME Church

Ocala Amtrack Station

Ocala Historic Commercial District

Ocala Historic District

Old Fessenden Academy Historic District

Orange Springs Methodist Episcopal Church and Cemetery

Rainbow Springs State Park

Ritz Historic Inn

Silver River Museum and Environmental Education Center

Silver River State Park

Tuscawilla Park Historic District

West Ocala Historic District
Albin Polasek House and Studio

All Saints Episcopal Church

Annie Russell Theatre

Apopka Historical Society

Cal Palmer Memorial Building

Carroll Building

Central Florida Railroad Museum

Cornell Fine Arts Museum

Eatonville Historic District

Fort Christmas Historical Park

Griffin Park Historic District

Harry P. Leu Gardens

Holocaust Memorial Resource and Education Center of Central Florida

Knowles Memorial Chapel

Lake Eola Heights Historic District

Lower Wekiva River Preserve State Park

Maitland Art Center

Maitland Historical Society and Museums

Moseley House

Nehrling Gardens and Museum

Ocoee Christian Church

Old Orlando Railroad Depot

Orange County Regional History Center

Rock Springs Run State Reserve

Rogers Building

Ryan Brothers, Inc.

St. George Greek Orthodox Church

Tinker Building

Tosohatchee State Reserve

Wekiwa Springs State Park

Well'sBuilt Museum of African American History and Culture

Windermere Town Hall

Winter Garden Downtown Historic District

Winter Garden Historic Residential District

Winter Park Historical Association and Museum

Withers-Maguire House Museum

Woman's Club of Winter Park

Zora Neale Hurston National Museum of Fine Arts
OSCEOLA: Kissimmee
Desert Inn
First United Methodist Church
Grand Army of the Republic Memorial Hall
Kissimmee Historic District
Old Holy Redeemer Catholic Church
Osceola County Courthouse
Osceola County Historical Museum and Pioneer Enrichment Center
St. Cloud Main Street, Inc.
POLK: Bartow
Auburndale Chamber - Mainstreet
Babson Park Woman's Club
Bartow Downtown Commercial District
Baynard House Museum
Beacon Hill-Alta Vista Residential District
Christ Church
City of Lake Wales
Clay Cut Centre
Cleveland Court Elementary School
Community Service Center of N.E. Polk County
Davenport Historic District
Dixieland Historic District
Downtown Bartow
Downtown Haines City Commercial District
Downtown Winter Haven Historic District
Dundee Depot Museum
East Lake Morton Residential District
First Baptist Church
Florida Air Museum
Florida Citrus Showcase
Florida Southern College Architectural District
Fort Meade Historic District
Frostproof City Hall
Frostproof Historical Society and Museum
Grand Hotel
Haines City Main Street
Henley Field Ball Park
Historic Bok Sanctuary
Homeland Heritage Park
Interlaken Historic Residential District
Lake Kissimmee State Park
Lake Mirror Promenade
Lake of the Hills Community Club
Lake Wales Art Center
Lake Wales Commercial Historic District
Lake Wales Historic Residential District
Landmark Baptist College
Lawton Chiles Middle Academy
Main Street Winter Haven, Inc.
Mobile Museum of Polk County
Mountain Lake Estates Residential District
Mulberry Phosphate Museum
Munn Park Historic District
North Avenue Historic District
Northeast Bartow Residential District
Oates Building
Old Lake Wales City Hall
Pinewood Estate
Polk County Historical Museum
Polk Theatre and Office Building
Pope Avenue Historic District
Roosevelt Academy
South Bartow Residential District
South Lake Morton Historic District
St. Mark's Episcopal Church
The Depot: Lake Wales Museum and Cultural Center
Water Ski Hall of Fame
West Area Adult School
Winston Elementary
Winter Haven Heights Historic Residential District
Woman's Club of Winter Haven
SEMINOLE: Sanford
Bradlee-McIntyre House
Florida Hotel
Geneva Museum and Historical Society
Geneva School House and Rural Heritage Center
Helen Stairs Theatre for the Performing Arts
Longwood Historic District
Museum of Seminole County History
Nelson and Company Historic District
Sanford Commercial District
Sanford Main Street, Inc.
Sanford Museum
Sanford Residential Historic District
Seminole County Student Museum, Center for the Social Studies
St. James AME Church
SUMTER: Bushnell
Dade Battlefield Historic Memorial
Dade Battlefield Historic State Park
CENTRAL WEST FLORIDA HISTORY
Central West Florida heritage and history begins with the early native Americans who dwelled in the area 12,000 years ago.  

Most of these ancient tribes disappeared after the arrival of the Spanish in the 1500's.
Florida history is full of articles about Henry Flagler and his extension of the Florida East Coast Railway from St. Augustine all the way down to Key West. 
Henry Plant is not as well known to Florida history, but he had a similar impact on the development in this other coast of Florida and he is an important part of Central West Florida heritage and history.
Tampa was a small fishing village on the Hillsborough River when Plant's railroad came to town in the 1880's.  He built the Tampa Bay Hotel between 1888 and 1891.
The hotel was designed to surpass all other grand winter resorts. At a cost of $3 million, the 511-room giant rose to a flamboyant height of five stories, surrounded by ornate Victorian gingerbread and topped by Moorish minarets, domes and cupolas.
During the Spanish American War, the U.S. Army used the facilities as a staging area for the invasion of Cuba.
Among the soldiers who stayed there was future American president Teddy Roosevelt and his Rough Riders.  Florida history and American history quite often intersect like this.
The Tampa Bay Hotel is now the home of the University of Tampa and the visible centerpiece of Central West Florida heritage .
In addition to Tampa, Central West Florida heritage and history includes the populated areas of St. Petersburg, Clearwater and Sarasota.
This region of Florida has 8 counties, ranging from rural Desoto County to Hillsborough and Pinellas Counties. Some of these are the most rural and culturally southern areas remaining in the state.
It is also known as the western part of the I-4 Corridor. Tampa, Orlando and Daytona Beach are all growing toward each other along this corridor.
Some day it will probably all resemble one big city just as south Florida does along I-95 from West Palm Beach to south of Miami.
Central West Florida is a very urban region with large populations in Tampa and St. Petersburg. With Busch Gardens in Tampa and with Orlando only an hour or less away, this area is also a rival to Miami and Orlando in the Florida tourism industry. 
Like Central Florida, the region also has vast agricultural operations. Groves and farms predominate in the eastern part of the region away from the coast.
Central West Florida heritage is culturally diverse. The northern and eastern counties are rural and more southern. Brooksville has a statue of a confederate soldier in front of the City Hall.
Cowboys with Stetson hats and hand rolled cigarettes can still be found around town in Arcadia.
Central West Florida heritage in Tampa includes the Cuban cigar industry that flourished here more than 100 years ago.
Ybor City, named after Cuban cigar king Vicente Martinez Ybor, is a working neighborhood with fine lodging and restaurants.
The southern part of Central West Florida -Sarasota, Bradenton and Venice - is culturally more like the American midwest than the rest of Florida. Cattle and farm fields sprawl across the landscape.
Before the interstate highways, US-41 fed transplants into west coast Florida from Indiana, Michigan, Wisconsin, Ohio, Illinois and Minnesota. Their New England counterparts took US-1 down the east coast to Palm Beach, Broward and Miami-Dade Counties.
My grandparents retired to Venice in 1962. They drove down from Indiana in their beat up 1953 Chevy BelAir. US-41 was the way they came.
I guess my Hoosier grandparents were part of Florida history. I guess we all are because the State has changed so fast and most of us Floridians are from someplace else.
Until recent years, it was rare to hear a New York or Boston brogue in Central West or Southwest Florida. That all changed after the completion of I-75 and I-95.
The completion of those major interstate highways made it easier for people up north to escape the snow and drive to either coast.
The New England brogue is now showing up in Central West Florida. The Midwestern twang is also now more common in East Central and Southeast Florida than before the new interstate highways.
Florida has always been the melting pot of the United States. That is the Central West Florida heritage as well.

Fishing is a Central West Florida heritage that binds people together from all parts of the world. Each region of Florida has its own best fishing spots, both fresh and salt water.
The beach communities west of St. Pete are staging points for a lot of great charter fishing.
CENTRAL WEST FLORIDA HERITAGE SITES
Here is a list of 225 Central West Florida heritage sites listed by county. The County Seat is also listed.  Here's a neat trick for you:  highlight any of the sites below, then right click and it will take you to the site's webpage on the internet.

CITRUS: Inverness
Crystal River Archaeological State Park
Crystal River Indian Mounds
Fort Cooper
Fort Cooper State Park
Historic Hernando School
Homosassa Springs Wildlife State Park
Museum of Citrus County History - Old City Hall
The Old Courthouse Heritage Museum
Withlacoochee Trail State Park
Yulee Sugar Mill Ruins
Yulee Sugar Mill Ruins Historic State Park
DESOTO: Arcadia
Arcadia Historic District
HERNANDO: Brooksville
May-Stringer Heritage Museum
South Brooksville Avenue Historic District
HILLSBOROUGH: Tampa
22nd Street South Redevelopment Corp.
Alafia River State Park
American Victory Mariners Memorial and Museum Ship
Bay Isle Commercial Building
Camp Bayou Nature Preserve
Centro Asturiano de Tampa
Cigar Maker's House Museum
Cracker Country at the Florida State Fairgrounds
Downtown Plant City Commercial District
Downtown Plant City Historic Residential District
Egmont Key State Park
El Centro Espanol of Tampa
El Circulo Cubano de Tampa
El Pasaje Building
Federal Building US Courthouse
Floridan Hotel
Fort Foster
Glover School Site
Grand Central District
Hampton Terrace Historic District
Hillsborough River State Park
Hillsborough State Bank Building
Historic Turkey Creek High School
Hutchinson House
Hyde Park Historic Districts
Kress Building
Little Manatee River State Park
Main Street Zephyrhills, Inc.
Masonic Temple # 25
North Franklin Street Historic District
North Plant City Residential District
Old Lutz Elementary School
Old Schoolhouse
Old Tampa Free Public Library
Old Union Depot Hotel
Pioneer Village Museum
Plant City High School Community Center
Plant City Union Depot
Plant Hall at University of Tampa
Quintilla Geer Bruton Archives Center
Ruskin Women's Club
Seminole Heights Residential District
St. James House of Prayer Episcopal Church
Standard Oil Service Station
Taliaferro House
Tampa Bay History Center
Tampa City Hall
Tampa Heights Historic District
Tampa Police Memorial
Tampa Theatre
Tampania House
Union Railroad Station
West Tampa Historic District
William E. Curtis House
Ybor City Historic District
Ybor City Main Street
Ybor City Museum State Park
Ybor Factory Building
MANATEE: Bradenton
Anna Maria Island Historical Museum
Beth Salem
Braden Castle Park Historic District
Bradenton Beach Scenic Highway
Bradenton Carnegie Library
Cortez Historic District
De Soto National Memorial
Family Heritage House
First Manatee County Courthouse
Florida Gulf Coast Railroad Museum, Inc.
Gamble Plantation Historic State Park
Lake Manatee State Park
Madira Bickel Mound State Archaeological Site
Manatee Village Historic Park
Midway Subdivision Historic District
Palmetto Historic District
Portavant Temple Mound at Emerson Point Park
Robert Gamble House/ Judah P. Benjamin Confederate Memorial
Seagate
Shaw's Point Archaeological District
South Florida Museum
Whitfield Estates -- Broughton Street Historic District
Whitfield Estates Lantana Avenue Historic District
Women's Club of Palmetto
PASCO: Dade City
Amtrack Station
Baker House Museum
Church Street Historic District
Downtown Dade City Main Street
Greater New Port Richey Main Street, Inc.
Hacienda Hotel
Jeffries House
Pasco Fine Arts Council and Center
Pioneer Florida Museum and Village
St. Leo Abbey Historic District
Werner-Boyce Salt Springs State Park
West Pasco Historical Society Museum and Library
Zephyrhills Depot Museum
Zephyrhills Downtown Historic District
PINELLAS: Clearwater
Alexander Hotel
Anclote Key Lighthouse
Anclote Key State Park
Andrews Memorial Chapel
Arcade Hotel
Belleview-Biltmore Hotel
Boone House
Caladesi Island State Park
City Hall and Tarpon Springs Performing Arts Center
City Hall Annex
Clearwater Main Street Joint Venture
Cleveland Street Post Office
County Courthouse and Administration Building
Don Ce Sar Resort and Spa
Downtown Largo Main Steet Association
Duchess
Dunedin Historical Society
First United Methodist Church of St. Petersburg
Florida Holocaust Museum
Florida International Museum
Fort De Soto Batteries
George N. Cretekos
Green-Richman Arcade
Gulfport Historical Museum
Harbor Oaks Residential District
Historic Sunken Gardens
Honeymoon Island State Park
John C. Williams House
Johnson Building
Jungle Prada Mound Park
Kelly Hotel
Louis Ducros House
Moccasin Lake Nature Park
Mount Olive African Methodist Episcopalian Church
N.K. Symi
Old Belleair Town Hall
Old Palm Harbor Main Street
Old Tarpon Springs City Hall
Palm Harbor Historical Museum
Panama Canal Museum
Pass-a-Grille Historic District
Pinellas County Historical Museum
Renaissance Vinoy Resort
Roser Park Historic District
S.H. Kress and Co. Building
Safety Harbor Mound at Philippe Park
Safety Harbor Museum of Regional History
Safford House
Science Center of Pinellas County
Snell Arcade
South Ward School
St. Nicholas III
St. Nicholas VI
St. Petersburg High School
St. Petersburg Lawn Bowling Club
St. Petersburg Museum of History
St. Petersburg Public Library
St. Petersburg Woman's Club
Studebaker Building
Tarpon Springs Sponge Docks at Dodecanese Blvd
U.S. Open Air Post Office
Union Academy
Weedon Island Preserve
SARASOTA: Sarasota
African American Culture Center
American National Bank Building
Appleby Building
Armada Road Multi Family District
Bay Haven School of Basics Plus
Bee Ridge Woman's Club
Belle Haven Executive Suites
Blackburn Point Bridge
Burns Court Historic District
Ca' d'Zan - John and Mable Ringling Museum of Art
Caples'-Ringlings' Estates Historic District
Christy Payne Mansion
City Waterworks
Colson School of Art
Crisp Building
Crowley Museum and Nature Center
DeMarcay Hotel
Dr. C.B. Wilson House
Eagle Point Historic District
Edgewood Historic District
El Patio Hotel
F.A. DeCanizares House
Florida Studio Theatre
H.B. William House
Harding Circle Historic District
Historic Spanish Point
Indian Mound Park
Johnson Chapel Missionary Baptist Church
Johnson Schoolcraft Building
Lemon Bay Woman's Club
Miakka Schoolhouse
Municipal Auditorium - Recreation Club
Myakka River State Park
Oscar Scherer State Park
Osprey Archaeological and Historic Site
Osprey School
Phillippi Estate Park
Rigby's La Plaza Historic District
S.H. Kress Building
Sarasota County Courthouse
Sarasota Herald Building
Sarasota High School
Sarasota Opera House
Sarasota Times Building
Southside Elementary School
U.S. Post Office - Federal Building
Venezia Park Historic District
Venice Archives and Area Historical Collection
Venice Main Street, Inc.
Warm Mineral Springs
Worth's Block
SOUTHWEST FLORIDA HISTORY
Southwest Florida heritage and history begins with the early native Americans, the Calusa, who lived in the area 12,000 years ago.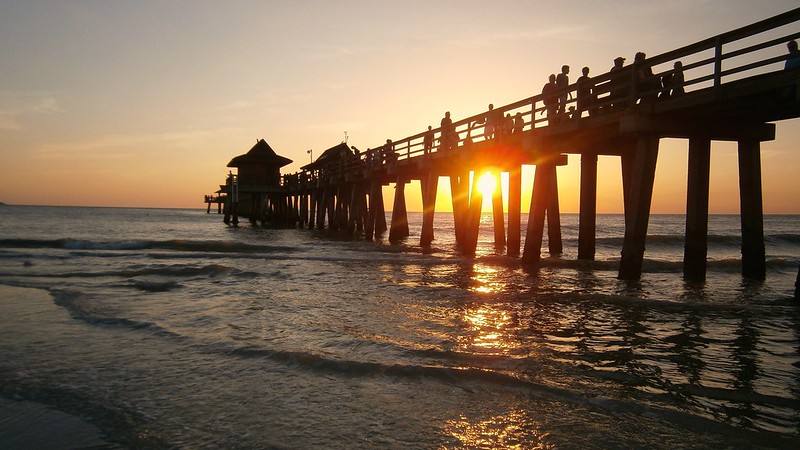 Many of the early settlers in this area were cattlemen, ranchers, farmers and fishermen who came here from other parts of Florida.
Thomas Edison put southwest Florida on the map.

Southwest Florida history certainly began before Edison and his cronies took up residence in Fort Myers.  And there was a little bit of action down in Naples and Everglades City before Barron Collier came along. But not much.
The history of Southwest Florida is one of transformation because these men came to the area.  Thomas Edison loved Southwest Florida, and spent 40 winters at his home in Fort Myers.  
His buddies Henry Ford and Harvey Firestone also had places in Fort Myers, and the three of them collaborated on many business ventures.  Edison worked on many of his major inventions in Fort Myers.
In the early days of Fort Myers, Edison offered the city free electricity for all of the streetlights if the city would pay for the lights.  The city council turned down Edison's offers because they were afraid the streetlights would keep the cows awake at night.
Southwest Florida heritage and history has been impacted simply by the fact that these three famous men chose to winter here.  It gave the area tremendous national publicity.
Southwest Florida history covers some pretty diverse ground.  You will find old Florida country towns with a cattle heritage, and some fantastically rich towns.
Back in the 1920's Naples was reported to have 26 millionaires and 22 rum runners. Those were the days of Prohibition, and fast boats made the run from Cuban and the Bahamas to Naples.
Barron Collier came along and changed Southwest Florida history and his family is still part of Southwest Florida heritage.
He was not as famous as Edison, Ford and Firestone, but he was a man of action and a self-made advertising millionaire.  The State of Florida had been wanting to build a road connecting Naples to Miami, but didn't have the money to pull it off.
Collier became the solution to the problem.
He had purchased huge tracts of land in Southwest Florida. His first major purchase was in 1906, when he bought Useppa Island south of Boca Grande pass. The Collier Inn on Useppa is still an Old Florida masterpiece.
Collier saw the value of connecting Southwest Florida with the east coast of Florida. He worked a deal where he would finance the construction of a road from Naples to Miami.
It wasn't until 1923 that he was able to start construction on the Naples to Miami section. In return for Collier's road building efforts, the State created Collier County out of the southern part of Lee County in 1923.
It was the location of most of his vast land holdings. The descendants of Barron Collier still are the largest private land owners in Collier County.
Collier's road was named Tamiami Trail. It is that segment of US-41 that connects Tampa to Miami.  It is the highway that finally opened southwest Florida travel to the rest of the state.  It led to the discovery of southwest Florida by the people moving to Florida.
Of the 8 rest areas with lodging and restaurants that Collier built along the Trail, only one survived into modern times.  It was a dilapidated old wooden building at Monroe Station, a lonely outpost many miles east of Naples.  A fire took it down in 2016.
According to Wikipedia, the Tamiami Trail took 13 years to build.It cost $8 million and used 2.6 million sticks of dynamite in its construction. The Tamiami Trail officially opened on April 25, 1928.
Unlike the east coast of Florida, and even Tampa, Southwest Florida did not participate in a big way in the 1920's real estate boom that finally collapsed in the aftermath of the two killer hurricanes.
The 1926 Miami hurricane, and the one that followed in 1928, put a crashing stop to the frenzied land boom on the east coast.
In the years that followed, Southwest Florida remained one of the quietest and least known areas of the state.  Southwest Florida heritage and history - at least in the twentieth century - reflect the American mid-western culture more than any other area of the state. 
Although many mid-westerners stopped in Tampa and Sarasota, it seems more of them kept pressing southward to Fort Myers and Naples.  

Today, Southwest Florida is a vast region of beaches, high rise condominiums and wealthy golf course communities.
It stretches from the white sand beaches of Englewood in the north to the marshy fishing villages of Everglades City and Chokoloskee Island in the south.
There are more golf courses in Southwest Florida than you can shake a putter at. The area also has great fishing and boating.
SOUTHWEST FLORIDA HERITAGE SITES
Here is a list of 75 Southwest Florida heritage sites listed by county. The County Seat is also listed.  Here's a neat trick for you:  highlight any of the sites below, then right click and it will take you to the site's webpage on the internet.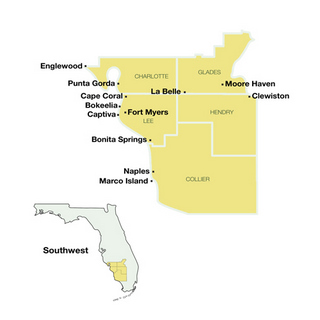 CHARLOTTE: Punta Gorda
A.C. Freeman House
Blanchard House
Charlotte High School
El Jobean Post Office and General Store
Florida Adventure Museum of Charlotte County
H.W. Smith Building
Old First National Bank of Punta Gorda
Praise Tabernacle Church
Punta Gorda Atlantic Coast Line Depot
Punta Gorda Residential District
Punta Gorda Woman's Club
COLLIER: Naples
5th Ave. South Association
Bank of the Everglades
Big Cypress National Preserve
Captain John Foley Horr House
Collier County Museum - Naples
Collier-Seminole State Park
Delnor-Wiggins Pass State Park
Fakahatchee Strand Preserve State Park
Historic Smallwood Store
Immokalee Pioneer Museum at Roberts Ranch
Keewaydin Club
Monroe Station
Museum of the Everglades
Naples Depot Civic and Cultural Center
Naples Historic District
Naples Nature Center
Palm Cottage
Plaza Site
Tamiami Trail Scenic Highway
Teddy Bear Museum of Naples
GLADES: Moore Haven
Moore Haven Downtown Historic District
Moore Haven Residential Historic District
HENDRY: LaBelle
Ah-Tah-Thi-Ki Museum
Captain Francis A. Hendry House
Clewiston Inn
Clewiston Museum
Clewiston Theatre
Downtown LaBelle Historic District
Forrey Building and Annex
Old Hendry County Courthouse
LEE: Fort Myers
Alva Elementary School
Boca Grande Community Center
Boca Grande Lighthouse Museum
Bonita Springs Elementary School
Buckingham School
Cape Coral Historical Museum
Cayo Costa State Park
Don Pedro Island State Park
Downtown Fort Myers
Dunbar Community School
Edison and Ford Winter Estates
Edison and Ford Winter Estates
Edison Park Elementary School
Fort Myers Beach Elementary School
Fort Myers Downtown Commercial District
Gasparilla Island State Park
Historic Railroad Depot
J. Colin English Elementary School
Koreshan State Historic Site
Koreshan Unity Settlement Historic District
Lovers Key State Park
Mound Key State Archaeological Site
Murphy Burroughs House
Museum of the Islands
Old Lee County Courthouse
Randell Research Center at Pineland
Sanibel Lighthouse and Keepers Quarters
Schoolhouse Gallery
Southwest Florida Museum of History
Terry Park Sports Complex
Tice Elementary School
Useppa Island Museum
Whidden's Marina
Williams Academy Black History Museum
SOUTHEAST FLORIDA HISTORY
Southeast Florida history has been shaped by many cultures and characters.  Thousands of years ago, the Tequesta tribe of Indians lived on Biscayne Bay in what are now Miami-Dade County and south Broward County.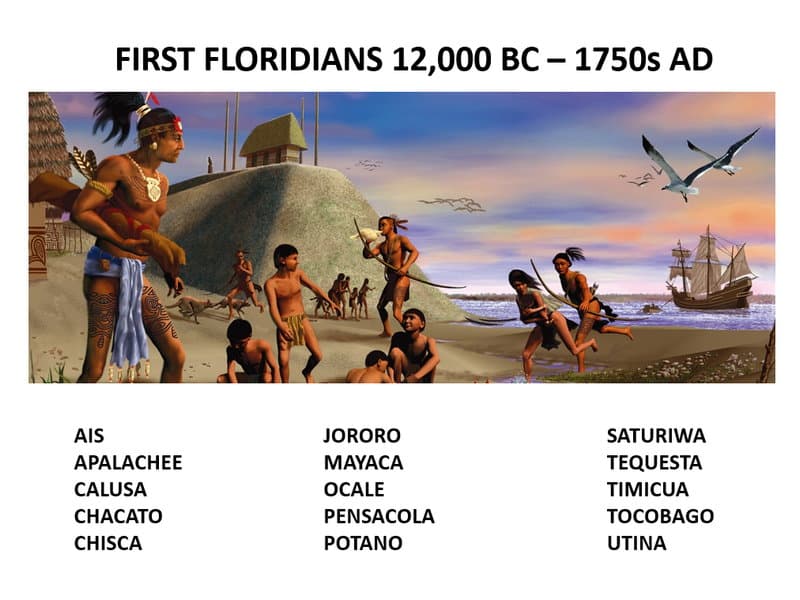 A few of the original Tequesta Indians were in Southeast Florida including some populations along the Florida Keys. Most of these ancient tribes disappeared by the middle of the 1700's.
After that, Bahamians were among the earliest settlers in Southeast Florida. Many of them became the first citizens of what is now Coconut Grove in Miami. 
The Indians and Bahamians contributed to what is now Southeast Florida heritage.

If the north Florida regions are also known as Florabama and Florgia, then Southeast Florida could be called lower New York or northern Havana or Floracuba.
Modern immigrants from the New England states and Latin and Central America give the region its diverse flavor. You can enjoy a New York Pizza, an Argentinian steak, and a Jamaican beef patty and never leave your friendly neighborhood shopping center. 
This makes Southeast Florida heritage among the most diverse in the country.
Without the Standard Oil Company, Southeast Florida heritage and history would be entirely different. Henry Morrison Flagler was John D. Rockefeller's partner in that giant firm.
Flagler sold out to Rockefeller and moved to Florida in 1885. He was rich, but like Colonel Sanders he wasn't the kind of man who considered retirement.
His first Florida venture was to build the giant 540 room Ponce de Leon Hotel in St. Augustine. This magnificent building is now the home of Flagler College. The hotel opened in 1888 and was a huge success.
Flagler saw the potential in developing the entire Florida coast south of St. Augustine. He went to work creating what he would refer to as the "American Riviera".
The development of Southeast Florida began in earnest when Flagler began to push his Florida East Coast Railway to the south from St. Augustine.
His railroad created Florida history town by town as it marched south. Each town has its share of Southeast Florida heritage brought to it by Henry Flagler.
Before the railroad pushed southward, Southeast Florida was as remote as any place in the United States. Transportation between the coastal communities was by shallow draft boats and paddle wheel steamers.
Flagler's destination was Palm Beach. That's where he planned to end his railroad.
When the railroad made it to Palm Beach in 1894, he built the 1100 room Royal Poinciana Hotel and a couple of years later the Breakers Hotel.
The Royal Poinciana was the largest hotel in Florida history at the time.  At the same time, he developed West Palm Beach as a community where the hotel workers could live.
Flagler might have been content to stop the railroad in West Palm Beach. He didn't have a high opinion of Florida south of Palm Beach. An unusual weather event made him change his mind. 
In 1894 and 1895 the Palm Beach area suffered severe freezes. The area down south that now includes Miami did not get the freeze. 
Julia Tuttle owned a trading post on the Miami River. The town of Miami didn't even exist yet.
Tuttle had been trying to convince Flagler to run the railroad south to her area. An old Florida history book says that Julia sent Henry an orange blossom to show him that Miami did not suffer a freeze.  
Whether the story is true or not, something convinced Mr. Flagler to extend his railroad to Miami. And the rest is Southeast Florida heritage and history.
Later, when he was in his eighties, he pushed on across the Florida Keys and terminated his venture in Key West. Development followed the railroad, and Southeast Florida was transformed.
Palm Beach became the playground of the rich and famous. Fort Lauderdale and Miami expanded west and created some of the first large planned communities.
Miami grew from Julia Tuttle's trading post at the mouth of the Miami River to become the virtual business center for Latin America.
Northerners from New England followed US-1 down the east coast of Florida. Many fell in love with the palm studded coast and decided to stay. 
During World War Two, Miami Beach hotels were converted to military barracks. Many of the soldiers and sailors who trained in Miami Beach came back to paradise after the war ended.
Fidel Castro and his communist revolution succeeded in Cuba, and huge waves of Cuban refugees escaped to Miami in the early 1960's. They transformed Miami into a great Latin City. 
Castro's loss is Miami's gain.  The Latin flair is evident today in the music, festivals and cuisine that are Miami's trademarks.
The people in the Florida Keys march to their own drummer. Maybe that's because it was a series of isolated islands until Henry Flagler changed it all.
Flagler's Florida Overseas Railroad road had been an engineering marvel. The railroad tied the Keys to the mainland for the first time when it was completed in 1912.
Flagler did not live long enough to see his masterpiece completely destroyed by the Labor Day hurricane of 1935.
After the hurricane, the old railroad bridges and track beds became US-1, known in the Keys as the Overseas Highway.  Key West still remained, literally, the end of the road.
Early natives of the Florida Keys were originally descended from the Loyalist pioneers of the Bahamas. Many of the family names in Key West and Monroe County are the same as the ones in Abaco, Bahamas.
Before the railroad, keys residents made their livings fishing and "wrecking". Wrecking involved salvaging ships and materials that grounded on the rocky waters around the Keys.
The natives of the lower Keys were always known as conchs, named after the mollusk that was abundant in the waters of Florida and The Bahamas.
That's pronounced "konk", like a konk in the head. Not "conch" like a fat man's paunch.
The Conchs tried to secede from the United States in 1982. They did not succeed in seceding. Many Conchs in recent years have migrated north to Ocala, Gainesville and other rural Florida areas.
There are many back roads in Southeast Florida that are worth traveling. Although most of them are in urban areas, some of them haven't changed much in the past century.
SOUTHEAST FLORIDA HERITAGE SITES
Here is a list of 259 Southeast Florida heritage sites listed by county. The County Seat is also listed.  Here's a neat trick for you:  highlight any of the sites below, then right click and it will take you to the site's webpage on the internet.

BROWARD: Fort Lauderdale
African American Research Library and Cultural Center
Bonnet House
Bryan Building
Cap's Place
Croissant Park Administration Building
Dania Beach Main Street, Inc.
Deerfield Beach Elementary School
Flamingo Gardens
Fort Lauderdale Antique Car Museum
Graves Museum of Archaeology and Natural History
Hollywood Boulevard Historic Business District
Hollywood Woman's Club
Hugh Taylor Birch State Park
International Game Fish Association Fishing Hall of Fame and Museum
International Swimming Hall of Fame
James D. and Alice Butler House Museum
John U. Lloyd State Park
Link Trainer Building
North New River Canal Lock #1
Nyberg-Swanson House
Oakland Park Elementary School
Old Davie School Historical Museum
Old Deerfield School Museum
Old Dillard High School
Old Fort Lauderdale Museum of History
Pioneer House
Plantation Historical Museum
Pompano Beach Historical Society Museum
Sample McDougald House
Seminole Okalee Indian Village and Museum
South Florida Railway Museum
SS Copenhagen
Stranahan House
MARTIN: Stuart
Court House Cultural Center
Elliot Museum
Historic House of Refuge
Jonathon Dickinson State Park
Lyric Theatre
Maritime and Yachting Museum of the Treasure Coast
Savannas Preserve State Park
St. Lucie Inlet Preserve State Park
Stuart Heritage Museum
Stuart Main Street
MIAMI-DADE: Miami
Alamo Building Museum
Alfred I. Dupont Building
Anderson's Corner
Anhinga Trail
Arch Creek Historic and Archaeological Site
Atlantic Gas Station Building
Bay of Pigs Museum
Bay Shore Historic District
Beth Jacob Social Hall and Congregation
Bill Baggs Cape Florida State Park
Biscayne National Park
Black Archives -- Overtown
Black Archives, History and Research Foundation of South Florida
Black Heritage Museum
Boca Chita Key Historic District
Brickell Mausoleum
Brickell Point Site
Cape Florida Lighthouse
Capital Building
Central Baptist Church
City Hall
City National Bank Building
City of Miami Cemetery
Congress Building
Consolidated Bank Building
Coral Castle
Coral Gables City Hall
Coral Gables Congregational Church
Coral Gables Elementary School
Coral Gables Merrick House
Coral Gables Police and Fire Station
Coral Gables Woman's Club
Cuban Museum of Arts and Culture
Dade Commonwealth Building
Dade County Courthouse
Dade Federal Savings
Dade Heritage Trust Headquarters
David W. Dyer Federal Building and US Courthouse
Deering Estate at Cutler
Douglas Entrance
Entrance to Central Miami
Everglades National Park
Fairchild Tropical Garden
Fire Station No. 2
Fire Station No. 4 Building
First Coconut Grove Schoolhouse
Florida East Coast Railway Locomotive #153
Florida Pioneer Museum
Freedom Tower
Fuchs Bakery
Gesu Church
Glenn H. Curtiss House
Gold Coast Railroad Museum
Greater Bethel AME Church
Greater Homestead/ Florida City Chamber of Commerce
Gusman Center for the Performing Arts
Hahn Building
Half Moon
Halissee Hall
Harry Hurt Building
Hialeah Park Race Track
Hialeah Seaboard Airline Railway Station
Historical Museum of Southern Florida
Holocaust Documentation and Education Center, Inc.
Homestead Main Street
Ingraham Building
International Fine Arts College Historical Costume Museum
J & S Building
Jay I. Kislak Foundation
Lyric Center
MacFarlane Homestead Historic District
Miami Beach Architectural District
Miami City Hall
Miami Edison Middle School
Miami Fire Museum, Inc.
Miami Senior High School
Miami Springs Pharmacy and Museum
Miami Women's Club
Miami-Biltmore Hotel
Mount Zion Baptist Church
Neva King Cooper School
Old Spanish Monastery
Old US Post Office and Courthouse
Oleta River State Park
Opa Locka Bank Building
Opa Locka Railroad Station
Palm Cottage
Performing Arts Center of Greater Miami
Plymouth Congregational Church
Ralph M. Munroe House
S & S Restaurant and Deli
Shark River Slough Archaeological District
Silver Palm Schoolhouse
South River Drive Historic District
Southside Elementary Bilingual School
St. John's Baptist Church
Sweeting Homestead at Elliot Key
The Barnacle Historic State Park
The Kampong: The National Tropical Botanical Garden
The Wolfsonian
Trinity Episcopal Cathedral
US Car #1 - Ferdinand Magellan
Venetian Causeway
Venetian Pool
Vizcaya
Walgreen Drug Store Building
Wings Over Miami Military and Classic Aircraft Museum
Women's Club of Coconut Grove
MONROE: Key West
African Queen
African-Bahamian Museum and Resource Center
Audubon House and Tropical Gardens
Bahia Honda State Park
Bat Tower
Carysfort Lighthouse
Donkey Milk House
Dr. Joseph Y. Porter House
Dry Tortugas National Park
East Martello Gallery and Museum
Ernest Hemingway House
Florida Keys Memorial
Florida Keys National Marine Sanctuary
Florida Keys Scenic Highway
Fort Jefferson National Monument
Fort Zachary Taylor
Garden Key Lighthouse - Fort Jefferson
George Adderley House
Indian Key Historic State Park
John Pennekamp Coral Reef State Park and Reserve
Key West Historic District
Key West Lighthouse Museum and Keeper's Quarters Museum
Lignumvitae Key Archaeological and Historical District
Lignumvitae Key Botanical State Park
Little White House
Loggerhead Key Lighthouse
Long Key State Park
Mel Fisher Maritime Heritage Society and Museum
Museum of Art and History at the Custom House
Oldest House Museum
Overseas Highway and Railway Bridges
Pigeon Key Historic District
San Carlos Institute
San Jose Shipwreck Site
San Pedro Underwater Archaeological Preserve State Park
Shark River Slough Archaeological District
The Armory
The Florida Keys Overseas Heritage Trail
Turtle Kraals Museum
US Naval Air Station
USCG Cutter Duane
USS Alligator
West Martello Tower and Garden Center
Western Union Schooner
Windley Key Fossil Reef Geological State Park
PALM BEACH: West Palm Beach
American National Bank Building
Ann Norton Sculpture Gardens
Black Historical Preservation Society of Palm Beach County
Boca Raton Fire Engine No. 1
Boca Raton Historical Society Museum and Gift Shop
Boca Raton Old City Hall
Boynton Beach Woman's Club
Boynton School
Cason Cottage Museum
Central Park Historic District
Chesterfield Hotel
Children's Museum, Inc.
Clematis Street Historic District
College Park Historic District
Comeau Building
Count de Hoernle Pavilion
Count de Hoernle Pavilion
Count de Hoernle Pavilion
Creations Pop Culture Museum
Delray Beach Cultural Loop
Delray Beach Historical Society
Dixie Court Hotel
DuBois Pioneer Home
El Cid Historic District
Ferndix Building
Flamingo Park Historic Residential District
Florida Power and Light Historical Museum
Grandview Heights Historic District
Guaranty Building
Gulf Stream Hotel
Hatch's Department Store
Henry Morrison Flagler Museum
Historic Old Town Commercial District
John D. MacArthur Beach State Park
Jupiter Inlet Lighthouse
Lake Park City Hall
Little Red Schoolhouse
Loxahatchee River Historical Museum
Milton Myers American Legion Post #65
Molly S. Fraiberg Judaica Collections, S.E. Wimberly Library
Morikami Museum and Japanese Gardens
Museum of Polo and Hall of Fame
Museum of the City of Lake Worth
Northwest Historic District
Old Lucerne Historic Residential District
Old Northwood Historic District
Old Pahokee High School
Old Palm Beach Daily News Building
Old School Square Cultural Arts Center
Palm Beach Maritime Museum
Palm Beach Mercantile Company
Paramount Theatre Building
Professional Building
Robert and Mary Montgomery Armory Art Center
S.D. Spady Cultural Arts Museum
Sandoway House Nature Center
SD Spady Cultural Arts Museum
Seaboard Coastline Railroad Passenger Station
Sundy House
The Breakers
Via Mizner
Yesteryear Village and Blink Glisson Historical Museum
---

Our Facebook page has more than 127,538 followers who love off the beaten path Florida: towns, tourist attractions, maps, lodging, food, festivals, scenic road trips, day trips, history, culture, nostalgia, and more.  We post articles every day.  Please check it out and if you like it, we would appreciate a "like" from you.
---
By Mike Miller, Copyright 2009-2023
Florida-Back-Roads-Travel.com
Florida Back Roads Travel is not affiliated with or endorsed by Backroads, a California-based tour operator which arranges and conducts travel programs throughout the world.