FLORIDA TALES FROM DAVID PAYNE
David Payne is a long time Floridian who is an avid reader of our companion newsletter, Florida Heritage Travel.  He has provided many observations of our articles and added interesting information.
To see the articles David is commenting on, go to:
 Florida Heritage Travel Ezine Back Issues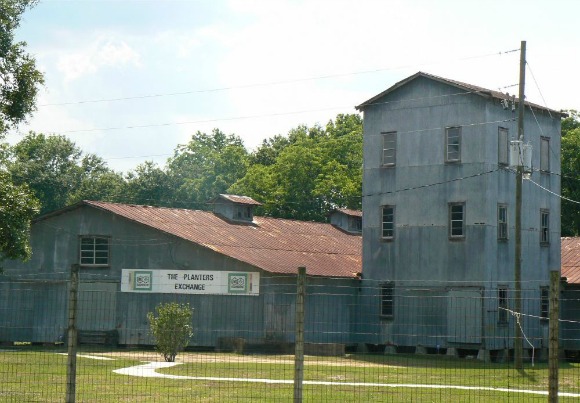 ANNA MARIA, FLORIDA
So glad I visited before the investors started changing Anna Maria. This would have been in the Seventies. We stayed at a family-owned cottage, one of a very pleasant group of simple cottages. The businesses were small family-owned businesses, and it was the essentially unspoiled Florida that made it such a wonderful experience. The beaches and the view of the Gulf are undoubtedly still worth experiencing.
FLORIDA SCALLOPING
Scallop trivia - turns out that because shark meat cut up like scallops has been marketed as scallops for long enough to be part of the language, the challenge to calling it scallops was rejected. I think it has to say bay scallops to ensure that it is the little critters. I've never been scalloping, much to my regret. Crabbing, on the other hand...
TREATY OAK
Gotta love this story. U da man, Pat Moran. In addition to being magnificent trees, Live Oaks are the best for Hurricane Alley. They don't come down. Unfortunately, water oaks do.
CHATTAHOOCHEE, FLORIDA
Lose yourself for a day in and around Chattahoochee. You won't regret it. I've done that. Definitely fits my concept of restorative days, which we all need and too often don't get.

And as soon as you cross the river westbound, you are one hour younger. Of course, I have to give it back when I head home, but hey, it's still fun for a moment.
THE GOLDEN AGE OF RADIO
Could almost have been written by me, there are so many similarities. But it was a neighbor who bought the first tv in 1953 - one tv station in Central Florida, WDBO, the CBS affiliate. Used to watch the Howdy Doody show at their house. We got our first tv in 1957, a Silvertone from Sears.

But back to radio. Saturday morning kids' radio was a big deal. Trying to remember the name of the show with Big John and Sparky and "Twang your magic twanger, Froggie..". The Lone Ranger was my favorite. My older sister's favorite was the Vaughn Monroe show and the song "Racing with the Moon."

In high school in the late 50s, it was the pop music stations, WLOF and WHOO I think were their call letters, and the Big Ape, WAPE, out of Jacksonville, but it was all AM for us, including WLAC, Nashville, late at night because of skip distance for AM, which FM doesn't do.

Because I would listen to the radio at the end of the evening at UF, especially as a freshman, and I sometimes fell asleep with it on, I woke up one morning to the real time broadcast of the Bay of Pigs invasion.

My mother would listen to the radio late at night because they would read the wire service news unedited as it came in. During the day, it would be edited. Mother was intrigued by the difference. She also wanted to decide for herself what was and wasn't important.

Really enjoyable to think back to that time. Oh, and another favorite - Our Miss Brooks. And as much as I have also enjoyed television, I must say that the requirement of one's imagination likely fostered certain brain functions television doesn't, just as making our own toys did something store-bought toys doesn't. I would not eliminate either, of course. But in a nod to Albert Einstein, first the imagination.

FLORIDA TOWNS AT THE END OF THE ROAD
Visiting any one of the mostly untouched by progress little towns is mentally restorative for someone like me, who was born in 1942 and grew up in pre-developed Florida. 
The change is dramatic.  I cannot help but think about the irony of the Internal Improvement Fund, the original initiative by the legislature to bring what they viewed as progress. 
They brought change, and one must always find a way to adjust to change, but those moments in a place which wasn't improved can really refresh one's spirit.


THE VILLAGES FLORIDA
The inception and development of The Villages corresponded to my tenure as an English instructor at Lake-Sumter Community College (1972-1991). The good, the bad, and the ugly all apply to this retirement city. 
One of my students is a key realtor there, and two others are parents whose children attended The Villages Charter School, so I know the good.  I also grew up in a far less populated Florida, so I can see the bad. 
And the politics of the retirees in The Villages - sometimes the ugly. 
Retirees in Lake County have always been a perplexing phenomenon. Some have been, and are, priceless friends.  Many really frustrated me when they voted down a modest tax to benefit schools because they "had already paid taxes for schools for their children" wherever it is they retired from. 
They did vote for the tax to build a new prison.  I always wondered why they did not want to continue to a part of the community they left behind. 
Florida is clearly a mecca for the good, the bad, and the ugly.  May the good prevail.
LAKELAND FLORIDA
Howard Field, one of my very favorite uncles and my first teaching mentor, taught various science courses at Florida Southern College, so I have very fond memories both of Lakeland and of the campus, and I really enjoyed watching the video.
I think Uncle Howard was made aware of Florida Southern (he was teaching at a college in Nebraska after earning his Ph.D. from the University of Michigan) because it is a Methodist college, and his father was a Methodist missionary who founded the first school generally available to children in La Paz, Bolivia, I think it was.
Education was part of the fabric of Uncle Howard's existence.  He also took delight in the Frank Lloyd Wright architecture. 
Interesting the memories something like one of these posts can stir up. Thanks.
I have to add this.  It chose brazil for the proof I'm not a robot.  Uncle Howard was working in Sao Paolo when my cousin Nancy was born.  
ALAS, BABYLON
I certainly remember reading the book.  Also, I remember sitting in the lobby of my girlfriend's dorm at UF with her and a couple of other friends and contemplating what to do in the event of a nuclear war. 
We had grown up with the duck-and-cover under the desk and put you head between your knees.  I also remember the most apt conclusion to that drill, Kiss your a** goodbye. 
We concluded we should get some Jim Beam, some Cokes, some ice, and watch the fireworks show since anything else was pointless in full-scale nuclear exchange.
Apparently Kennedy and Kruschev also understood this, as did the nuclear submarine commander over the the commanders of the two nuclear subs sent to protect Soviet ships. 
He is who actually prevented the exchange when he refused to ok the Soviet subs launching their torpedoes to sink the U.S. warships surrounding the Soviet ships, because in their haste, the Soviet Union had sent subs with nuclear-tipped torpedoes. 
Mushroom shaped clouds as the American warships sank would not have ended well for anyone on the planet.
I also remember an evacuation exercise when I was in 8th grade (1956) in which they loaded us in school buses and drove in a big loop which went through Goldenrod.
My mother happened to be walking up to Spelzhausen's Goldenrod Market as all of those school buses came rolling along 436.  When I got home, she asked me what that was all about.  When I told her, she said, "Where in hell did they think they could take you?"
My mother understood the absurdity of it all, and did not suffer foolishness lightly. She also said the Soviet Union would not attack us with nuclear weapons. 
She said they weren't that stupid. Mutually Assured Destruction was actually the only thing which did prevent the end for ecosystem Earth as we understand it.
HAVANA FLORIDA
Hay'vanuh (gotta say it right). When I was doing post-graduate work in theatre at FSU (yeah, I'm a Gator first and forever, but for theatre, it's FSU), we went up to Havana because we were intrigued by the idea of tobacco being grown in Florida.

The northern strip of Florida is actually south Georgia/south Alabama, if truth be told. And Tallahassee is also the old South in the sense that the local aristocracy, as they see themselves, consider all of those elected and appointed officials, including the governor, as outsiders to their world - at least that's how it was when I was there in the mid-70s.

There is not so much a Florida as multiple Floridas which are quite distinct from each other. It is a cultural tour-de-force.
CROSS CREEK

I share many similar memories. Having been born in 1942 to a Florida with a population of less than 2 million and grown up bathed in the Florida described so accurately by Mike Miller, I have to say this is my favorite Florida Back Roads Travel read.

I do remember when Marjorie Kinnan Rawlings' home was under the stewardship of the University of Florida and not receiving the level of attention it so richly deserves. I am really happy it is now under loving care. I grew up in a cracker house which was built in 1922. Cracker houses like mine and hers define home for me.
HISTORY OF PALM BEACH
Ann Spaulding owned the beach mansion next to the Kennedy mansion. Her younger son David Hamilton was my roommate at UF 1960-64.
I went down to drive his 1949 Singer (MG-style sports car) up to Gainesville. I remember starting to sit down on a chair near the front door. He stopped me because it was about 300 years old and might collapse.

He told me it was easy to know when the President would be at their mansion because of the men on the beach in suits wearing sunglasses.

I knew David for almost a year as a freshman before I knew who his family, including his brother the actor George Hamilton, was. He was completely down to earth and unassuming.

He was a major fan of William Faulkner's works, so he went with me to my home outside Orlando one weekend. I grew up working class in a cracker home, but my mother was extremely well read and my dad an artist who was working as a carpenter, and David wanted to meet them and experience a weekend with us.

He also wanted to see something Faulkner-like if possible, so we took him to a large oyster bar for blue collar beer drinkers near Apopka. It did have some cultural connections to the people in Faulkner's novels. He genuinely enjoyed the experience.

He was a good friend the whole time we were roommates. Rich, from famous people, and the polar opposite of the aloof or condescending wealthy. He was just a fellow student, and had no desire to be known as anything else.
10 SAFEST FLORIDA CITIES

I am very familiar with Oviedo, having grown up about 7 miles away in Goldenrod. An uncle owned the local grocery store. It is also where I go to early vote. And I brake for the Oviedo chickens. Gotta love Oviedo.

My Sweetie lives 8 miles south of Groveland, down on the edge of the Green Swamp. Groveland has come a long way since its infamous past, and is now a pleasant little community on west 50.

Goldenrod was so safe when I was young that we never locked the doors to our house. One of them didn't even work. We would go to the beach with our house unlocked. That did not change until some marginal people from a northeastern urban setting rented a house down the street.

Their teenage son went into people's houses, so we were finally forced to start locking our doors if we were going to be gone all day. No serious crime, just minor theft.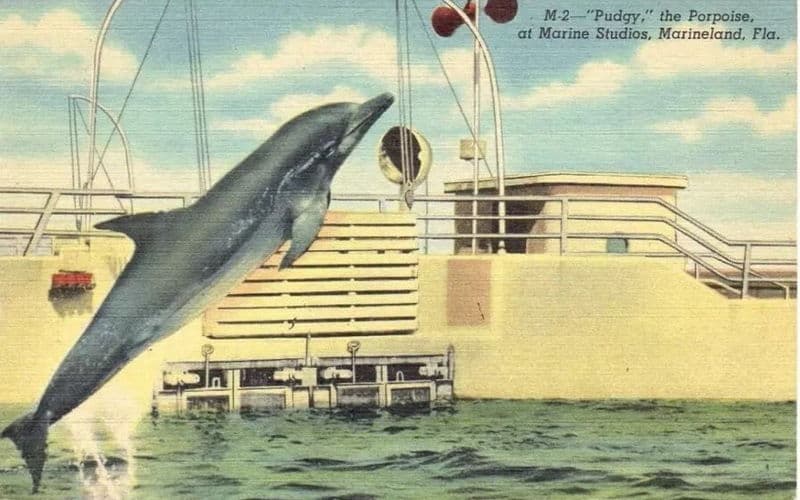 MARINELAND
This fascinating history was unknown to me. I can attest to the value of visiting Marineland and highly recommend it to anyone coming down (or up) I-95.
Before Covid cramped our school tour activities, Marineland was a popular field trip for our school, River City Science Academy in Jacksonville.

I will be glad when we can comfortably resume field trips to Marineland. I promise you you will not be disappointed, especially if you have children with you. They make this an essentially stop on your travels.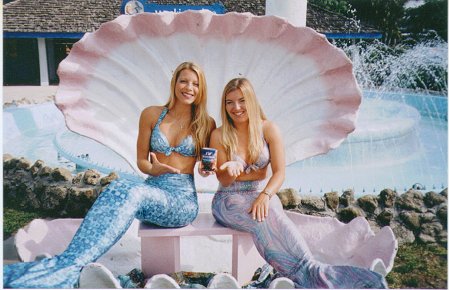 WEEKI WACHEE SPRINGS

Unfortunately, I never visited the springs or saw the show, so I don't have any memories to share, but I did enjoy this, especially watching the old video. The swimsuits brought back memories of a different era in styles. I am glad it is now a state park.

For our northern friends with children, what a refreshing stop it should be for any visit to Florida. The hotter the summer day, the better, I think.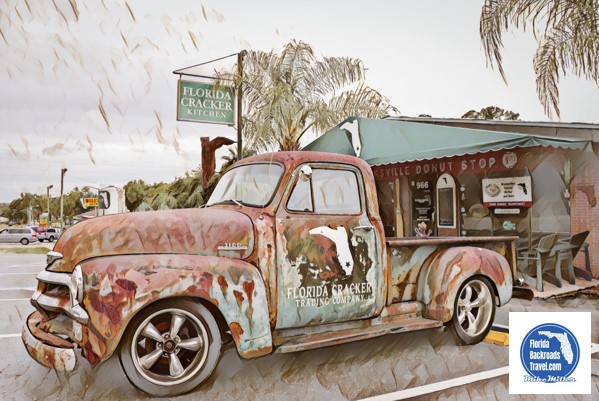 FLORIDA CRACKER RESTAURANTS
Cool list. I ate at the Lone Cabbage like a bazillion years ago. Same for the Yearling. The Redwing is about 6 miles north of my Sweetie's home. I've never eaten there, but I see plenty of cars there when it's open.

There was a place down at the one of the docks in Pensacola which served mullet. A friend from Pensacola took us there when I was doing my post-grad work in theatre at FSU ('76-'77).
It was a simple large room with picnic benches. The mullet had to be fresh. They said that was the key. You ordered an aluminum wash pan full and had at it.

I had no idea before that how good mullet could taste. I also once had breakfast at some place in the Everglades on a dirt road off of the Tamiami Trail. I think it was the Loop Road.
This would have been while I was a high school teacher, so probably 1968 or 1969. It was nothing but the locals, and a damned good southern breakfast.

I used to have a Florida road map on which I recorded what road I had driven. Over a three-year period, I drove every rural state road on the map which I could find. Some are actually simply the right of the state to put a road there.

One was a dirt road maintained by locals, including a homemade wooden bridge across a shallow little creek in the Big Cypress Swamp, where I saw the stumps of massive cypress trees which had been ruthlessly harvested.

I remember one which was huge. I think I remember that my VW would have fit on it. I actually grieved that this one had been cut down. I know ones like the Senator, which a drug addict succeeded in destroying, dated to BCE.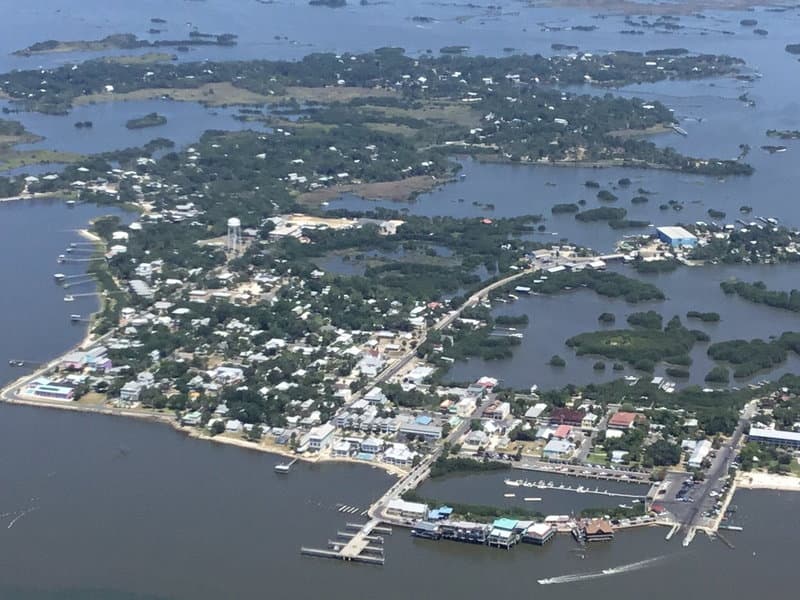 CEDAR KEY, FLORIDA

Great memories of Cedar Key, both while as a student at UF and later.
Camping out; flying into the postage-stamp-from-the-air airport with my brother the pilot; eating swamp cabbage with a peanut-butter based dressing (at the Island Hotel, I think, taking friends to Cedar Key because How could I not?
Attending the art festival; eating Cedar Key oysters (they're distinctive) and smoked mullet (someone there knew what he was doing); drinking Heineken's on the dock with my dad; loving the bleached wood cottages which have never seen a paint brush (still a favorite look for me, and a visual representation of grounded, unassuming existence).

I knew some of the history, including the history of the railroad, but there's much here I didn't know. Thanks.
CHRISTMAS, FLORIDA

For some reason, I did not know the origin of the name. Shame they changed the post office building. The old one is way cooler.

My father was also a sculptor, although he worked as a carpenter so he could feed and clothe us kids. If you ever do anything about the Maitland Research Studios Art Museum, my dad William Krusen is the sculptor who did the bust of Andre Smith.

They have it wrong. I told them once. I finally found the newspaper article which confirms Dad was the sculptor. I think the person they credit was the supervisor of the project to make the bust.

What made me think of this is that I think Dad knew Wheeler. Dad was personal friends with Albin Polasek, and used to go to his home on Saturdays and help Polasek with whatever sculpture he was envisioning because Polasek was unable to do it himself at that point.

Somewhere we have an autographed copy of the Polasek book Carving His Own Destiny. When I was young, I had no idea the significance of some of the things Dad did. I just knew they were pretty cool.
FAMOUS FLORIDIANS
I recognized most of the names, but this really fills in who they were. I'm sharing this with my buddy the history teacher who is a Floridian.
Leroy Collins is one of my gubernatorial heroes because of his stand on segregation as one of the most enlightened southern Democrats of his time. I think it was Terry Sanford in North Carolina who was also a bright light.

Gamble Rogers was a personal friend of mine, a classmate of my brother. His younger brother Jack Rogers was a rooming-house mate at UF my freshman year. Jack gave me some wise advice regarding what class load (12 hours per semester) to take and how to approach university academic life and learning.

Therein lay another of my dumb mistakes - I didn't listen to him and instead took a heavy load of 19 hours. I thought that because of my academic aptitude I knew better. I didn't - he did.
I think I would have had a much more enjoyable academic experience if I had compromised and taken 15 hours per semester. I did wind up learning ok, but my grades were erratic.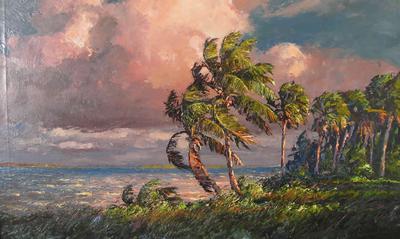 THE DAY I CHASED AWAY THE HIGHWAYMEN
Oh, man, haven't we all. One of my mistakes was believing erroneously that I wanted to be retired from teaching. That ranks as the biggest mistake I have ever made.
I am incredibly fortunate to be at a school which does not care that I am 79 teaching their dual enrollment college English classes and assisting the ESE department, especially with 10th, 11th, and 12th graders.

I am not ESE certified, but I am authorized to offer academic support. My favorite group is students on the autism spectrum, especially those who used to be classified as Asperger's.
One of mine went from virtually unable to function as student when he came here in 8th grade to graduating as our valedictorian.
He made the greatest strides in 9th grade because his algebra teacher, who understood Asperger's, got him pointed in the right direction and I just made sure no teacher derailed him.

He was in my dual enrollment classes as a senior, which allowed me to help see him to the finish line. He even had me proofread his valedictorian speech (he still wasn't all that strong on the filters thing...)

OK, OK, final exams, I'll be there in a minute. Let me finish my cup of hot chocolate.
SILVER SPRINGS, FLORIDA

Fascinating history of Silver Springs. The black version was downstream, of course. Wonder what white people downstream from the black version did, given some of the absurd racist notions which used to plague the South (and elsewhere).
But cool that at least a version black people could enjoy did exist - kind of a half-way house on the road to integration. What was it Winston Churchill said - "America always does the right thing, after doing everything else first." So true.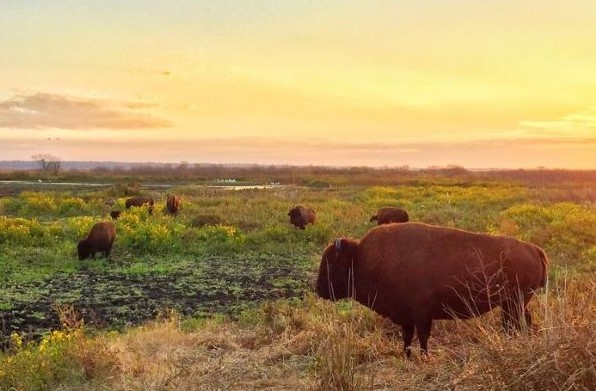 PAYNES PRAIRIE PRESERVE STATE PARK
My prairie... And Lake Wauburg was a favorite when I was at UF. Gainesville - aka Hogtown - will always be my favorite Florida town (I don't think city when I think of Gainesville).
I have read that Hogtown was actually slightly east of what is now Gainesville. Maybe I learned that from you?

And between Micanopy to visit and Cedar Key to escape to, as well as not being impossibly far from Daytona, it was for me as good as it gets for location.

The Devil's Millhopper, which was totally natural when I was there (you probably remember), was the ultimate retreat for studying for second semester exams. I would go with an order of Parker's bbq and a cone of A&W root beer.

Because I had found my intermediate integral calculus class to be a waste of time because so many students in the class were behind in their math skills and the teacher had to teach down to them, I wound up skipping class.
I went to the Millhopper with my textbook two days before the comprehensive final with my textbook, taught myself intermediate integral calculus, and made an A on the final, but the professor would only give me a B in the class.

I had learned everything for which the class existed, so I just shrugged my shoulders and moved on. I did eventually change majors, but only because I needed to major in something which allowed me to study and think about everything.
There is quite literally nothing I am not interested in. I just love knowing and thinking about stuff. Literature and composition became the doorway to that compulsion.

---
Know Something About This Subject You'd Like To Share?
Tell us about it here.
Florida Tales From our Site Vistiors
Click on the Florida article of your interest to see what other visitors to this page have written.

---

Our Facebook page has more than 123,048 followers who love off the beaten path Florida: towns, tourist attractions, maps, lodging, food, festivals, scenic road trips, day trips, history, culture, nostalgia, and more.  We post articles every day.  Please check it out and if you like it, we would appreciate a "like" from you.
---
By Mike Miller, Copyright 2009-2022
Florida-Back-Roads-Travel.com
Florida Back Roads Travel is not affiliated with or endorsed by Backroads, a California-based tour operator which arranges and conducts travel programs throughout the world.