INDIALANTIC, FLORIDA
Indialantic, Florida Things To Do, Lodging, Dining, & Real Estate At End Of Article
Indialantic is a beach town immediately east of Melbourne in Central East Florida.
It's an imaginative and creative name:  this small town of less than 3,000 is on the barrier island separating the Indian River Lagoon from the Atlantic Ocean.

Residents of this great little place spend a lot of time explaining to folks that the name of their town is not India-Atlantic.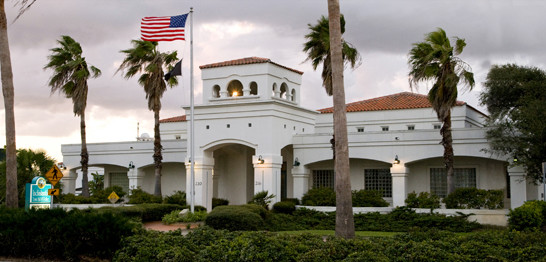 Indialantic Town Hall, Fifth Avenue
Even your computer's spell check feature hesitates at letting you type the correctly spelled name.

HISTORY OF INDIALANTIC, FLORIDA
The founder of the community that became Indialantic was Ernest Kouven-Hoven, who came to America from the Netherlands.
He became an executive in a Chicago firm, Florida Real Estate Investment Corporation Properties.
This firm developed properties in Tampa and Melbourne.

He bought a few hundred acres on the barrier island across from Melbourne in 1916 and platted it into lots for sale.
He used his own funds to build a wooden bridge across the Indian River Lagoon connecting his land to Melbourne in 1921.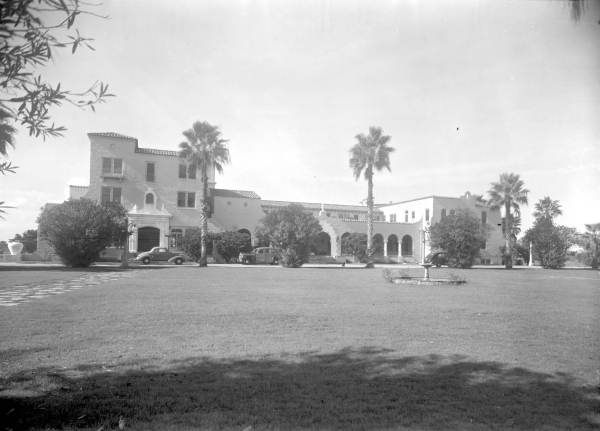 Tradewinds Hotel 1940
In 1920, Kouven-Hoven built the Indialantic Hotel on what is now South Shannon Avenue.  Its name was later changed to the Tradewinds Hotel.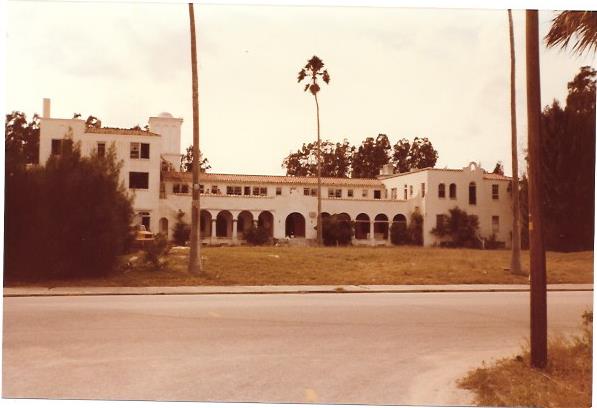 Tradewinds Hotel 1983
The Tradewinds was demolished in the 1980s and is now the site of a small subdivision, Tradewinds Terrace.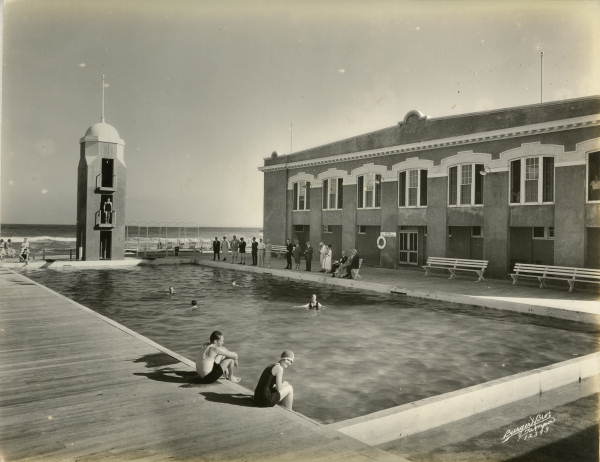 Indialantic Casino Pool 1925
At the ocean end of today's Fifth Avenue, the Indialantic Casino was built on the beach.  Its name was later changed to the Bahama Beach Club.
It's also long gone, and Nance Park is on the site today with plenty of parking and beach access.  It's named for prominent local attorney James Nance.

The Town of Indialantic was formally incorporated as a town in 1952.
The wooden bridge was replaced with a drawbridge after World War Two.
That bridge was replaced with a modern elevated bridge in 1985 to accommodate larger boats passing by on the Indian River Lagoon.

It is known locally as the Melbourne Causeway.
I lived in the Atlantic Beach Motel in a one bedroom apartment from 1977 to 1981. 
I owned a small engineering and surveying company, and our offices were in the building in the front along State Road A1A.

The motel is still there, has been renovated and is operating today under a different name. 
I spent three nights there around Christmas 2019, and it brought back a lot of memories.
I next lived in a condo with an Indialantic address directly across State Road A1A at Paradise Beach Park. 

INDIALANTIC, FLORIDA TODAY
Indialantic is primarily a "bedroom" community of residential houses and condominiums.  
Many of the residents work in companies across the river in Melbourne and Palm Bay.  
Some even drive all the way up north to Kennedy Space Center.

The main business district in Indialantic is along Fifth Avenue, the thoroughfare that carries U.S. 192 across the state from the west side of Walt Disney World all the way to the Atlantic Ocean.
The Indialantic Boardwalk stretches along the beach at the end of Fifth Avenue and is very popular with both residents and visitors.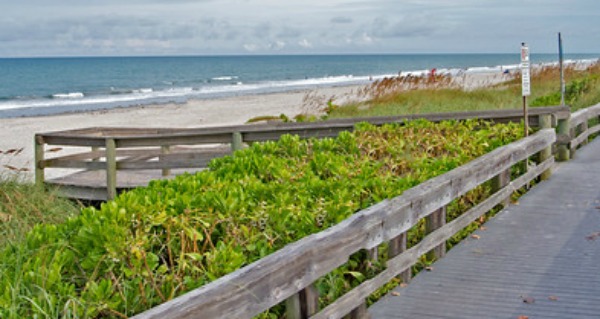 Indialantic Boardwalk
The town is approximately one mile square and bounded on the south by the town of Melbourne Beach.  
Quiet residential neighborhoods in the unincorporated area of Brevard County make up the territory north of town.
Just north of that area are the small beach towns of Indian Harbour Beach and Satellite Beach.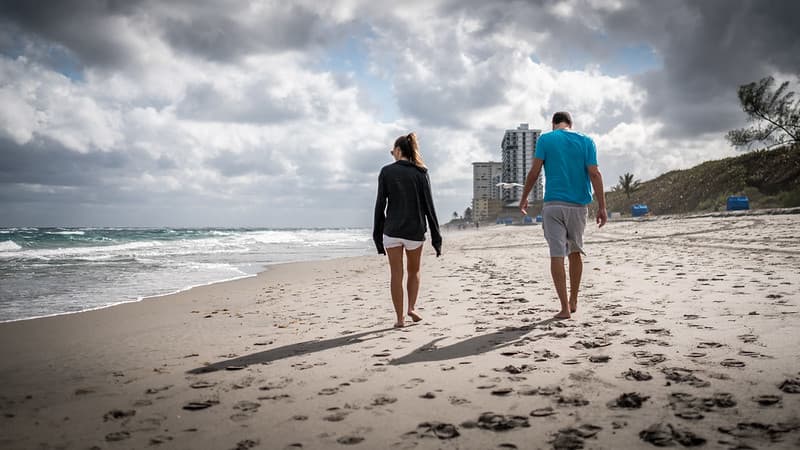 Couple Walking on the Beach
Flickr/Giuseppe Milo
There are a few condominiums and small motels on the ocean north and south of Fifth Avenue along State Road A1A.  
You won't see as many South Florida type high rises in Indialantic proper, but they prolificate further north along the beach.
The beaches in Indialantic are like Old Florida used to be:  in quiet neighborhoods with soft white sand and plenty of adjacent parking.

---
THINGS TO DO IN INDIALANTIC FLORIDA
Paradise Beach & Park - 113 Paradise Blvd, Indialantic, FL 32903 - A beach park with amenities such as picnic areas, volleyball courts, and a playground.
Longboard House - 101 5th Ave, Indialantic, FL 32903 - A surf shop that specializes in longboards and offers surfboard rentals and sales.
Indialantic Boardwalk and Fishing Pier - 1920 N Riverside Dr, Indialantic, FL 32903 - A popular spot for fishing and sightseeing, featuring a boardwalk that offers stunning ocean views.
Lou's Blues Upstairs - 3191 N Highway A1A, Indialantic, FL 32903 - A live music venue with a rooftop bar and a menu of classic American fare.
Sea Turtle Preservation Society - 111 S Miramar Ave, Indialantic, FL 32903 - An organization dedicated to the preservation of sea turtles through education and conservation efforts.
Canova Beach Park - 3299 S Highway A1A, Melbourne Beach, FL 32951 - A beach park with amenities such as restrooms, showers, and a playground.
Indian River Lagoon Preserve State Park - 700 Wavecrest Ave NE, Palm Bay, FL 32905 - A park with hiking trails, a fishing pier, and opportunities for wildlife viewing.
Liberty Bell Memorial Museum - 1601 Oak St, Melbourne, FL 32901 - A museum featuring military artifacts and exhibits honoring veterans.

Andretti Thrill Park - 3960 S Babcock St, Melbourne, FL 32901 - An amusement park with go-karts, mini-golf, laser tag, and other attractions.
---
RECOMMENDED INDIALANTIC FLORIDA RESTAURANT
Islands Fish Grill
111 5th Avenue
Indialantic, FL 32903
Tel: 321-956-0559
I lived in Indialantic for many years and have a lot of favorite restaurants.  Some are more favorite than others, and Islands Grill is in that category.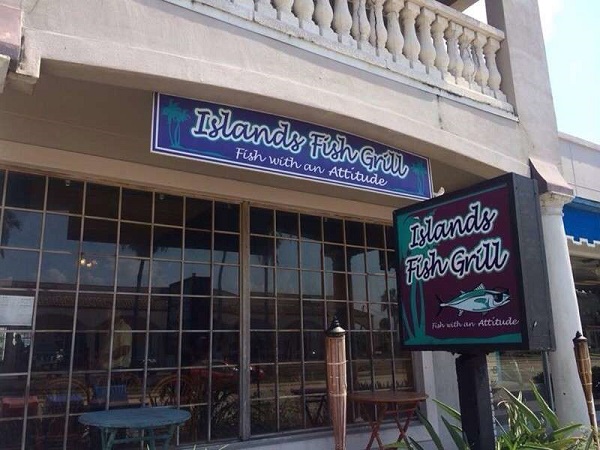 Islands Fish Grill
This small restaurant fronts on busy 5th Avenue (US-192) in Indialantic and the parking lot is behind the building on 6th Avenue. 
You will enter through the back door of the restaurant and that's where the adventure begins.
READ MORE ABOUT ISLANDS FISH GRILL
---
 ALL ABOUT INDIALANTIC, FLORIDA
---
INTERACTIVE GOOGLE MAP INDIALANTIC, FLORIDA
---
---
---

Our Facebook page has more than 128,577 followers who love off the beaten path Florida: towns, tourist attractions, maps, lodging, food, festivals, scenic road trips, day trips, history, culture, nostalgia, and more.  We post articles every day.  Please check it out and if you like it, we would appreciate a "like" from you.
---
By Mike Miller, Copyright 2009-2023
Florida-Back-Roads-Travel.com
Florida Back Roads Travel is not affiliated with or endorsed by Backroads, a California-based tour operator which arranges and conducts travel programs throughout the world.