WHOLE FOODS MARKET

9101 Strada Place
Naples, Florida 34108
Tel:  239-552-5100
Whole Foods Market is a great place to eat if you are in a town that is lucky enough to have one. 
Although most people think of it as more of a grocery store, which it certainly is, it also has a great buffet and a separate dining area.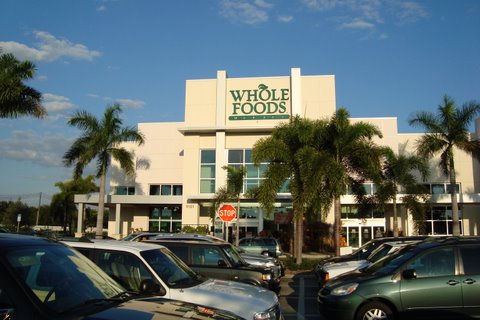 They are more likely to think of it as a glorified grocery store full of natural and organic foods and frequented by rich liberals and pale emaciated looking vegans.
They are more than half wrong. It is also frequented by poor fat people of all political persuasions as well as dedicated meat eaters. There is something for everybody to love.
For years it has been my tradition to eat lunch out. I can't stand to stay home and eat lunch alone, and when I worked it was a good way to get out of the office and see and meet other people.
There are 16 Whole Foods Markets in Florida. Having lived all over the state, I've been lucky to be near Whole Foods in Winter Park, Fort Lauderdale, Boca Raton, Pinecrest, Coral Gables, Naples, and Dr. Phillips.
The Whole Foods Market in Naples is the one I'm most familiar with, and it's one of the best I've seen. I had lunch there almost every day when I lived in Naples.  It's a social event as well as a delicious nutritious meal.
Whole Foods has several huge hot soup, salad and entree bars that have just about anything you could want for $7.99/pound. I have mastered the art of building a great lunch for usually less than $ 9.00, tax included.
One end of the Whole Foods Market in Naples is a sit down area where you can take your food and eat at one of dozens of tables or counter benches.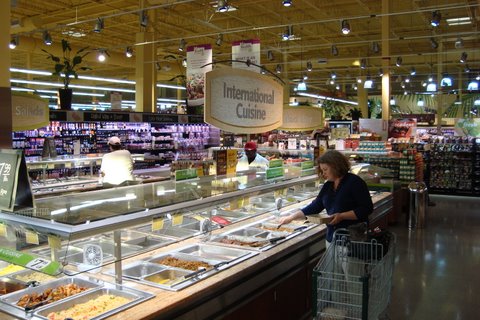 One of my typical lunches might include delicious blackened Mahi Mahi, a large salad with cabbage, broccoli, tomatoes, spinach and any number of other fresh organic vegetables.
I do drink tap water instead of the more exotic bottled waters available, and I suspect it is filtered somewhere in the building before bubbling up in the water fountains.
The ethnic delights are constantly changing from day to day. On any give day you might have Chicken Korma (Indian), Chicken Cacciatore (Italian), Country Fried Chicken (North Florida), Greek Salad (Greece), Tacos con Carne (Mexico), Yucca con Queso (somewhere south of the border), Chili Glazed Thai Chicken (Thailand), Arroz con Pollo (ditto), Picadillo (Cuba) and any number of other great dishes from around the world.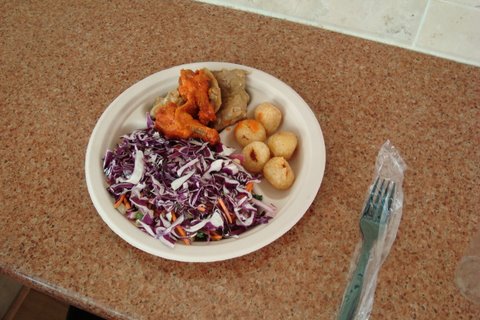 They also have great desserts, including something affectionately named "The Vegan Chocolate Chip Cookie" because it has nothing of animal origin in it. No butter, no fat, no cream, no whatever...... and it is still delicious.
Hmmmmm ......... maybe these Vegans are on to something after all.
Service at Whole Foods Market is excellent. If something is running out on the buffet, just ask. A friendly employee will run into the kitchen and get it for you. The checkout people are always smiling and friendly and act as if they love their jobs.
I am high on Whole Foods, but still do most of my grocery shopping at Publix just out of old habits and loyalty to a good old Florida firm.
Grocery prices at Whole Foods are competitive in price with Publix, but I hate to spend all of my money in one place. I do, however, buy my walnuts and bison burgers at Whole Foods.
---

Our Facebook page has more than 128,577 followers who love off the beaten path Florida: towns, tourist attractions, maps, lodging, food, festivals, scenic road trips, day trips, history, culture, nostalgia, and more.  We post articles every day.  Please check it out and if you like it, we would appreciate a "like" from you.
---
By Mike Miller, Copyright 2009-2023
Florida-Back-Roads-Travel.com
Florida Back Roads Travel is not affiliated with or endorsed by Backroads, a California-based tour operator which arranges and conducts travel programs throughout the world.