ENTERPRISE, FLORIDA
Enterprise is an old town important in Central Florida's early history.
The town today is surrounded by the larger communities of DeBary and Deltona, but this quiet place still survives among the giant oaks along Lake Monroe.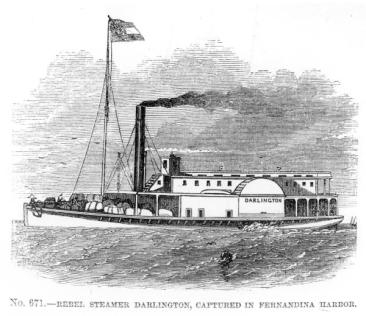 It is a small village across from Sanford on the north shore of Lake Monroe, a very wide section of the St. Johns River.
HISTORY OF ENTERPRISE, FLORIDA  
In the early days of Florida's settlement, Enterprise was the last stop for steamers on the St. Johns River.  The town was founded in the early 1840s.
The river was too shallow beyond Enterprise, so passengers had to get off and either stay in a hotel or take the railroad on further east to Titusville.
One of the early hotels in Enterprise was the Brock House.  Captain Brock operated the steamer Darlington that brought passengers to the end of the line.  
A typical steamer trip from Jacksonville would leave Saturday morning for the 200 plus mile trip up the St. Johns to Enterprise.  Guests would stay in Palatka on Saturday night and arrive in Enterprise on Sunday.
They'd spend Sunday night at Brock House and return back downriver on Monday morning.
Passengers were advised to beware of snakes dropping out of trees as the steamer got close to the river banks.Another hazard was alligators getting tangled up in the steamer's paddle wheel.
Those who wanted to continue on to the east coast could take the train to Titusville.  The railroad passed through the small towns of Osteen, Maytown and Aurantia on the way to Titusville. 
You can make part of that trip today on Maytown Road.  It replaced the railroad tracks years ago and goes through miles of wilderness.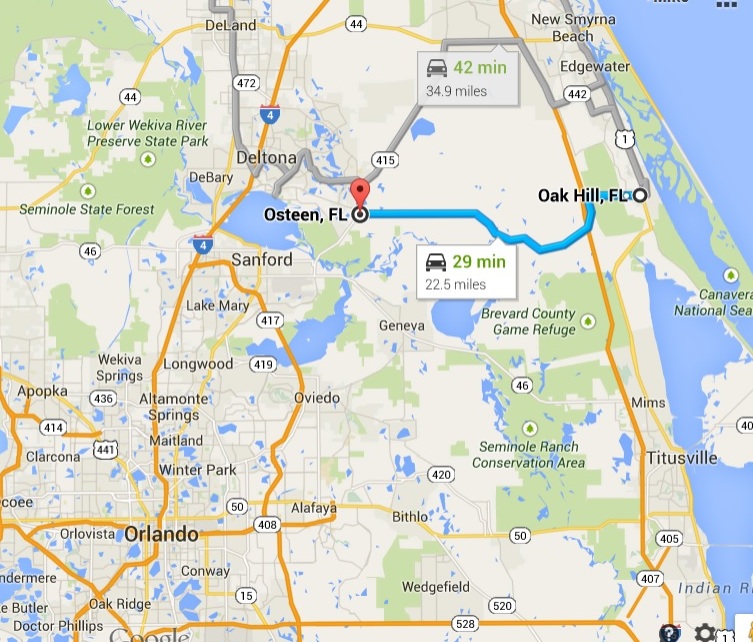 You can also ride your bicycle or hike on a rails to trail route that begins in Enterprise and continues all the way to Oak Hill on the Indian River Lagoon.
Modern Enterprise is still there, but it's surrounded by the newer communities of Deltona and DeBary. 
The oak canopied streets of Enterprise and its historic buildings make for an enjoyable relaxing visit and a contrast from the busy neighborhoods that surround it.
One of the old buildings is All Saints Episcopal Church at 155 Clark Street.  It is on the U.S. National Register of Historic Places, and is a Florida example of Carpenter Gothic architecture.

The Florida Methodist Orphanage was founded in Enterprise in 1908.  The name was changed in 1939 to the Florida Methodist Children's Home, and since 1971 has been named The Florida United Methodist Children's Home.
The home continues to care for children to this day.
---
THE ENTERPISE HERITAGE CENTER AND MUSEUM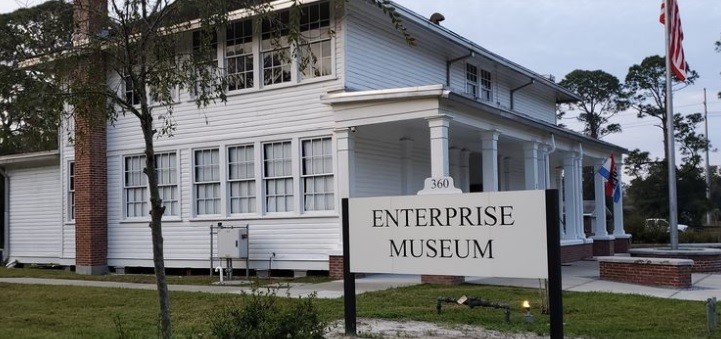 The Enterprise Heritage Center is a community museum and event space located in a restored 1936 schoolhouse.  It features exhibits on the rich and varied history of historic Enterprise founded in 1841.
Exhibits feature the steamboat era, the Brock House Hotel, Thornby Park, and the Florida Methodist Children's home founded in 1908.
Admission is free and museum  hours are Thursday, Friday and Saturday from 10 until 2 pm.
More information is available at  their Facebook page at the link below.
---
PLACES TO VISIT NEAR ENTERPRISE, FLORIDA
Cassadaga
DeLand
Maytown Road
Sanford
Winter Park

---
THINGS TO DO NEAR ENTERPRISE, FLORIDA
Gemini Springs Park - 37 Dirksen Dr, DeBary, FL 32713 - This 210-acre park features a natural spring, walking trails, and picnic areas.
DeBary Hall Historic Site - 198 Sunrise Blvd, DeBary, FL 32713 - This 19th-century mansion offers guided tours and educational exhibits about the history of the area.
Blue Spring State Park - 2100 W French Ave, Orange City, FL 32763 - This park is home to one of the largest springs in Florida, offering opportunities for swimming, tubing, and kayaking.
Central Florida Zoo & Botanical Gardens - 3755 NW US Hwy 17-92, Sanford, FL 32771 - This zoo features over 400 animals and a variety of exhibits, including a rainforest and a children's zoo.
Lake Monroe Park - 975 S Charles Richard Beall Blvd, Debary, FL 32713 - This park offers fishing, boating, and camping opportunities along the shores of Lake Monroe.
Spring-to-Spring Trail - This scenic trail spans 26 miles through DeBary, Deltona, and Orange City, offering opportunities for hiking, biking, and wildlife viewing.
Sanford Museum - 520 E 1st St, Sanford, FL 32771 - This museum features exhibits about the history of Sanford and the surrounding area, including Native American artifacts and railroad memorabilia.
St. Johns River Eco Tours - 2100 W French Ave, Orange City, FL 32763 - This tour company offers boat tours of the St. Johns River, with opportunities to see wildlife such as alligators, manatees, and bald eagles.

The Gateway Center for the Arts - 880 N Hwy 17-92, DeBary, FL 32713 - This community arts center offers classes, workshops, and exhibits in a variety of artistic disciplines, including painting, ceramics, and photography.
---
ENTERPRISE, FLORIDA INTERACTIVE MAP
---
---
---

Our Facebook page has more than 129,275 followers who love off the beaten path Florida: towns, tourist attractions, maps, lodging, food, festivals, scenic road trips, day trips, history, culture, nostalgia, and more.  We post articles every day.  Please check it out and if you like it, we would appreciate a "like" from you.
---
By Mike Miller, Copyright 2009-2023
Florida-Back-Roads-Travel.com
Florida Back Roads Travel is not affiliated with or endorsed by Backroads, a California-based tour operator which arranges and conducts travel programs throughout the world.