ENTERPRISE, FLORIDA
Updated September 11, 2020
We know many of you are limiting travel during these uncertain times.  Although we continue to feature trips and places to visit, we are not encouraging you to visit them until it is safe.  We want to support Florida's attractions and businesses during this situation, and hope you will plan to visit them when things get better.  In the meantime, enjoy them virtually from the comfort of your home. 

Enterprise is an old town important in Central Florida's early history. The town today is surrounded by the larger communities of DeBary and Deltona, but this quiet place still survives among the giant oaks along Lake Monroe.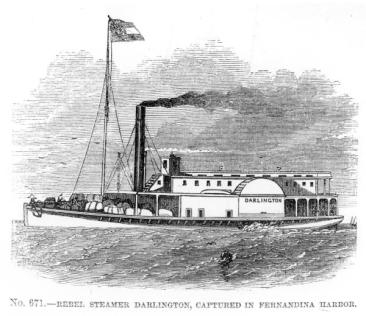 It is a small village on the north shore of Lake Monroe across from Sanford.  Lake Monroe is a very wide spot in the St. Johns River.
History of Enterprise, Florida  
In the early days of Florida's settlement, Enterprise was the last stop for steamers on the St. Johns River.  The town was founded in the early 1840s.
The river was too shallow beyond Enterprise, so passengers had to get off and either stay in a hotel or take the railroad on further east to Titusville.
One of the early hotels in Enterprise was the Brock House.  Captain Brock operated the steamer Darlington that brought passengers to the end of the line.  
A typical steamer trip from Jacksonville would leave Saturday morning for the 200 plus mile trip up the St. Johns to Enterprise.  Guests would stay in Palatka on Saturday night and arrive in Enterprise on Sunday.
They'd spend Sunday night at Brock House and return back downriver on Monday morning.
Passengers were advised to beware of snakes dropping out of trees as the steamer got close to the river banks.Another hazard was alligators getting tangled up in the steamer's paddle wheel.
Those who wanted to continue on to the east coast could take the train to Titusville.  The railroad passed through the small towns of Osteen, Maytown and Aurantia on the way to Titusville. 
You can make part of that trip today on Maytown Road.  It replaced the railroad tracks years ago and goes through miles of wilderness.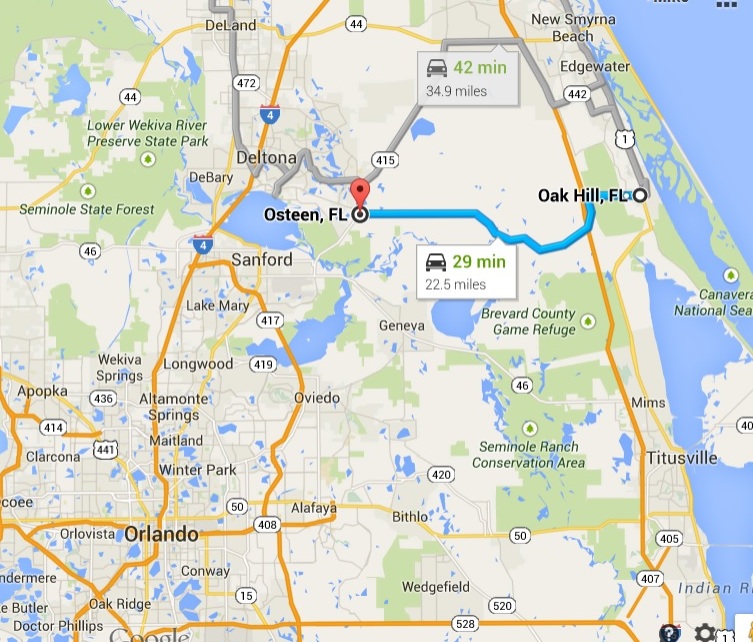 You can also ride your bicycle or hike on a rails to trail route that begins in Enterprise and continues all the way to Oak Hill on the Indian River Lagoon.
Modern Enterprise is still there, but it's surrounded by the communities of Deltona and DeBary.  The oak canopied streets and some old buildings still make for an enjoyable visit.
One of the old buildings is All Saints Episcopal Church at 155 Clark Street.  It is on the U.S. National Register of Historic Places, and is a Florida example of Carpenter Gothic architecture.

The Florida Methodist Orphanage was founded in Enterprise in 1908.  The name was changed in 1939 to the Florida Methodist Children's Home, and since 1971 has been named The Florida Untied Methodist Children's Home.
The home continues to care for children to this day.
---
Places to Visit Near Enterprise, Florida
Cassadaga
DeLand
Maytown Road
Sanford
Winter Park
---
---
---
Our Facebook page has more than 101,107 followers who love off the beaten path Florida: towns, tourist attractions, maps, lodging, food, festivals, scenic road trips, day trips, history, culture, nostalgia, and more.
Take a look. If you enjoy what you see, please give us a like.
---
---
20200319-8-31-24.2/20200911-9-22-24.9