Central Florida Heritage and History
CENTRAL FLORIDA
HERITAGE AND HISTORY
By  Mike Miller 

Central Florida heritage and history begins with the early native Americans who dwelled in the area 12,000 years ago.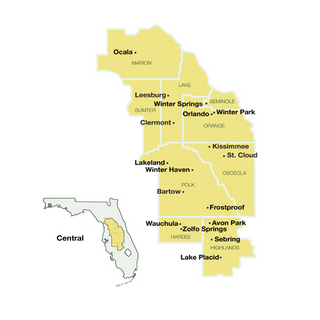 Central Florida history and heritage includes the impact of three separate wars between the United States and the Seminole Indians.  These wars were:
First Seminole War:        1816-1819
Second Seminole War:   1835-1842
Third Seminole War:      1855-1858
The forts built during the Seminole wars gave their names to many of the settlements in Central Florida.  Fort King is now Ocala, Fort Gatlin is now Orlando, Fort Pierce is still Fort Pierce.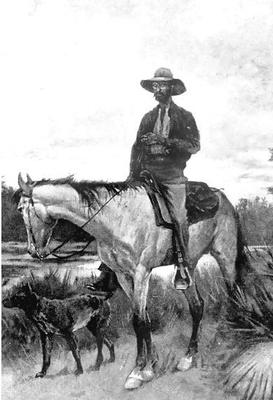 Bone Mizell on Horse
Fort Drum, Fort Christmas, Fort Ogden, Fort Meade and other old forts are now either small villages or just place names in Florida history.  They are still a large part of Central Florida heritage.

Many of the early settlers in Central Florida were pioneers who came down from Georgia and the Carolinas after the Civil War. The next big wave of people came after World War Two. 
The first settlers began arriving in Central Florida in the years just after the final Seminole War in 1858 through the end of the Civil War and Reconstruction in 1877.
These early Florida residents were the ancestors of the Florida Cracker.
Jacob Summerlin
Many of the pioneers began to homestead and start ranches in the prairie lands around Kissimmee,   St. Cloud,   Orlando and Ocala.
Central Florida heritage and history is described in detail in Patrick Smith's classic novel, "A Land Remembered."

In later years, they and other settlers planted citrus.  Central Florida was the citrus and cattle capital of the world during the "Golden Era" of 1875 to 1895.
The area led the world in citrus production until several freezes and epidemics of citrus canker devastated the groves and pushed the operations further south.  
At one time Kissimmee was connected to the Gulf of Mexico near Fort Myers by a navigable waterway. 
Ships traveled along the Kissimmee River to Lake Okeechobee and west through the Caloosahatchee River.  Kissimmee was a large port with many passenger and freight ships stopping by on a regular basis.
Cattle and citrus were shipped out to ports around the world.
The Central Florida heritage and history of the cowboy is still very evident today in St. Cloud and Kissimmee.  The annual Silver Spurs rodeo event is still a huge happening in these Central Florida Cracker towns.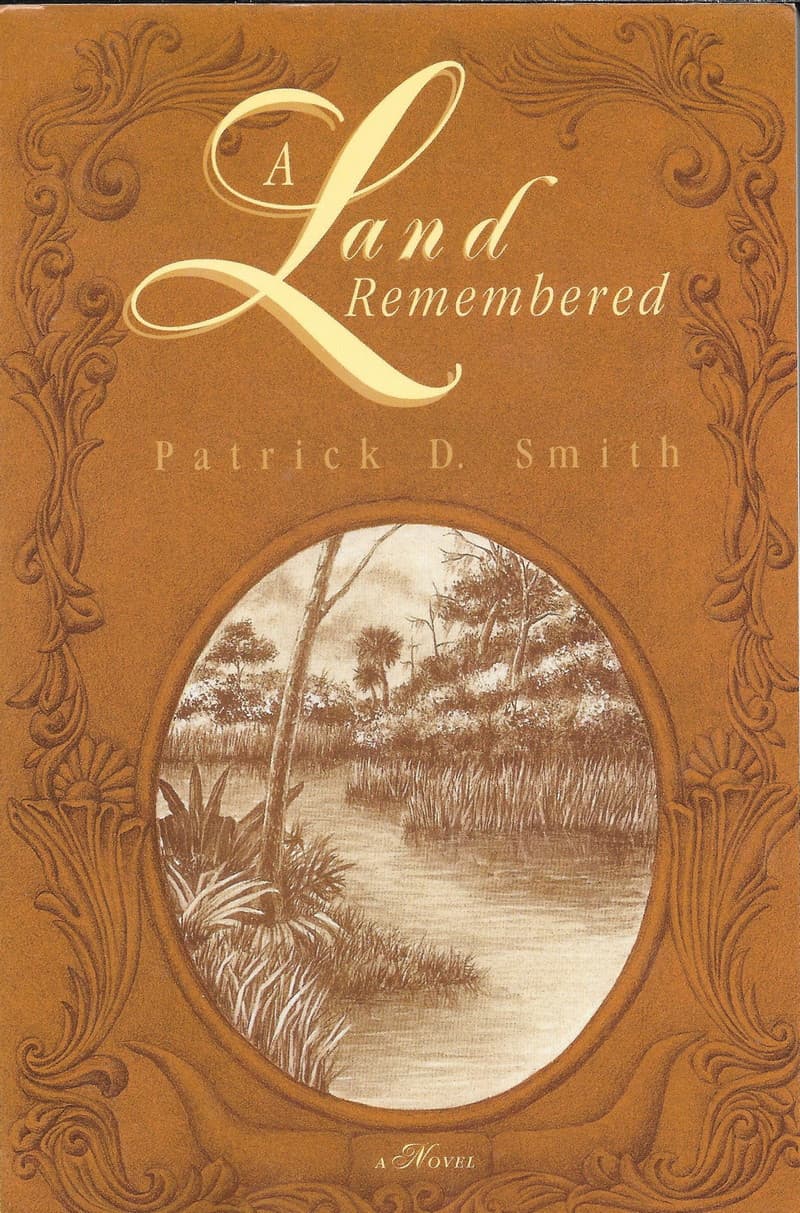 The Best Novel About Florida Heritage and History
The rural nature of Central Florida began to change when Martin Marietta built a huge defense plant in Orlando in the 1950's. The next big change was the development of Canaveral Air Station and Kennedy Space Center in Brevard County. 
These two projects had major impacts on Orlando's population.  These huge endeavors are now part of Central Florida heritage.

The biggest changes of all came when Walt Disney World opened in October 1971.
The population boomed and so did the traffic problems. The success of Disney encouraged other competitors to join in the fun and profit. 
Central Florida is now the location of the largest theme parks in Florida. Florida travel for most tourists includes visits to Walt Disney World, Universal Studios Florida and SeaWorld.
Central Florida heritage and history takes place in 9 counties that sprawl along the high sand ridge that is Florida's spine.  This ridge was the beach in ancient times, and its surface is made of old rolling sand dunes. 
This large region starts between Ocala and Gainesville in the north, and extends south to the citrus country around Lake Placid and Sebring.
Ocala's rolling hills and pastures are known for producing some of the finest thoroughbred horses in the world. A wonderful Central Florida travel experience is to drive among the horse farms that surround Ocala.
The center part of this region, around Orlando and Clermont, was the citrus capital of the state until a big freeze changed things forever.
Devastating freezes in Central Florida in the early 1980's destroyed many thousands of acres of groves. These old grove lands have been replaced in many cases by modern subdivisions.
Florida history has abundant examples of ghost towns that thrived until their underlying resources were gone.  Citrus and cypress boom towns are two examples. 
WALT DISNEY WORLD TRANSFORMS THE AREA
Walt Disney World, Universal Studios, SeaWorld and the other attractions transformed the area around Orlando into the sun and fun capital of the world.
Although Central Florida thrives on tourism, it is also the agricultural center of Florida.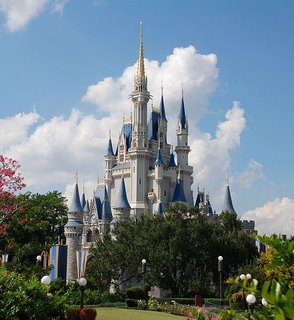 Cinderella's Castle at Walt Disney World
Oranges, grapefruit, tangerines, watermelon, peppers, tomatoes, celery and watercress are all grown in this area along the ridge and in the adjacent flatlands and valleys.

Not so far south of Orlando you can still see cowboys at work in the vast pastures that range all the way down to Holopaw, Yeehaw Junction and beyond. 
These cowboys are a living reminder of Central Florida heritage and history.
Even with the population explosion around Orlando, the rural regions south of Kissimmee and St. Cloud still enjoy some of the quietest places in Florida.
Orlando straddles I-4 and is the central anchor to the fast growing I-4 corridor. It is the major city in Central Florida.  Since it is near the center of the State, many Floridians think it should be the state capital instead of Tallahassee.
US-27 is a major north-south four lane highway that meanders along the ridge part of the region. This is where some of the major citrus groves are located.
The major tourist attractions in Orlando put a tremendous traffic load on I-4 and US-27.  There are plenty of back roads in Orange County and surrounding counties that will help you avoid the traffic. 
Don't be afraid to explore and learn more about Central Florida heritage and history.
CENTRAL FLORIDA HERITAGE
AND HISTORY SITES
Here is a list of 182 Central Florida heritage sites listed by county. The County Seat is also listed.  You can use the Google search feature to find out more about each of these sites.  The way the search feature works is you highlight the item on the list, then right click your mouse and it gives you a link to Google for the item.  Try it, you'll like it.

Main Street 

Wauchula

Paynes Creek

Historic State Park
Archbold Biological Station

Avon Park Depot Museum

Avon Park Historic District

Highlands County Courthouse

Highlands Hammock State Park

Kenilworth Lodge

Old Lake Placid ACL Railroad Depot

Old Sebring Seaboard Airline Depot

Sebring Downtown Historic District

Sebring Fire Station

South Florida Community College Museum of Florida Art & Culture
Antique Boat Museum

Bowers Bluff Middens Archaeological District

Clermont Main Street, Inc.

Clermont Women's Club

Clifford House

Eustis Historic Museum

Eustis Main Street, Inc.

Ferran Park and the Alice B. McClelland Bandshell

First United Methodist Church

General James A. Van Fleet Trail State Park

Holy Trinity Episcopal Church

Kimball Island Midden Arcaheological Site

Lake County Courthouse

Lake Griffin State Park

Lake Louisa State Park

Lakeside Inn

Lee Educational Center

Leesburg Downtown Partnership

Mote-Morris House

Mount Dora Chamber of Commerce

Mount Dora Lodge # 238, F&AM

Royellou Museum

Women's Club of Eustis
Belleview City Hall

Citra United Methodist Church

Coca Cola Bottling Plant

Don Garlits Museum of Drag Racing and Museum of Classic Automobiles

Dunnellon Boomtown Historic District

Dunnellon Main Street

Kerr City Historic District

Lake Lillian Neighborhood Historic District

Marion County Museum of History

Marion Hotel

McIntosh Historic District

McPherson Government Complex

Mount Zion AME Church

Ocala Amtrack Station

Ocala Historic Commercial District

Ocala Historic District

Old Fessenden Academy Historic District

Orange Springs Methodist Episcopal Church and Cemetery

Rainbow Springs State Park

Ritz Historic Inn

Silver River Museum and Environmental Education Center

Silver River State Park

Tuscawilla Park Historic District

West Ocala Historic District
Albin Polasek House and Studio

All Saints Episcopal Church

Annie Russell Theatre

Apopka Historical Society

Cal Palmer Memorial Building

Carroll Building

Central Florida Railroad Museum

Cornell Fine Arts Museum

Eatonville Historic District

Fort Christmas Historical Park

Griffin Park Historic District

Harry P. Leu Gardens

Holocaust Memorial Resource and Education Center of Central Florida

Knowles Memorial Chapel

Lake Eola Heights Historic District

Lower Wekiva River Preserve State Park

Maitland Art Center

Maitland Historical Society and Museums

Moseley House

Nehrling Gardens and Museum

Ocoee Christian Church

Old Orlando Railroad Depot

Orange County Regional History Center

Rock Springs Run State Reserve

Rogers Building

Ryan Brothers, Inc.

St. George Greek Orthodox Church

Tinker Building

Tosohatchee State Reserve

Wekiwa Springs State Park

Well'sBuilt Museum of African American History and Culture

Windermere Town Hall

Winter Garden Downtown Historic District

Winter Garden Historic Residential District

Winter Park Historical Association and Museum

Withers-Maguire House Museum

Woman's Club of Winter Park

Zora Neale Hurston National Museum of Fine Arts
OSCEOLA: Kissimmee
Desert Inn
First United Methodist Church
Grand Army of the Republic Memorial Hall
Kissimmee Historic District
Old Holy Redeemer Catholic Church
Osceola County Courthouse
Osceola County Historical Museum and Pioneer Enrichment Center
St. Cloud Main Street, Inc.
POLK: Bartow
Auburndale Chamber - Mainstreet
Babson Park Woman's Club
Bartow Downtown Commercial District
Baynard House Museum
Beacon Hill-Alta Vista Residential District
Christ Church
City of Lake Wales
Clay Cut Centre
Cleveland Court Elementary School
Community Service Center of N.E. Polk County
Davenport Historic District
Dixieland Historic District
Downtown Bartow
Downtown Haines City Commercial District
Downtown Winter Haven Historic District
Dundee Depot Museum
East Lake Morton Residential District
First Baptist Church
Florida Air Museum
Florida Citrus Showcase
Florida Southern College Architectural District
Fort Meade Historic District
Frostproof City Hall
Frostproof Historical Society and Museum
Grand Hotel
Haines City Main Street
Henley Field Ball Park
Historic Bok Sanctuary
Homeland Heritage Park
Interlaken Historic Residential District
Lake Kissimmee State Park
Lake Mirror Promenade
Lake of the Hills Community Club
Lake Wales Art Center
Lake Wales Commercial Historic District
Lake Wales Historic Residential District
Landmark Baptist College
Lawton Chiles Middle Academy
Main Street Winter Haven, Inc.
Mobile Museum of Polk County
Mountain Lake Estates Residential District
Mulberry Phosphate Museum
Munn Park Historic District
North Avenue Historic District
Northeast Bartow Residential District
Oates Building
Old Lake Wales City Hall
Pinewood Estate
Polk County Historical Museum
Polk Theatre and Office Building
Pope Avenue Historic District
Roosevelt Academy
South Bartow Residential District
South Lake Morton Historic District
St. Mark's Episcopal Church
The Depot: Lake Wales Museum and Cultural Center
Water Ski Hall of Fame
West Area Adult School
Winston Elementary
Winter Haven Heights Historic Residential District
Woman's Club of Winter Haven
SEMINOLE: Sanford
Bradlee-McIntyre House
Florida Hotel
Geneva Museum and Historical Society
Geneva School House and Rural Heritage Center
Helen Stairs Theatre for the Performing Arts
Longwood Historic District
Museum of Seminole County History
Nelson and Company Historic District
Sanford Commercial District
Sanford Main Street, Inc.
Sanford Museum
Sanford Residential Historic District
Seminole County Student Museum, Center for the Social Studies
St. James AME Church
SUMTER: Bushnell
Dade Battlefield Historic Memorial
Dade Battlefield Historic State Park
CENTRAL FLORIDA TOWNS AND CITIES
Learn about the many Central Florida towns and cities.
Find some enjoyable Central Florida scenic drives.
Here is list of hundreds of attractions close to Orlando.
---

Our Facebook page has more than 128,577 followers who love off the beaten path Florida: towns, tourist attractions, maps, lodging, food, festivals, scenic road trips, day trips, history, culture, nostalgia, and more.  We post articles every day.  Please check it out and if you like it, we would appreciate a "like" from you.
---
By Mike Miller, Copyright 2009-2023
Florida-Back-Roads-Travel.com
Florida Back Roads Travel is not affiliated with or endorsed by Backroads, a California-based tour operator which arranges and conducts travel programs throughout the world.