Northwest Florida History
NORTHWEST FLORIDA
HERITAGE AND HISTORY
By  Mike Miller August 21, 2023

Northwest Florida heritage and history are all around you as you travel through miles of mainly rural country, pine woods, and some of the most beautiful sand beaches in the world.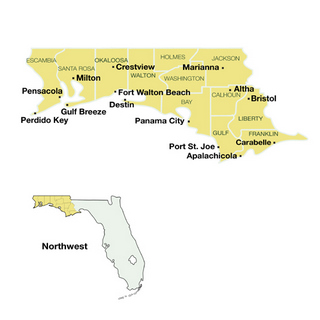 This region includes 12 counties.  Culturally, it is more like Alabama than it is like the rest of Florida.
Northwest Florida heritage and history is evident in the many small towns that played a key part in early Florida history. 
You will see many monuments and memorials to the Old South in the form of Confederate soldier statues in town squares and in front of courthouses.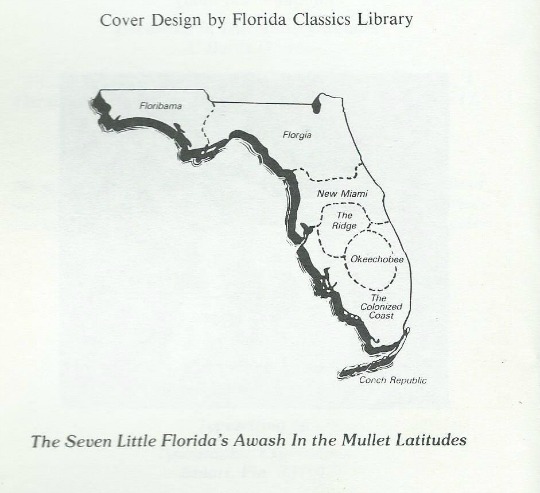 "Becalmed In The Mullet Latitudes" is a wonderful book by the late Al Burt published in 1983. 
Al was a long time Miami Herald columnist who had a deep love for Florida and a melancholy for the "old Florida" that was disappearing. 
He celebrated the Northwest Florida heritage and history along with other parts of rural Florida.

He identified and chronicled the disappearing old places that he 
called the Mullet Latitudes.  His name for Northwest Florida and the Panhandle was "Florabama". 
If Al were still alive, I think he'd stick with the name even though there has been a fair amount of Yankee migration into the area since he wrote his book.

Pensacola was settled by the Spanish in 1559.  It was the first European settlement in the United States.  It was a rival to St. Augustine on the Atlantic settled in 1565 on the other side of the state.

Pensacola was the first capital of Florida.  When Florida became a U.S. territory in 1821, the capital was moved shortly after to Tallahassee because it was about halfway between Pensacola and St. Augustine.
After the Spanish left and Florida became a U.S. territory, settlers from Alabama and Georgia began homesteading small farms.  In in the years before the Civil War, northern Florida was the most populated region of Florida. 
These early settlers had a lot to do with establishing Northwest Florida heritage as part of the Old South.

This part of Florida remained largely rural and remote until after World War Two.  Many houses and farms did not have electricity until after the war. 
The communities survived on farming and fishing.  Turpentine, naval stores and other timber based chemicals were important businesses in the years immediately before and after World War Two.  The pine woods also attracted lumber and paper mills.
CONGRESSMAN BOB SIKES ERA BEGINS
The Florida panhandle had a U.S. Congressman named Bob Sikes from Crestview.  He was an expert at bringing home the bacon.

That's a good old American phrase that means he was good at getting Federal money for his Congressional District.
He had a lot to do with bringing many of the military installations to Florabama. He was in Congress from 1941 to 1979, with some time off during World War Two when he joined the military. 
He helped preserve and continue the military elements of Northwest Florida heritage and history.

Eglin Air Force Base was built just before World War Two near Fort Walton Beach.  It pulled the remote backwoods panhandle into the modern world.  
Eglin is the largest military installation in the United States.  The base sprawls across three counties, and is about the same size as Rhode Island. 
I took my Navy pilot survival training course in the swamps and jungles of Eglin known as the boondocks.

The base is named for Fritz Eglin, an early Army aviator who died in a plane crash.  I did not know until years later that my father is named Fritz in honor of the downed pilot. 
Eglin was my grandfather's classmate at Wabash College in Indiana.  Read more about Fritz Eglin here.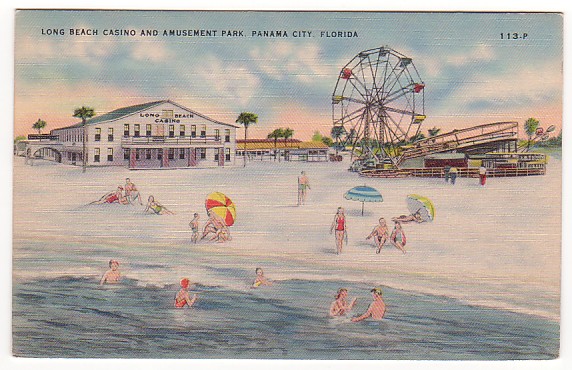 Panama City is the unofficial capital of Florabama, with Pensacola running a close second.  The Florabama beaches are known by Floridians as the "redneck riviera".  They have traditionally attracted Alabama and Georgia tourists.

Star high school football players in Florabama do not typically go to the University of Florida or Florida State University. They are more likely to sign up with the Alabama Crimson Tide or the Auburn Tigers.
The Florida panhandle has fewer "Go Gator" bumper stickers than anywhere else in the State.
A notable exception is Emmitt Smith, Hall of Fame running back for the NFL Dallas Cowboys.  Mr. Smith graduated from Escambia High School in Pensacola and went on to gridiron glory at the University of Florida.
You non-football fans may remember him from "Dancing With The Stars".
NORTHWEST FLORIDA HERITAGE SITES
Here are 104 Northwest Florida heritage sites listed by county. County seats are also shown.  Here's a neat trick for you:
Highlight any of the sites below, then right click and it will take you to the site's webpage on the internet if one exists - they usually do.

BAY: Panama City
Junior Museum of Bay County
Museum of Man in the Sea
Panama City Main Street
SS Tarpon Underwater Archaeological Preserve
St. Andrews State Park
CALHOUN: Blountstown
Old Calhoun County Courthouse
Panhandle Pioneer Settlement
ESCAMBIA: Pensacola
Alger--Sullivan Lumber Company Residential Historic District
Barkley House
Barrancas National Cemetery
Big Lagoon State Park
British Fort of Pensacola
Charles William Jones House
Crystal Ice Co. Building
Dorr House
Escambia County Courthouse
Fort Barrancas Historical District
Fort George Site
Fort McRee
Fort Pickens
Fort San Carlos de Barrancas
Greater Mount Lily Baptist Church
Gulf Islands National Seashore
Historic Pensacola Village
Julee Cottage Museum
L & N Marine Terminal Building
L & N Passenger Terminal
Lavalle House
National Museum of Naval Aviation
North Hill Preservation District
Old Christ Church
Pensacola Historic District
Pensacola Historical Museum
Pensacola Hospital
Pensacola Lighthouse and Keepers Quarters
Pensacola Naval Air Station Historic District
Pensacola Resource Learning Center and Library
Pensacola Scenic Bluffs Scenic Highway
Perdido Key Historic District
Perdido Key State Park
Plaza Ferdinand VII
Saenger Theatre
St. Joseph's Church Buildings
St. Michael's Creole Benevolent Association Meeting Hall
The Empire Building
Thiesen Building
USS Massachusetts
FRANKLIN: Apalachicola
Apalachicola Historic District
Bald Point State Park
Cape St. George Lighthouse
Crooked River Lighthouse
Fort Gadsden Historic Memorial
John Gorrie Museum State Park
Ormon House
Raney House Museum
St. George Island State Park
Trinity Episcopal Church
GULF: Port St. Joe
Civic Center
Constitution Convention Museum
Port St. Joe Garden Club
St. Joseph Peninsula State Park
HOLMES: Bonifay
Ponce de Leon Springs State Park
JACKSON: Marianna
Florida Caverns State Park
Marianna Historic District
Marianna Main Street
Pender's Store
Three Rivers State Park
LIBERTY: Bristol
Torreya State Park
OKALOOSA: Crestview
Air Force Armament Museum
Blackwater Heritage Trail State Park
Blackwater River State Park
Camp Walton Schoolhouse Museum
Carver Hill Museum
Destin Fishing Museum
Fred Gannon Rocky Bayou State Park
Ft. Walton Beach Main Street
Garnier Post Office Museum
Gulfview Hotel Historic District
Henderson Beach State Park
Heritage Museum of Northwest Florida
Indian Temple Mound Museum
Mainstreet Crestview Association
SANTA ROSA: Milton
Bagdad Village Historic District
First American Road in Florida
Florida State Road No. 1
Main Street Milton
Milton Historic District
Mt. Pilgrim African Baptist Church
Naval Live Oaks Reservation
Navarre Beach State Park
St. Marys Episcopal Church and Rectory
West Florida Railroad Museum
WALTON: DeFuniak Springs
Camp Helen State Park
Chautauqua Hall of Brotherhood
Deer Lake State Park
DeFuniak Springs Historic District
Eden Gardens State Park
Governor Stone-Eden State Park
Grayton Beach State Park
Topsail Hill Preserve State Park
WASHINGTON: Chipley
Falling Waters State Park
Moss Hill Church
South Third St. Historic District
Woman's Club of Chipley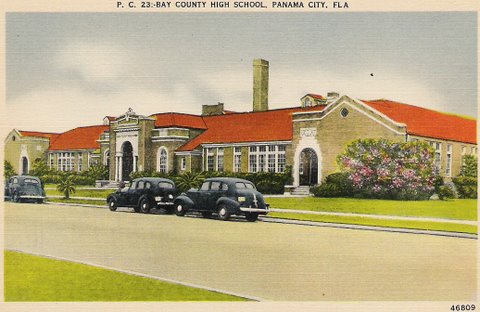 Panama City Bay High School Postcard
NORTHWEST FLORIDA HERITAGE AND HISTORY
INCLUDES THESE COUNTIES
The Northwest Florida counties are Bay, Calhoun, Escambia, Franklin, Gulf, Holmes, Jackson, Liberty, Okaloosa, Santa Rosa, Walton, and Washington.
NORTHWEST FLORIDA TOWNS AND CITIES
Learn about 20 of the towns in these counties.
Also read about some short scenic drives in Northwest Florida and learn about some good Northwest Florida restaurants.
---

Our Facebook page has more than 128,577 followers who love off the beaten path Florida: towns, tourist attractions, maps, lodging, food, festivals, scenic road trips, day trips, history, culture, nostalgia, and more.  We post articles every day.  Please check it out and if you like it, we would appreciate a "like" from you.
---
By Mike Miller, Copyright 2009-2023
Florida-Back-Roads-Travel.com
Florida Back Roads Travel is not affiliated with or endorsed by Backroads, a California-based tour operator which arranges and conducts travel programs throughout the world.