Southeast Florida Heritage and History
SOUTHEAST FLORIDA
HERITAGE AND HISTORY
Southeast Florida heritage and history has been shaped by many cultures and characters.  Thousands of years ago, the Tequesta tribe of Indians lived on Biscayne Bay in what are now Miami-Dade County and south Broward County.
A few of the original Tequesta Indians were in Southeast Florida including some populations along the Florida Keys. Most of these ancient tribes disappeared by the middle of the 1700's.
After that, Bahamians were among the earliest settlers in Southeast Florida. Many of them became the first citizens of what is now Coconut Grove in Miami. 
The Indians and Bahamians contributed to what is now Southeast Florida heritage and history.

If the north Florida regions are also known as Florabama and Florgia, then Southeast Florida could be called lower New York or northern Havana or Floracuba.
Native American Display
Modern immigrants from the New England states and Latin and Central America give the region its diverse flavor. You can enjoy a New York Pizza, an Argentinian steak, and a Jamaican beef patty and never leave your friendly neighborhood shopping center. 
This makes Southeast Florida heritage among the most diverse in the country.
Without the Standard Oil Company, Southeast Florida heritage and history would be entirely different. Henry Morrison Flagler was John D. Rockefeller's partner in that giant firm.
Flagler sold out to Rockefeller and moved to Florida in 1885. He was rich, but like Colonel Sanders he wasn't the kind of man who considered retirement.
His first Florida venture was to build the giant 540 room Ponce de Leon Hotel in St. Augustine. This magnificent building is now the home of Flagler College. The hotel opened in 1888 and was a huge success.
Flagler saw the potential in developing the entire Florida coast south of St. Augustine. He went to work creating what he would refer to as the "American Riviera".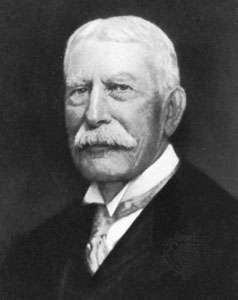 Henry Flagler
The development of Southeast Florida began in earnest when Flagler began to push his Florida East Coast Railway to the south from St. Augustine.
His railroad created Florida history town by town as it marched south. Each town has its share of Southeast Florida heritage brought to it by Henry Flagler.
Before the railroad pushed southward, Southeast Florida was as remote as any place in the United States. Transportation between the coastal communities was by shallow draft boats and paddle wheel steamers.
Flagler's destination was Palm Beach. That's where he planned to end his railroad.
Palm Beach Royal Poinciana Hotel 1900
When the railroad made it to Palm Beach in 1894, he built the 1100 room Royal Poinciana Hotel and a couple of years later the Breakers Hotel.
The Royal Poinciana was the largest hotel in Florida history at the time.  At the same time, he developed West Palm Beach as a community where the hotel workers could live.
Flagler might have been content to stop the railroad in West Palm Beach. He didn't have a high opinion of Florida south of Palm Beach. An unusual weather event made him change his mind.
In 1894 and 1895 the Palm Beach area suffered severe freezes. The area down south that now includes Miami did not get the freeze. 
Julia Tuttle owned a trading post on the Miami River. The town of Miami didn't even exist yet.
Tuttle had been trying to convince Flagler to run the railroad south to her area. An old Florida history book says that Julia sent Henry an orange blossom to show him that Miami did not suffer a freeze.  
Whether the story is true or not, something convinced Mr. Flagler to extend his railroad to Miami. And the rest is Southeast Florida heritage and history.
Later, when he was in his eighties, he pushed on across the Florida Keys and terminated his venture in Key West. Development followed the railroad, and Southeast Florida was transformed.
Palm Beach became the playground of the rich and famous. Fort Lauderdale and Miami expanded west and created some of the first large planned communities.
Miami grew from Julia Tuttle's trading post at the mouth of the Miami River to become the virtual business center for Latin America.
Northerners from New England followed US-1 down the east coast of Florida. Many fell in love with the palm studded coast and decided to stay. 
During World War Two, Miami Beach hotels were converted to military barracks. Many of the soldiers and sailors who trained in Miami Beach came back to paradise after the war ended.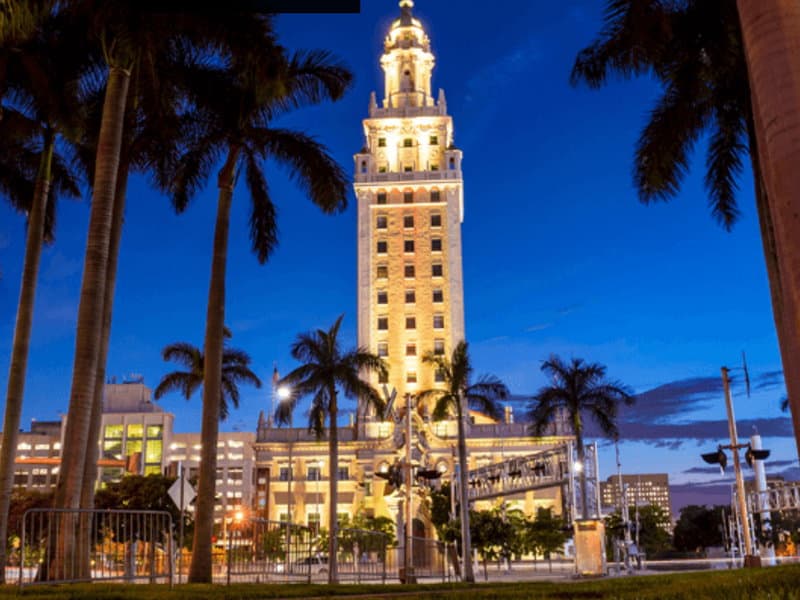 Freedom Tower, Miami
Fidel Castro and his communist revolution succeeded in Cuba, and huge waves of Cuban refugees escaped to Miami in the early 1960's. They transformed Miami into a great Latin City. 
Castro's loss is Miami's gain.  The Latin flair is evident today in the music, festivals and cuisine that are Miami's trademarks.
The people in the Florida Keys march to their own drummer. Maybe that's because it was a series of isolated islands until Henry Flagler changed it all.
Flagler's Florida Overseas Railroad road had been an engineering marvel. The railroad tied the Keys to the mainland for the first time when it was completed in 1912 and forever changed Southeast Florida heritage and history.
Flagler did not live long enough to see his masterpiece completely destroyed by the Labor Day hurricane of 1935.
After the hurricane, the old railroad bridges and track beds became US-1, known in the Keys as the Overseas Highway.  Key West still remained, literally, the end of the road.
Early natives of the Florida Keys were originally descended from the Loyalist pioneers of the Bahamas. Many of the family names in Key West and Monroe County are the same as the ones in Abaco, Bahamas.
Before the railroad, keys residents made their livings fishing and "wrecking". Wrecking involved salvaging ships and materials that grounded on the rocky waters around the Keys.
The natives of the lower Keys were always known as conchs, named after the mollusk that was abundant in the waters of Florida and The Bahamas.
That's pronounced "konk", like a konk in the head. Not "conch" like a fat man's paunch.
The Conchs tried to secede from the United States in 1982. They did not succeed in seceding. Many Conchs in recent years have migrated north to Ocala, Gainesville and other rural Florida areas.
There are many back roads in Southeast Florida that are worth traveling. Although most of them are in urban areas, some of them haven't changed much in the past century.
SOUTHEAST FLORIDA
HERITAGE AND HISTORY SITES
Here is a list of 259 Southeast Florida heritage and history sites listed by county. The County Seat is also listed.  Here's a neat trick for you:  highlight any of the sites below, then right click and it will take you to the site's webpage on the internet.

BROWARD: Fort Lauderdale
African American Research Library and Cultural Center
Bonnet House
Bryan Building
Cap's Place
Croissant Park Administration Building
Dania Beach Main Street, Inc.
Deerfield Beach Elementary School
Flamingo Gardens
Fort Lauderdale Antique Car Museum
Graves Museum of Archaeology and Natural History
Hollywood Boulevard Historic Business District
Hollywood Woman's Club
Hugh Taylor Birch State Park
International Game Fish Association Fishing Hall of Fame and Museum
International Swimming Hall of Fame
James D. and Alice Butler House Museum
John U. Lloyd State Park
Link Trainer Building
North New River Canal Lock #1
Nyberg-Swanson House
Oakland Park Elementary School
Old Davie School Historical Museum
Old Deerfield School Museum
Old Dillard High School
Old Fort Lauderdale Museum of History
Pioneer House
Plantation Historical Museum
Pompano Beach Historical Society Museum
Sample McDougald House
Seminole Okalee Indian Village and Museum
South Florida Railway Museum
SS Copenhagen
Stranahan House
MARTIN: Stuart
Court House Cultural Center
Elliot Museum
Historic House of Refuge
Jonathon Dickinson State Park
Lyric Theatre
Maritime and Yachting Museum of the Treasure Coast
Savannas Preserve State Park
St. Lucie Inlet Preserve State Park
Stuart Heritage Museum
Stuart Main Street
MIAMI-DADE: Miami
Alamo Building Museum
Alfred I. Dupont Building
Anderson's Corner
Anhinga Trail
Arch Creek Historic and Archaeological Site
Atlantic Gas Station Building
Bay of Pigs Museum
Bay Shore Historic District
Beth Jacob Social Hall and Congregation
Bill Baggs Cape Florida State Park
Biscayne National Park
Black Archives -- Overtown
Black Archives, History and Research Foundation of South Florida
Black Heritage Museum
Boca Chita Key Historic District
Brickell Mausoleum
Brickell Point Site
Cape Florida Lighthouse
Capital Building
Central Baptist Church
City Hall
City National Bank Building
City of Miami Cemetery
Congress Building
Consolidated Bank Building
Coral Castle
Coral Gables City Hall
Coral Gables Congregational Church
Coral Gables Elementary School
Coral Gables Merrick House
Coral Gables Police and Fire Station
Coral Gables Woman's Club
Cuban Museum of Arts and Culture
Dade Commonwealth Building
Dade County Courthouse
Dade Federal Savings
Dade Heritage Trust Headquarters
David W. Dyer Federal Building and US Courthouse
Deering Estate at Cutler
Douglas Entrance
Entrance to Central Miami
Everglades National Park
Fairchild Tropical Garden
Fire Station No. 2
Fire Station No. 4 Building
First Coconut Grove Schoolhouse
Florida East Coast Railway Locomotive #153
Florida Pioneer Museum
Freedom Tower
Fuchs Bakery
Gesu Church
Glenn H. Curtiss House
Gold Coast Railroad Museum
Greater Bethel AME Church
Greater Homestead/ Florida City Chamber of Commerce
Gusman Center for the Performing Arts
Hahn Building
Half Moon
Halissee Hall
Harry Hurt Building
Hialeah Park Race Track
Hialeah Seaboard Airline Railway Station
Historical Museum of Southern Florida
Holocaust Documentation and Education Center, Inc.
Homestead Main Street
Ingraham Building
International Fine Arts College Historical Costume Museum
J & S Building
Jay I. Kislak Foundation
Lyric Center
MacFarlane Homestead Historic District
Miami Beach Architectural District
Miami City Hall
Miami Edison Middle School
Miami Fire Museum, Inc.
Miami Senior High School
Miami Springs Pharmacy and Museum
Miami Women's Club
Miami-Biltmore Hotel
Mount Zion Baptist Church
Neva King Cooper School
Old Spanish Monastery
Old US Post Office and Courthouse
Oleta River State Park
Opa Locka Bank Building
Opa Locka Railroad Station
Palm Cottage
Performing Arts Center of Greater Miami
Plymouth Congregational Church
Ralph M. Munroe House
S & S Restaurant and Deli
Shark River Slough Archaeological District
Silver Palm Schoolhouse
South River Drive Historic District
Southside Elementary Bilingual School
St. John's Baptist Church
Sweeting Homestead at Elliot Key
The Barnacle Historic State Park
The Kampong: The National Tropical Botanical Garden
The Wolfsonian
Trinity Episcopal Cathedral
US Car #1 - Ferdinand Magellan
Venetian Causeway
Venetian Pool
Vizcaya
Walgreen Drug Store Building
Wings Over Miami Military and Classic Aircraft Museum
Women's Club of Coconut Grove
MONROE: Key West
African Queen
African-Bahamian Museum and Resource Center
Audubon House and Tropical Gardens
Bahia Honda State Park
Bat Tower
Carysfort Lighthouse
Donkey Milk House
Dr. Joseph Y. Porter House
Dry Tortugas National Park
East Martello Gallery and Museum
Ernest Hemingway House
Florida Keys Memorial
Florida Keys National Marine Sanctuary
Florida Keys Scenic Highway
Fort Jefferson National Monument
Fort Zachary Taylor
Garden Key Lighthouse - Fort Jefferson
George Adderley House
Indian Key Historic State Park
John Pennekamp Coral Reef State Park and Reserve
Key West Historic District
Key West Lighthouse Museum and Keeper's Quarters Museum
Lignumvitae Key Archaeological and Historical District
Lignumvitae Key Botanical State Park
Little White House
Loggerhead Key Lighthouse
Long Key State Park
Mel Fisher Maritime Heritage Society and Museum
Museum of Art and History at the Custom House
Oldest House Museum
Overseas Highway and Railway Bridges
Pigeon Key Historic District
San Carlos Institute
San Jose Shipwreck Site
San Pedro Underwater Archaeological Preserve State Park
Shark River Slough Archaeological District
The Armory
The Florida Keys Overseas Heritage Trail
Turtle Kraals Museum
US Naval Air Station
USCG Cutter Duane
USS Alligator
West Martello Tower and Garden Center
Western Union Schooner
Windley Key Fossil Reef Geological State Park
PALM BEACH: West Palm Beach
American National Bank Building
Ann Norton Sculpture Gardens
Black Historical Preservation Society of Palm Beach County
Boca Raton Fire Engine No. 1
Boca Raton Historical Society Museum and Gift Shop
Boca Raton Old City Hall
Boynton Beach Woman's Club
Boynton School
Cason Cottage Museum
Central Park Historic District
Chesterfield Hotel
Children's Museum, Inc.
Clematis Street Historic District
College Park Historic District
Comeau Building
Count de Hoernle Pavilion
Count de Hoernle Pavilion
Count de Hoernle Pavilion
Creations Pop Culture Museum
Delray Beach Cultural Loop
Delray Beach Historical Society
Dixie Court Hotel
DuBois Pioneer Home
El Cid Historic District
Ferndix Building
Flamingo Park Historic Residential District
Florida Power and Light Historical Museum
Grandview Heights Historic District
Guaranty Building
Gulf Stream Hotel
Hatch's Department Store
Henry Morrison Flagler Museum
Historic Old Town Commercial District
John D. MacArthur Beach State Park
Jupiter Inlet Lighthouse
Lake Park City Hall
Little Red Schoolhouse
Loxahatchee River Historical Museum
Milton Myers American Legion Post #65
Molly S. Fraiberg Judaica Collections, S.E. Wimberly Library
Morikami Museum and Japanese Gardens
Museum of Polo and Hall of Fame
Museum of the City of Lake Worth
Northwest Historic District
Old Lucerne Historic Residential District
Old Northwood Historic District
Old Pahokee High School
Old Palm Beach Daily News Building
Old School Square Cultural Arts Center
Palm Beach Maritime Museum
Palm Beach Mercantile Company
Paramount Theatre Building
Professional Building
Robert and Mary Montgomery Armory Art Center
S.D. Spady Cultural Arts Museum
Sandoway House Nature Center
SD Spady Cultural Arts Museum
Seaboard Coastline Railroad Passenger Station
Sundy House
The Breakers
Via Mizner
Yesteryear Village and Blink Glisson Historical Museum
SOUTHEAST FLORIDA TOWNS AND CITIES
Learn about the many Southeast Florida towns and cities.
Enjoy some Southeast Florida scenic drives.
Here are dozens of attractions within 100 miles of Miami.
---

Our Facebook page has more than 128,577 followers who love off the beaten path Florida: towns, tourist attractions, maps, lodging, food, festivals, scenic road trips, day trips, history, culture, nostalgia, and more.  We post articles every day.  Please check it out and if you like it, we would appreciate a "like" from you.
---
By Mike Miller, Copyright 2009-2023
Florida-Back-Roads-Travel.com
Florida Back Roads Travel is not affiliated with or endorsed by Backroads, a California-based tour operator which arranges and conducts travel programs throughout the world.