OLD FLORIDA TOWNS ON SR-44
State Road 44 runs across the state from Crystal River to New Smyrna Beach.
You will enjoy the drive through these Old Florida towns on your journey from the Gulf of Mexico to the Atlantic Ocean.
---
CRYSTAL RIVER is popular not only with locals and tourists but with the thousands of manatees that find their way there for the comfortable water temperature.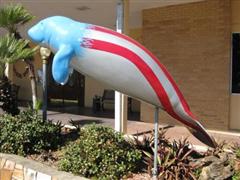 Crystal River City Hall
---
INVERNESS is nestled on the west shore of Lake Tsala Apopka and is home to the Great American Cooter Festival.
Cooter Park, Inverness, Florida
---
TAVARES once dreamed of being Florida's state capital. Now it enjoys being reborn as the Seaplane City.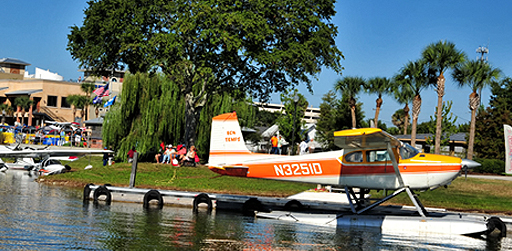 Seaplane Base in Tavares, Florida
---
---
EUSTIS is on the lake of the same name and is one of the three cities that make up the Golden Triangle.
Ferran Park, Eustis, Florida
---
MOUNT DORA is well known as a festival city because of the large number of arts and crafts shows held there each year.   It is also an antique center and enjoys its hills, lakes and canopied streets.
Mount Dora. Small Woman? Big Chair? Both!
---
DELAND is the home of Stetson College and well known for its many canopied streets and murals.
Volusia County Courthouse
---
NEW SMYRNA BEACH was an early plantation settlement but is now noted for its fine white sand beaches.
New Smyrna Beach
---
---
20181213
DID YOU FIND WHAT YOU WERE LOOKING FOR IN THIS ARTICLE?
  IF NOT, SEARCH THIS WEBSITE AND THE INTERNET USING THE BOX BELOW