PASS-A-GRILLE BEACH, FLORIDA

Pass-A-Grille-Beach, Florida Things To Do, Lodging, Dining, & Real Estate At End Of Article
Pass-A-Grille Beach is a quiet community at the very southern end of St. Pete Beach.  It is on the tip of the barrier island that separates the Gulf of Mexico from Boca Ciega Bay.

HISTORY OF PASS-A-GRILLE-BEACH, FLORIDA
One story about how it got its name says it comes from the French for "Passe Aux Grilleurs" which means the passageway of the grillers.
This name was used to describe the many fishermen who used the land on the tip of the island as a camp and grilled fish there. 

A pioneer and self-proclaimed pirate named John Gomez built a small hotel in 1857, and travelers from up north would come from nearby St. Petersburg and Tampa to stay at his place.
They found it to be a perfect place to enjoy the beach, the fishing and the great water view.
The first homesteaders came later, when Zephaniah Phillips, a Union soldier and inventor, settled the land in 1886 with his wife Mary and their children.
He and his sons built a boat and used this to get lumber from the mainland to build their house.
The first major hotel was built in 1901 and people stayed there while looking at lots to build their vacation homes.
It was 1957 when Pass-A-Grille and other beachside communities were swallowed up by St. Pete Beach.

PASS-A-GRILLE-BEACH, FLORIDA TODAY
The town's streets run east-west and consist of short blocks, numbered starting at the bottom and going up as you head north, with a main street on either side of the island running north-south.
This connects everything and makes it easy to travel throughout the area.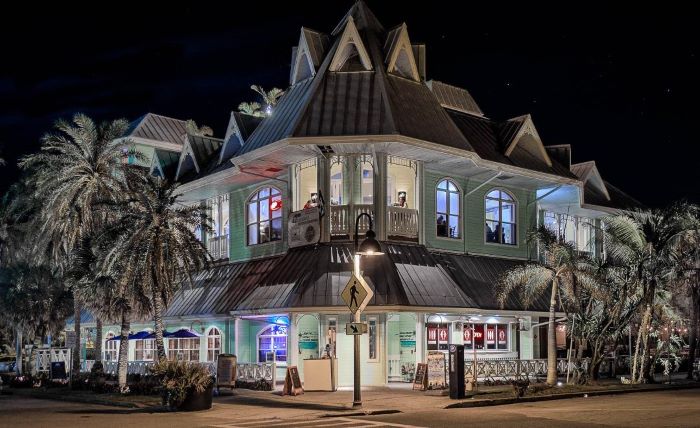 Hurricane Seafood Restaurant
Photographic Destinations by Bob Kyle
In 1989, much of the Pass-A-Grille area was designated a United States Historic District from 12th Street down to 4th Street, with 97 buildings included.
Then, in 2003 the Historic District was expanded to include the area from 32nd Street down to 1st Street, at the southernmost end of St. Pete Beach.
This added another 354 buildings to the Historic District. A district is considered to be an important part of American history, and is listed on the National Register.
There are plenty of interesting old houses, shops and local restaurants in the District. 
The Gulf Beaches Historical Museum is located in the center of town on 10th Avenue, in a former church that was built in 1917.
The grand centerpiece of this neighborhood is the magnificent Don CeSar Hotel, also on the U.S. National Register of Historic Places.
Coming into Pass A Grille via the Pinellas Bayway brings you close to the front entrance of the Hotel.
This 277 room hotel was built in 1928 and was one of the best hotels of its time. It is now modernized and is one of the most magnificent of Florida historic hotels.
PASS A GRILLE AND THE STORY OF THE DON CESAR
Nicknamed the "Pink Lady", and later known as Florida's "Pink Palace", it was built to resemble a Mediterranean castle.
The dream of Thomas Rowe, the color was created by blending rosy lime mixed with mortar, reminding him of his childhood spent in Ireland.
It also had red-clay tile roofing. The hotel plans were commissioned from architect Henry Dupont.  This was the time of the Roaring 20s and the Golden Age of Jazz and it quickly became a Gulf Coast gem and haven for the elite.
The guest list included President Franklin D. Roosevelt and many Presidents after him including Ford, Carter, George H.W. and George W. Bush, Clinton, and Obama.
Other famous guests were F. Scott Fitzgerald, Lou Gehrig, Clarence Darrow, Al Capone, and even the New York Yankees, who held spring training here for 3 years during the Great Depression, helping keep it afloat.
Several movies have been made at the hotel as well.
Adding to its long history, two years after Mr. Rowe's death the Army took over the property and used it as a hospital through World War II.
After the war it was an Air Force convalescent center, and then used for government offices - the inside was stripped bare and painted green, and eventually abandoned, falling into disrepair.
There was discussion of tearing it down, which was met with much local opposition. Finally, it was purchased by C. L. Pyatt and William Bowman, Jr. and reopened to the public in 1973.
The hotel has over 38,000 square feet and it has had several multi-million dollar renovations over the years, as recently as 2018.
Renovations have been made to several restaurants and bars, a large meeting space, a spa and finally the guest rooms, to restore it to its former beauty.
PASS A GRILLE AREA BEACHES
The Pinellas County area is known for its beautiful beaches and white sand, and this charming beach town is no exception.  It is one of our favorite Pinellas County Beaches.
The entire length of Pass-A-Grille has kept its Old Florida feel. You won't find the shores filled with high-rises, and with the Gulf on one side and the Bay on the other, there is always a spectacular view.
It's nicknamed "the sunset capital of the world", and it's a nightly tradition that a bell ringer rings the bell at sunset.
A great place to venture for outdoor excursions and day trips is the Merry Pier, a popular fishing and boating destination. Along with a fish market and fishing supplies to rent or buy, they offer public and private boat charters and a party boat rental.

The area offers great fishing, and you can stay on land and cast off a fishing pier or venture out in a boat or kayak.
This spot also offers a Shell Key shuttle, a quick ride south to the Shell Key Preserve, an 1800 acre sanctuary in Tierra Verde for nesting and migrating birds. You'll likely see bottlenose dolphins on the way too, chasing the fish.
Fort DeSoto park is a wonderful Pinellas County treasure just south of Tierra Verde.
Like many Florida beaches, you cannot bring in alcohol to the beaches and dogs are not allowed, but Pass-A-Grille Dog Beach is a dedicated spot you can bring your dog to run and jump in the water.
---
PASS-A-GRILL-BEACH, FLORIDA INTERACTIVE MAP
---
 ALL ABOUT PASS-A-GRILLE-BEACH, FLORIDA
---
---

Our Facebook page has more than 129,275 followers who love off the beaten path Florida: towns, tourist attractions, maps, lodging, food, festivals, scenic road trips, day trips, history, culture, nostalgia, and more.  We post articles every day.  Please check it out and if you like it, we would appreciate a "like" from you.
---
By Mike Miller, Copyright 2009-2023
Florida-Back-Roads-Travel.com
Florida Back Roads Travel is not affiliated with or endorsed by Backroads, a California-based tour operator which arranges and conducts travel programs throughout the world.