FLORIDA GHOST TOWNS
How does a Florida ghost town exist in one of the fastest growing states in our country?
Many early Florida towns were located near natural resources.  These communities grew up to house and support companies and people who turned the resources into products.
There were towns that relied on fishing, clams, lumber, phosphate,  citrus, cattle, oysters, watermelons, celery, and other products of sea and earth.
There were also boom time towns that were really just lot sales programs.  Many of these towns barely got off the ground when they collapsed during the Florida land sale bust that preceded the Great Depression.
As natural resources were exhausted or economic depression,  hurricanes, and freezes slammed into the state, many of these towns folded and mostly disappeared.
Railroads closed, highways were built that bypassed the town, other things happened that made the town only a footnote in history.
As I drive around Florida it's fun to know a bit about the ghost towns you are near.  Sometimes you will see a sign or a historical marker, but usually you won't even know you are in one.
The only sign might be an old brick chimney almost invisible in thick vines and crumbling in the relentless Florida sunshine.
Here are some ghost towns I've visited.  If you enter their names into Google search, you will find a map of its location and a description of the town.
---
ACRON
ACRON in Lake County was founded in the 1860s near the southern edge of the Ocala National Forest.  Families lived here who farmed and worked in a sawmill and citrus groves.  The town grew to a population of about 300.  The second teacher at the Acron school was Flora Call, who later got married to Elias Disney and became the mother of Walt Disney.  The community disappeared in the 1900s.  Walt Disney's grandparents are buried in the nearby Ponceannah Cemetery.
---
ALADDIN CITY
ALADDIN CITY is in Miami-Dade County in the Redlands area.  There is not much left to see, but in the 1920s it was a planned community designed around a Moorish theme.  The property was developed by a Michigan manufacturer of "kit" homes, designed to be shipped to Florida and erected on the site.  It had many problems, and finally folded after the hurricane of collapse of the land boom of the 1920s.  There is a detailed description of this city in Wikipedia.
---
ANDYTOWN
ANDYTOWN was a tiny settlement on US-27 and State Road 84 just west of modern day Weston in Broward County.  It began in 1947 as a small cafe owned by Andy Poulus.  He owned 10 acres at this intersection and a community grew up around this crossroads.  Andytown was completely demolished in 1979 to make way for the current interchange of Alligator Alley and US-27.
---
CAMPVILLE
CAMPVILLE in Alachua County is north of the existing town of Hawthorne on US-301.  It was founded by the Camp family in the mid 1800s and was located near their brick factory.  It was on the railroad, and had a sawmill, many homes, a general store, a school, and a church.  Some of the old homes and a church still stand in the former thriving little town. Many bricks can still be found in the area even today.
---
CAPPS
CAPPS is a lonely place at the intersection of US-19 and US-27 east of Tallahassee.  The little town was the main headquarters of the 1,600 acre Tungston Plantation.  It became one of the largest manufacturers of tung oil in the country for use in varnish and paint.  The Asa May house is located in Capps.  It was on Rosewood Plantation, It's on the National Register of Historic Places.  Asa May was a prominent cotton planter.
---
FORT CHOKONIKLA
FORT CHOKONIKLA in Hardee County was located in what is now Paynes Creek Historic State Park.  The fort grew up around a trading post that provided supplies to the Seminoles in their nearby reservation.  In 1849 five Indians attacked the post and killed the clerks.  Other Seminoles captured these Indians, and the Fort was built shortly thereafter.  It was abandoned in 1850 because so many soldiers died there of malaria.
---
KERR CITY
KERR CITY is in Marion County and was founded in 1884.  The town was a stage coach stop for travelers coming from the St. Johns River to Ocala and return.  The population was 100 at one time, and had a hotel, general store, drug store, school, church, and post office.  Before its founding it had been a cotton plantation during the Civil War.  The Great Freezes of 1894 and 1895 killed all the citrus and most people moved out.  The town location is surrounded by the Ocala National Forest.
---
LIVERPOOL
LIVERPOOL was a phosphate mining town located on the Peace River not far north of where it empties into Charlotte Harbor.  The town was founded in 1880 and had docks on the river, post office, stagecoach stop, hotel, and even a town newspaper.  In the early 1900s the phosphate in the area began to run out and the town folded.
---
MANASOTA
MANASOTA in Charlotte County was a small town south of Venice whose main industry was the Woodmere Lumber Mill.  About 1500 people lived here and most worked in the mill.  The mill provided most of the lumber that went into the construction of Venice.  A fire in 1930 wiped out the town.
---
MAYTOWN
MAYTOWN is in Volusia County in the vast wilderness between Sanford in the Orlando area and New Smyrna Beach.  It at one time was the intersection of two railroads, now long gone.  All that remains are some crumbling old buildings and a pioneer house or two still standing in good condtion.  This website features an article titled Maytown Road:  Pathway Through Florida Wilderness.
---
MUSCOGEE
MUSCOGEE is about 20 miles northwest of Pensacola in Escambia County.  It was located along the Perdido River and was founded in 1857 as a lumber town.  The timber industry in the town employed about 1000 people in its heyday.  After much of the timber had been harvested, the town and its more thatn 2000 acres were sold in 1928 to a turpentine company.  The town slowly died out and is now just a memory.
---
OLD VENUS
OLD VENUS is in Highlands County south of Lake Placid.  It was a bustling little town of ranchers, cattle raisers, farm workers, and turpentine workers.  Most of the old town burned down years ago, but there are still a few crumbling buildings in the area and several people live in newer homes among the memories of this old ghost town.
---
PUNTA RASSA
PUNTA RASSA is one of those Florida places where the name still exists and people live in the area, but the old town it is named for is really gone.  Punta Rassa was a cattle shipping town and was the biggest in Florida.  The Spanish began using it in the 1500s to unload cattle from Spain in the area. It grew to great importance during the Seminole Wars, the Civil War, and the late 1800s with Florida cattle being shipped to Cuba and other places around the world.  Cattle were driven from ranches all over Florida on trail drives to this destination.The town was filled with cattle pens, hotels, saloons, and cowboys whooping it up.  It is mentioned in many Florida histories and historical novels such as Patrick Smith's "A Land Remembered".   
---
ROLLESTOWN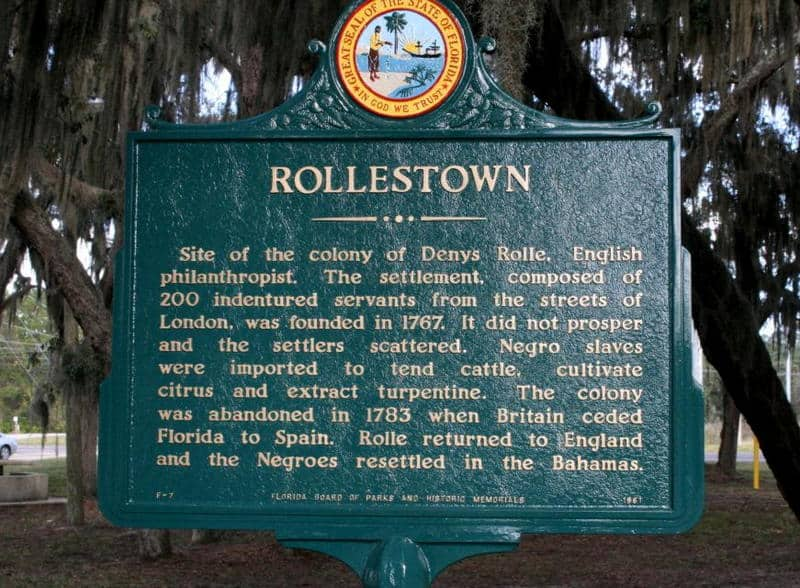 ROLLESTOWN is remembered today by a historic marker on US-17 along the east bank of St Johns River south of East Palatka.  Denys Rolle was a wealthy Englishman who founded the town in 1765 when Florida was still a British possession.  He had extensive land holdings in the area and dreamed of developing a huge plantation in the new world.  He populated the town with indentured servants, bringing in more than two hundred of them.  Some of them were criminals.  Things didn't work out because most of the servants skipped town and moved to St. Augustine or other southern cities.  He replaced them with African slaves but for a number of reasons the plantation and town failed.  Most of the slaves were relocated to Rolle's holdings in Exuma, Bahamas.
---
VINELAND
VINELAND in Orange County has been swallowed up by Lake Buena Vista and the entire area surrounded by Walt Disney World Resort.  It was abandoned in the 1960s but earlier in the century had houses, a school, a railroad depot, a church, and a cemetery.  Many roads in Orange County still refer to Vineland in names such as Apopka-Vineland Road, Winter Garden-Vineland Road, Kissimmee-Vineland Road, and Kissimmee-Vineland Road.
---
YUKON
YUKON is in Duval County (Jacksonville) adjacent to Naval Air Station Jacksonville.  The old town was located in what is now Tillie K. Fowler Regional Park.  The community was established in the 1800s and first called "Blackpoint Settlement".  The town got modern with paved streets and modern houses, but the Navy declared it as a flight and safety hazard and the town was closed in 1963.  Quite a few old buildings remain, some abandoned and some still in use such as the Yukon Baptist Church.
---
ZION
ZION
was a small community that was the location of the Orange Grove House of Refuge.  It was located near Atlantic Avenue in Delray Beach reaches the ocean.  There were several such shelters along the coast.  This one was discontinued in 1896, and Zion was swallowed up within the growth of Delray Beach. 
---
There are three websites I love for doing my ghost town research:
GHOST TOWNS has lists of towns and histories for each one.  They cover all of the United States including Florida.  It shows you photos of the way it was back then and the way it is now.  Their website lists about 250 Florida ghost towns.  The site gives you more information about more Florida ghost towns than any other source I know about.
WIKIPEDIA LIST OF FLORIDA GHOST TOWNS is also a good source.  They take the fun a step higher and give you GPS coordinates that you can use to go directly to a Google map that pinpoints the location for you.  Simply highlight the coordinates and enter into the Google search  box.  Viola!  You will see exactly where this ghost town was.
ABANDONED FLORIDA LIST OF LOCATIONS is a lengthy list of not only abandoned towns, but also tourist attractions, ships, mills, industries, and just about anything their fertile minds come up with.  The author is a great photographer, but purposely does not give locations to help preserve these sites from possible hordes of visitors.
---
---
---
Our Facebook page has more than 83,500 followers who love off the beaten path Florida: towns, tourist attractions, back road maps, lodging, festivals, highway maps, scenic road trips, day trips, history, culture, nostalgia, and more.
Take a look. If you enjoy what you see, please give us a like.
---
---
---
SUBSCRIBE TO OUR FREE MONTHLY EZINE
FLORIDA HERITAGE TRAVEL
The latest updates to our website and stories about people, places, and events.
20200126-245-1177-GI4.9