CENTRAL WEST FLORIDA
ROAD TRIPS AND SCENIC DRIVES

The Central West Florida road trips and scenic drives recommended here are often staged on the back roads around Tampa. 
I-4 is the main east-west interstate highway in this region, and traverses the state from Daytona Beach through Orlando to Tampa.

This urbanized area is known as the I-4 Corridor. 
I-75 is the north-south interstate, and enters Florida near Jasper and meanders down the center of the state until it starts veering west toward Tampa.

I-75 goes all the way to Miami.
The Suncoast Parkway is a north-south toll road that starts in Tampa near the airport and terminates on US-98 north of Brooksville.
The I-4 and I-75 exits are crowded with gas stations, restaurants and motels. You can travel the state quickly and easily on these highways (except during rush hours), but not see as much scenery or real towns as on our recommended Central West Florida day trips.
The town signs you do see are usually a few miles from the downtown section. The fun begins when you get off the interstate and hookup with the less traveled roads that go through our many smaller Florida towns.
There are many state and county highways off the interstate that offer better scenery and a look at real towns. In Florida, some backroads are even four-laned.
The maps below show the routes of a few Central West Florida day trips that I recommend.
If you are more interested in destinations than driving routes, see Tampa Florida Day Trips
---
Central West Florida Road Trips and Scenic Drives with Maps
---
Road Trip 1:  Bushnell to Floral City thru Nobleton & Istachatta
SR-476 from Bushnell west to Nobleton. Then north on SR-39 to Floral City, through Istachatta and Juneau. Peaceful country, parallels the rails to trails project, the Withlacoochee Trail. About 24 miles.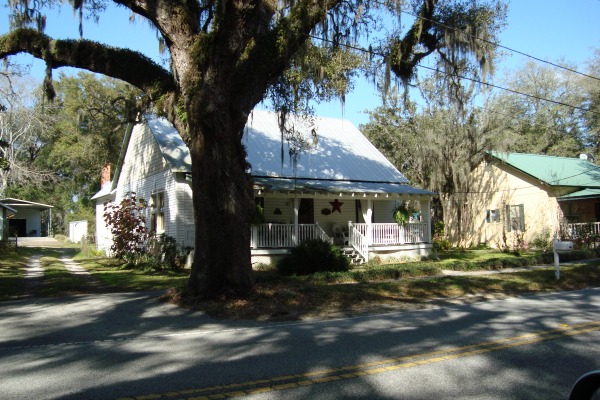 Floral City House
---
Road Trip 2:  Inverness to Crystal River on Florida SR-44
Sr-44 from Inverness to Crystal River through Lecanto. Pretty hills and lake views. About 18 miles.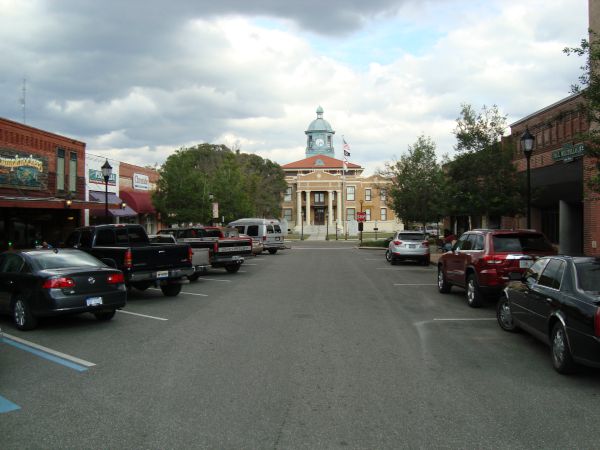 Downtown Inverness with Courthouse
---
Road Trip 3:  Weeki Wachee Springs, Aripeka, Hudson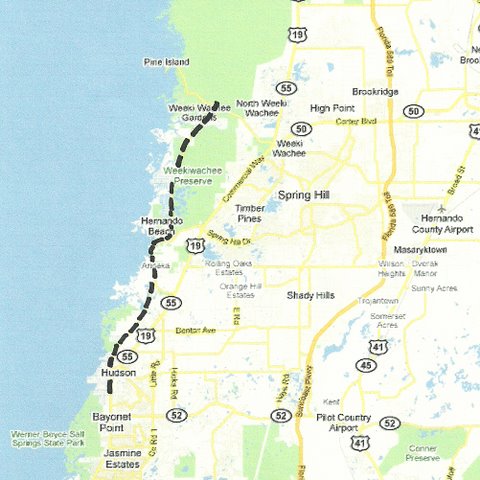 SR-595 from SR-50 just west of Weeki Wachee Springs south to Hudson, through Hernando Beach and Aripeka. Low country, fishing villages, marshes, houses on stilts. About 18 miles.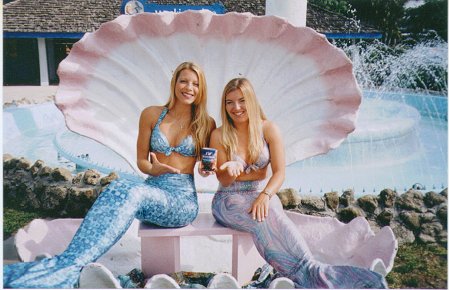 Weeki Wachee Mermaids
---
Road Trip 4:  Tarpon Springs, Palm Harbor, Dunedin on US-19
SR-595 aka Alternate US-19 from Holiday south to Clearwater through Tarpon Springs, Palm Harbor, Ozona and Dunedin. These are old Florida towns with a lot of interesting houses and plenty of trees. About 18 miles.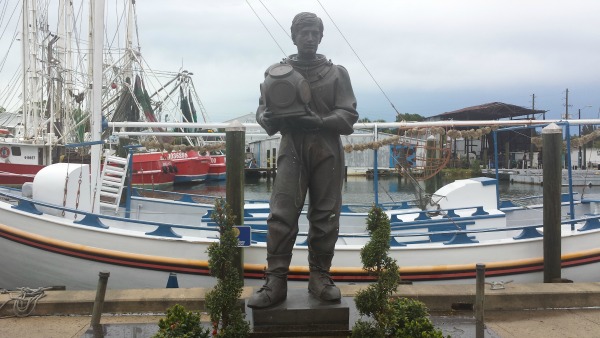 Tarpons Springs Harbor Front
---
Road Trip 5:  New Port Richey to Tarpon Springs on Local Backroads
Here is a way to come into Tarpon Springs from the north and avoid a few miles of that awful congested US-19.  Just south of New Port Richey leave US-19 and go west on Trouble Creek Rd.
Follow it until it turns south and becomes Straub Memorial Drive.  Stay on Straub until it comes to Bailles Bluff Road then follow it south to Anclote Rd (not  Blvd) then stay on Anclote Rd until it comes back to Alternate US-19 just north of Tarpon Springs.
About 9 miles, some residential, a lot of mangroves and parks.
---
Road Trip 6:  Gospel Island in Inverness and Lake Tsala Apopka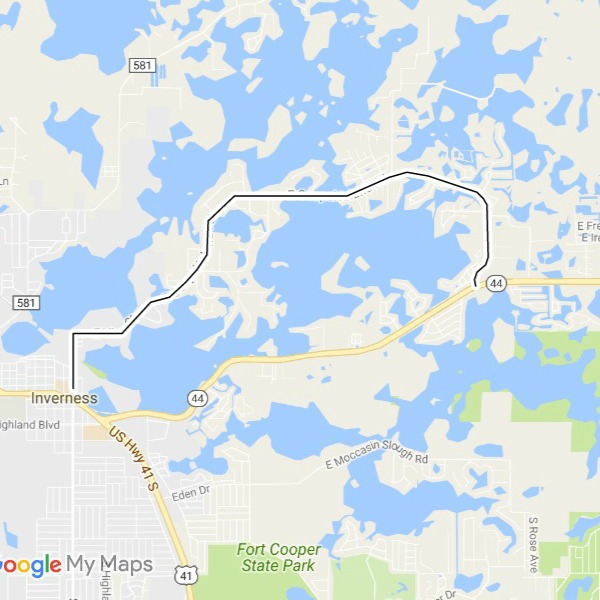 This is the Gospel Island Bypass around Inverness.  A great scenic drive.  From downtown Inverness go north on N. Apopka Ave until it turns right and becomes CR-470.  Follow its meandering route among the lakes and oaks to SR-44.
---
Road Trip 7:  Gobbler's Drive Loop from Floral City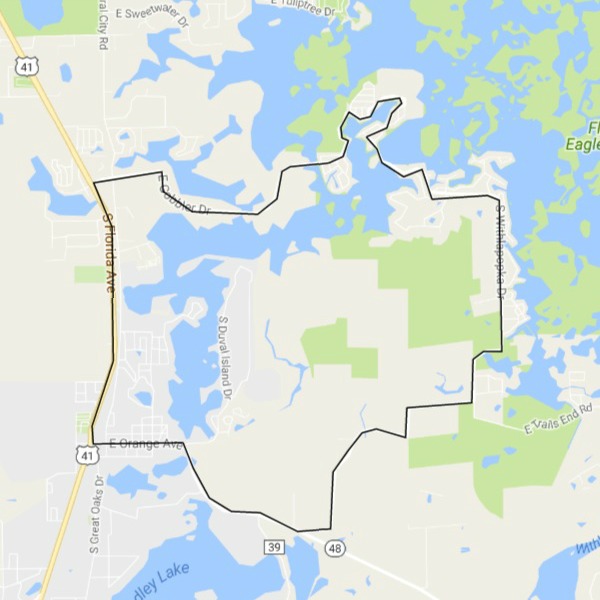 The Gobbler's Drive Loop.  From Aunt Martha's Produce Market in downtown Floral City on US-41, go north to E. Gobbler Drive and turn right (East) and follow it through the lakes and woods and peninsulas among Lake Tsala Apopka along South Withlapopka Drive and East Trails End Road back to CR-48 and on into downtown Floral City.
---
---

Our Facebook page has more than 129,275 followers who love off the beaten path Florida: towns, tourist attractions, maps, lodging, food, festivals, scenic road trips, day trips, history, culture, nostalgia, and more.  We post articles every day.  Please check it out and if you like it, we would appreciate a "like" from you.
---
By Mike Miller, Copyright 2009-2023
Florida-Back-Roads-Travel.com
Florida Back Roads Travel is not affiliated with or endorsed by Backroads, a California-based tour operator which arranges and conducts travel programs throughout the world.