The annual Rattlesnake Festival is held on the third Saturday in October in the small town of San Antonio northeast of Tampa.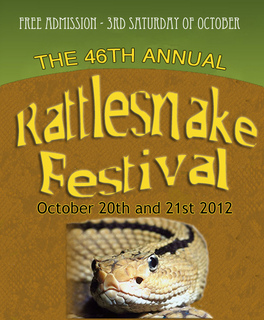 Rattlesnakes have always held a morbid fascination for mankind, so why not have a festival to celebrate them and learn about them?

San Antonio is in central west Florida about 25 miles north of Tampa. 
The first festival took place in the 1960's and was an instant success.
It is currently a one day event, but will be expanded to two days beginning in 2016.
The festival has been sponsored for more than 50 years by the local Rotary Club and is held each year in beautiful San Antonio City Park.  
As of 2017, the festival has a new sponsor: The Thomas Promise Foundation.
There are all kinds of activities celebrating the rattlesnake and the gopher tortoise, an endangered Florida creature that is protected by federal and state law.
The festival is for the whole family, and features entertainment, educational programs, wildlife and environmental exhibits and more.
Hundreds of participants register each year for the Rattlesnake Run.
This is two foot races, one is 1 mile and the other is 5 miles.
The challenging course winds through the rolling hills and citrus groves around San Antonio.
Another annual feature is Cowboy Tom's wild west show.
The show is different each year.  You might watch some trick roping or hear some cowboy stores.  
Cowboy Tom is a well known Tampa Bay area cowboy and former rodeo performer.
Other activities include a Reptile Show, and Snake Show and a lot of musical entertainment.
Good food abounds, from barbecue chicken to fish dinners, hot dogs, corn on the cob, sausage sandwiches, popcorn, funnel cakes, snow cones, cotton candy and boiled peanuts.
There is usually a 4x4 vehicle show and a classic car show on Saturday and Sunday.  
Proceeds from the Rattlesnake Festival benefit local youth and other charitable organizations. For more information call The Thomas Promise Foundation at 813-782-0000.