Best Beaches to Find Sand Dolars
BEST BEACHES TO FIND
SAND DOLLARS IN FLORIDA
By  Mike Miller November 17, 2023

Florida, known for its stunning beaches and vibrant marine life, offers a unique treasure for beachcombers and nature enthusiasts: sand dollars.
These marine creatures are not only fascinating but also hold a special allure for collectors and beach-goers alike.
Sand Dollar (Dead)
A sand dollar is a type of flattened, burrowing sea urchin belonging to the order Clypeasteroida. They are sometimes called "Keyhole Sand Dollar" and are found in the sandy or muddy ocean beds below the mean water line.

Sand dollars are known for their distinctive, star-shaped design on their exoskeletons. These creatures play a crucial role in the marine ecosystem.
Collecting sand dollars is a popular activity for many visiting Florida's shores. These natural artifacts are not only beautiful but also serve as a memento of one's seaside adventures.
Their unique patterns and shapes make them a favorite among collectors and crafts enthusiasts. It is a great way to spend a beach vacation.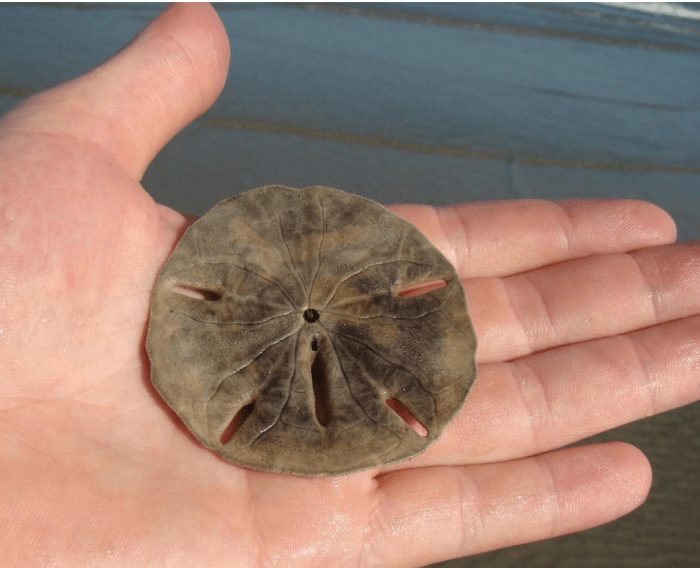 Sand Dollar (Live)
It's essential to distinguish between living sand dollars and dead sand dollars. Live sand dollars are usually found in the water and have a velvety texture and dark color, often green, blue, or purple.
In contrast, dead sand dollars are bleached white by the sun and are often found on the shore.
Florida law prohibits the collection of a living sand dollar. This regulation ensures the preservation of marine life and ecological balance. When beachcombing, it's crucial to ensure that the sand dollars you collect are not alive.
The video above shows you what a live sand dollar looks like when it's feeding.  Look at in full screen mode and you will see the tiny cilia around its edge moving back and forth looking for food.

---
---
BEST BEACHES TO FIND SAND DOLLARS IN FLORIDA
---
---
SANIBEL ISLAND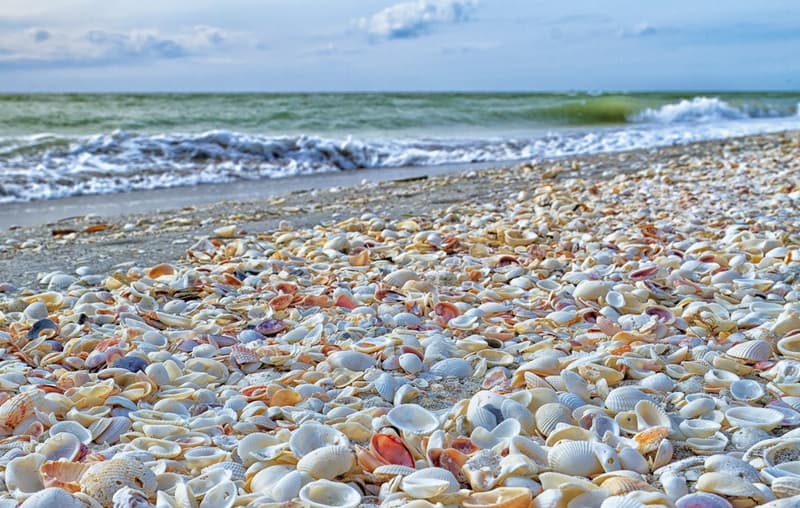 Shells on Sanibel Island Beach
Sanibel Island is a paradise for shell collectors and beachcombers. Its unique geographical orientation runs east to west, unlike most islands which run north to south.
This orientation, combined with the island's shell-covered beaches, creates an ideal environment for sand dollars to wash ashore.
The gentle slopes of the beaches allow for easy spotting of these treasures, especially after high tide or a storm.  The sand dollars are scattered among a multitude of different types of shells.
CLEARWATER BEACH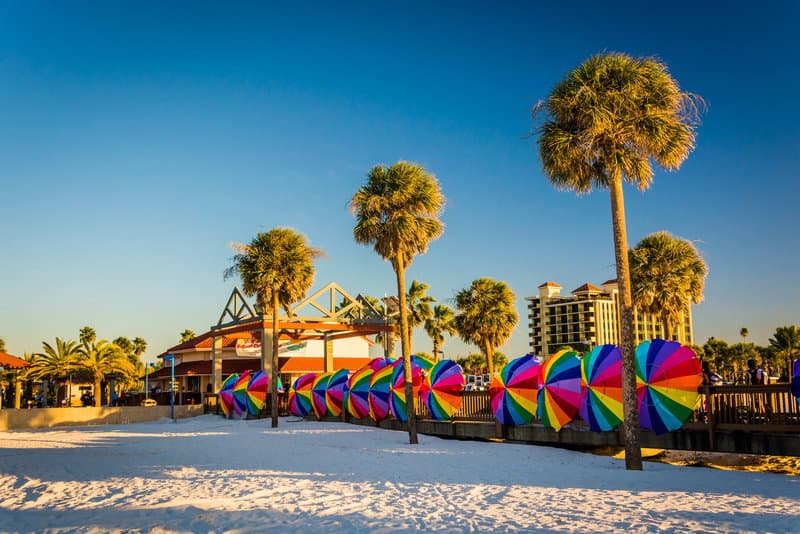 Clearwater Beach
Clearwater Beach is renowned for its stunningly clear, shallow waters, which extend far into the Gulf of Mexico.
These conditions make it one of the best places for finding sand dollars, as they often reside in shallow waters.
The beach's popularity with families also makes it a delightful place for a day of sand dollar hunting and beach activities. The mainland city of Clearwater is also a great place to visit.
SIESTA KEY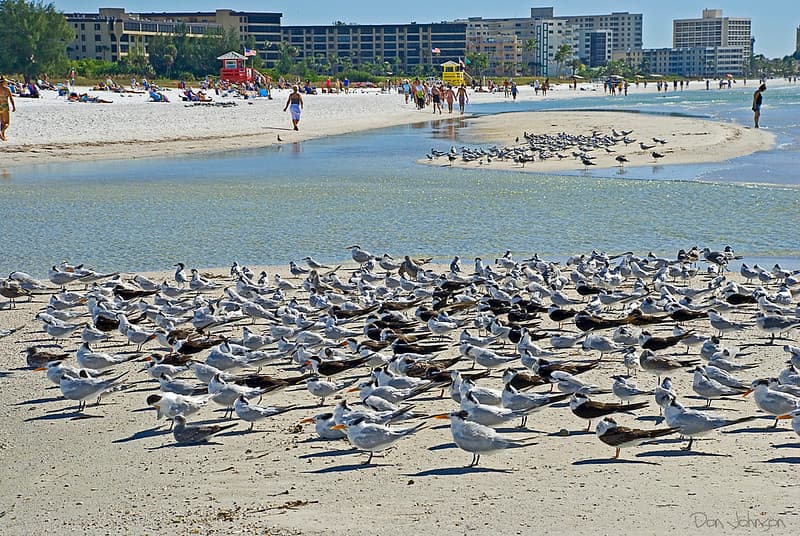 Siesta Key Birds on Beach
Siesta Key's fine, white sand is not only a joy to walk on but also serves as a perfect backdrop for spotting sand dollars.
The quartz-crystal sand, which stays cool even on hot days, and the island's tranquil waters create a picturesque setting for leisurely strolls along the shoreline in search of these marine treasures.
CAPTIVA ISLAND
Captiva Island View to South
As a quieter neighbor to Sanibel, Captiva Island offers a more secluded setting for sand dollar collectors.
The island's beaches are less crowded, providing a peaceful environment for those looking to explore its shores.
The tidal flows around Captiva bring a wealth of sand dollars and other shells to its beaches, making it a prime location for collectors.
AMELIA ISLAND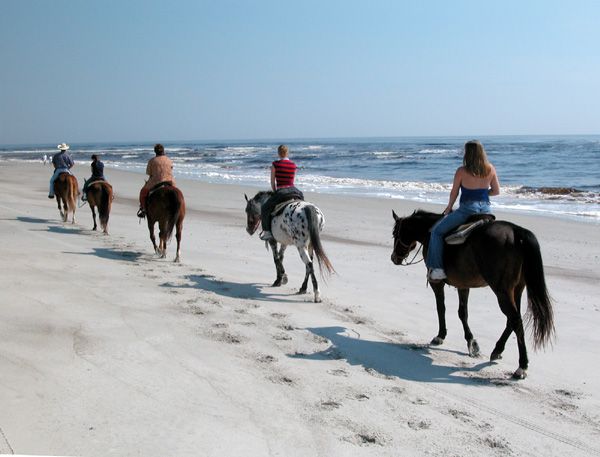 Horseback Riding on Amelia Island
Amelia Island's more secluded beaches offer a different kind of sand dollar hunting experience. Here on this barrier island collectors can enjoy a sense of solitude and serenity.
The lack of large crowds means sand dollars are less likely to be disturbed, increasing the chances of finding them intact along the island's expansive shoreline.  
Fernandina Beach on the north end of the island is a great place to stage your search. Little Talbot Island State Park is just south of Amelia Island and is also an ideal place to find the elusive sand dollar.
COCOA BEACH
Cocoa Beach Bathers
While Cocoa Beach is a well-known destination for surfers, its long, expansive shoreline also makes it an excellent place for finding sand dollars.
The waves here gently roll onto the beach, often bringing sand dollars with them. Beachgoers can enjoy the vibrant atmosphere of Cocoa Beach while searching for these hidden gems.
NAVARRE BEACH
Known for its stunning natural beauty and pristine conditions, Navarre Beach is a quieter alternative to more populated Florida beaches.
Its unspoiled shores are conducive to the presence of sand dollars, which can often be found just below the water's surface during low tide.
HONEYMOON ISLAND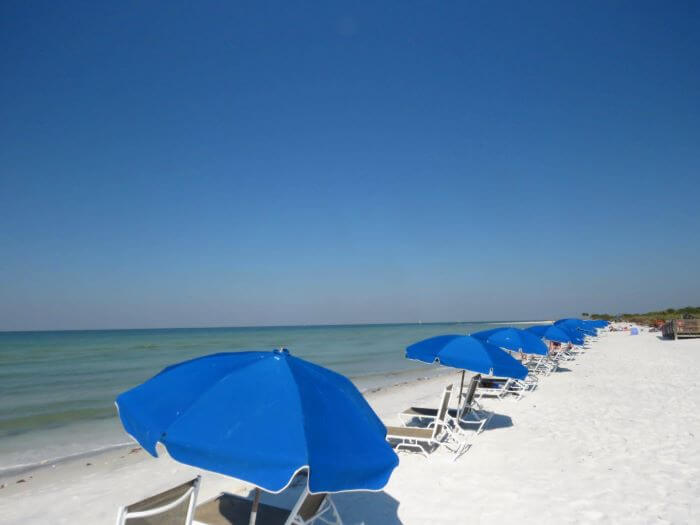 Beach on Honeymoon Island
Honeymoon Island near Dunedin offers a tranquil escape with an abundance of marine life. Its less commercialized nature and rich marine biodiversity make it an ideal spot for discovering sand dollars.
The island's natural state provides a natural habitat for these creatures, and beachcombers can often find them in the shallow waters or along the sandy shores.  
Caladesi Island State Park is next to the island and also a great place to find sand dollars.
MARCO ISLAND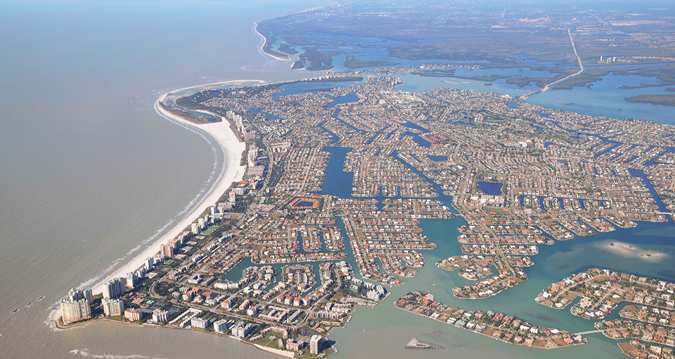 Marco Island Aerial Photo View to North
Marco Island combines luxury with natural beauty, offering a unique beachcombing experience. Its soft, white sandy beaches are home to a variety of marine life, including sand dollars.
The island's calm waters and gentle tides make it an excellent spot for finding these marine treasures, especially along the less crowded, more natural stretches of its coastline.  
Tigertail Beach is a great place in Southwest Florida for swimming, beach walking, and searching for the perfect sand dollar.
ANNA MARIA ISLAND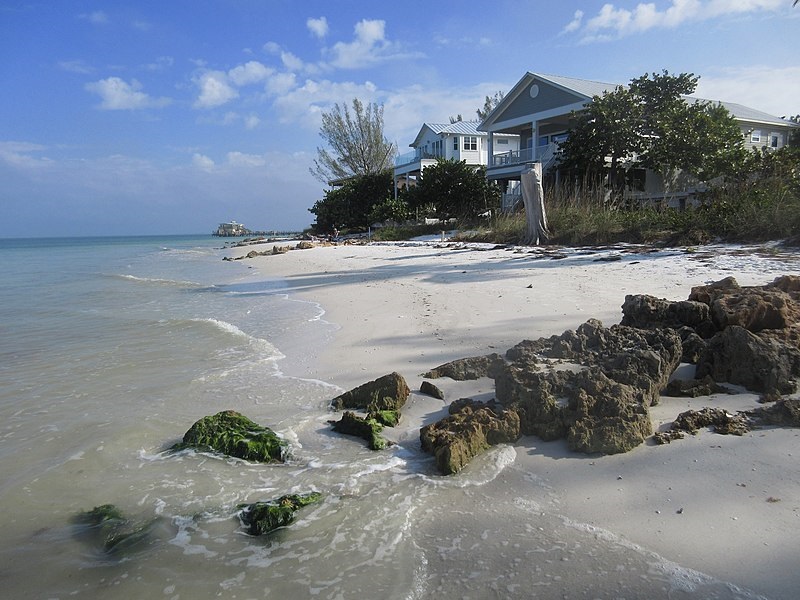 Anna Maria Island
Anna Maria Island is a serene destination known for its laid-back atmosphere and beautiful beaches. The island's gentle surf and unspoiled shores make it a hidden gem for sand dollar enthusiasts.
Its quiet beaches are ideal for those looking to enjoy a peaceful day of searching for sand dollars in a tranquil setting.
OTHER GOOD BEACHES FOR SAND DOLLARS
Beach at Seaside, Florida
Any list of the best shelling beaches could also include the beaches along Florida State Road 30A on the Gulf Coast of Florida.  
These include Seaside, Panama City Beach, and Grayton Beach.  The white sand beaches of Grayton Beach State Park and Topsail Hill Reserve State Park have miles of beaches for you to explore.
Melbourne Beach
Some top spots on the Atlantic Coast include Jupiter Island, Juno Beach, Daytona Beach, and Canaveral National Seashore.  The shoreline between Melbourne Beach and Sebastian Inlet is quiet and one of the best spots to chill out and look for shells and sand dollars.
---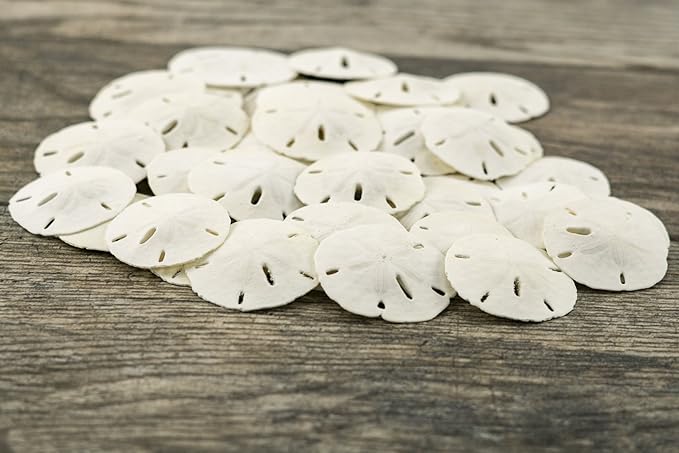 Sand Dollar Collection
Amazon.com
---
---

Our Facebook page has more than 129,275 followers who love off the beaten path Florida: towns, tourist attractions, maps, lodging, food, festivals, scenic road trips, day trips, history, culture, nostalgia, and more.  We post articles every day.  Please check it out and if you like it, we would appreciate a "like" from you.
---
By Mike Miller, Copyright 2009-2023
Florida-Back-Roads-Travel.com
Florida Back Roads Travel is not affiliated with or endorsed by Backroads, a California-based tour operator which arranges and conducts travel programs throughout the world.