FLORIDA HISTORY
The history of Florida after the Native American era is quite a bit more recent than most of the states in the eastern and southern states of the United States. 
Yes, it's true we have St. Augustine, the oldest continuously occupied city in the United States, but development was extremely slow after that historic founding by the first Europeans in 1565.

Even though the state is huge with a land area of almost 66,000 square miles, it was sparsely populated.
In fact it wasn't until after the U.S. Civil War ended in 1865 that things began to happen in Florida's history and early settlers began to arrive.
Many of them were from the southern states immediately north of Florida such as Alabama, Georgia, and South Carolina.
Although it is a relatively young state, there is still a lot of interesting history to learn and heritage sites to be visited.
One of the first things that struck me about Florida when I moved here was how young it was compared to the rest of the country. 
Most towns and places in Florida (other than Pensacola and St. Augustine) were settled in the years just before and after the Civil War. 
Before then, it was a barren state that many people considered to be uninhabitable.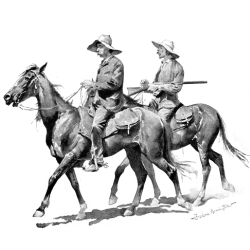 Florida Cowboys by Frederic Remington
I first lived in north Florida.  These were true southerners, and I learned a lot about Florida and the southern culture from these people. 
A good deal of Florida heritage is derived from the Old South, especially in north Florida.
---
TIMELINE HISTORY OF FLORIDA
---
The Florida history timeline begins about 12,000 years ago with the first known human inhabitants. 
There were several ancient Native American tribes that lived in Florida thousands of years before the Seminoles arrived.
These tribes are gone, but are remembered in the history of Florida.
There were at least 15 of these tribes in Florida before the Seminoles arrived in the early 1800s.
---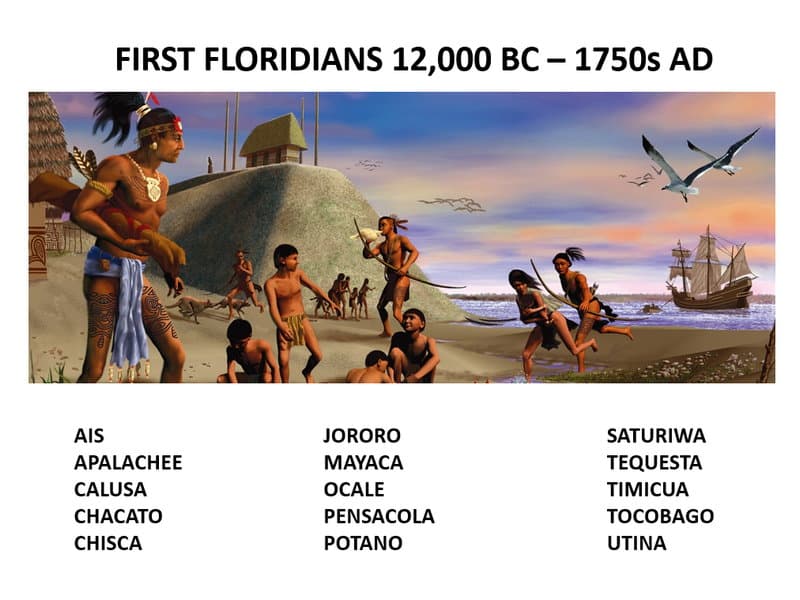 ---
THE PERIODS OF FLORIDA HISTORY
Most historians break this history of Florida down into at least 11 periods:
1. Early human inhabitants, including ancient Native American tribes that were here long before the Seminoles. Some of these include the Ais, Calusa, Tequesta and Timicua.  Today, only the Seminoles remain in Florida.
2. European exploration and colonization(1513-1565). Spanish explorer Juan Ponce de Leon landed in Florida in 1513 followed by Hernando de Soto about 25 years later.  Pensacola and St. Augustine were founded during this period.
The French explorer Jean Ribault established Fort Caroline near the mouth of the St. Johns River near Jacksonville in 1565, but it did not survive attacks from the Timicua and the Spanish explorers.
3. First Spanish Period(1565-1763). Spain had total control over the Florida peninsula for almost 200 years.  During this period the Spanish connected St. Augustine to Pensacola and extended their trail westward to California.  The Castillo de San Marcos in St. Augustine was completed in 1695.
---
---
4. British Florida(1763-1784). The British got Florida in 1763 in a land swap for Havana, Cuba after the Seven Years War(1756–63), known as the French and Indian war in American history.
5. Second Spanish Period(1784-1821). British rule ended and they left Florida after losing the Revolutionary War. The Spanish came back for another try.
6. Territorial Period(1821-1845). Spain gave Florida back to the United States. Andrew Jackson became governor, and Florida became an American territory.  Tallahassee was chosen as the capital because it was about halfway between Pensacola and St. Augustine. 
Two of the three Seminole Wars took place during this time.  Many Florida towns have "Fort" as their first name derived from the forts built during these wars.
---
---
7. Statehood(1845-1861). Most of the Seminoles were finally relocated out west, although they never surrendered.  In the 1860 Presidential election, no Floridian voted for Abe Lincoln.  Florida was deeply Southern in culture and sympathies.  Very few supported the Union.

---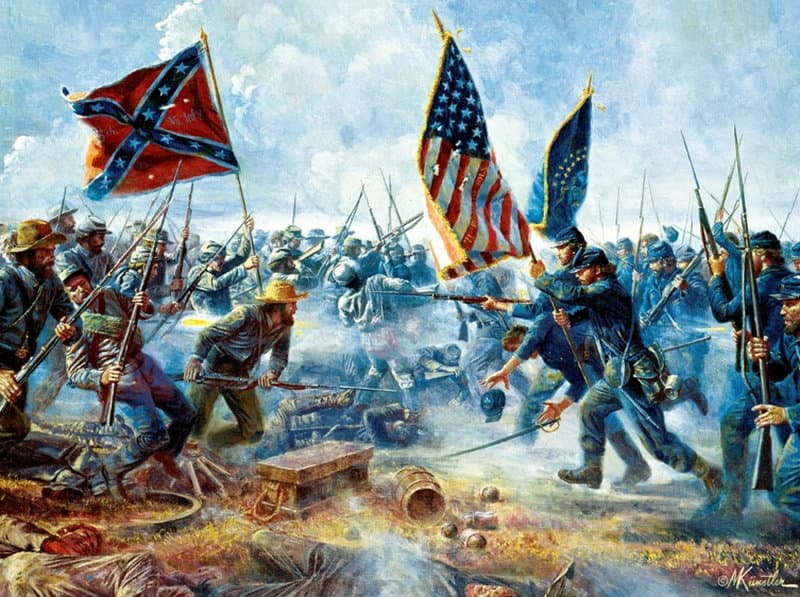 8. Civil War and Reconstruction(1861-1877). Florida was one of the Confederate States of America and was punished for it from 1865-1877 during Reconstruction.  The state was physically and financially devastated. 
Major settlement of north Florida took place during this period as families from war torn Georgia, Alabama, South Carolina and elsewhere moved to the state.
9. Florida Development(1878-1926). This was the era of steamers, railroads, dredges, swamp reclamation, new towns, cities, developments, and highways. 
Henry Flagler built his Florida East Coast Railway down the Atlantic coast and finally reached Key West in the Florida Keys in 1912.  Henry Plant extended his railroads through Central Florida to West Florida and Tampa Bay. 
The citrus industry prospered until the Great Freezes of 1894 and 1895.  Florida became a major cattle raising state.  The state was doing well in the early 1900s, and the 1920s saw a major land boom in Florida with many new towns being created.
10. The Great Depression in Florida(1926-1940). What the sorry economy didn't destroy, the 1926 Miami hurricane did.  The huge land boom of the Roaring Twenties went down with a crash.
11. World War II and the Post-war Boom(1940-2009). Army bases were turned over to Florida cities and counties after the war.  The space program began at Cape Canaveral in the late 1940s. 
Martin Marietta opened in Orlando in the 1950s.  Walt Disney World opened in 1971.  Castro's communist takeover of Cuba caused many Cubans to escape to Miami in the early 1960s.  This was followed by the infamous Marial Boatlift in 1980.
Continuous economic growth lasted until about 2008. The first year in which population did not increase was 2009.  The boom continues to the present (2022) with almost 1,000 people moving to the state each day.
---
Many of the sites and incidents discussed on this page have locations that can be visited in person.  Try this for a start:
---
---
FLORIDA HERITAGE SITES
---
The Florida Department of State organizes its heritage sites by theme of the site as well as the county it is located in.  Here are the 23 themes:
Archaeological Sites

Cemeteries and Mausoleums

Civic and Social Clubs

Commercial and Industrial

Educational Facilities and Campuses

Florida Main Streets

Gardens

Heritage Trails

Historic Attractions

Historic Bridges and Spans

Historic Districts

Historic Movie Theaters
Libraries and Archives




Maritime

Markers and Monuments

Municipal Buildings

Museums

National Historic Landmarks

Parks, Preserves, and Sanctuaries

Performing Arts

Sites of Military Significance

Sites of Religious Significance

Transportation
---
Each of Florida's 8 geographic regions has its own interesting history and historical sites, including some on the National Register of Historic Places.
These pages tell you about that history and also show you the registered historic and heritage sites in that region.  All told, Florida has 1,300 such sites.
---
---
HISTORY OF FLORIDA  LOST TOURIST ATTRACTIONS
---
A recent part of the history of Florida is the demise of so many tourist attractions that existed and flourished in the years before Walt Disney World opened in 1971.
---
Florida's railroads were a big part of its history in the years after the Civil War and for decades after.  Here is the story of one little railroad:
---
---
FLORIDA HISTORICAL SOCIETIES
---
There are hundreds of local Florida historical societies ranging from small town operations to major metropolitan organizations. 
Many of the smaller societies are staffed by volunteers who have an obvious love of history as it relates to their own communities.
The Florida Historical Society is the oldest of these, and is located in Cocoa Village, Florida.
It's collections and journal cover the history of the entire state. Even so, there are local societies that have larger collections and more members.
The Cocoa Village office has an excellent resource library and a cadre of volunteers in addition to a very small and efficient professional staff.
Their efforts help keep Florida history and heritage alive; without them we wouldn't know much about what went on before us.
More great resources are the Museum of Florida History in Tallahassee and the Florida Museum of Natural History in Gainesville.
SOME LOCAL HISTORICAL SOCIETIES
Alger-Sullivan Historical Society

 - Century

Boca Raton Historical Society - Boca Raton

Cedar Key Museum State Park - Cedar Key

Citrus County Historical Society - Inverness

Davenport Historical Society

 - Davenport

Dunedin Historical Society - Dunedin

East Hillsborough Historical Society - Plant City

Florida Baptist Historical Society - Graceville

Florida Historical Society

 - Cocoa

Geneva Historical Society - Geneva

Gulf Breeze Area Historical Society - Gulf Breeze

Historical Society of Avon Park - Avon Park

Indian Rocks Beach Hist. Society - Indian Rocks Beach

Key West Art and Historical Society - Key West

Marco Island Historical Society

 - Marco Island

Micanopy Historical Society - Micanopy

Mount Dora Historical Society - Mount Dora

Oldsmar Historic Society - Oldsmar

Osceola County Historical Society - Kissimmee

Panhandle Preservation Alliance - Florida Panhandle

Pensacola Historical Society - Pensacola

Pompano Historical Society

 - Pompano Beach

Santa Rosa Historical Society - Milton

St. Augustine Historical Society - St. Augustine

Washington County Hist. Preservation Society - Chipley

Winter Beach Historical Society - Vero Beach
---
---
FAMOUS FLORIDIANS IN HISTORY
---
Click on the photo montage above to read about the many men and woman who have had a historic impact on Florida. 
---
MORE ABOUT FLORIDA HISTORY ON THIS WEBSITE
Florida Regional History
History of University of Florida 
History of Mount Dora Florida
Famous Floridians
Famous Women in Florida History
Jackie Gleason's Grave
Florida's Celestial Railway
History of Jacksonville, Florida
History of Orlando
History of Miami
History of Vero Beach Florida
History of Key West Florida
History of Sarasota Florida
History of Tampa Florida
History of Brooksville Florida
History of Key Biscayne Florida
History of Palm Beach Florida
Florida Hurricane History
---

Our Facebook page has more than 129,275 followers who love off the beaten path Florida: towns, tourist attractions, maps, lodging, food, festivals, scenic road trips, day trips, history, culture, nostalgia, and more.  We post articles every day.  Please check it out and if you like it, we would appreciate a "like" from you.
---
By Mike Miller, Copyright 2009-2023
Florida-Back-Roads-Travel.com
Florida Back Roads Travel is not affiliated with or endorsed by Backroads, a California-based tour operator which arranges and conducts travel programs throughout the world.