SEA CRITTERS CAFE

2007 Pass-A-Grille Way
St. Pete Beach, Florida 33706
Tel:  727-360-3706
Sea Critters Cafe is one of several good places to eat in Pass-A-Grille Beach.
It's located on the Boca Ciega Bay side of the village. You can sit outside on a deck overlooking the water, or inside if it's too hot for you outside.
Outside is fun, especially at night, when the waters are glowing with underwater search lights and the fish love to swim around for you to enjoy looking at them.
During the days you can often see dolphins at play. The Cafe has a very rustic look which adds to its charm.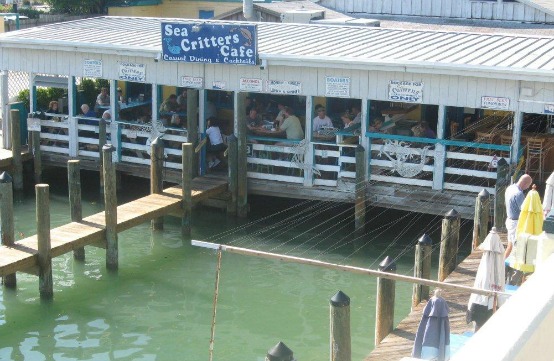 The menu is primarily seafood, as you would guess from the name, but they also have smoked ribs, pulled pork and hamburgers if you get tired of fish in this fishing oriented village. The staff is friendly and competent, and the place has a full service bar that serves great Margaritas among other specialties.
Seafood always includes the fresh catch of the day, and since this restaurant is a few minutes from the Gulf they always have something you will enjoy
Fresh seafood offerings typically served include grouper, sheepshead, swordfish and amberjack. Their seafood boil is not on the menu, but your server will tell you what is in the boil for the day of your visit.
Their Lobster Pasta entree includes tender chunks of lobster tail with fresh spinach and tomatoes sauteed in olive oil, seafood bouillon and white wine. This is served over angel hair pasta and dusted with Parmesan cheese.
You can also enjoy blue crab cakes that are grilled golden brown. Another favorite is lobster tossed with celery and herbed buttermilk dressing served on a New England style roll.
They even have Chili Con Carne. Desserts include Key Lime Pie.
---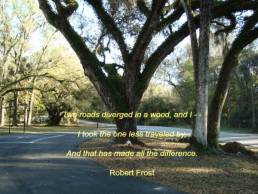 Over 65,000 followers can't be wrong. Learn about off the beaten path Old Florida, historic towns, attractions,  festivals, scenic drives and more.
Like Us On Facebook
Return From Sea Critters Cafe To Florida Restaurants