10 TINY FLORIDA TOWNS
July 20, 2020
We know many of you are limiting travel during these uncertain times.  Although we continue to feature trips and places to visit, we are not encouraging you to visit them until it is safe.  We want to support Florida's attractions and businesses during this situation, and hope you will plan to visit them when things get better.  In the meantime, enjoy them virtually from the comfort of your home. 

Although Florida is one of the fast growing states in American, there are still quite a few tiny towns that time has passed by - at least for the time being.
Here is a selection of 10 towns from various regions of the state.  Each of these towns has a population of less than 1,000 people.
---
BRINY BREEZES, 653
Briny Breezes is in Southeast Florida on State Road A1A. It is a town comprised of all mobile homes across the Intracoastal Waterway from Boynton Beach.
---
GLEN ST. MARY, 450
Glen St. Mary is in Northeast Florida on U.S. Highway 90 west of Jacksonville.  In 2004 it won an award as Florida's Outstanding Rural Community.
---
HIGHLAND PARK, 264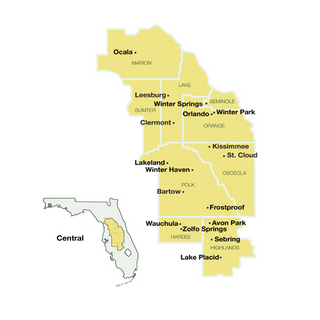 Highland Park is in Polk County in Central Florida.  It was established in 1927 as a golf course community.  The golf course is now closed, but the town lives on.
---
MCINTOSH, 490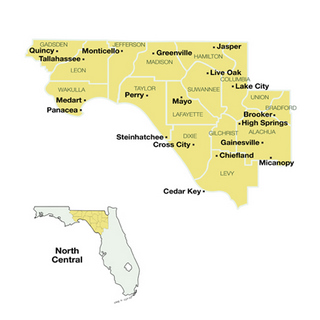 McIntosh is in North Central Florida about 20 miles south of Gainesville and 6 miles from Micanopy.  The McIntosh Historic District includes dozens of historic homes and other buildings.
---
MICANOPY, 641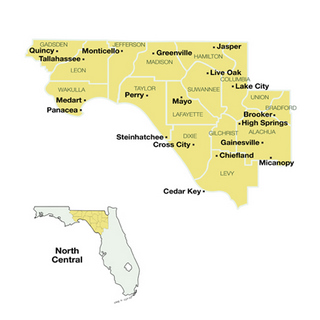 Micanopy is a historic town on U.S. Highway 441 about 14 miles south of Gainesville.  It is a quiet town where visitors enjoy browsing in the antique shops or having lunch in a small cafe.
---
PENNEY FARMS, 824
Penney Farms is a historic town in Northeast Florida established as a farming community by James Cash Penney in the 1920s.  The town today is mostly populated by retirees.
---
STEINHATCHEE, 737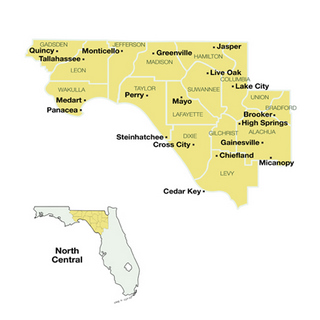 Steinhatchee is a fishing village on the Gulf Coast in North Central Florida.  It is on the Steinhatrchee River, a river that has one of Florida's few waterfalls.  The village is a great scalloping location
---
ST. MARKS, 319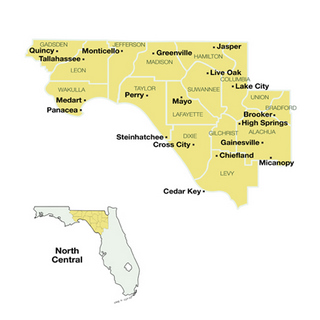 St. Marks is an historic fishing village about 20 miles south of Tallahassee on the St. Marks River.  It has a scenic lighthouse and two small restaurants.  It is on a rail to trail path.
---
WHITE SPRINGS, 767
White Springs is on the Suwannee River in Northeast Florida about 25 miles south of the Georgia state line.  It is home to Stephen Foster Folk Culture Center State Park.
---
YANKEETOWN, 519
Yankeetown is a fishing village located where the Withlacoochee River enters the Gulf of Mexico.  It is about 45 miles west of Ocala in Central West Florida.  Elvis made one of his movies here.
---
Source of population information:
Wikipedia List of Municipalities in Florida
Florida Demographics Cities by Population 
---
---
---
Our Facebook page has more than 100,439 followers who love off the beaten path Florida: towns, tourist attractions, maps, lodging, food, festivals, scenic road trips, day trips, history, culture, nostalgia, and more.
Take a look. If you enjoy what you see, please give us a like.
---
Subscribe to our Free Ezine, Florida Heritage Travel
20200720