27 BEST SOUTHWEST FLORIDA
TOWNS & CITIES
By  Mike Miller August 21, 2023

These 27 Southwest Florida towns are in the region of the state that includes Fort Myers, Naples, and much of the Florida Everglades.  
Some of these towns are along the Gulf Coast or close to it.  There are others towards the east that perch on the edge of the Everglades.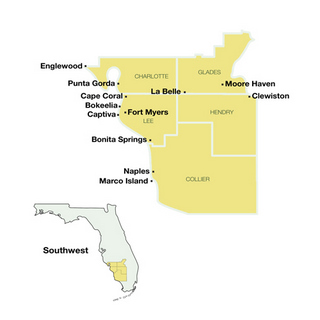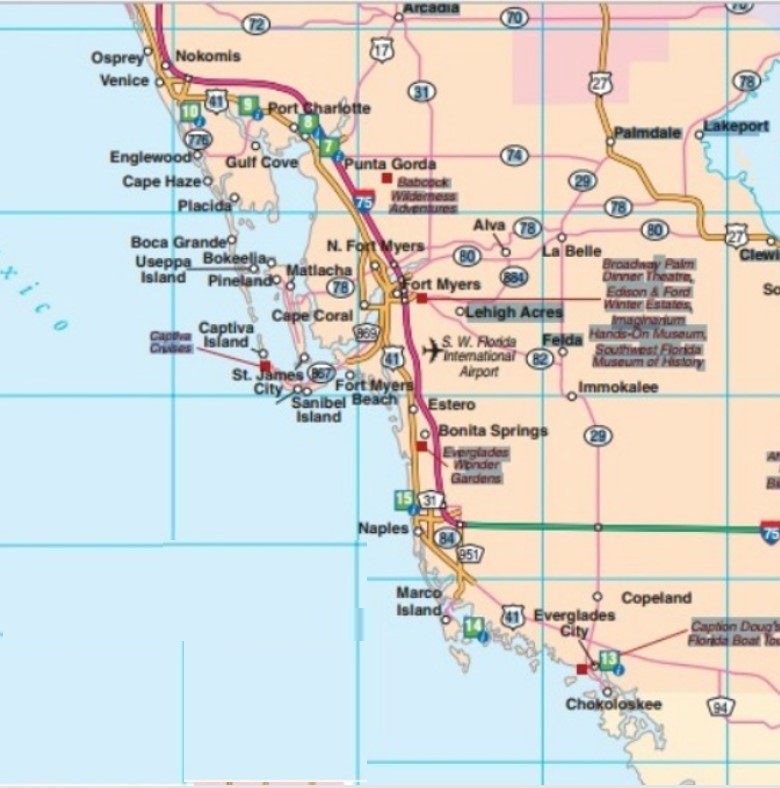 The Southwest Florida counties are Charlotte, Collier, Glades, Hendry, and Lee.
Clicking through to the individual town pages will give you information about the town's history, what it's like today, real estate, things to do, local government, lodging and restaurants.
Alva United Methodist Church
Alva is a historic town with a strong agricultural heritage. Its proximity to the Caloosahatchee River offers scenic beauty and outdoor activities, making it a haven for nature enthusiasts and those seeking a peaceful lifestyle away from the bustle.
Ave Maria Oratory
Ave Maria is defined by its connection to Ave Maria University. This planned community blends education, spirituality, and modern living, providing a distinct atmosphere with picturesque streets, a town center, and a focus on fostering knowledge and faith.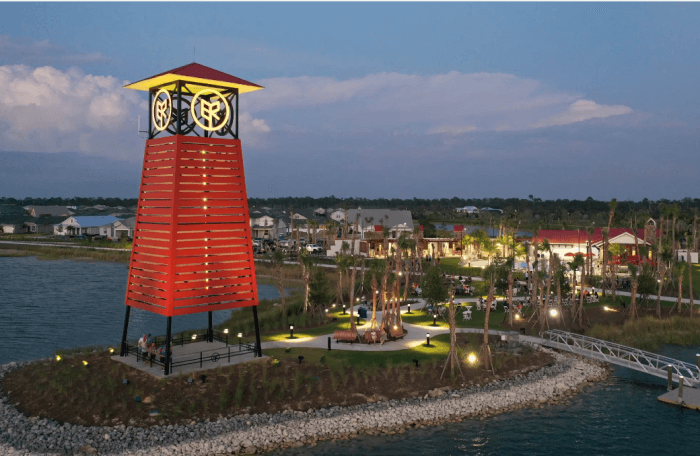 Babcock Ranch Innovation Tower
Babcock Ranch is a new planned community built on a working cattle ranch.  The new city is almost entirely solar powered and is one of the most energy sustainable cities in the state.
Port Boca Grande Lighthouse
Ebyabe
Boca Grande is a luxurious barrier island paradise. Known for its upscale ambiance, beautiful beaches, and renowned fishing opportunities, it offers a relaxed coastal lifestyle with historic charm, attracting visitors seeking relaxation and refined recreation.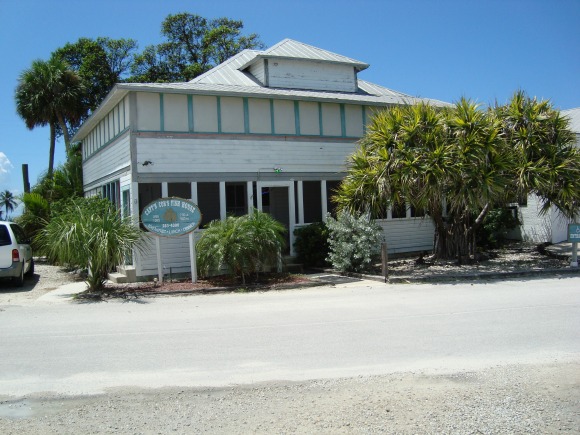 Bokeelia Captain Cons
Bokeelia, on Pine Island, is a peaceful fishing village. Embracing its waterfront setting, the town provides access to boating, angling, and a laid-back atmosphere. With its unspoiled surroundings, it's an idyllic destination for those who appreciate simplicity and natural beauty.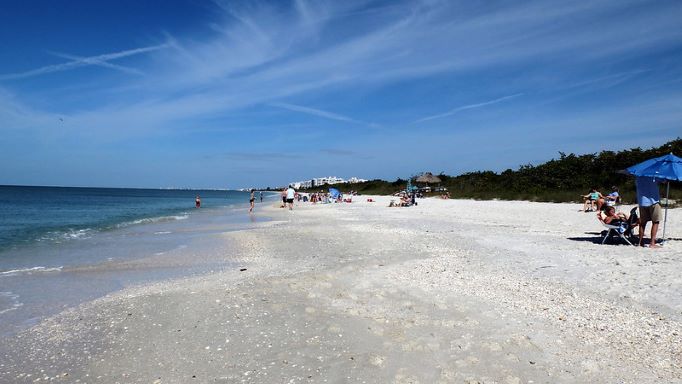 Bonita Springs Barefoot Beach
Bonita Springs boasts a blend of beachside allure and urban amenities. Its Gulf Coast location ensures stunning sunsets and recreational opportunities. The town's vibrant arts scene, local parks, and easy access to nearby Naples make it an attractive destination for residents and visitors alike.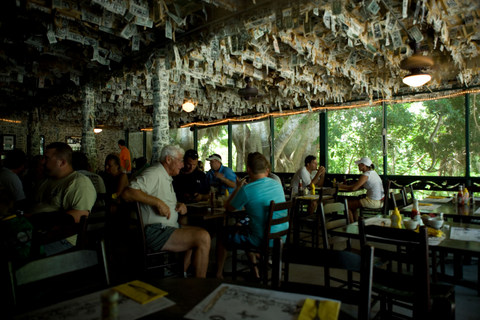 Cabbage Key Dining Room
Cabbage Key is a secluded gem accessible only by boat. With its historic inn, lush landscapes, and lack of cars, the island offers a unique escape. Visitors can savor seafood, explore nature trails, and revel in a tranquil atmosphere far from the mainland's hustle.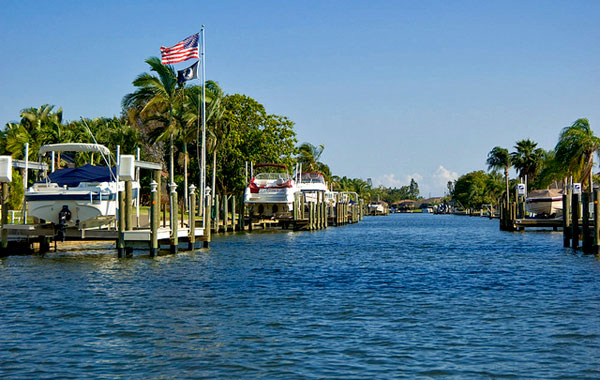 Cape Coral Canal
Cape Coral is renowned for its extensive canal system and waterfront living. The city embraces a boating culture and offers an array of recreational opportunities. With a network of parks, golf courses, and a laid-back vibe, it's a haven for outdoor enthusiasts.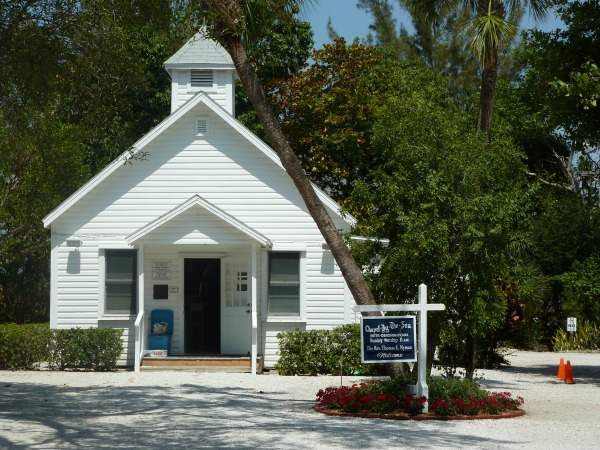 Captiva Chapel by the Sea
Captiva Island entices with its pristine beaches and upscale ambiance. Part of the Sanibel-Captiva barrier island duo, it's a place to unwind, enjoy water sports, and admire stunning sunsets. The town's charming village atmosphere complements its natural beauty.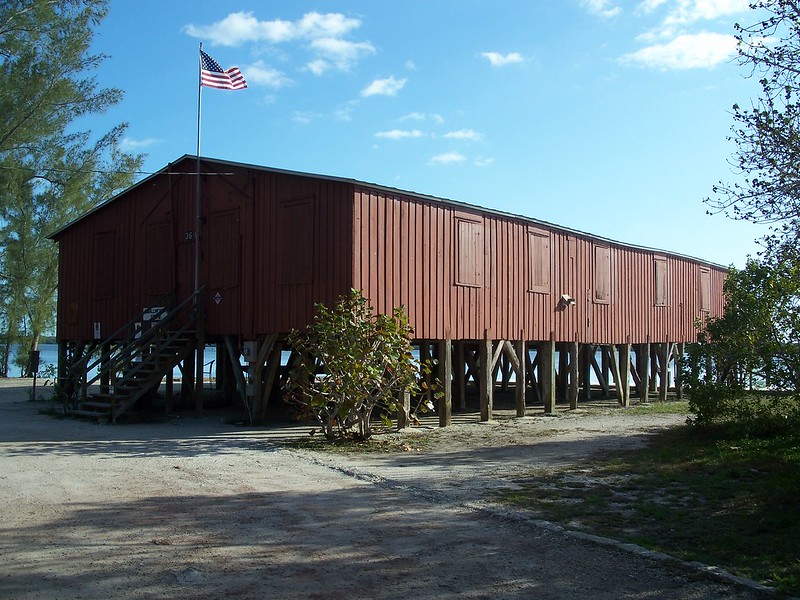 Chokoloskee Smallwood Store
Chokoloskee is an unincorporated community within Everglades National Park. Known for its rich history, it's a gateway to the Ten Thousand Islands. Fishing, birdwatching, and exploring the untamed wilderness define its unique appeal.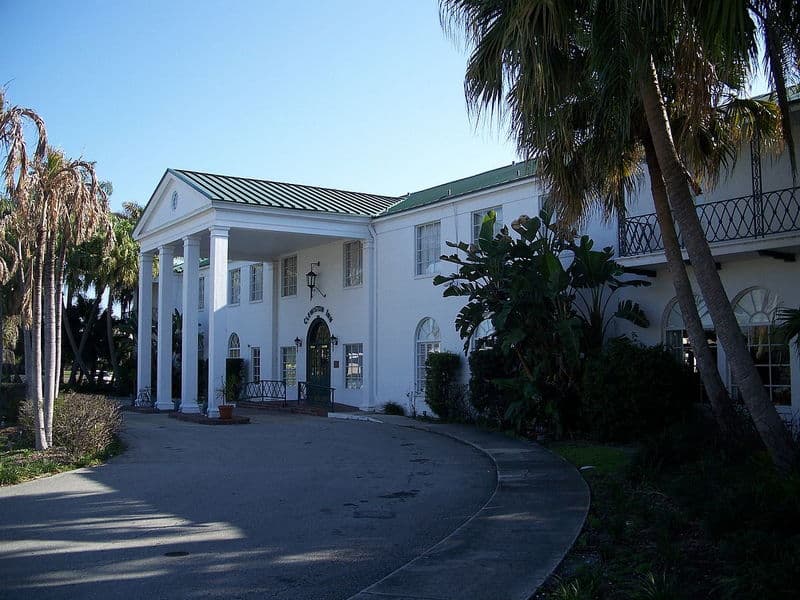 Clewiston Inn
Clewiston is the "America's Sweetest Town," as it's home to sugarcane fields and a sugar mill. Nestled near Lake Okeechobee, it offers outdoor recreation, fishing, and a glimpse into Florida's agricultural heart.
Englewood Aerial
Englewood boasts beautiful beaches and a relaxed coastal lifestyle. Its Old Florida charm is evident in its artist community, quaint downtown, and proximity to natural attractions like Stump Pass Beach State Park.
Everglades City Hall
Wikimedia
Everglades City is the western gateway to the Everglades and Ten Thousand Islands. A haven for ecotourism, it's known for airboat tours, fishing, and a deep connection to the surrounding wilderness.
Downtown Fort Myers on the Caloosahatchee River
Fort Myers blends historical significance with modern amenities. The winter estates of Thomas Edison and Henry Ford, along with a lively downtown River District, contribute to its cultural and recreational appeal.
State Road 29 Bridge Over Caloosahatchee River
LaBelle is a charming town along the Caloosahatchee River. Known for its agricultural heritage, it offers a small-town atmosphere, local events, and a glimpse into Florida's rural lifestyle.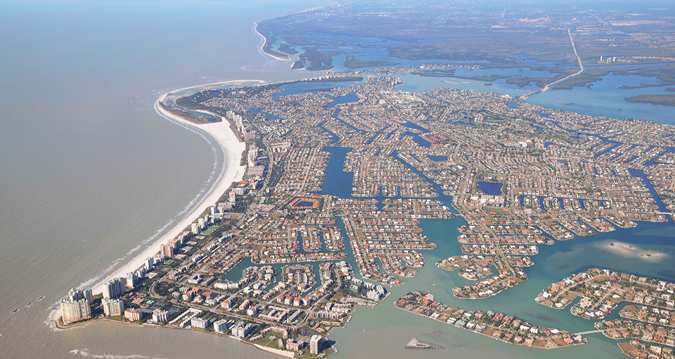 Marco Island Modern Aerial
Marco Island presents a luxurious Gulf Coast retreat. Unspoiled beaches, upscale resorts, and a range of water activities define its allure, while its laid-back ambiance invites relaxation and rejuvenation.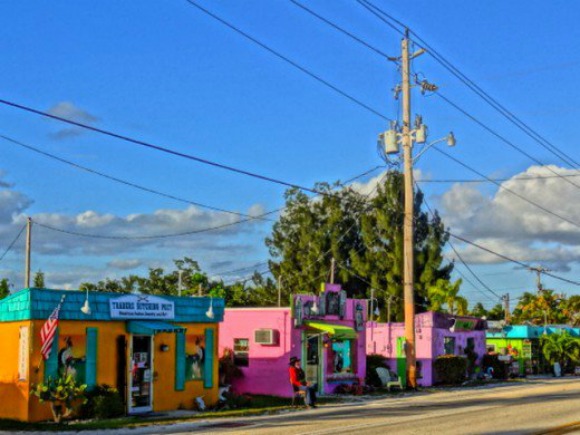 Matlacha Shops and Restaurants
Matlacha, on Pine Island, is an artsy and vibrant community on Matlacha Pass. Its colorful buildings, art galleries, and fishing culture create a unique atmosphere that appeals to both artists and outdoor enthusiasts.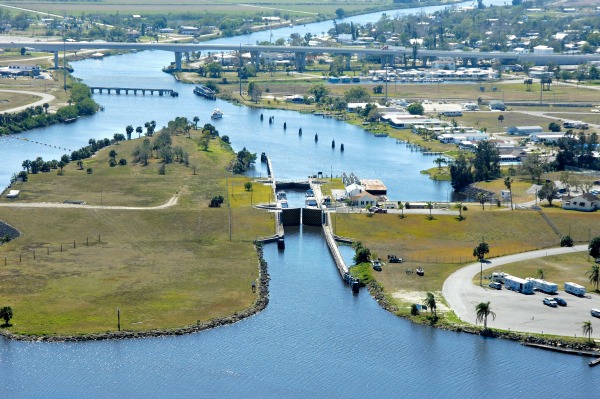 Moore Haven Lock and Dam
Moore Haven is nestled along the Caloosahatchee River and Lake Okeechobee. Known for its fishing and recreational opportunities, it provides a peaceful escape with access to Florida's freshwater treasures.
Naples Banyan Tree
Naples epitomizes upscale living on the Gulf Coast. Its unspoiled beaches, high-end shopping, cultural attractions, and renowned golf courses make it a destination for those seeking refinement and leisure.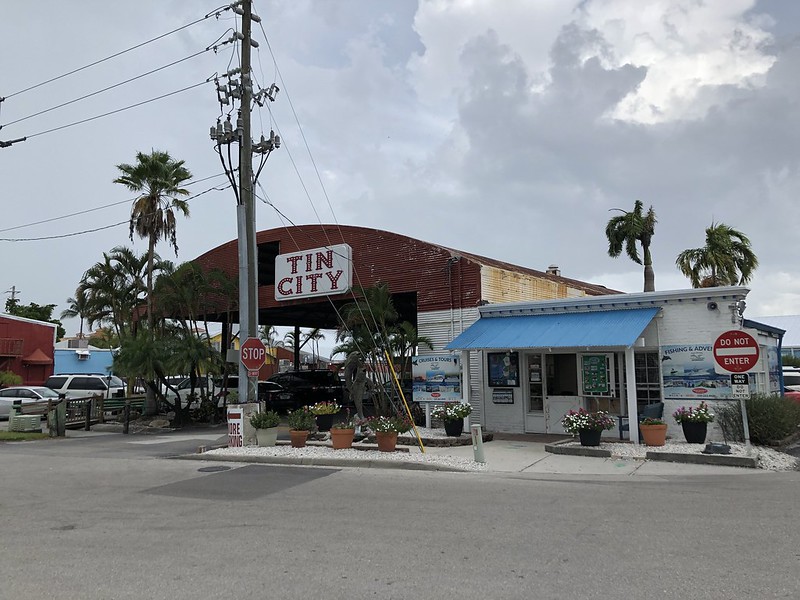 Old Naples Tin City
Old Naples is the historic section of Naples.  It is characterized by upscale living, dining, and shopping experiences.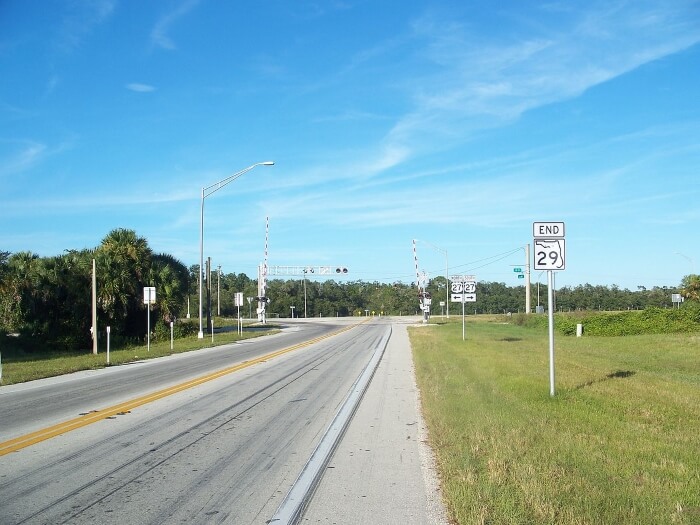 Palmdale Intersection SR29 US27
Palmdale reflects the rural lifestyle of Florida's heartland. Surrounded by agricultural lands and a strong sense of community, it offers a serene atmosphere far from the city's hustle.
Tarpon Lodge on Pine Island
Pine Island captures the essence of Old Florida with its fishing villages, natural beauty, and bohemian spirit. It's a haven for artists, anglers, and those who appreciate the unspoiled charm of island living.
Pineland Post Office
Pineland is a historic and tranquil community on Pine Island. Home to the Calusa Heritage Trail, it offers insights into Native American history and provides access to boating, fishing, and nature exploration.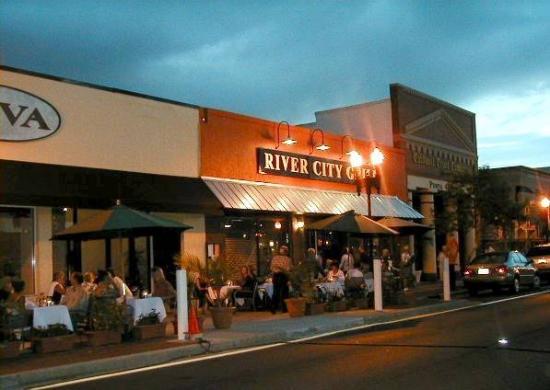 Punta Gorda Downtown River City
Punta Gorda combines historic charm with a thriving waterfront downtown. With a strong arts scene, parks, and a focus on sustainability, it offers a blend of cultural experiences and outdoor recreation.
Sanibel Island Lighthouse
Sanibel Island is renowned for its shell-strewn beaches and conservation efforts. The J.N. "Ding" Darling National Wildlife Refuge, coupled with its laid-back island atmosphere, makes it a sanctuary for nature enthusiasts.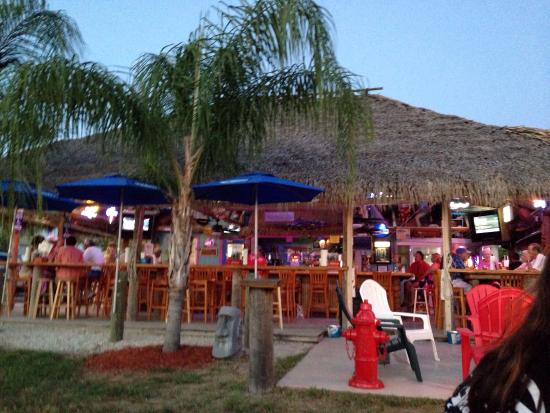 Pine Island St James City Low Key Tiki
St. James City exudes a relaxed fishing village vibe. Surrounded by waterways, it's a hub for boating, fishing, and waterfront dining, capturing the essence of waterfront living.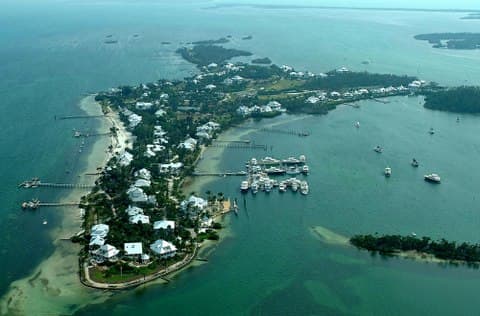 Useppa Island Aerial View South
Useppa Island is a private island paradise accessible only by boat. With a historic club, charming cottages, and a focus on preserving its natural beauty, it's a retreat for those seeking exclusivity and tranquility.
---

Our Facebook page has more than 128,577 followers who love off the beaten path Florida: towns, tourist attractions, maps, lodging, food, festivals, scenic road trips, day trips, history, culture, nostalgia, and more.  We post articles every day.  Please check it out and if you like it, we would appreciate a "like" from you.
---
By Mike Miller, Copyright 2009-2023
Florida-Back-Roads-Travel.com
Florida Back Roads Travel is not affiliated with or endorsed by Backroads, a California-based tour operator which arranges and conducts travel programs throughout the world.