18 BEST NORTHEAST FLORIDA
TOWNS AND CITIES
By  Mike Miller July 15, 2023

These Northeast Florida towns are in the region of the state that includes Jacksonville, St. Augustine, and a lot of towns on the Atlantic Ocean and St. Johns River.
The Northeast Florida counties are Baker, Clay, Duval, Flagler, Nassau, Putnam, and St. Johns.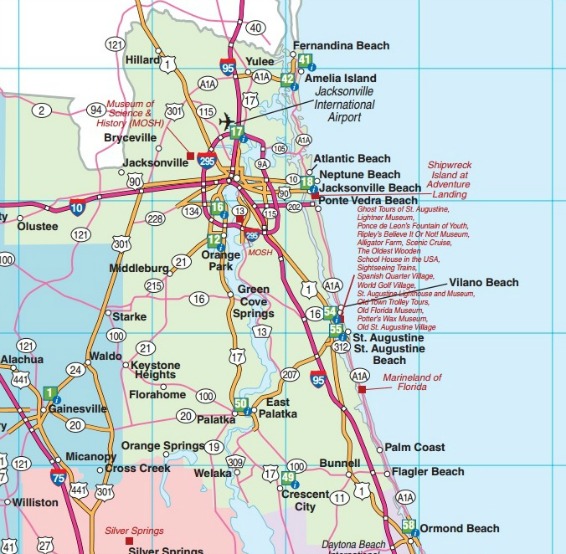 Map of Northeast Florida
Clicking through to the individual town pages will give you information about the town's history, what it's like today, real estate, things to do, local government, lodging and restaurants.
This historic Amelia Island community was founded by an early African-American insurance executive as a resort for black Floridians during the segregated Jim Crow era. Today there are many nice beach houses and a historic museum.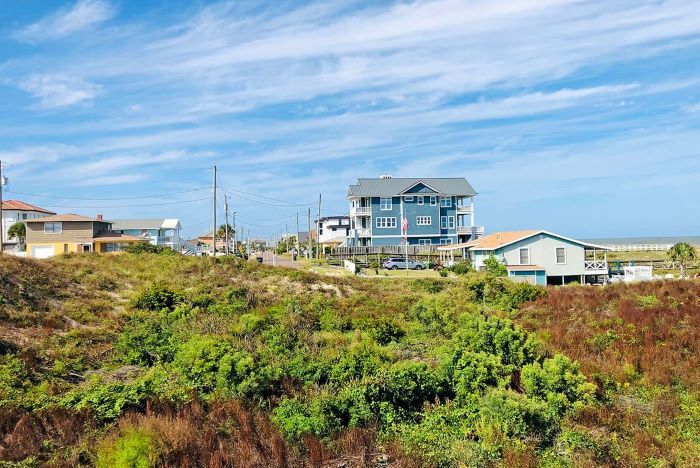 American Beach
This small city is located on Crescent Lake.  The lake, noted for its excellent bass fishing, is actually an arm of the St. Johns River. The lake and the river are connected by a large creek, Dunn's Creek.  There is a nice downtown restaurant on the waterfront.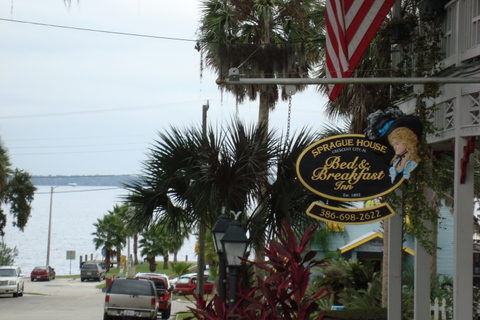 Crescent City
This small village west of the mega-community of Palm Coast has a historic brick road.  Known as the Espanola Old Brick Road, it extends through the unpopulated pine woods along what was once the path of the original Dixie Highway that connected Chicago to Florida.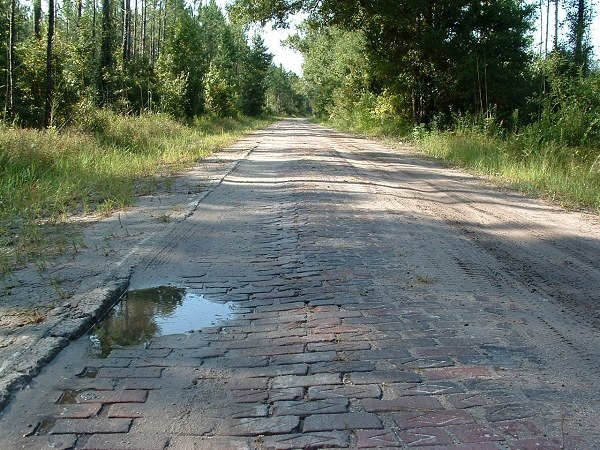 Espanola Old Historic Brick Road
Fernandina Beach is as far north as you can go on Florida's Atlantic Coast.  It is located at the mouth of the St. Marys River and is one of the state's oldest cities.  It was a major port in the early days and the beginning place of the state's first railroad. Fishing and tourism are major industries today along with paper mills.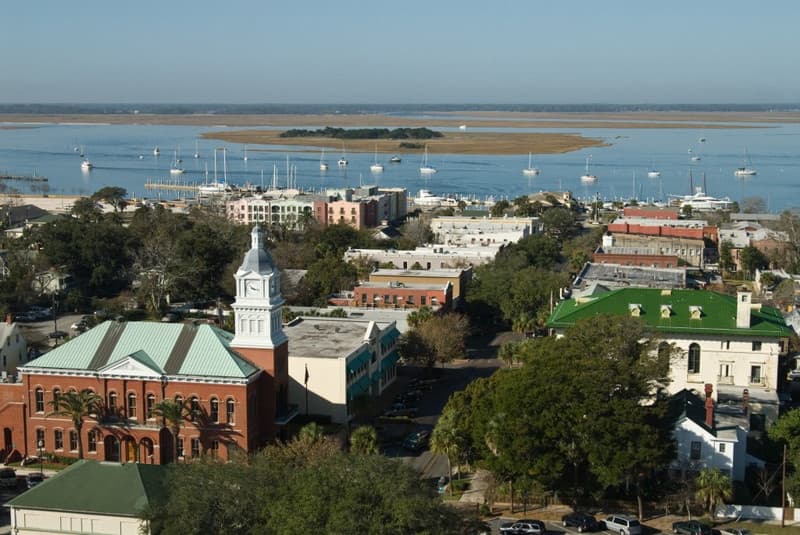 Fernandina Beach
The historic pier here was badly damaged by a recent hurricane, but the restaurant at the land side is still open. This beach town is unique in Florida because there are no high rises directly on the ocean.  The route of State Road A1A does not leave enough room for that between the road and the beach.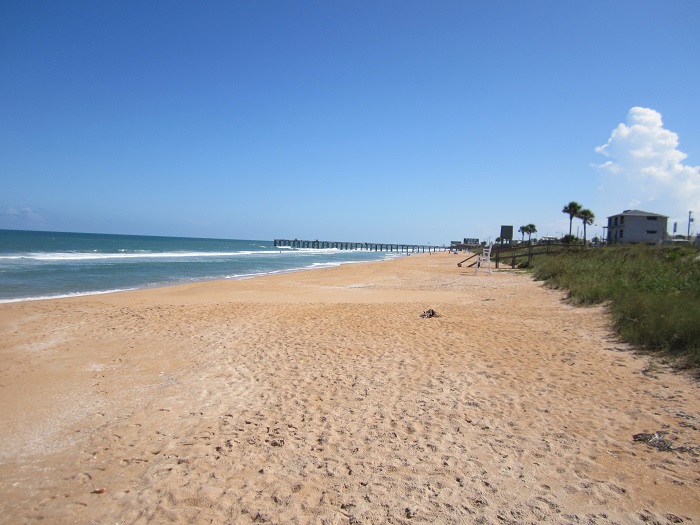 Flagler Beach
This tiny town was once the headquarters for a major 1600 acre nursery company.  They grew Satsuma Oranges, Temples, Kumquat and Magnolia.  Today it is a quiet little place that was named "Rural Community of the Year" in 2004.  Not much has changed since then.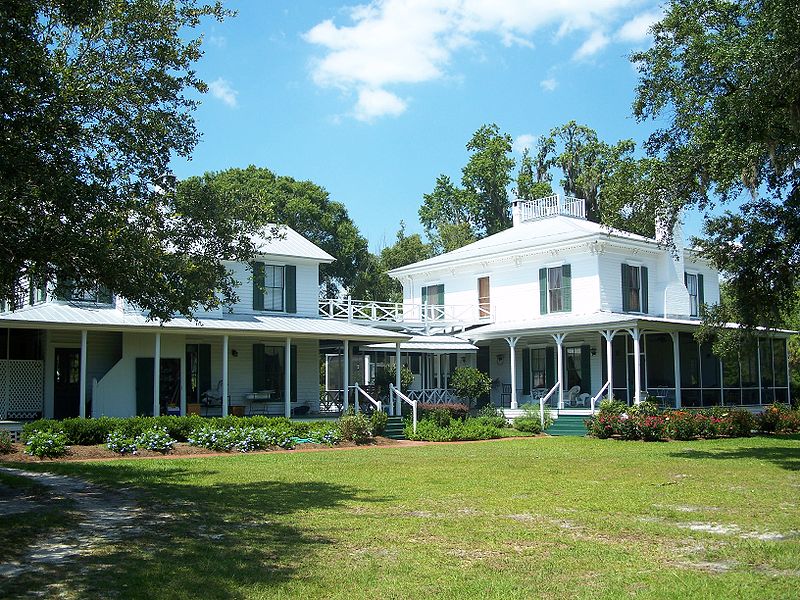 Glen St. Mary Nursery
This bustling small city is on the St. Johns River.  At the close of World War Two it became home to a major U.S. Navy "Mothball Fleet".  The fleet is now gone, but major docks and shipyard activity remain.  Downtown is a quiet community between US-17 and the river.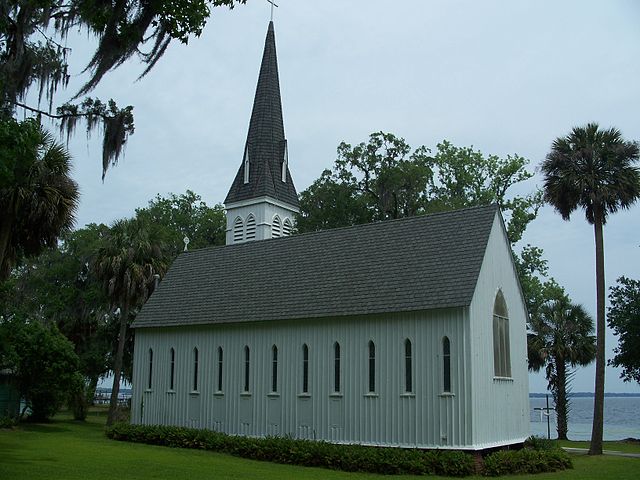 St. Mary's Church, Green Cove Springs
More than a century ago, the historic town of Interlachen was a significant citrus growing center.  Back to back freezes near the end of the nineteenth century ended that era.  Today this quiet little place is a residential town with many old buildings, some of which have been restored.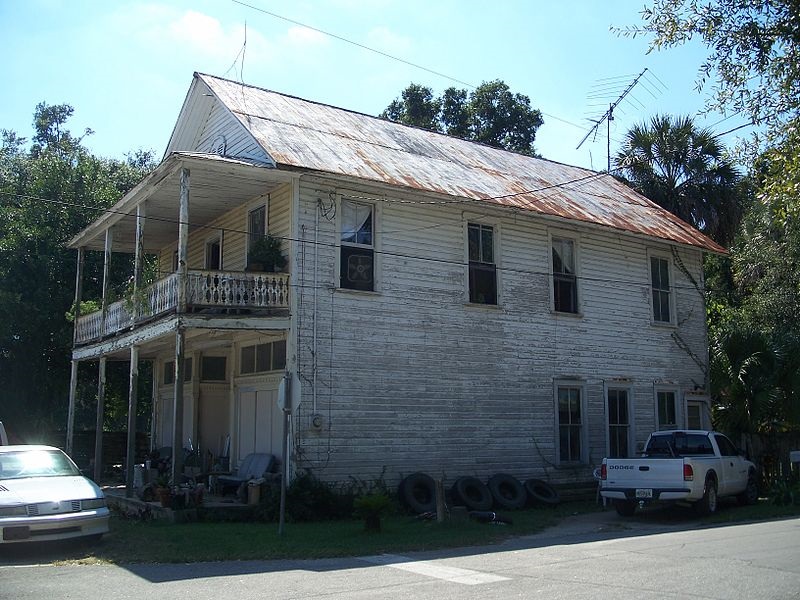 Old Brush General Store, Interlachen
Jax is the largest city by land area in the United States and the most populous in Florida.  It is a major shipping port, and has more industry than most Florida towns. 
Its downtown is along the St. Johns River and the city has all of the amenities and services of most large cities. The city has two major universities:  Jacksonville University and the University of North Florida.  The Mayo Clinic has a large hospital here.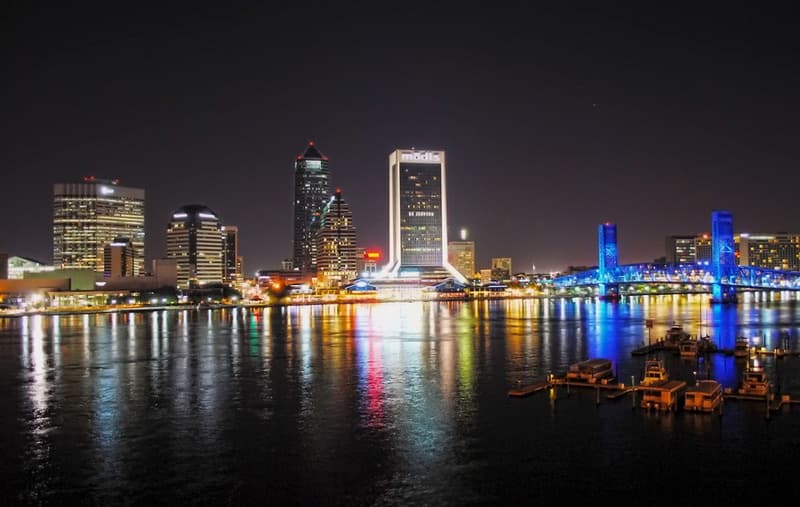 Downtown Jacksonville at Night
Like so many Florida towns, Keystone Heights began as a resort oriented land development project back in the day. Today it is a quiet place with a strong sense of community and several small businesses typical of a rural town.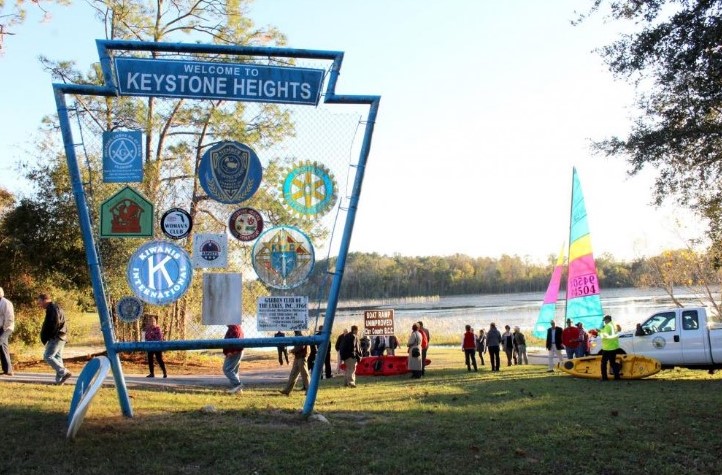 Keystone Heights Boat Ramp
Macclenny is the first major city west of Jacksonville.  It is a historic community with many well preserved older buildings and a busy downtown business district.  Glen St. Mary is its quiet little neighbor next door to the west.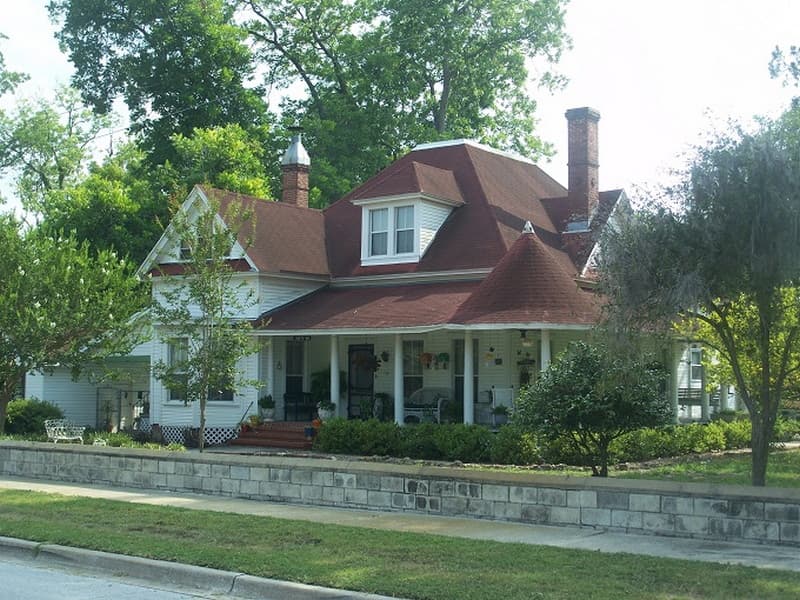 Dorman House, Macclenny
Mandarin was named for the oranges that once grew here in the days before the big freezes at the end of the 1890s.  It is surrounded now by subdivisions but has retained its quiet charm.  It was the winter home of Harriet Beecher Stowe, the author of "Uncle Tom's Cabin."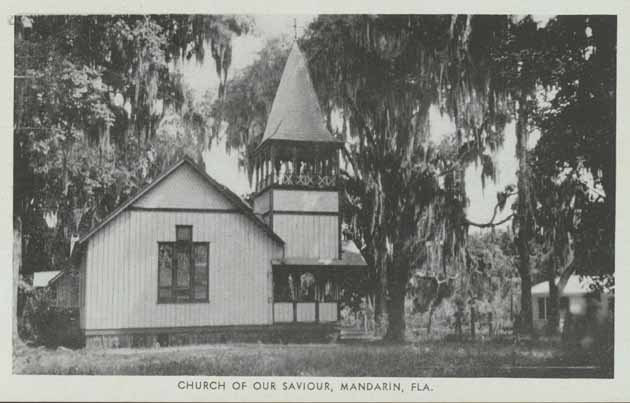 Church of our Saviour, Mandarin
Marineland is not only a historic tourist attraction that dates back to 1938, it is an incorporated village and one of the smallest in Florida.  Today it is a minor attraction and is still an active marine research center. It is on the barrier island that separates the Atlantic Ocean from the Intracoastal Waterway.
Marineland Aerial in the Past
Mayport is a fishing village east of Jacksonville near the mouth of the St. Johns River.  It is a small community with a good seafood restaurant, and is also the location of a car ferry across the river to Fort George Island and the extension of State Road A1A north to Fernandina.  It is also the location of a major U.S. naval air station.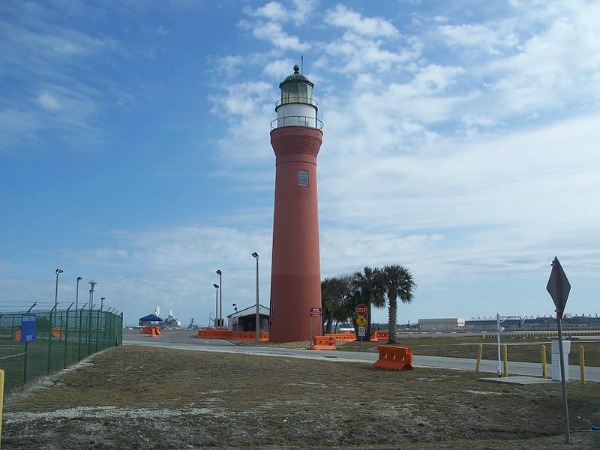 St. Johns River Lighthouse, Mayport
Palatka is located at a strategic bend in the St. Johns River that marks the end of deep water and the beginning of shallower waters south of town.  This made Palatka a major early deepwater port when the river was the main transportation route along eastern Florida.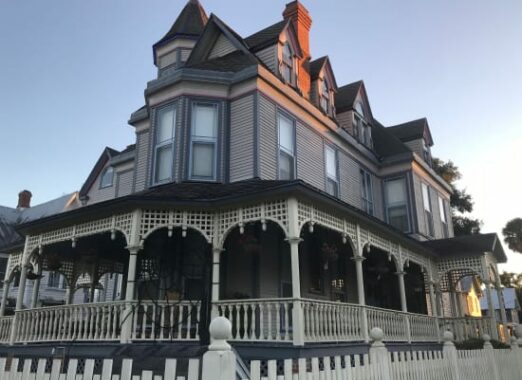 Sherman Conant House, Palatka
J. C. Penney did well enough with his stores that he decided to start a large farming community on acreage he bought west of Green Cove Springs.  The Great Depression hurt him financially and he sold most of the land.  Some of it he dedicated to what is now the Penney Farms Retirement Community.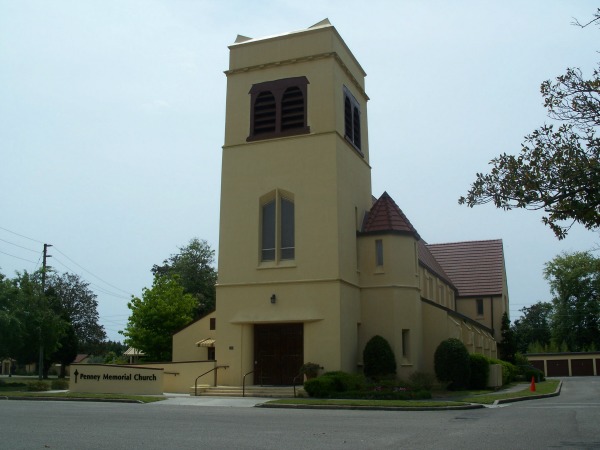 Memorial Church, Penney Farms
Known as the Ancient City, St. Augustine was established by the Spanish in 1565 and has been continually occupied ever since.  The city centerpiece is the historic Castillo San Marcos, and it is a treasure trove of ancient well preserved buildings.  It is loaded with great beaches, fine hotels, many restaurants, and Flagler College located in what was the historic Hotel Ponce de Leon.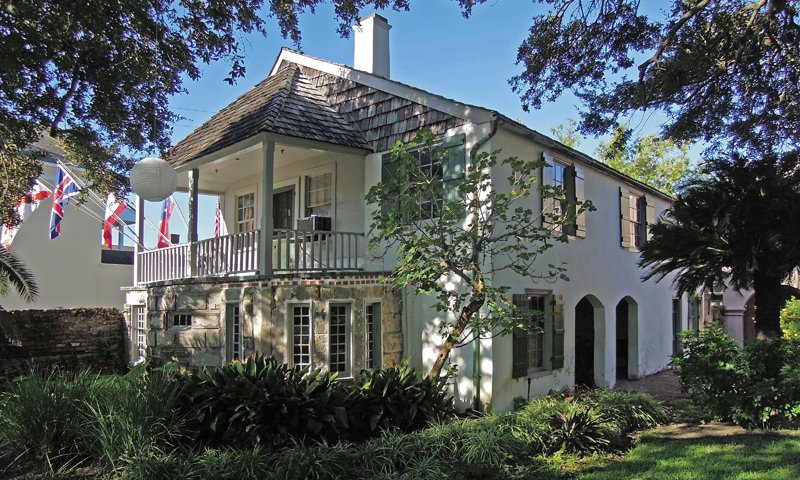 St. Augustine Oldest House
This tiny village on the east bank of the St. Johns River is a quiet place for relaxing and fishing.  It has largely escaped the busy pace of many of its Northeast Florida neighbors.  There are a couple of small resorts here and at least one good restaurant.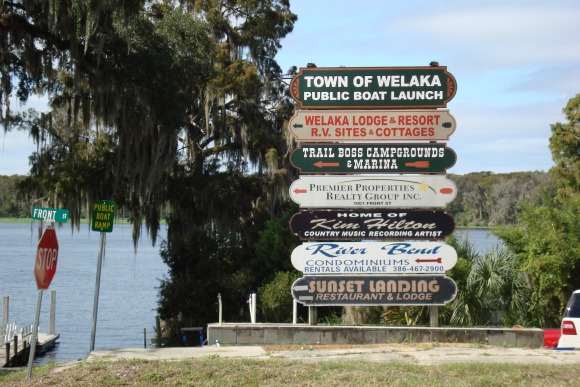 Welaka Sign on St. Johns River
There are a lot of interesting scenery and places to visit in Northeast Florida.  Check out our recommendations at:
Northeast Florida Day Trips and Scenic Drives
Jacksonville Florida Attractions Within 100 miles
---
---

Our Facebook page has more than 128,577 followers who love off the beaten path Florida: towns, tourist attractions, maps, lodging, food, festivals, scenic road trips, day trips, history, culture, nostalgia, and more.  We post articles every day.  Please check it out and if you like it, we would appreciate a "like" from you.
---
By Mike Miller, Copyright 2009-2023
Florida-Back-Roads-Travel.com
Florida Back Roads Travel is not affiliated with or endorsed by Backroads, a California-based tour operator which arranges and conducts travel programs throughout the world.