46 BEST STATE AND NATIONAL PARKS
TO KAYAK IN FLORIDA
By  Mike Miller September 29, 2023

If you are a kayaker, you no doubt have your own private list of what you consider to be the best places to kayak in Florida. 
There are thousands of possibilities in the Sunshine State with its extensive shoreline, springs, creeks, marshes, rivers, and lakes.
Transparent Kayak From Hammacher Schlemmer
My favorite spots are public parks and preserves. 
I like to be able to camp during kayaking adventures, and have always enjoyed Florida State Parks because of their unspoiled nature and creature comforts.
Timeout Camper
My list includes places where I can bring my tiny camping trailer and spend a night or two while exploring the area in a kayak.  Many parks rent kayaks so you can leave yours at home.
---
ANASTASIA STATE PARK
1340-A A1A S.
St. Augustine, Florida 32080
904-461-2033
Anastasia State Park, located on Anastasia Island in Florida in St. Augustine, is a jewel for kayaking enthusiasts, with water trails through Salt Run, a tidal salt marsh.
This body of water is a superb location for paddlers to explore the vibrant and rich ecosystem harboring extensive flora and fauna.
As kayakers paddle through, they might be greeted by the sight of ospreys soaring overhead or witness schools of fish gliding underneath the water's surface.
The park's extensive mangrove systems provide a habitat for wading birds and diverse marine life. The lush seagrasses and aquatic vegetation form a serene backdrop, enhancing the paddling experience.
BAHIA HONDA STATE PARK
36850 Overseas Hwy.
Big Pine Key, Florida 33043
305-872-2353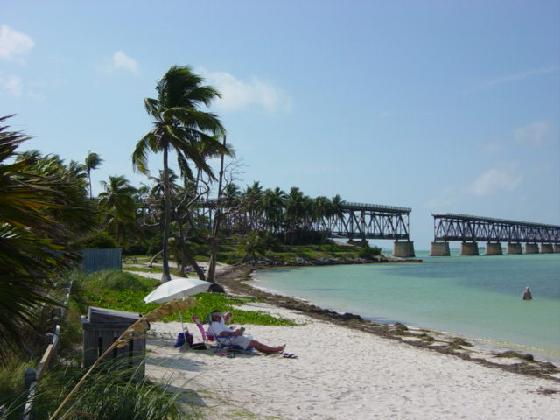 Bahia Honda State Park
Bahia Honda State Park in the Florida Keys presents incomparable kayaking opportunities with crystal clear waters surrounding the park.
Paddlers here usually embark on a journey through the channels and open waters of the Atlantic Ocean and the Gulf of Mexico, providing many different experiences, from tranquil paddles to more exhilarating ones due to ocean currents. 
The park is a hub of biodiversity; kayakers are likely to encounter diverse marine life including colorful reef fish, dolphins, and sea turtles.
BIG LAGOON STATE PARK
12301 Gulf Beach Highway
Pensacola, Florida 32507
850-492-1595
Big Lagoon State Park near Pensacola in northwest of Florida is a gateway to the Great Florida Birding and Wildlife Trail, presenting kayakers with the chance to navigate through the sheltered waters of Big Lagoon. The lagoon separates the mainland from Perdido Key.
Paddling through the calm waters of the lagoon gives kayakers a chance to see a diverse array of birds like herons, egrets, and pelicans, while the surrounding pine flatwoods and saltwater marshes harbor various dry land wildlife like deer and raccoons.
The abundance of seagrass beds serves as a cradle for marine life, offering a glimpse of fishes, crabs, and other aquatic species. 
BISCAYNE BAY AQUATIC PRESERVE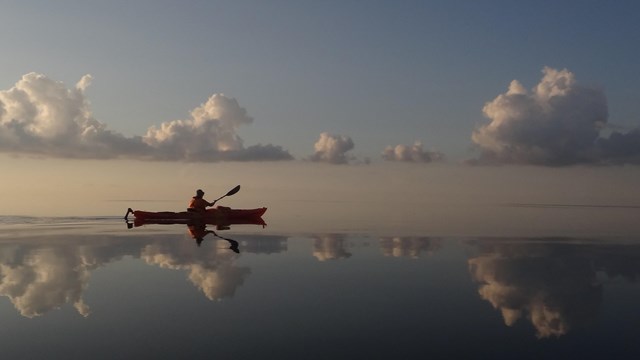 Kayaking on Biscayne Bay
Biscayne Bay Aquatic Preserve in near Key Biscayne offers kayakers a chance to explore a diverse and vibrant underwater world as they paddle through the calm, clear waters of Biscayne Bay.
The extensive seagrass beds beneath the bay's surface are teeming with abundant marine life, including various species of fish, manatees, and sea turtles.
The mangrove shorelines are a refuge for birds and other wildlife, allowing paddlers to observe them in their natural habitats. 
BISCAYNE NATIONAL PARK
Homestead, Florida

Elliot Key
Biscayne National Park is almost entirely under water and provides extraordinary kayaking opportunities in the crystalline waters of Biscayne Bay. Kayakers can venture through coral reefs and mangrove shorelines.
These South Florida tranquil waters are home to vibrant coral formations and a spectrum of marine creatures such as colorful fishes, dolphins, and lobsters.
The park's islands are rich with tropical foliage, offering paddlers a scenic view and a chance to observe a variety of bird species and other wildlife. 
BLACKWATER RIVER STATE PARK
7720 Deaton Bridge Road
Holt, Florida 32564
850-983-5363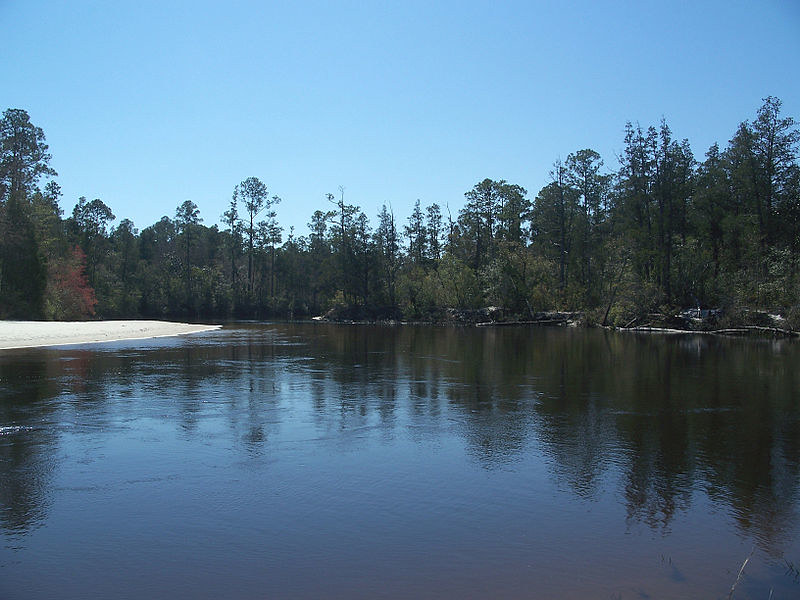 Blackwater River
Blackwater River State Park near Milton is a haven for those seeking adventures in kayaking in North Florida, offering an enticing journey through the tannin-tinted waters of the Blackwater River.
The river gets its name from its darkly stained waters from the leached tannins of fallen leaves.
As paddlers navigate the gentle currents and sandy bottoms, they are surrounded by the lush, riverside vegetation and towering pine and cedar trees, home to a variety of birds and terrestrial wildlife like squirrels and deer. 
BLUE SPRING STATE PARK
2100 West French Avenue
Orange City, Florida 32763
386-775-3663
Manatees in Blue Spring
Blue Spring State Park in Orange City is renowned for its eponymous, crystal-clear first magnitude spring, making it a preferred destination for kayakers seeking a tranquil paddling experience.
Paddlers in this park find themselves surrounded by lush subtropical vegetation as they glide over the spring's serene clear waters. 
Manatees are a common sight, especially during the winter months. The neighboring woodlands harbor diverse wildlife including a variety of birds, turtles, and alligators. 
CALADESI ISLAND STATE PARK
# 1 Causeway Blvd.
Dunedin, Florida 34698
727-469-5918
Caladesi Island State Park near Dunedin is a secluded island offering pristine kayaking experiences through its unspoiled waterways, surrounding mangroves, and the Gulf of Mexico.
As kayakers travel along these quiet waters, they are likely to witness diverse marine life including dolphins, mullets, and an array of shorebirds.
The island is enveloped with diverse vegetation, featuring palm trees, seagrasses, and mangroves, creating an enchanting backdrop for kayakers. 
EVERGLADES NATIONAL PARK
Various Entrance Locations
Everglades City, Homestead
305-242-7700
Everglades Aerial View
Everglades National Park is a vast wilderness and a treasure trove for kayaking aficionados, offering a network of waterways, mangrove tunnels, and open waters in Florida Bay. Everglades City is a good place to start in this giant park.
Paddlers navigating through this maze of channels and estuaries are granted up-close encounters with the park's abundant wildlife, including alligators, manatees, a plethora of bird species, and diverse fish populations.
The surrounding sawgrass marshes, mangrove forests, and tropical hammocks house unique flora, adding to the park's magic appeal.  Invasive Burmese pythons may be spotted, but they are masters at hiding. 
FAKAHATCHEE STRAND PRESERVE STATE PARK
P.O. Box 548
Copeland, Florida 34137
239-695-4593
Fakahatchee Strand Preserve State Park in Florida is a realm of swamps and sloughs, allowing kayakers to explore the mysterious, waterlogged world of the largest bald cypress strand in the world.
Paddlers here navigate through the slow-moving waters surrounded by dense vegetation, including royal palms, ferns, orchids, and bromeliads.
The park is a habitat for a variety of wildlife such as Florida panthers, black bears, and many bird species. 
FAVER-DYKES STATE PARK
1000 Faver Dykes Road
St. Augustine, Florida 32086
904-794-0997
Near Faver Dykes State Park
Faver-Dykes State Park, located on Pellicer Creek across the Intracoastal Waterway from Marineland, offers great kayaking opportunities. The park is connected to the Matanzas River through a network of tidal creeks and marshes. 
Kayakers can paddle for hours witnessing the untouched natural beauty. The water bodies here are renowned for viewing an array of wildlife including river otters, marsh rabbits, and countless bird species.
Vegetation ranges from spartina marsh grasses, to the upland pines and hardwoods. The unique overlap of subtropical and temperate plant communities gives visitors the opportunity to see live oaks covered in resurrection fern, saw palmettos, and even rare carniverous pitcher plants. You can paddle up to a historic site and park, Princess Place Preserve.
FISHEATING CREEK WILDLIFE MANAGEMENT AREA
1585 US Hwy 27
Venus, FL 33960
Near Palmdale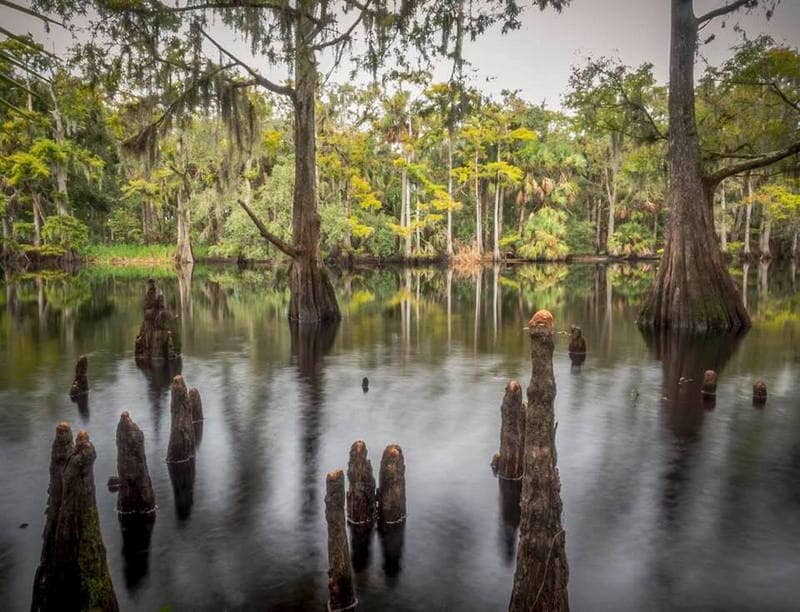 Fisheating Creek
Fisheating Creek Wildlife Management Area, a remarkable natural preserve near Palmdale, is a hub for outdoor enthusiasts including kayakers. 
It is well-known for its clear tannin-stained waters winding through cypress swamps and hardwood hammocks, providing paddlers with access to Fisheating Creek. The creek meanders southeast to Lake Okeechobee. 
The creek is a haven for a wide array of wildlife including alligators, turtles, and diverse species of fish and birds like egrets and herons. 
FORT DESOTO PARK
South of St. Petersburg
727-582-2267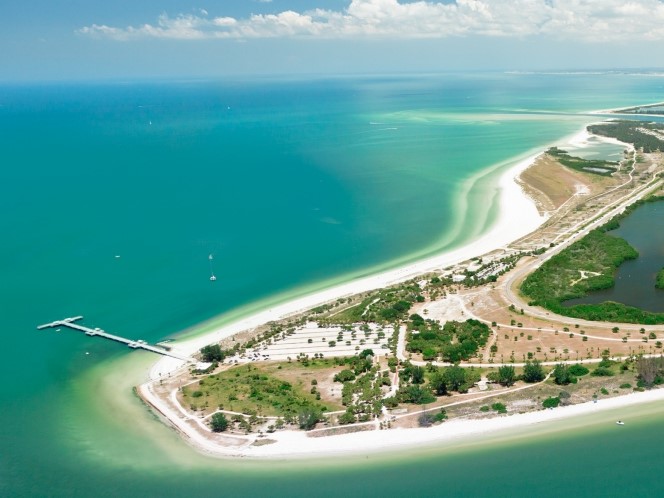 Fort DeSoto Park
Fort DeSoto Park on the barrier island at the mouth of Tampa Bay is a great place to kayak.  It has many calm inlets, mangrove canopies, and extensive water trails that offer diverse routes for paddlers of all experience levels.
Kayakers here typically navigate through the park's interconnected water bodies, including the Gulf of Mexico and Tampa Bay, where they can revel in the striking scenery and encounter rich biodiversity.
The park's mangroves serve as a sanctuary for species of birds like ospreys and pelicans, and the sheltered shallow waters are bustling with marine life.
FORT PIERCE INLET STATE PARK
905 Shorewinds Drive
Fort Pierce, Florida 34949
772-468-3985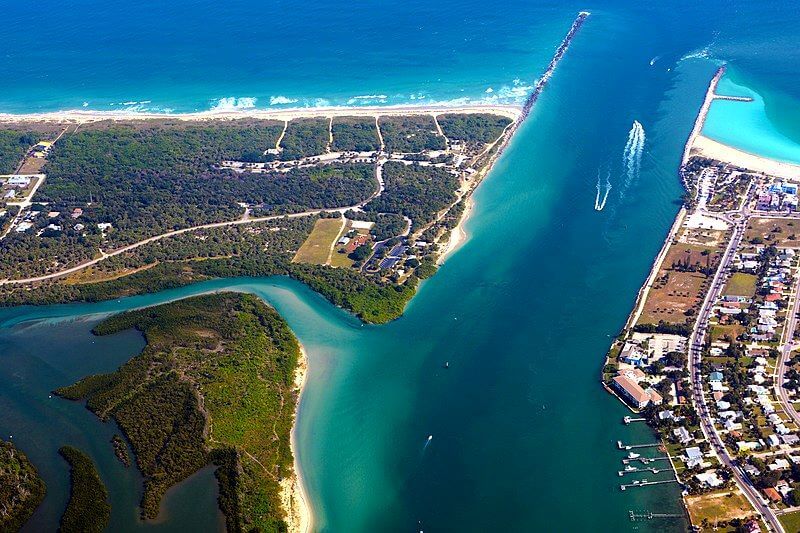 Fort Pierce Inlet
Fort Pierce Inlet State Park is on the north side of the channel leading from the Atlantic Ocean into the Indian River Lagoon and Fort Pierce. Paddlers can start in Fort Pierce Inlet.
The marine environment around the inlet teems with sea turtles, manatees, and a spectrum of fish species, offering exciting wildlife viewing opportunities.
The sandy shores and dune systems are blanketed with coastal vegetation like sea oats and sabal palms, adding to the overall diverse ecosystem.
GRAYTON BEACH STATE PARK
357 Main Park Road
Santa Rosa Beach, Florida 32459
850-231-4210
Kayakers at Grayton Beach State Park
Grayton Beach State Park offers visitors excellent kayaking experiences along the serene coastal dune lakes unique to the area, primarily Western Lake, known for its brackish waters and natural beauty.
These lakes experience occasional water exchange with the Gulf of Mexico, creating a distinctive environment for various ecosystems.
Paddlers can witness a wide variety of wildlife, such as sea turtles, coastal birds like gulls and terns, and numerous fish species. Vegetation is marked by sea oats, sand pines, and scrub oaks, contributing to the visual allure of the landscapes.
GULF ISLANDS NATIONAL SEASHORE
Gulf Islands National Seashore offers expansive, untouched and is a great place to kayak. It stretches from Mississippi to Florida.
In Florida, paddlers have access to the tranquil waters of Santa Rosa Sound and the Gulf of Mexico, which are replete with secluded beaches and rich marine life.
From dolphins playing in the waves to pelicans diving for fish, the marine environment is bustling with life. The park is also home to seagrass beds and salt marshes, hosting a variety of birds, fish, and mollusks. 
HENDERSON BEACH STATE PARK
17000 Emerald Coast Parkway
Destin, FL 32541
850-837-7550
Henderson Beach State Park in Destin, with its sparkling emerald waters and pristine shores, provides exhilarating kayaking opportunities along the Gulf of Mexico.
While paddling, enthusiasts can encounter diverse marine life, such as dolphins, stingrays, and a myriad of colorful fish. The coastal dune ecosystem hosts unique vegetation including sea oats, sand pines, and scrubby flatwoods, which serve as a refuge for various bird species.
The interplay of sand dunes, lush vegetation, and the clear waters makes kayaking here a visually refreshing experience.  It gives paddlers a chance to enjoy the park's natural beauty and tranquility.
HILLSBOROUGH RIVER STATE PARK
15402 U.S. 301 N.
Thonotosassa, Florida 33592
813-987-6771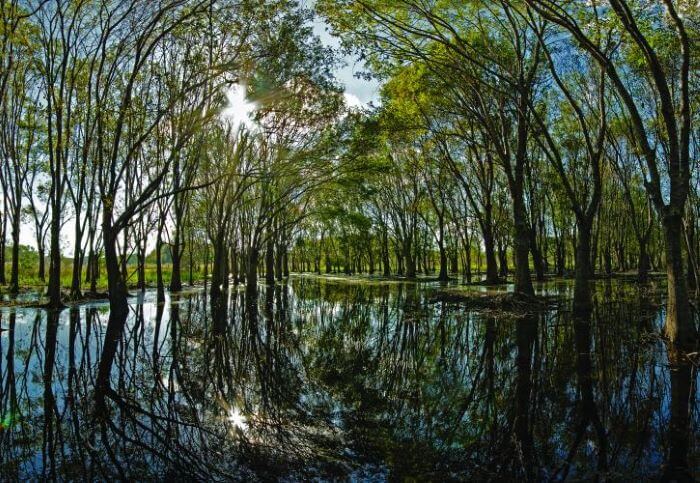 Hillsborough River State Park
Hillsborough River State Park is on the scenic Hillsborough River north of Tampa.  The river meanders south to Tampa Bay through lush subtropical forests on its way to downtown Tampa.
Paddlers have the opportunity to observe a variety of wildlife, such as alligators, river otters, and turtles, alongside myriad bird species like ibises, herons, and ospreys.
The riverbanks are lined with cypress trees, ferns, and sabal palms, offering shade and visual delight to the kayakers.
HONEYMOON ISLAND STATE PARK
1 Causeway Blvd.
Dunedin, Florida 34698
727-469-5942
Honeymoon Island State Park is another ideal locale near Dunedin for kayaking enthusiasts who can paddle through the calm waters of Saint Joseph Sound that separates the island from Dunedin.
The park has abundant marine life, and kayakers may spot dolphins, manatees, and numerous water birds such as ospreys and egrets. The subtropical vegetation, characterized by mangroves and seagrasses, enhances the biodiversity of the area.
The gentle breeze and the sound of the surf, combined with the captivating surroundings and the diverse ecosystems, makes kayaking in Honeymoon Island State Park a lot of fun.
HONTOON ISLAND STATE PARK
2309 River Ridge Road
Deland, Florida 32720
386-736-5309
Hontoon River
Hontoon Island State Park, located in the St. Johns River near DeLand is a great place to camp and launch a kayak. Paddlers can explore the mysteriour dark of the St. Johns River and the Hontoon Dead River.
The Hontoon Dead River is a tributary to the St. Johns. These waterways are home to abundant creatures including manatees, alligators, and diverse species of waterfowl.
The ancient, majestic cypress trees and the subtropical forests that fringe the rivers are teeming with unique vegetation, including palms and ferns. These shaded water trails are perfect for kayakers.
JOHN D. MACARTHUR BEACH STATE PARK
10900 S.R. 703 (A1A)
North Palm Beach, Florida 33408
561-624-6950
John D. MacArthur Beach State Park is a treasure trove for kayakers, featuring opportunities to paddle around the serene Lake Worth Lagoon.
This coastal ecosystem is teeming with marine life, and paddlers may encounter sea turtles, rays, and a variety of tropical fish. The lush mangrove forests and seagrass beds that adorn the lagoon are a sanctuary for birdlife, including herons, ospreys, and pelicans.
The vibrant ecosystems and diverse plant species, such as buttonwood and sea grapes, contribute to a picturesque kayaking experience, allowing visitors to witness the seamless blend of aquatic and terrestrial flora and fauna in a quiet setting.
JONATHAN DICKINSON STATE PARK
16450 S.E. Federal Hwy
Hobe Sound, Florida 33455
772-546-2771
Jonathan Dickinson State Park near Stuart offers a multitude of kayaking adventures along the Loxahatchee River, Florida's first federally designated Wild and Scenic River.
Paddlers traversing this river are treated to spectacular views of cypress swamps, mangroves, and pine flatwoods. The river is a hotspot for a variety of wildlife including otters, alligators, and an array of bird species like ospreys and great blue herons.
The surrounding landscapes are rich in plant species such as sabal palms, saw palmettos, and slash pines.
JUNIPER SPRINGS RECREATION AREA
26701 FL-40
Silver Springs, FL 34488
352-625-3147
Juniper Run
Juniper Springs Recreation Area in the Ocala National Forest is renowned for its crystal-clear springs and is a favorite of kayakers who want to explore Juniper Run, a narrow, winding waterway surrounded by dense subtropical vegetation.
The run offers a glimpse of the wild, untouched landscapes of Old Florida, populated by turtles, various species of fish, and a large variety of birdlife, including hawks and wading birds.
The lush, green foliage, characterized by palms, ferns, and oak trees, create a canopy over the water, adding to the enchanting atmosphere and providing cool, shaded paths for paddlers. 
LAKE LOUISA STATE PARK
7305 US Hwy 27
Clermont, Florida 34714
352-394-3969
Lake Louisa State Park Camping Cabin
Lake Louisa State Park south of Clermont provides ample opportunities for kayaking with numerous lakes, including the majestic Lake Louisa, the largest in a chain of 13 lakes connected by narrow waterways.
Paddlers can anticipate serene journeys, with sightings of white-tailed deer, osprey, and bald eagles.
The lakes are encompassed by rolling hills and clusters of live oak, longleaf pines, and cypress trees, and interesting view of landscapes  that add charm to the kayaking experience. 
LAKE TALQUIN STATE PARK
1022 Desoto Park Dr.
Tallahassee, Florida 32301
850-922-6007
Lake Talquin State Park near Tallahassee is a haven for kayakers looking to explore the expansive Lake Talquin, a reservoir located on the Ochlockonee River.
The lake, with its many creeks and coves, is abundant in aquatic life, including largemouth bass, striped bass, and various species of catfish.  It is popular with kayak fishermen.
The towering bald cypress trees and dense hardwood forests surrounding the lake are home to diverse bird species such as ospreys, eagles, and waterfowl, offering scenic paddling experiences. 
LITTLE MANATEE RIVER STATE PARK
215 Lightfoot Road
Wimauma, Florida 33598
813-671-5005
Little Manatee River State Park, named after the river that flows through it, offers captivating kayaking opportunities through natural, undisturbed Florida landscapes.
Paddlers navigating the river's twists and turns can encounter a variety of wildlife, including manatees, alligators, and numerous bird species like herons and egrets.
The surrounding environment is rich in vegetation, featuring pine flatwoods, sand pine scrub, and hardwood hammocks. 
LOVERS KEY STATE PARK
8700 Estero Blvd.
Ft. Myers Beach, Florida 33931
239-463-4588
Lovers Key State Park is a pristine and secluded adventure for kayakers. It is a barrier island between Fort Myers Beach and Bonita Springs with access to both the quiet waters of Estero Bay and the Gulf of Mexico.
Paddlers can explore the mangrove-lined water trails and open waters. The area has rich marine life such as dolphins, manatees, and a variety of fish species.
The park's coastal habitats are adorned with sea oats, buttonwood trees, and maritime hammocks, providing refuge to numerous birds, including ospreys and roseate spoonbills. 
MANATEE SPRINGS STATE PARK
11650 N.W. 115th St.
Chiefland, Florida 32626
352-493-6072
Manatee Springs State Park in Chiefland, known for its first-magnitude spring, offers delightful kayaking experiences on the clear waters of the Suwannee River.
The river and springs are a sanctuary for West Indian manatees, especially during the winter months, along with a diverse array of fish and turtles.
The lush forests of hardwoods and cypress that border the river are teeming with birds such as red-shouldered hawks and belted kingfishers. Kayakers will get a look at Old Florida, the way it was.
MERRITT ISLAND NATIONAL WILDLIFE REFUGE
1987 Scrub Jay Way
Titusville, FL 32782
321-861-0669
Merritt Island National Wildlife Refuge is a remarkable destination for kayakers, offering exploration opportunities in the Indian River Lagoon and Mosquito Lagoon. It is located adjacent to Kennedy Space Center on the north end of Merritt Island.
The brackish waters of the refuge are teeming with marine life, including manatees, dolphins, and a plethora of fish species. The refuge is a birdwatcher's paradise, home to over 350 bird species, including the roseate spoonbill and the American bald eagle.
The surrounding mangroves and marshlands are rich in vegetation and serve as a crucial habitat for the abundant wildlife. It's amazing that all of this exists so near the busy space center.
MYAKKA RIVER STATE PARK
13208 S.R. 72
Sarasota, Florida 34241
941-361-6511
Alligators on the Myakka River
Myakka River State Park near Sarasota is a great place to enjoy  kayaking experiences on the wild and scenic Myakka River.
The river winds through diverse habitats, from wetlands to pinelands, and presents an opportunity to witness alligators (many, many, alligators), wading birds, and perhaps even the elusive Florida panther.
The dense canopy over the river is formed by majestic live oaks, sabal palms, and the tall Myakka cabbage palm, fostering a rich ecosystem where biodiversity thrives. 
OLETA RIVER STATE PARK
3400 N.E. 163rd Street
North Miami, Florida 33160
305-919-1844
Oleta River State Park is a true gem for kayaking enthusiasts, located amid the bustling metropolitan area of Miami. The park features the quiet Oleta River.
Kayakers can escape the urban hustle and bustle of the Miami area and paddle through the tranquil, mangrove-lined waters. This quiet journey may include allows encounters with varied wildlife such as manatees, ospreys, and numerous fish species.
The dense mangrove forests and lush sea grape trees provide a scenic backdrop, transforming the kayaking experience into a refreshing exploration of the harmonious coexistence of urban life and natural beauty.
OSCAR SCHERER STATE PARK
1843 S. Tamiami Trail
Osprey, Florida 34229
941-483-5956
Oscar Scherer State Park is a good place to kayak on the quiet waters of South Creek that meanders through dense scrubby flatwoods and lush hammocks.
The park north of Venice is a refuge for the Florida scrub-jay and myriad other bird species, making it a birdwatcher's paradise. Paddlers can expect to see a variety of wildlife including gopher tortoises, river otters, and alligators.
The surrounding environment is abundant in vegetation, from towering pine trees to the vibrant wildflowers, adding a splash of color to the landscape and enhancing the overall paddling experience with its diverse flora and fauna.
PINE ISLAND SOUND AQUATIC PRESERVE
12301 Burnt Store Rd.
Punta Gorda, FL 33955
941-575-5861
Pine Island Sound Aquatic Preserve near Punta Gorda is a pristine coastal habitat, offering paddlers the chance to explore the calm, shallow waters of the preserve west of the sprawling city of Cape Coral.
It's a diverse aquatic environment teeming with dolphins, manatees, and various fish species. The numerous mangrove islands within the preserve are rich in bird life, including pelicans, ospreys, and egrets.
The aquatic vegetation includes extensive seagrass beds and red mangroves, providing a rich, dynamic ecosystem for a variety of marine life. 
RAINBOW SPRINGS STATE PARK


19158 S.W. 81st Pl. Rd.
Dunnellon, Florida 34432
352-465-8555
Rainbow Springs
Rainbow Springs State Park near Dunnellon invites kayakers to navigate the crystal-clear waters of the Rainbow River, renowned for its vibrant aquatic life and lush subaquatic vegetation.
Paddlers can glimpse turtles, water birds, and a myriad of fish species in the transparent waters, surrounded by abundant freshwater vegetation like eelgrass and water hyacinths.
The river banks are lined with a variety of trees including oak and cypress, contributing to the scenic beauty of the area. 
ROCK SPRINGS RUN STATE RESERVE
c/o Wekiwa Springs State Park
1800 Wekiwa Circle
Apopka, FL 32712
407-884-2008
Rock Springs Run State Reserve near Apopka is a serene escape for paddlers, offering the clear, enchanting waters of Rock Springs Run.
Paddlers can explore the winding waterways surrounded by lush, green landscapes and encounter wildlife such as white-tailed deer, turkeys, and bobcats.
The canopy of palm trees, oaks, and pines along the banks creates a shaded, scenic route, adding to the allure of the tranquil waters. 
SILVER SPRINGS STATE PARK
1425 NE 58th Avenue
Ocala, Florida 34470
352-236-7148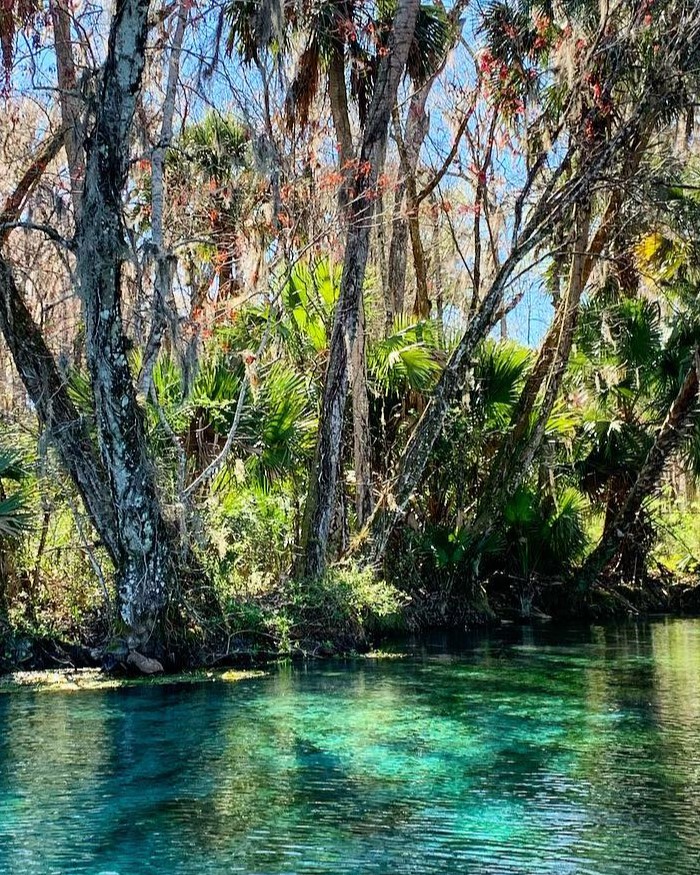 Silver Springs State Park
Silver Springs State Park is home to the world-famous Silver Springs, a first-magnitude spring that offers extraordinary kayaking opportunities on its crystal-clear waters.
As paddlers glide over the spring vent, they can observe the aquatic life below, including gar, mullet, and the occasional manatee. You might even see a monkey, descendants of escaped creatures from the past movies filmed in the Silver Springs area.
The surrounding landscapes are abundant in wildflowers, live oaks, and longleaf pines, providing habitat to a variety of bird species like the great blue heron and the red-shouldered hawk. 
ST. JOSEPH PENINSULA STATE PARK
8899 Cape San Blas Road
Port St.Joe, Florida 32456
850-227-1327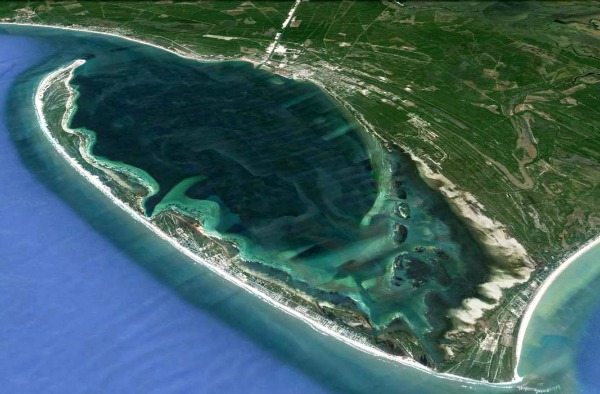 St. Joseph Peninsula
T. H. Stone Memorial St. Joseph Peninsula State Park, situated on a slender stretch of the Emerald Coast of Florida near Port St. Joe, offers distinctive kayaking experiences on the serene waters of St. Joseph Bay.
Paddlers can navigate through seagrass beds and explore the intricate coastline, observing dolphins, sea turtles, and a multitude of fish species. The diverse birdlife, including plovers, ospreys, and pelicans, make this park an great spot for bird watchers. 
The coastal landscape, characterized by white sandy beaches, sand dunes, and coastal scrub vegetation, provides picturesque settings for kayaking adventures.
ST. MARKS NATIONAL WILDLIFE REFUGE
1255 Lighthouse Road
St. Marks,FL 32355
850-925-6121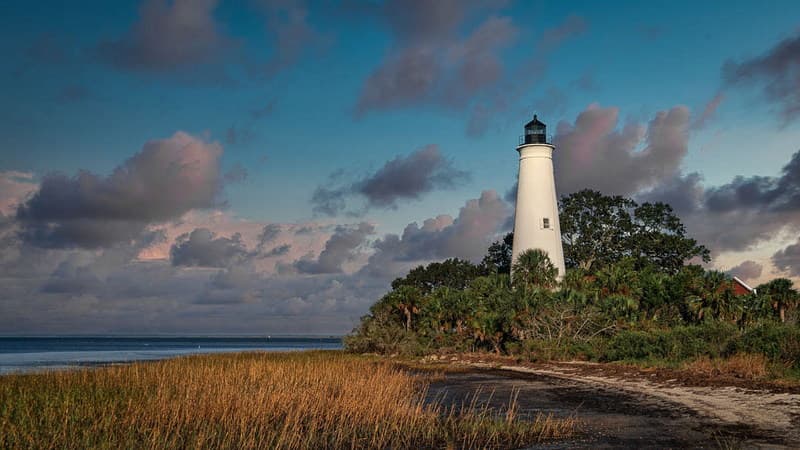 St. Marks Lighthouse
St. Marks National Wildlife Refuge encompasses a vast expanse of protected marshes, tidal creeks, and estuaries in the Gulf of Mexico near the village of St. Marks.
Kayakers exploring these brackish waters are rewarded with sightings of alligators, otters, and a rich variety of waterfowl and migratory birds.
The tidal flats and salt marshes are inhabited by lush seagrasses and cordgrasses, which host vibrant marine life including crabs, mollusks, and numerous fish species. 
TARKILN BAYOU PRESERVE STATE PARK
c/o Big Lagoon State Park
Pensacola, Florida 32507
850-492–1595
Tarkiln Bayou Preserve State Park, nestled in the Pensacola Bay area, provides kayaking enthusiasts with unique opportunities to explore the serene and enchanting bayous.
These sheltered water bodies are teeming with aquatic life, including various species of fish and amphibians.
Paddlers can encounter diverse vegetation such as sundews, pitcher plants, and other rare, carnivorous plant species amidst the wet prairies and savannas. 
TEN THOUSAND ISLANDS NATIONAL WILDLIFE REFUGE
c/o Florida Panther National Wildlife Refuge
12085 State Road 29
South Immokalee,FL34142-5444
239-657-8001
Ten Thousand Islands National Wildlife Refuge is a huge maze of mangrove islands and tidal waters, offering extensive kayaking explorations in the Gulf of Mexico. The northernmost is Marco Island.
The many water trails among the islands provide close encounters with dolphins, manatees, and a diverse array of bird species, including roseate spoonbills and white pelicans.
The surrounding mangrove forests, interspersed with seagrasses, are rich in marine life and provide crucial habitats for numerous species. 
TERRA CEIA PRESERVE STATE PARK
130 Terra Ceia Rd
Terra Ceia, FL 34250
941-723-4536
Terra Ceia Preserve State Park north of Bradenton offers a secluded and tranquil kayaking experience on the pristine waters of Terra Ceia Bay.
The aquatic environment is bustling with marine life such as mullets, spotted seatrouts, and the occasional manatee.
The estuarine habitats are framed by mangroves and seagrasses, providing sanctuary to wading birds like herons and egrets.
TOMOKA STATE PARK
2099 North Beach Street
Ormond Beach, Florida 32174
386-676-4050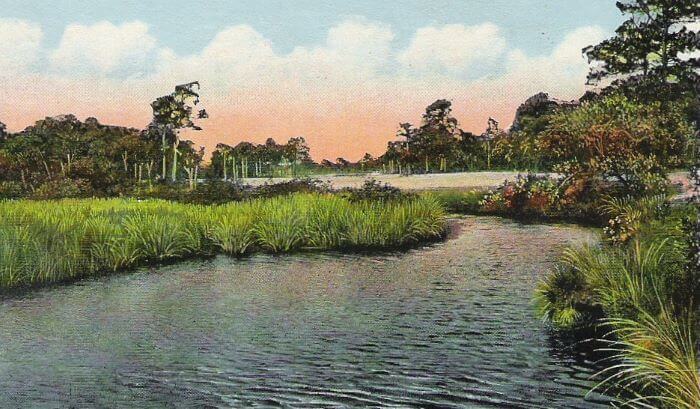 Vintage Postcard Around Tomoka State Park
Tomoka State Park near Ormond Beach is a gateway to picturesque kayaking adventures on the Tomoka River with its calm waters and lush, scenic landscapes.
The river meanders through estuarine marshes and is a habitat for manatees, alligators, and diverse bird species, including the large wading birds like herons and egrets.
The surrounding marshes are abundant in cordgrass and needle rush, accompanied by the shades of live oaks and palm trees along the riverbanks. 
TOPSAIL HILL PRESERVE STATE PARK
7525 W. Scenic Highway 30A
Santa Rosa Beach, FL 32459
850-267-0299
Topsail Hill Preserve State Park
Topsail Hill Preserve State Park on Scenic Highway 30A offers remarkable kayaking adventures on the serene coastal dune lakes within the park, notably Campbell Lake and Morris Lake.
These rare ecosystems feature brackish water, providing paddlers with a unique environment to explore and the chance to witness a blend of both freshwater and marine species.
The park is home to a myriad of wildlife, including deer, waterfowl, and various fish species. The lakes are surrounded by thick vegetation comprised of pine forests and scrub, which host diverse bird species.
WEEKI WACHEE SPRINGS STATE PARK
6131 Commercial Way
Spring Hill, Florida 34606
352-592-5656
Weeki Wachee Springs State Park is renowned for its first-magnitude spring and live mermaid shows.  It is also a great place to kayak on the crystal-clear waters of the Weeki Wachee River.
As paddlers glide over the gentle currents, they can enjoy seeing  underwater life below, including manatees, turtles, and a multitude of fish, amidst the lush subaquatic vegetation.
The surrounding hardwood hammocks and cypress swamps provide habitat for various bird species, creating a harmonious and vibrant ecosystem. 
WEKIWA SPRINGS STATE PARK
1800 Wekiwa Circle
Apopka, Florida 32712
407-884 2008
Wekiwa Springs State Park
Wekiwa Springs State Park in the area north of Orlando welcomes kayakers to the pristine Wekiva River and Rock Springs Run.
Paddlers traversing these clear waters will encounter diverse wildlife, such as river otters, alligators, and a variety of bird species like herons and hawks.
The surrounding landscapes are rich in subtropical flora, including palm trees, ferns, and aquatic plants, which provide scenic and shaded paths for kayakers. 
WERNER-BOYCE SALT SPRINGS STATE PARK
P.O. Box 490
Port Richey, Florida 34673
727-816-1890
Werner-Boyce Salt Springs State Park between Hudson and Port Richey offers tranquil kayaking experiences on the peaceful inlets and bayous leading to the Gulf of Mexico.
This park is a sanctuary for a variety of marine life including mullet, snook, and occasionally manatees. The salt marshes and mangrove-lined shores host numerous bird species, such as ospreys and egrets, offering a serene backdrop for paddlers.
The intertwining of brackish waters, salt marshes, and mangrove forests creates a large variety of habitats.

---
---

Our Facebook page has more than 129,275 followers who love off the beaten path Florida: towns, tourist attractions, maps, lodging, food, festivals, scenic road trips, day trips, history, culture, nostalgia, and more.  We post articles every day.  Please check it out and if you like it, we would appreciate a "like" from you.
---
By Mike Miller, Copyright 2009-2023
Florida-Back-Roads-Travel.com
Florida Back Roads Travel is not affiliated with or endorsed by Backroads, a California-based tour operator which arranges and conducts travel programs throughout the world.