25 POPULAR
NORTHWEST FLORIDA TOWNS
These 25 Northwest Florida towns are in the area of the state generally known as the Florida Panhandle. 
Clicking through to the individual town pages will give you information about the town's history, what it's like today, real estate, things to do, local government, lodging and restaurants.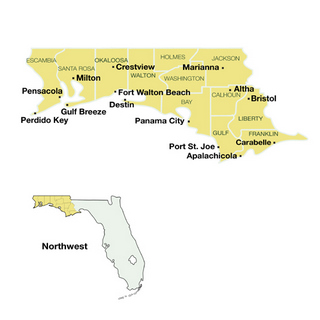 Apalachicola
Quaint fishing village at one time the oyster capital of Florida.  Nice downtown district, shopping, lodging, and restaurants.

Bristol
Small town was the site of a tourist attraction that featured an exhibit about Bristol possible being the Garden of Eden.
Carrabelle
Fishing village on what is known as the Forgotten Coast because of its quiet nature and typical small number of tourists.
Chipley
One of the nicest small towns in the Florida Panhandle.  Quiet and authentic, many interesting buildings.
Crestview
Is a transportation hub in Northwest Florida and is on one of the State's highest elevations.
Defuniak Springs
This historic city was the home of the Southern Chautauqua and has hundreds of interesting homes from that era.
Destin
This was a simple fishing village that became one of Florida's leading tourist destinations for its beaches and entertainment.

12 Communities on Florida Scenic Highway 30A
This beautiful highway runs along the Gulf of Mexico from Panama City Beach to Grayton Beach.  Some places along the way include Inlet Beach, Rosemary Beach, Alys Beach, Seacrest, WaterSound, Seagrove, Seaside, WaterColor, Grayton Beach, Blue Mountain, Santa Rosa, and Dune Allen.
Fort Walton Beach
Older town that serves workers of nearby Eglin Air Force Base and also has a healthy beach oriented tourist industry.

Graceville
Small town near the Alabama border that is in the center of peanut farming country.
Marianna
Historic town that was one of the centers of the Old South plantation economy in Florida.

Milton
One of Florida's oldest cities, in far western Florida on the Blackwater River near Pensacola.
Panama City
This city and its companion town, Panama City Beach, have become vacation destinations for beach lovers.
Pensacola
Historic town founded by the Spanish in the 1500s is now known as the "Cradle of Naval Aviation."  Great museum and downtown.
Port St. Joe
Was the site for many years or a major stinky paper mill.  The mill is now gone, and the downtown and beaches here are nice.
There is some great scenery in this part of the state.  Here are short day trips and scenic drives for you to enjoy.
Northwest Florida Day Trips and Scenic Drives
---

Our Facebook page has more than 125,161 followers who love off the beaten path Florida: towns, tourist attractions, maps, lodging, food, festivals, scenic road trips, day trips, history, culture, nostalgia, and more.  We post articles every day.  Please check it out and if you like it, we would appreciate a "like" from you.
---
By Mike Miller, Copyright 2009-2023
Florida-Back-Roads-Travel.com
Florida Back Roads Travel is not affiliated with or endorsed by Backroads, a California-based tour operator which arranges and conducts travel programs throughout the world.