Central East Florida Towns and Cities
32 BEST CENTRAL EAST
FLORIDA TOWNS & CITIES
By  Mike Miller Updated September 4, 2023

These 32 Central East Florida towns are in the long narrow region of the state that includes Daytona Beach, Melbourne, Fort Pierce, Stuart, Vero Beach, Port St. Lucie and others. 
There are many more towns along this stretch of Florida that is called the Space Coast and the Treasure Coast. The towns are on the Indian River, Atlantic Ocean, or both.  Okeechobee is on the lake of the same name.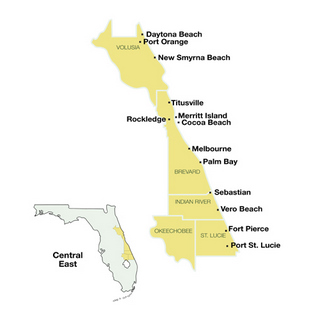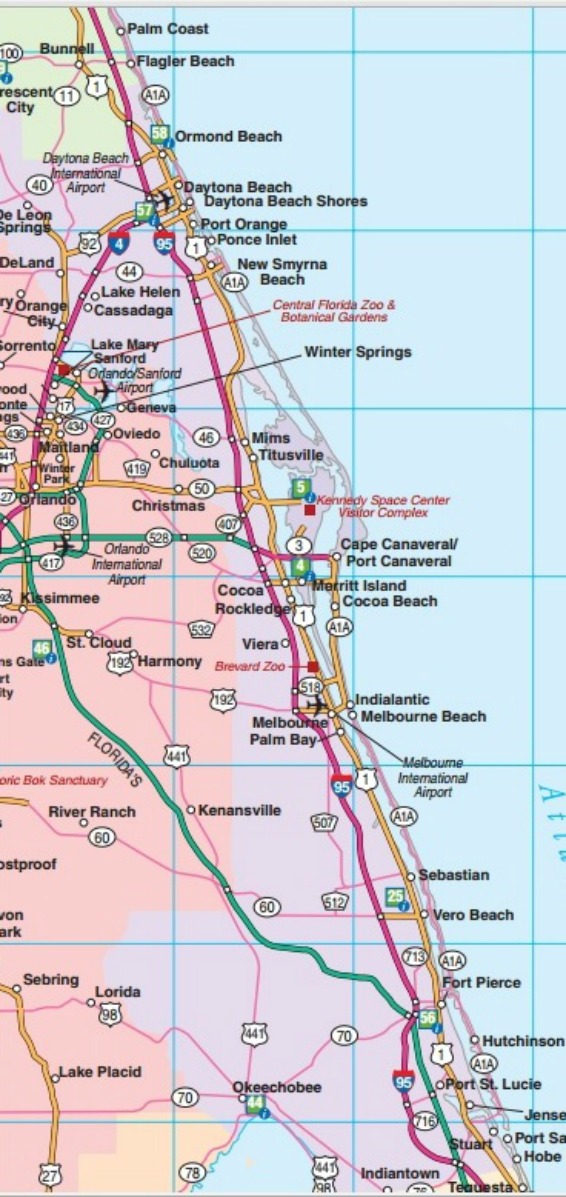 The Central East Florida counties are Volusia, Brevard, Indian River, St. Lucie, and Okeechobee. 
Clicking through to the individual town pages will give you information about the town's history, what it's like today, real estate, things to do, local government, lodging and restaurants.
---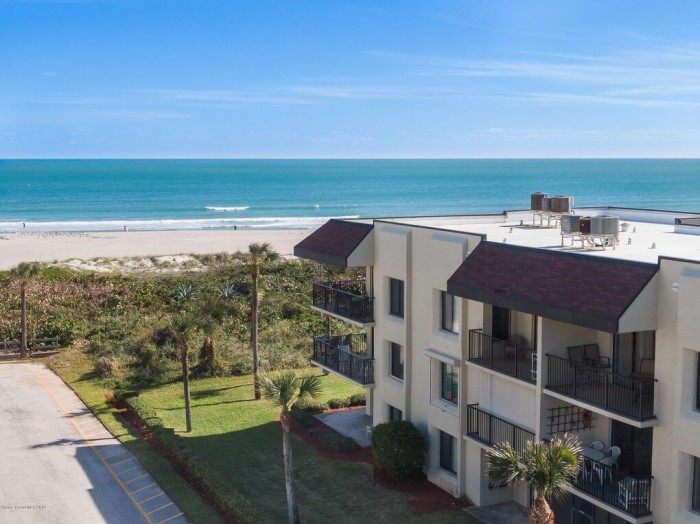 Cape Canaveral View to Ocean
Cape Canaveral, home to a nearly 200-year-old lighthouse, has long been an important part of Florida's history.  Today it's recognized most for the famous Kennedy Space Center and its busy international commercial port.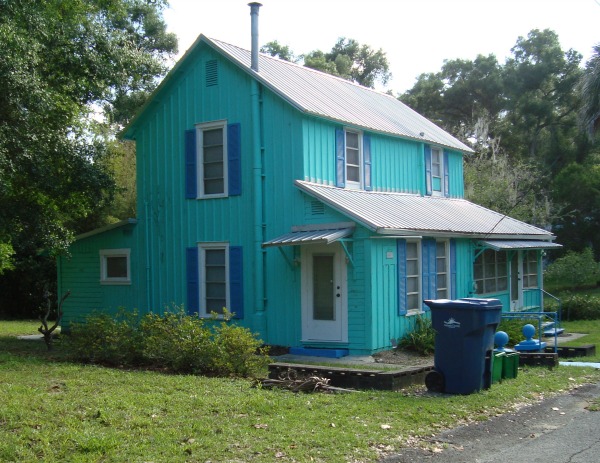 Old House in Cassadaga
Cassadaga is a little town in Central Florida and is the home of the Cassadaga Spiritualist Camp. Nearly all of the residents are spiritualists, many of which are certified healers. Understandably, the town is also known for its resident ghosts!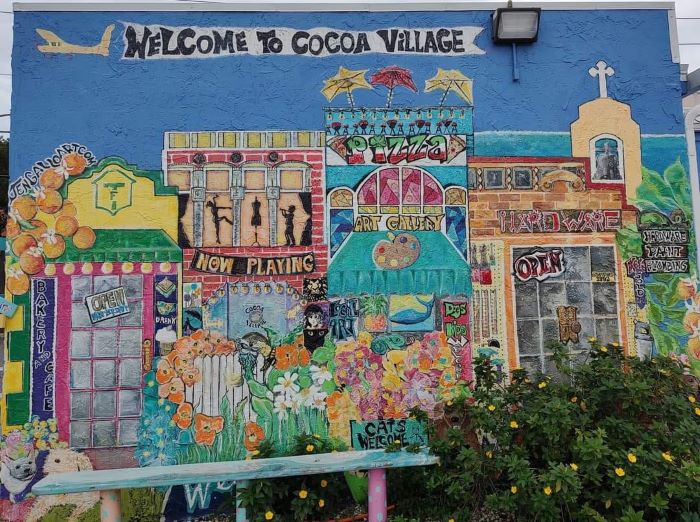 Mural in Cocoa Village
Early mail came by riverboat to the little town of Cocoa in a Baker's Cocoa box, thus giving it its unique name!  The population skyrocketed when the neighboring Space Center was built, giving the town a record for one of the fastest growing cities in the nation.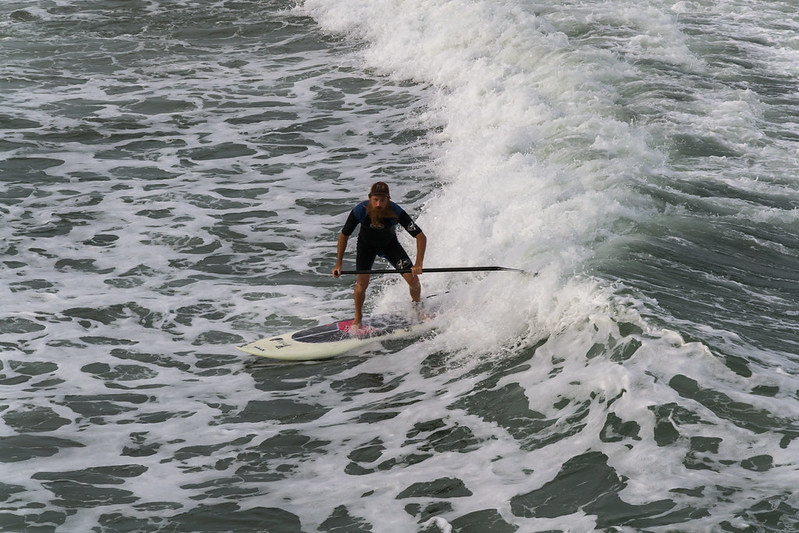 Surfer on Cocoa Beach Ocean
Cocoa Beach is on the barrier island opposite the Kennedy Space Center, making it the perfect place to watch all types of rocket launches. Over the years millions have come from all over the world to experience these wonderous flights.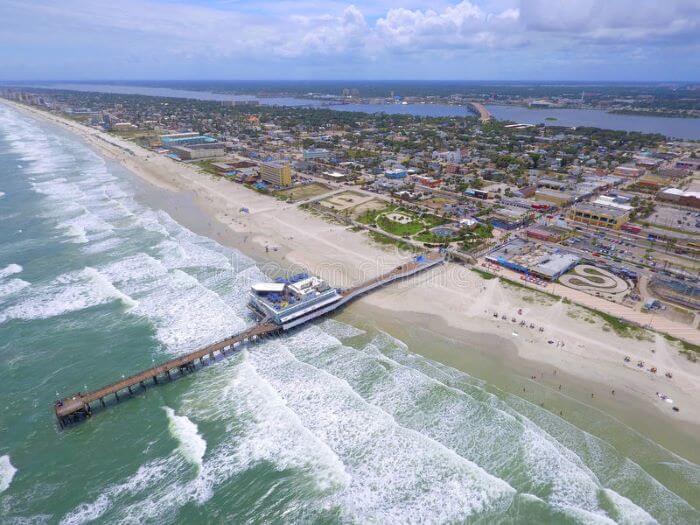 Aerial View of Daytona Beach
Located on the hard beach along the Atlantic coast is the famous Daytona Beach. Known for its beachy fun, it has long been the place for family vacations and a "few" college Spring breakers. 
Because of its hard sand, cars can drive along the water's edge, which have long lead to car racing.  Now on a track in a stadium, Daytona Beach is home to the NASCAR Daytona 500 stock car race, among others.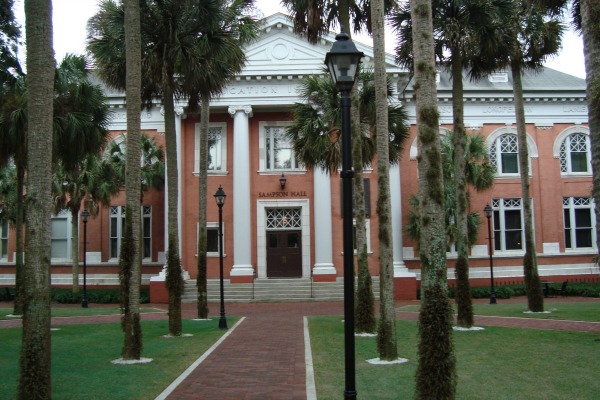 Stetson University in DeLand
DeLand is a delightful Central Florida town recognized nationally and regionally with several "Best Main Street" awards. It is the home of the privately owned Stetson University, which is named, yes, after the big hat guy!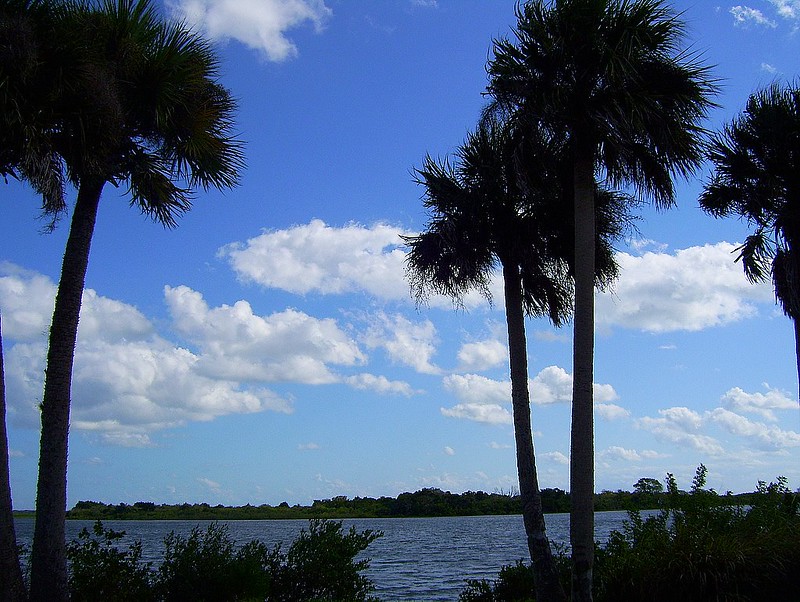 Indian River Lagoon at Edgewater
Edgewater is on the mainland south of New Smyrna Beach.  Although it has been surrounded by new sprawling development, it still has much of its Old Florida charm.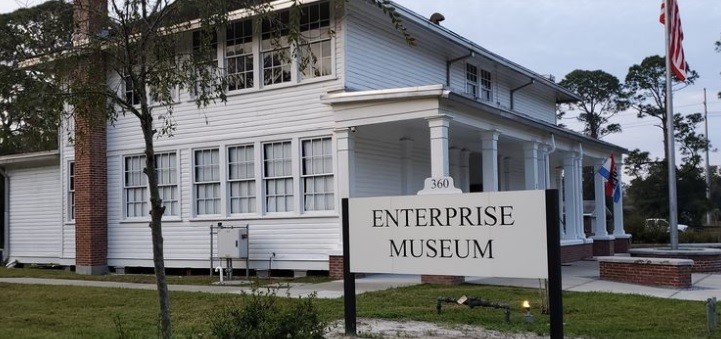 Enterprise Museum
Nestled along the shores of Lake Monroe across the lake from Sanford,  Enterprise was an important part of the riverboat trade during the late 1800s.  The historic town has been the home of the Florida United Methodist Children's Home, an orphanage, for over 100 years.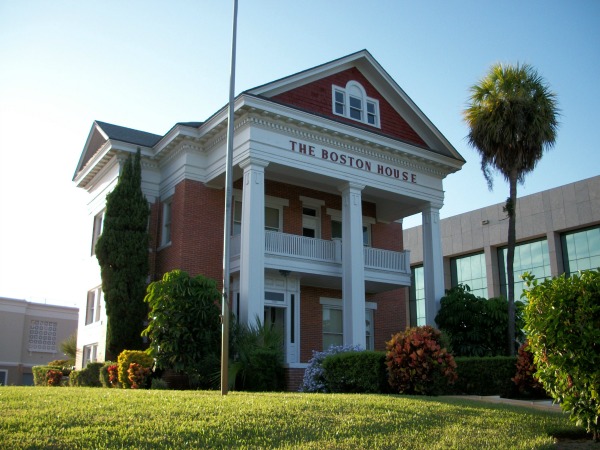 Boston House, Fort Pierce
Sister city to the "Sunset City", San Francisco, Fort Pierce is known as the "Sunrise City".  The downtown area has recently been restored into a pleasant waterfront recreation and leisure attraction, including a modern marina.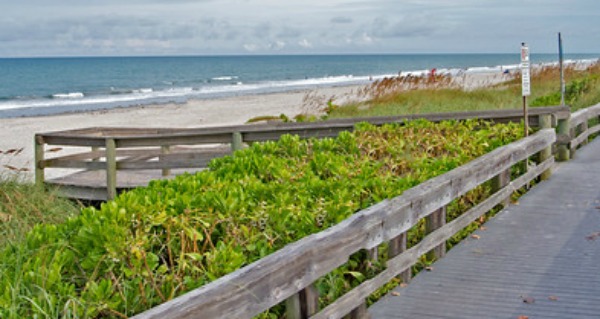 Ocean Boardwalk at Indialantic
Although Indiatlantic is now primarily a "bedroom" community for nearby towns, it has a great Boardwalk and offers wonderful ways to enjoy the ocean and the Indian River. There are several good restaurants here.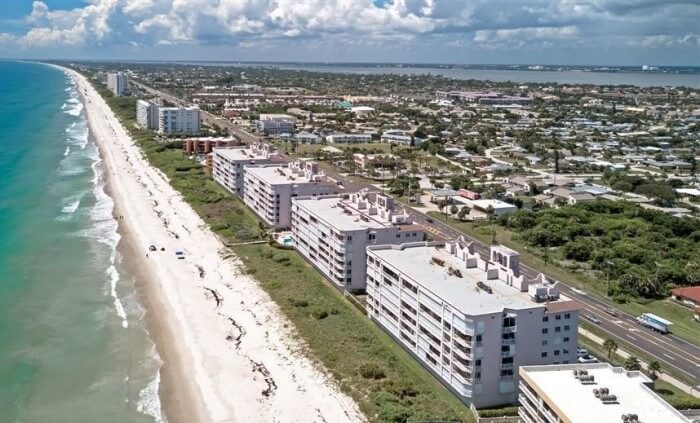 Aerial View of Condos at Indian Harbour Beach
Indian Harbour Beach was professionally planned and developed during the 1950s with pleasantly curving streets with the thoughtful placement of commercial and recreational areas.  It is an extremely boat friendly city with plenty of marinas, waterside restaurants and bars.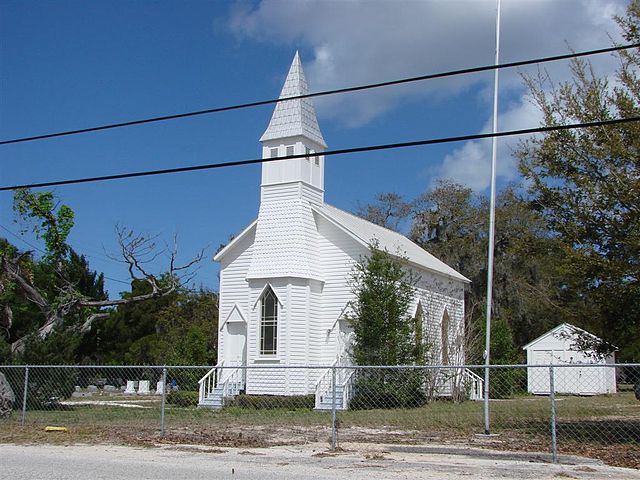 Historic LaGrange Church
LaGrange is a sleepy old community north of Titusville. The LaGrange Church, is the oldest Protestant church between St. Augustine and Key West. It's an excellent example of Carpenter Gothic architecture and is on the US National Register of Historic Places.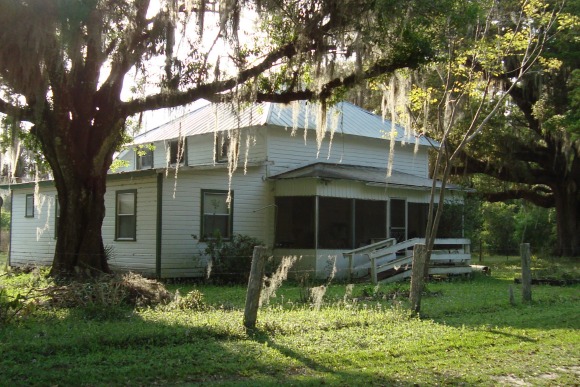 Old Home in Maytown
Although there is no longer a real town of Maytown, the serene and nearly untouched area along the Maytown Road beginning in Osteen and  heading east to the Halifax River is still a hidden piece of Old Florida.
Park in Downtown Melbourne on Indian River Lagoon
Today's Melbourne is actually the combination of yesterday's cities of Melbourne and Eau Gallie. Although now one municipality, each town has retained its own charming downtown shopping areas and high schools.  The area has several large residential communities and hosts many defense and technology companies. It is the home of a private university, a gigantic multi-sport facility, an international airport and a world-class zoo.
Atlantic Ocean at Melbourne Beach
Melbourne Beach was the first beach community in Brevard County.  It is known now as a great place to access beautiful beaches. It's also a good place to watch the miracle of thousands of sea turtle hatchings during the season.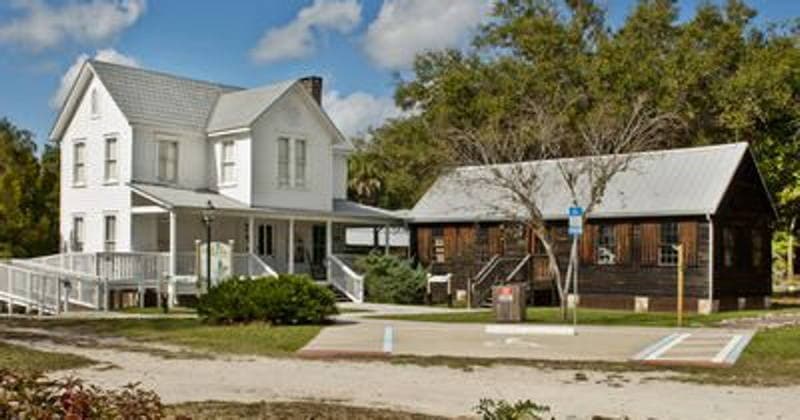 Sams Homestead on North Merritt Island
Like many rural areas along the Space Coast, Merritt Island now is a bedroom community for the Kennedy Space Center. In it's earlier days, it served the area's indigenous people, cattle ranchers, lumbermen and land developers.  A beautiful official national wildlife refuge preserves some of the area's old Florida "feel".
Wayward Travelers Inn, Mims
Mims was an important citrus shipping center during the heydays of Florida citrus.  A Florida leader of the NAACP, Harry Moore and his wife Harriett,  residents of Mims, were killed when a bomb exploded under his house.  There is a park and an interpretive center in Mims that has details of the sad incident.
Near the Beach in New Smyrna Beach
Beautiful, white sand beaches and the Atlantic surf have beckoned vacationers to New Smyrna Beach since the early 1800s. Beachy shops, restaurants and bars provide today's visitors with an authentic Florida experience.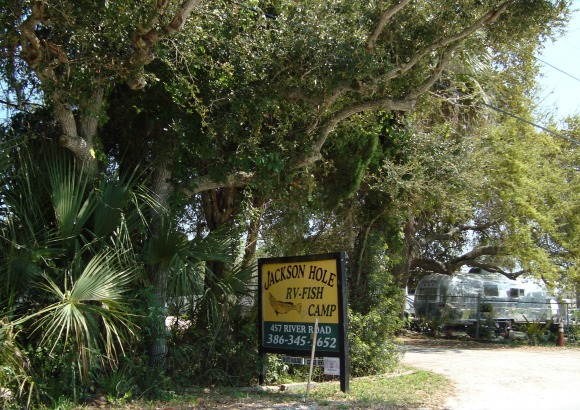 Fish Camp in Oak Hill
Oak Hill was once a busy citrus and seafood export center to the nation.  Now it's a quiet, laid-back piece of Florida paradise. It has a great seafood restaurant that draws in people from all over the area.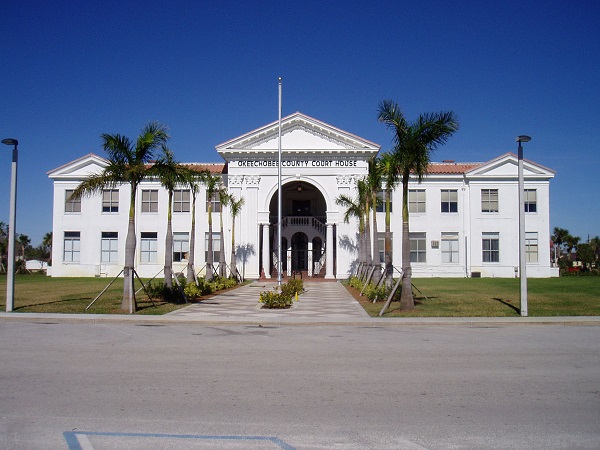 Okeechobee County Courthouse
The county seat of Okeechobee County, on the shores of Lake Okeechobee, the town's main focus is the work of running the county and the city governments.  It's also known for its annual Speckled Perch Tournament.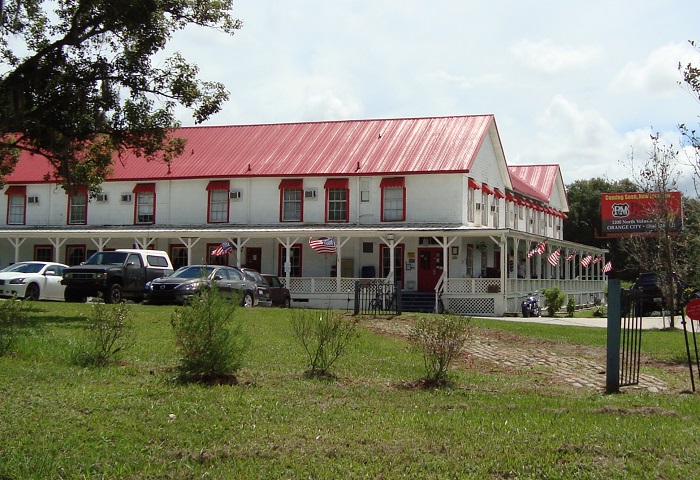 Historic Hotel in Orange City
Orange City was named for the hundreds of acres of orange groves that surrounded the city. After the devastating freezes of 1894 and 1895, the town reinvented itself with the capitalization of its mineral springs.
The marketing of the springs was very successful and had a long reaching popularity  over the nation.  Today Orange City is one of the best places in Florida to see the manatees at the Blue Springs State Park.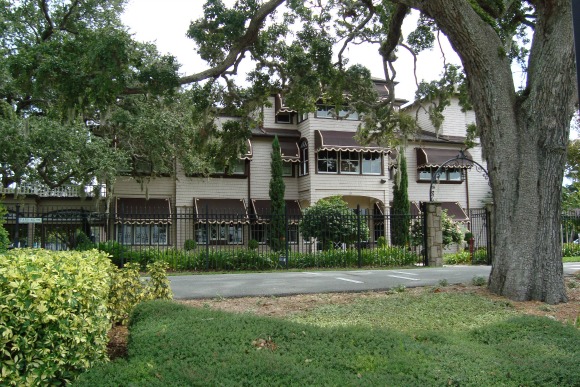 Casements, Rockefeller Home, Ormond Beach
The town of Ormond Beach is special because part of the town is on the mainland and part of the town is across the Halifax River on the beach.  Both sides offer visitors relaxing shopping, eating and water related fun!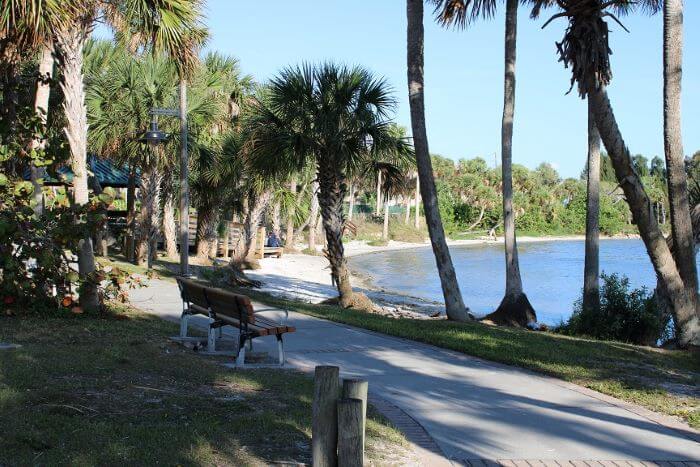 Castaways Park, Palm Bay
Built basically on reclaimed land, Palm Bay was the site of one of Florida's development companies, General Development Corporation. With sales offices worldwide, GDC sold lots in Port Malabar for $10 down and $15 a month!  Today Palm Bay is home to many high tech companies due to its proximity to Cape Kennedy.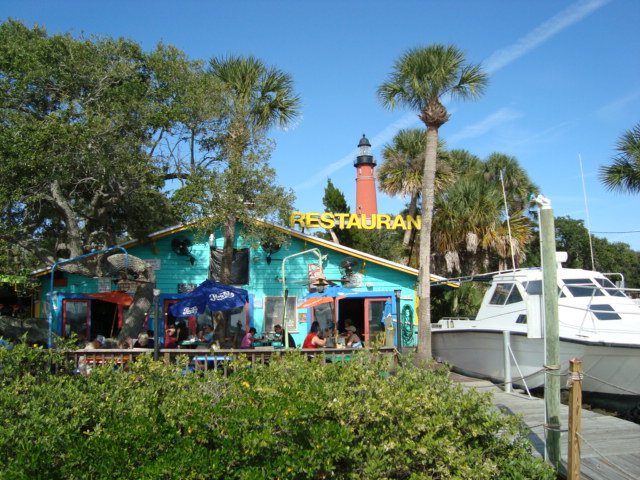 Hidden Treasure Restaurant, Ponce Inlet
Ponce Inlet is known for its famous lighthouse, the Ponce de Leon Inlet Light Station. The lighthouse, built in 1887, has been restored and is open to visitors. It's the tallest lighthouse in Florida and the third tallest in the nation. The town itself is mainly residential with a few picturesque marinas, restaurants and bars.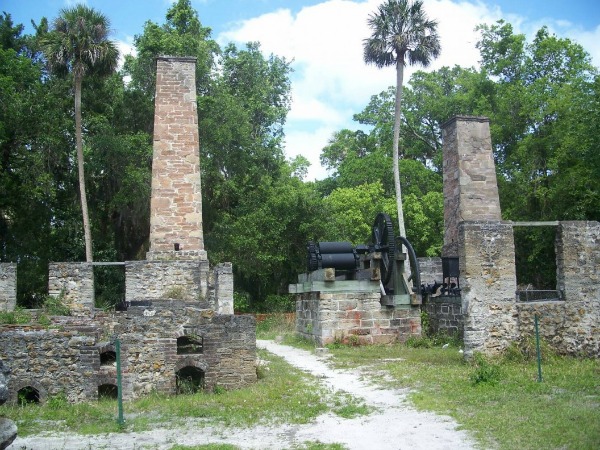 Dunlawton Sugar Mill Ruins, Port Orange
As with many little towns along the coast, early settlers found the cash crop growing conditions around Port Orange unsuitable.  But the beach beaconed and later pioneers came to enjoy the warm waters and unmatched tropical beauty of the area. 
For those same reasons Port Orange has a healthy permanent population with tourists periodically swelling its numbers.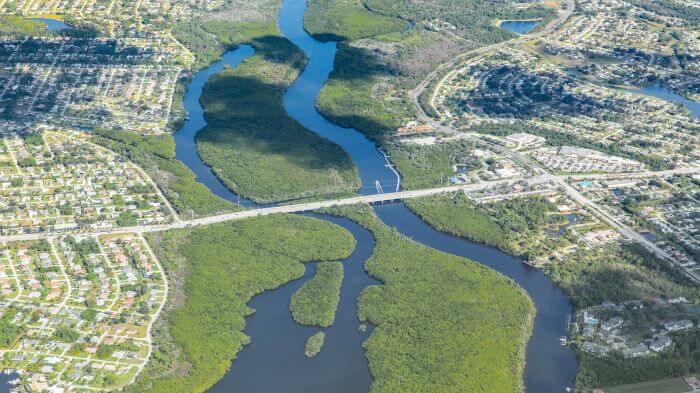 Aerial View of Port St. Lucie
Port St. Lucie is a product of the "Great Florida Land Grab of the Fifties and Sixties". It's a planned community that was marketed mainly to prospective retirees  for prices "you just can't pass up" --$10 down and $10 a month! 
Today, it's the third largest city in Florida in land mass. An area of the city, Tradition, is a successful experiment in planned urban living. It's an excellent example of a New Urbanism community.
Historic Williams House, Rockledge
Rockledge is a delightful town that hugs the banks of both the St. Johns River and the Indian River.  It was named for the ledges of coquina rocks along the shoreline of the Indian River.
Early on it was a citrus town but also enjoyed a healthy tourist trade with large hotels as this was an important stop for riverboats.  Currently, an aggressive historic preservation effort makes the town an interesting place to visit. 
There are many technology firms in Rockledge that provides support to the programs at the Kennedy Space Center.  Many of its residents work there as well.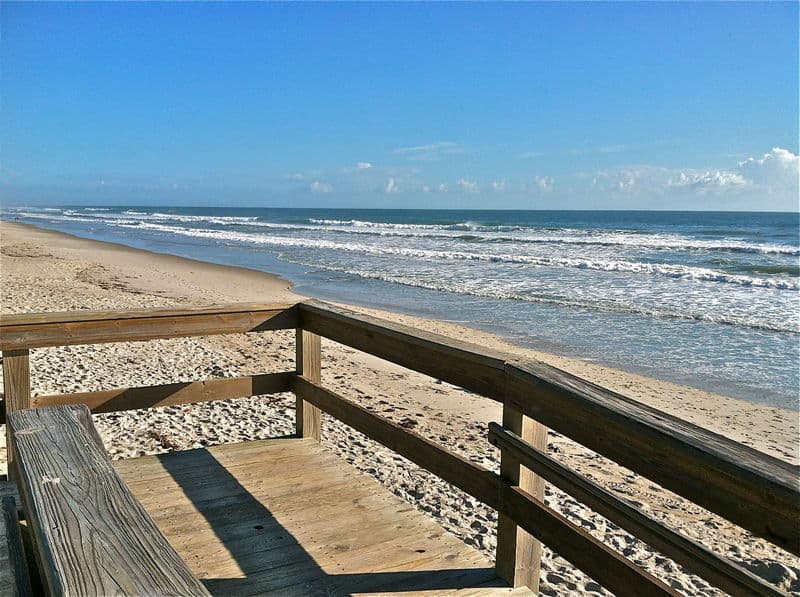 Atlantic Ocean at Satellite Beach
Satellite Beach is a "new town" by Florida standards.  It was built to answer the demand for residential housing for workers at the Kennedy Space Center. 
A famous resident, Buzz Aldrin, one of the first astronauts to walk on the moon, has called Satellite Beach home since those early space pioneering years.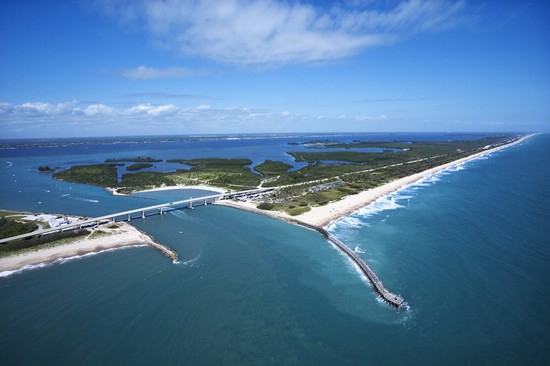 Sebastian Inlet
Known as a delightful fishing village, Sebastian is often the staging area for serious treasure hunters who search for sunken treasure off of its coast. It's also a mecca for nature lovers of all kinds.
Watching Rocket Launch from Titusville
Titusville is on the western shore of the Indian River Lagoon directly opposite the Kennedy Space Center. Thousands crowd along its shores to watch all types of rocket launches.
It has become a large and important bedroom community for workers at The Cape.  The old downtown area has recently been revitalized and is a pleasant place for shopping and dining.
Titusville is the access point to the unforgettable Merritt Island National Wildlife Refuge and the equally memorable Canaveral National Seashore.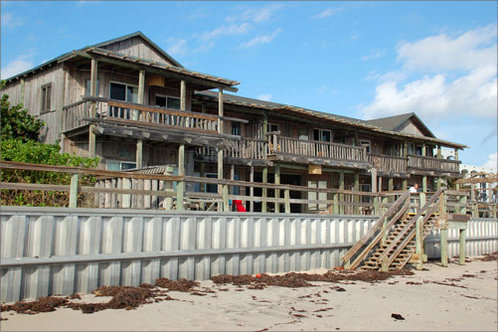 Driftwood Inn, Vero Beach
Interestingly, Vero Beach has three distinct areas: Beach Side, Old Downtown and West of Downtown out toward I-95. The collective city is known for its rich citrus history,  its unique collection of beautiful murals on the sides of buildings and the protected site of seasonal sea turtle hatching!
Aerial of Winter Beach, Left Bottom Corner
Winter Beach is little more than a memory, with only a thousand or so souls living there now.  It was once a planned community that didn't happen as planned. It had a nifty motto though, "Where Sunshine Spends the Winter"!
Central East Florida Day Trips and Scenic Drives
---

Our Facebook page has more than 128,577 followers who love off the beaten path Florida: towns, tourist attractions, maps, lodging, food, festivals, scenic road trips, day trips, history, culture, nostalgia, and more.  We post articles every day.  Please check it out and if you like it, we would appreciate a "like" from you.
---
By Mike Miller, Copyright 2009-2023
Florida-Back-Roads-Travel.com
Florida Back Roads Travel is not affiliated with or endorsed by Backroads, a California-based tour operator which arranges and conducts travel programs throughout the world.