Central West Florida Towns
32 BEST CENTRAL WEST
FLORIDA TOWNS AND CITIES
By  Mike Miller August 21, 2023

These 32 Central West Florida towns are in the region including and surrounding Tampa and St. Petersburg. It is an interesting combination of urban and rural counties.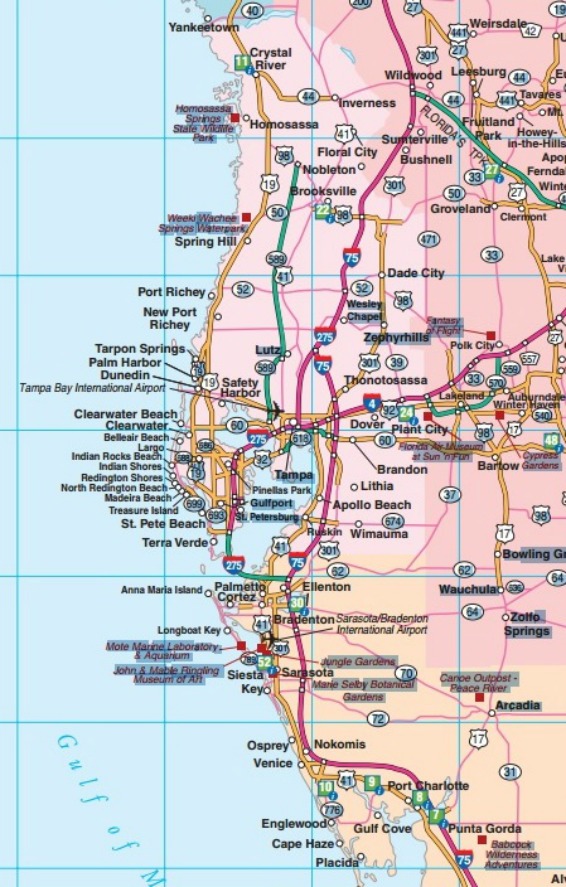 Map of Central West Florida
The Central West Florida counties are: Citrus, DeSoto, Hernando, Hillsborough, Manatee, Pasco, Pinellas, and Sarasota.
Clicking through to the individual town pages will give you information about the town's history, what it's like today, real estate, things to do, local government, lodging and restaurants.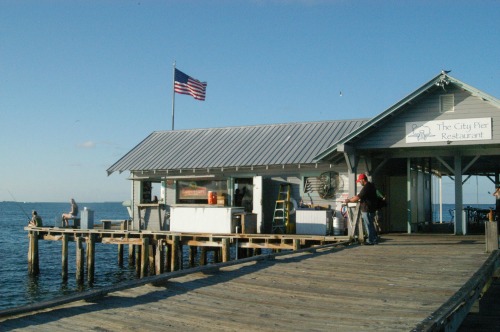 Anna Maria City Pier
The town of Anna Maria is on the end of the island of Anna Maria near Bradenton. It's a rather laid back old Florida town with a sprinkling of new vacation homes and a few condos. It has a very long fishing pier that was originally built as a steamboat dock for early tourists.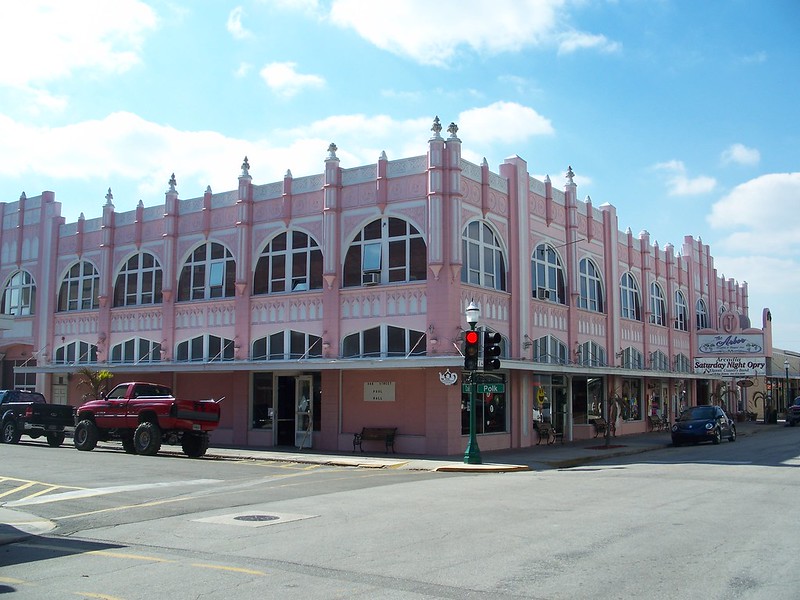 Arcadia, Arcade-Koch Building
Arcadia is located in the center of the southern part of the state. It has a lovely downtown with many charming antique shops, restaurants and mini-parks.  The town is also known for its working cowboy heritage. You'll probably see some of these "real" cowboys, not the "Hollywood" kind, when you visit there.  Arcadia hosts a world-class rodeo in March of each year.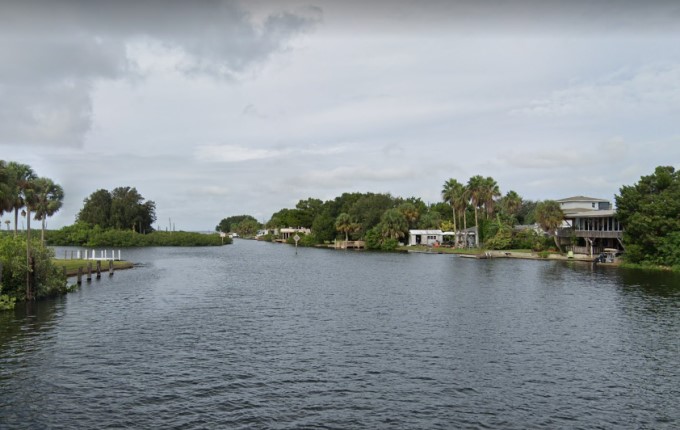 Aripeka View From Bridge
Never heard of Aripeka? You're not alone!  It's a tiny village north of Tampa on the Gulf coast. Its remote beauty captured the eye of at least one famous person seeking solitude and good fishing—Babe Ruth!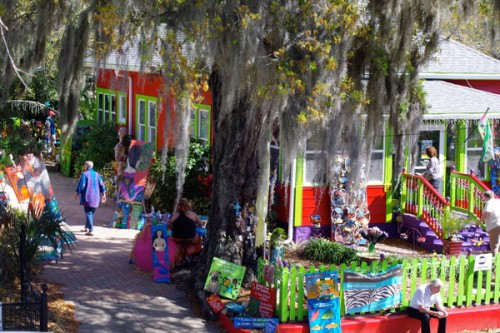 Bradenton Village of the Arts
Bradenton is on the southern end of the famous Sunshine Skyway Bridge. Its historic roots run deep. The area was visited by Hernando DeSoto in 1539.  It now serves as the county seat of Manatee County. Bradenton has a unique neighborhood art district, the Village of the Arts. The city is recognized as one of the top ten cities in America for working artists.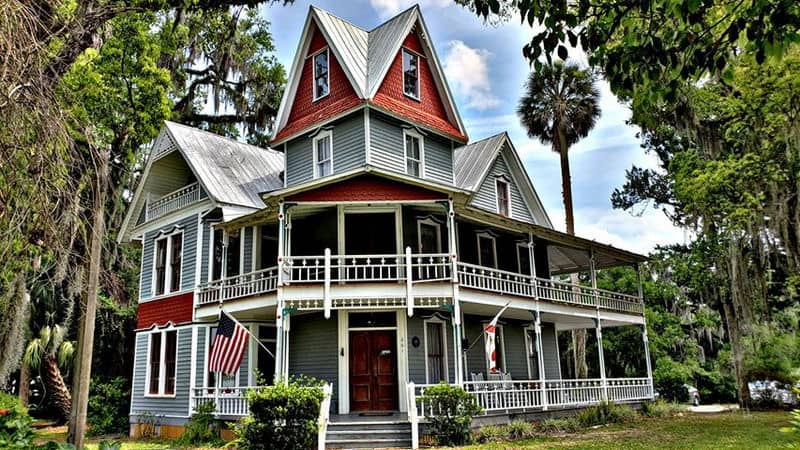 May Stringer House Brooksville
Once a small community, Brooksville has been inundated by surrounding housing developments. With the need for roads that lead to everywhere, Brooksville has become a sort of crossroads for several major highways.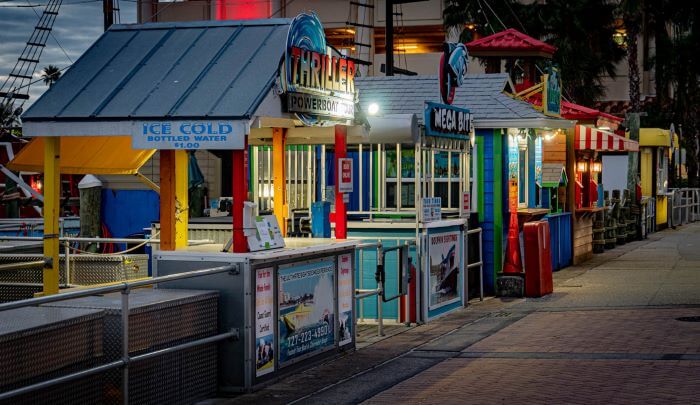 Clearwater Pier, by Bob Kyle
Clearwater is in a beautiful area of Florida on the Gulf Coast. It has long been a popular destination for tourists and retirees. It's spacious, clean beaches and sparkling "clear" waters make it a wonderful place to play, rest and replenish. Many fine shops and restaurants share the downtown with immaculate old homes. Clearwater is also the headquarters of the Church of Scientology.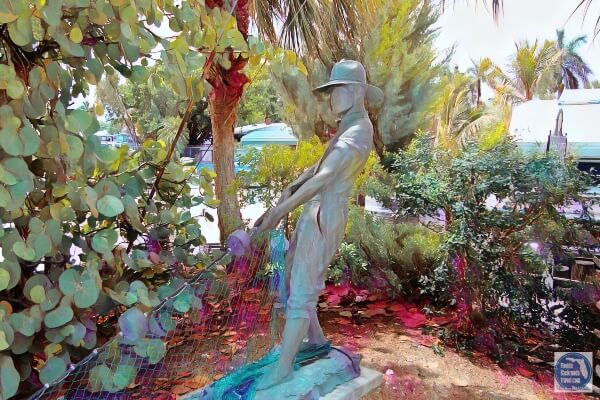 Statue of Fisherman, Cortez
Cortez, is a true living snapshot of the way much of Florida used to be.  Near Bradenton, Cortez is a working fishing village, with fish companies, marinas, and old, worn houses with fishing nets and traps drying  in the yards. If you go to glimpse the ambience, you can also enjoy lunch or dinner of some very freshly caught fish at the local restaurants.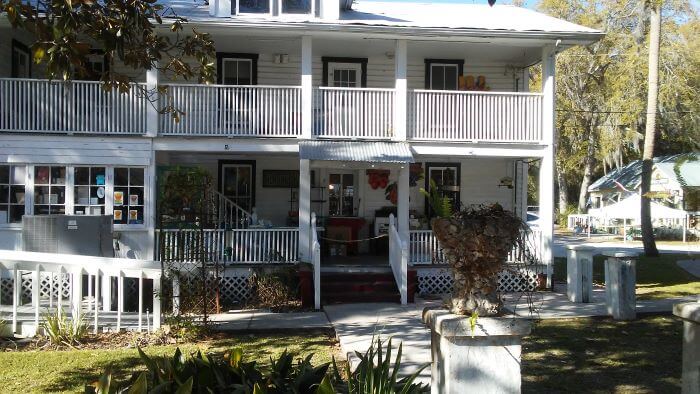 Historic Building in Crystal River
Crystal River is a nice laid back Florida town. One group of visitors to the area are the manatees who come to the warm waters of Kings Bay during the winter. Watching them make for a delightful pastime.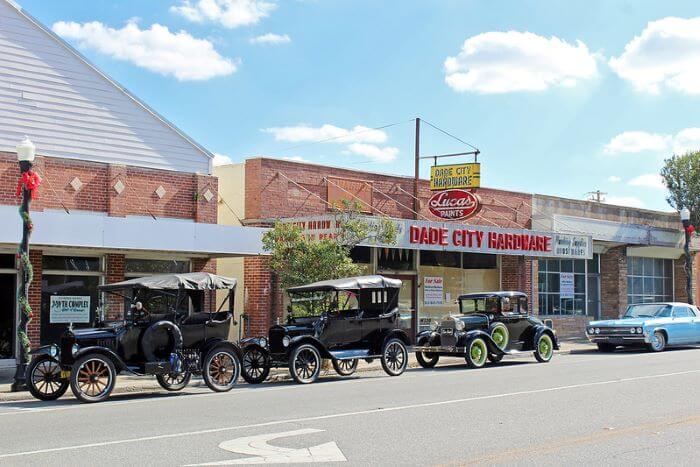 Antique Cars in Dade City
The county seat of Pasco County, Dade City was a Prisoner of War Camp during WWII. The town is known for its picturesque historic downtown, its annual Kumquat Festival and its free marriage ceremonies on the courthouse steps on Valentine's Day!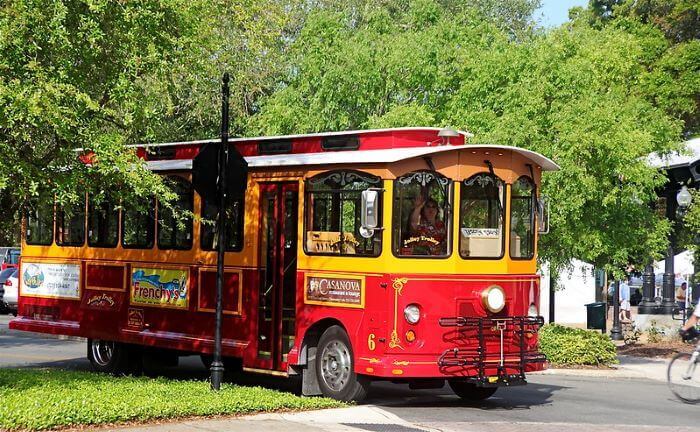 Trolley, Dunedin
Dunedin is known for its Scottish roots, with annual Scottish festivals and celebrations, complete with bagpipes and kilts.  Dunedin also has a very active arts community and features many unique galleries and studios. With its large shrimping boat fleet, the seafood industry is one of the mainstays of this diverse community.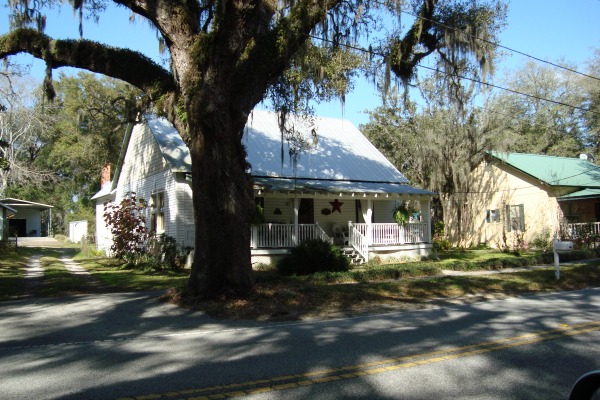 Floral City Home
Floral City is one of those magical tiny Florida towns tucked away in central Florida.  It's colorful downtown area has a small collection of shops, delightful cafes, and carefully preserved homes. The drive through its tunneled streets of old oak trees, dripping with Spanish moss, make for a memorable visit.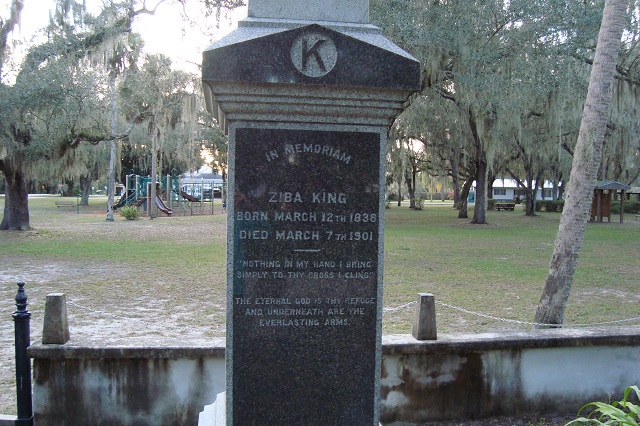 Grave of Ziba King, Fort Ogden
Fort Ogden is in the middle of Florida's cattle country. It was the home of Ziba King, a rancher, businessman and politician. When he died, King owned 50,000 head of cattle which was 10% of all of the cattle in the state.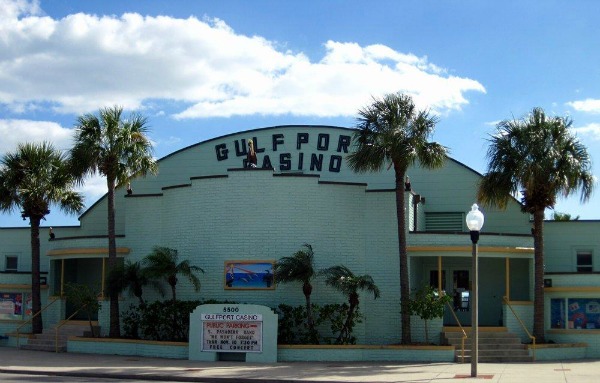 Gulfport Casino
Gulfport is a small community nearly surrounded by the big city sprawl of St. Petersburg. However, it has managed to hold onto its small town charm and sense of community.  It's a very walkable town with small shops, galleries and restaurants, and it hosts many celebrations and festivals.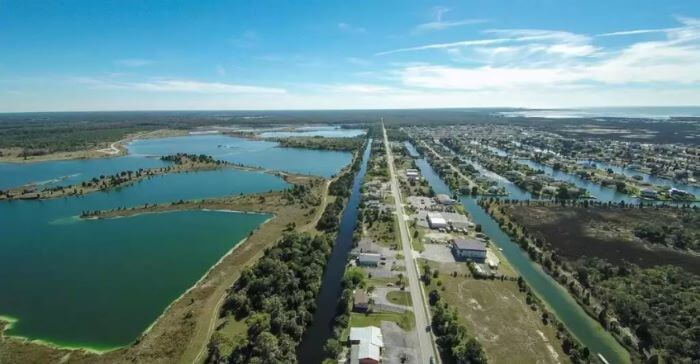 Hernando Beach View to South
Hernando Beach was mostly built on filled wetlands with manmade canals. Unfortunately, the  low-lying canals lead directly to the Gulf of Mexico and were prone to flooding. To alleviate the problem, courts ordered a big berm to be built which, although it protected the canals from flooding, made them landlocked which was not popular with boaters. A unique solution was sought. A giant crane was installed to pick boats up from one side of the berm and put them down on the other side!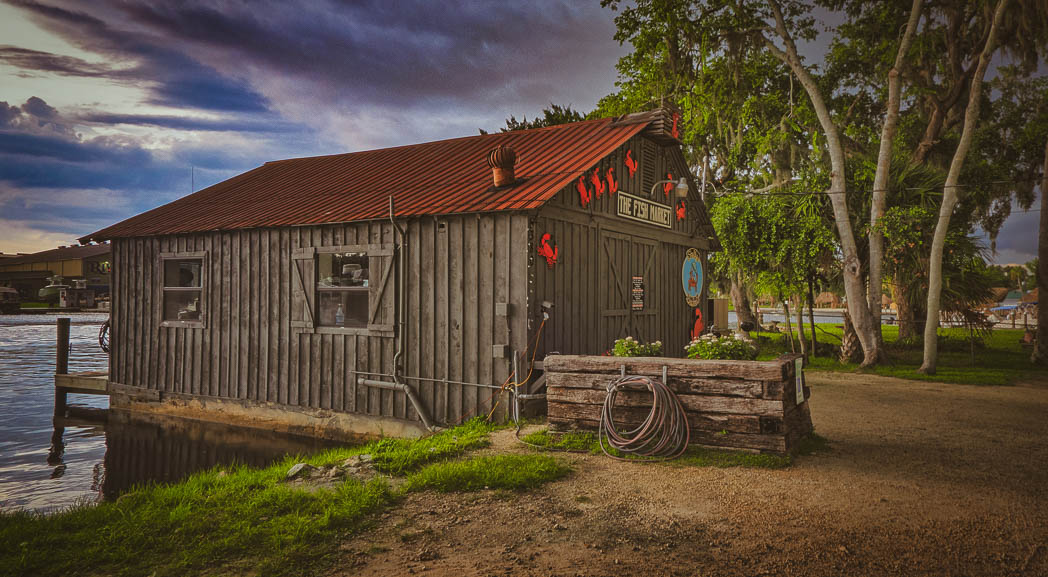 Homosassa Fish Market, by Bob Kyle
Homosassa is a small town on the Gulf coast known for its natural beauty. It's a popular place to view manatees as they huddle in the warm spring waters in nearby Homosassa Springs. The famous American artist, Winslow Homer, often a winter visitor, celebrated the beauty of the area with several paintings.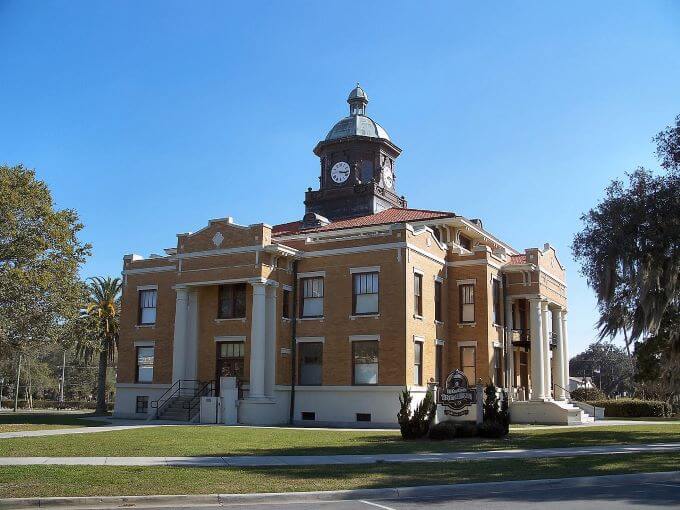 Citrus County Courthouse, Inverness
Inverness is the county seat of Citrus County and houses the usual array of county buildings and offices.   It seems to have a lake at every turn, making the town a paradise for boaters, fishermen, birders, and photographers.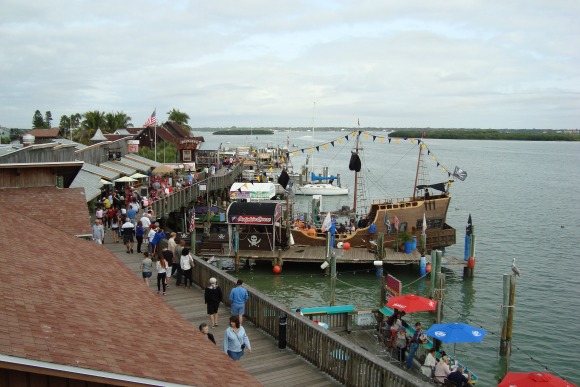 Johns Pass Village Pirate Ship
Designed around the pass that goes between the Gulf of Mexico and Boca Ciega Bay, on Madeira Beach,  John's Pass Village is a very popular tourist destination.  Both sides of the Pass are lined with shops of all kinds selling T-shirts, fudge and all types of "touristy" trinkets. Small restaurants and bars and a few attractions are interspersed in the mix. Charter fishing and sightseeing boats fill the docks. Hundreds of thousands visit here each year.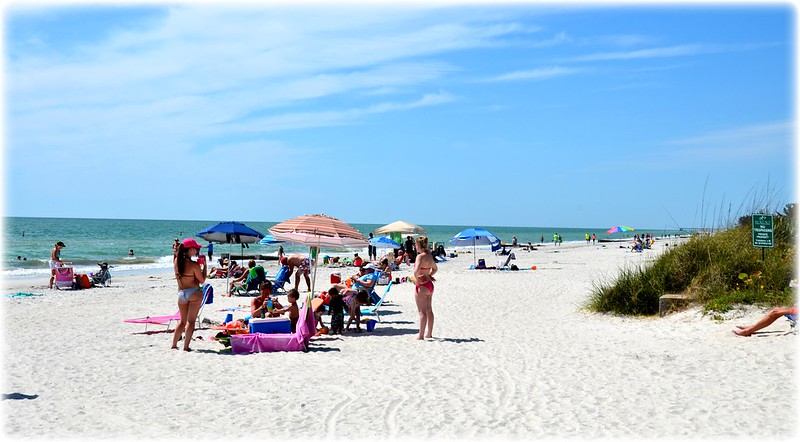 Madeira Beach
Madeira Beach is on the string of islands in the Gulf of Mexico near St. Petersburg. It's the quintessential family vacation destination. With its wide, sugar sand beaches filled with all types of shells and other treasures and its warm shallow waters, Madeira Beach makes for the perfect family getaway, be it for a couple of hours or a couple of weeks.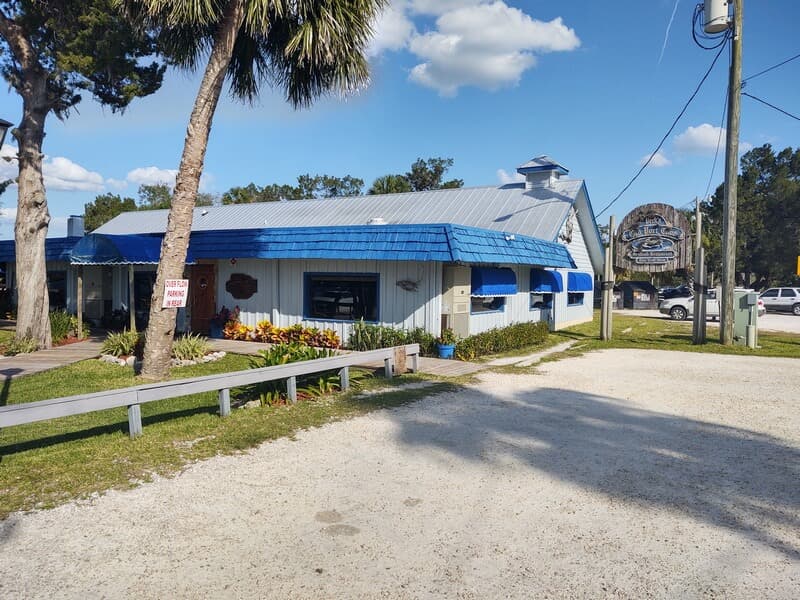 Peck's Old Port Cove, Ozello
Ozello is a very tiny village near Crystal River. It is basically built in a marsh.  In fact, dry land is so scarce that the school had to be built on its own little island, accessible only by boat! The folks at " Ripley's Believe It Or Not" named it "The Isle of Knowledge", and included it in its publications for many years.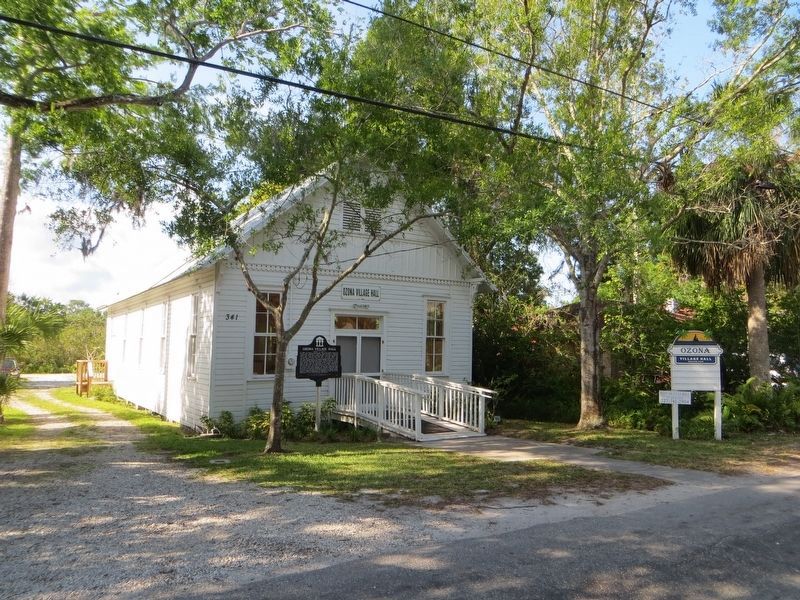 Ozona Village Hall
Ozona, named for its proximity to the clean, fresh air of the Gulf of Mexico, has a rich history in the fishing and citrus industries. A recent expansion has seen the growth of many homes and businesses. Some of the historic homes have been restored in keeping with Ozona's long past.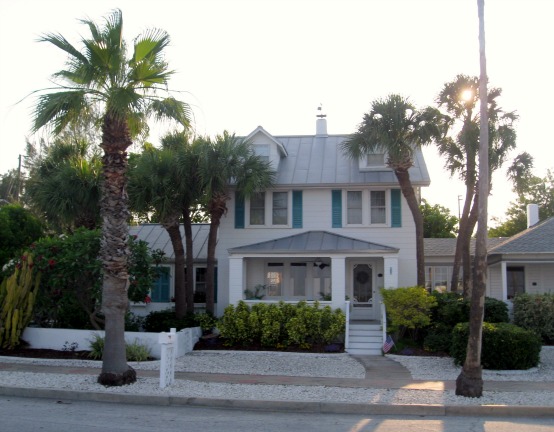 Home in Pass A Grille Beach
Much of Pass-A-Grille Beach is a designated United States Historic District. It is a charming, walkable town with a few shops, cafes and picturesque bars. Perched on the sandy beach is the iconic Don CeSar Hotel.  Built in 1928 as a luxury hotel, it also served as a hospital and convalescent center for veterans of WWII. Although it stood empty for many years, "The Don" has been carefully restored. In a time honored tradition, a bell, (a big, loud bell), is rung every evening at the water's edge at sundown at the Pass-A-Grille Beach.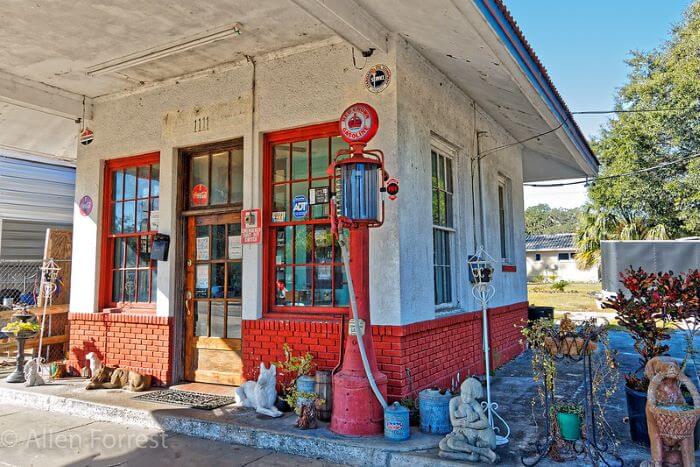 Old Gas Station in Plant City
Plant City was not named for the word meaning the opposite of "animal" but for an early entrepreneur and railroad tycoon, Henry Plant. The city does have a reputation far and wide though, for its huge fields of strawberries plants!  More than 75% of the nation's winter strawberries come from Plant City. To celebrate, the city hosts the annual Florida Strawberry Festival every Spring.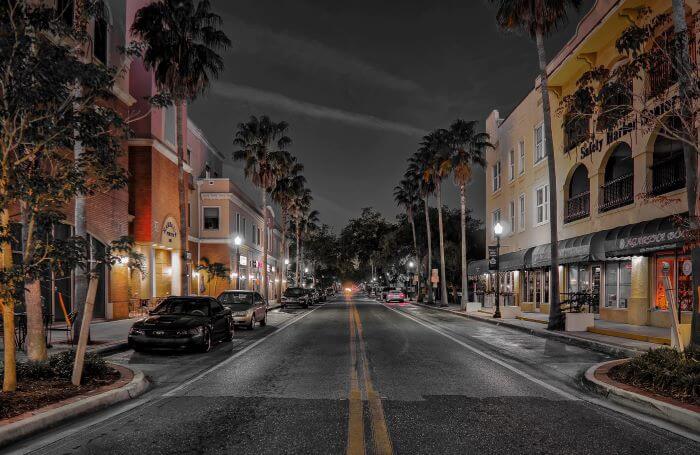 Main Street in Safety Harbor by Bob Kyle
Safety Harbor is a serene little town. It's the site of the historic Espiritu Santo Springs with its supposedly curing waters.  Touted to cure all types of ills and aliments, including paralysis and "ugliness", the waters are an important part of the treatment at the historic Safety Harbor Spa.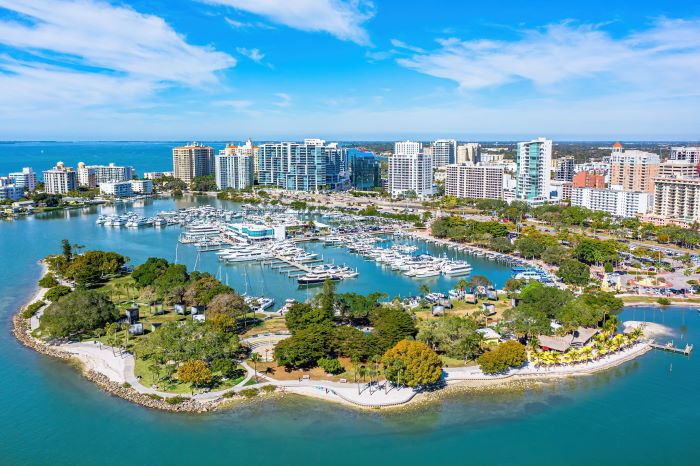 Sarasota Downtown Waterfront
Once the winter home to all types of circuses, Sarasota today is an upscale city with many amenities including The Ringling Museum of Art, The Asolo Theater, The Florida West Florida Symphony, The Marie Selby Botanical Gardens and the prestigious New College, among others. It has many beautiful residential communities and upscale shopping and dining destinations.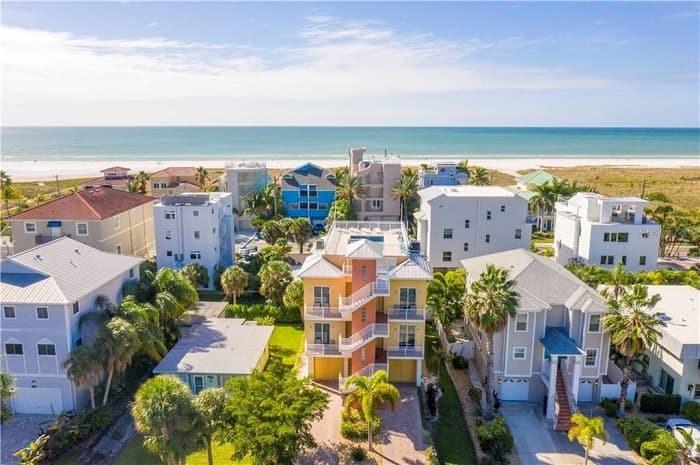 Homes in Siesta Key
Siesta Key is on a barrier island off of Sarasota.  Known in history for its giant mosquitos, sneaky snakes, mean spirited wildcats and humongous feral hogs, it was not a very hospitable place to live or visit. The developers took care of all of that! Today, Siesta Key is a southern beach paradise with lovely homes, high-rise condos and plenty of shops, restaurants and bars.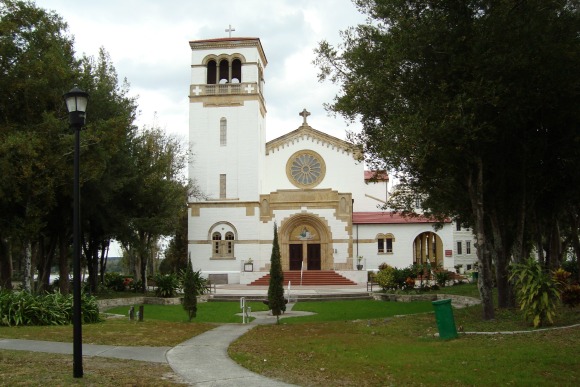 St. Leo Benedictine Abbey
The tiny town of St. Leo is centered around St. Leo University, the oldest Catholic university in Florida and the sixth largest in the United States.  A liberal arts college, it's known for its pioneering distance learning programs.  An abbey and a monastery are also in the town.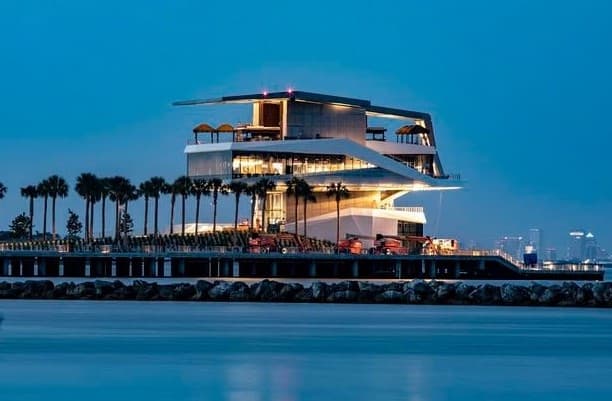 St. Petersburg Pier at Night
St. Petersburg, The Sunshine City, is a large metropolitan area. While a leader in business, finance and industry, St. Pete retains its old time Florida charm.  With a vibrant community of museums, galleries, and concert and sports venues, there is always something exciting to do in St. Petersburg.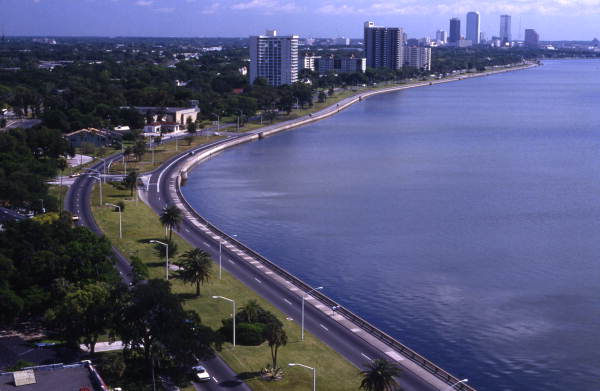 Bayshore Boulevard in Tampa
Tampa today is a fine example of blended communities.  It has a large Cuban impact due to its many large cigar factories, with some Eastern European Jewish and Italian influences as well. Today Tampa is home to many types of people and businesses. It has several fine universities, museums, restaurants, and sports venues.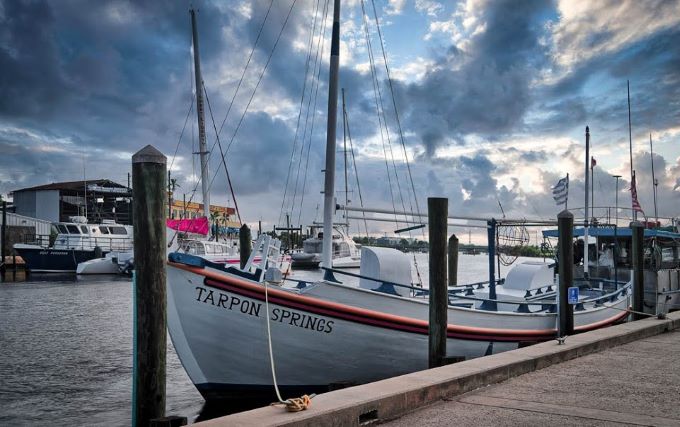 Tarpon Springs Dock by Bob Kyle
Tarpon Springs, was founded in most part by Greek sponge companies. And, yes. They still dive for and sell large numbers of sponges, both in the commercial and retail markets.  The working sponge docks and shrimp boats are interesting places to explore. The authentic Greek restaurants, cafes, bakeries and shops aren't to be missed. Tarpon Springs has the largest percentage of Greek to American citizens than any city in America.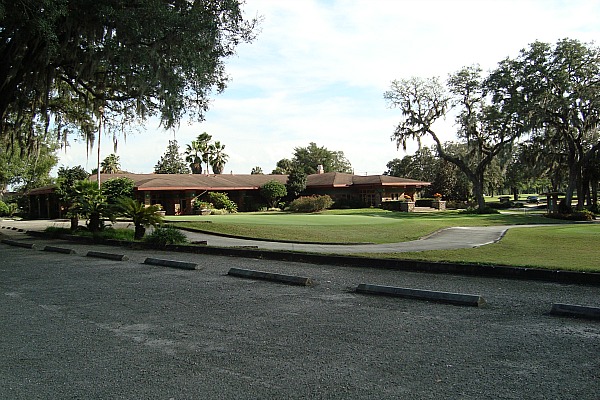 Temple Terrace County Club
Next to its giant neighbor Tampa, Temple Terrace is a laid back, predominately bedroom community. It has all of the service related businesses that makes it an easy place to live.  Temple Terrace is near to the University of South Florida and Busch Gardens.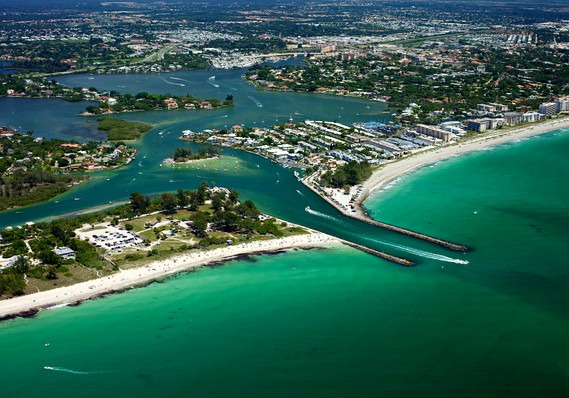 Venice Inlet
South of Sarasota on the Gulf of Mexico, Venice is one of the best places in world to hunt for sharks' teeth!  The town was developed as a mainly residential community with groundbreaking, strict zoning regulations. Today it's a pleasant, easy going place that seems to enjoy its bask in the Florida sun.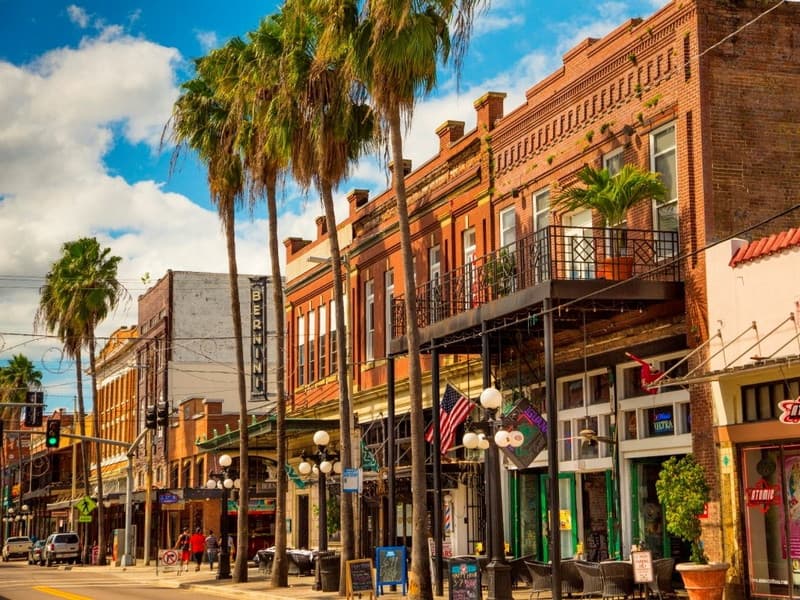 Ybor City Shops
Ybor City is an ethnic neighborhood in Tampa. Built by the cigar trade, it's home to many Cuban families who came to work in the cigar factories. Today the factories are closed but the people remain, happy here in their lives without the constraints of the Castro-Cuban regime. Many quirky bars and clubs fill the old factories giving a new yet different life to the community. The world famous Columbia Restaurant is a not-to-be-missed place to dine in Ybor City.
---
There are many interesting places to see and a lot of great scenery in Central West Florida.  Check out our recommendations at:
---
---

Our Facebook page has more than 128,577 followers who love off the beaten path Florida: towns, tourist attractions, maps, lodging, food, festivals, scenic road trips, day trips, history, culture, nostalgia, and more.  We post articles every day.  Please check it out and if you like it, we would appreciate a "like" from you.
---
By Mike Miller, Copyright 2009-2023
Florida-Back-Roads-Travel.com
Florida Back Roads Travel is not affiliated with or endorsed by Backroads, a California-based tour operator which arranges and conducts travel programs throughout the world.