UNIVERSAL STUDIOS FLORIDA


Tel: 407-363-8000
Universal Studios Florida, the Universal Orlando Resort and Islands of Adventure are among the top Florida tourist attractions.
The original entertainment themed attraction opened to the public in Orlando in the summer of 1990. It very quickly became a success.
Orlando is known as one of the top family destinations in the entire world. With a range of theme parks and popular Florida tourist attractions in addition to the great climate, Orlando is a great vacation destination for families of any ages.
Universal Studios Florida continues to attract millions of people from around the world since its opening in 1990.
It is topped in attendance in Florida only by the nearby Disney complexes.
Universal Studios is one of the top two Orlando and Florida tourist attractions. Luring millions of people per year it is a fantastic entertainment park crammed full of television and movie based rides which will wow and amaze you no matter your age.
It is also a current and working TV and movie production facility adding the extra edge that, as you wander around the park, entertainment history could also be being made only a short distance away.
Made up of several distinct parks and areas there are a huge number of attractions on offer.
One of the current favorites is the latest - Wizarding World of Harry Potter- which has taken J.K. Rowling's phenomenally popular books and created an entire wonderland for guests to explore.
Ms. Rowling first had the inspiration for the Harry Potter stories in 1990, the same year that Universal Studios Florida opened, and published the first book in the series in 1997.
Part of the Islands of Adventure district, the Wizarding World of Harry Potter offers shopping in the form of Honeydukes sweet store and Ollivanders wand store. The Three Broomsticks offers great dining.
While walking around the park you'll discover characters and details all inspired by the book. Meanwhile, with rides such as Flight of the Hippogriff and Harry Potter and the Forbidden Journey you can really get drawn into a magical world and this is an attraction not to be missed.
In addition to this latest creation, Universal Studios Florida has a huge range of top attractions which have been inspired by iconic and famed movies.
Revenge of the Mummy takes you through a thrilling scenario of killing warrior mummies and being confronted with deadly scarab beetles. Rocketing through chambers and tombs at up to 45 miles per hour, this is a ride not to be missed whether you've enjoyed the movies or not.
Men in Black Alien Attack is a great interactive ride allowing you to zap aliens as you cruise though the streets of New York.
Shrek 4-D will let you join Princess Fiona, Shrek and Donkey as you escape Lord Farquaad's ghost.
For some historic film icons, enjoy a 1975 inspired Jaws ride, embark on a mission to save the Earth in Terminator 2, and zoom across the moonlit sky on a bicycle as you join E.T. to save his planet.
After a busy day in the attractions, you can enjoy Universal's CityWalk. This dining and entertainment center is a popular place for locals and tourists alike.
You can watch a movie, go dancing, have a drink, dinner and just enjoy an evening out on the town.
Such is the popularity of Universal Studios that the theme park has its own themed accommodations on the property as well.
You can find great prices on package deals including the benefit of getting early entry to the park before the general public.
Visit the Universal Studios website for current admission prices and special offers.
We also have current adult and child admission prices on our website at Florida Tourist Attractions. Our comparison chart shows prices for all of the Florida tourist attractions on Florida Backroads Travel.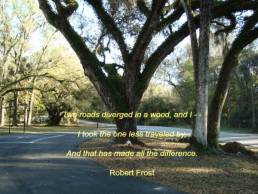 Over 65,000 followers can't be wrong. Learn about off the beaten path Old Florida, historic towns, attractions,  festivals, scenic drives and more.
Like Us On Facebook
Return From Universal Studios Florida To Florida Tourist Attractions

Return To Florida Backroads Travel Home